Presented by Racemaker Press

"There's a lot of junk out there today. If you want it straight, read Kirby." -- Paul Newman


The Way It Is/ Wally Dallenbach Steward of the Sport
by Gordon Kirby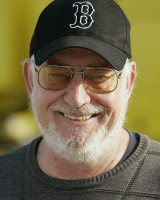 It's my great pleasure to announce that Racemaker Press will launch my latest book, 'Wally Dallenbach Steward of the Sport' at the Indianapolis Motor Speedway Museum on Friday evening, May 25th. Writing a book about Wally has been particularly pleasing because he is a tremendously good-hearted man who provided exceptional leadership for the sport in a low-key, clear-eyed manner.
During his twenty-year tenure as Chief Steward of Championship Auto Racing Teams (CART) Dallenbach had a profound effect on the sport. With his deep concerns about driver safety, adherence to a consistent set of rules and calm demeanor in times of crisis, Wally drew on his own experience as a driver to make American Championship or Indy car racing a better sport for the drivers, teams and fans alike. He is truly one of the unsung heroes of the span of time during which he served through the latter part of twentieth century until his retirement in 2001.
A self-made racer from New Jersey, Dallenbach raced dragsters, stock cars, midgets and sprint cars before making his name as the winner of five Indy car races with Pat Patrick's team in the mid seventies, including the 1973 California 500. During this time Wally moved west to Colorado and started the Colorado 500 motorcycle ride before retiring in 1980 to become CART's chief steward.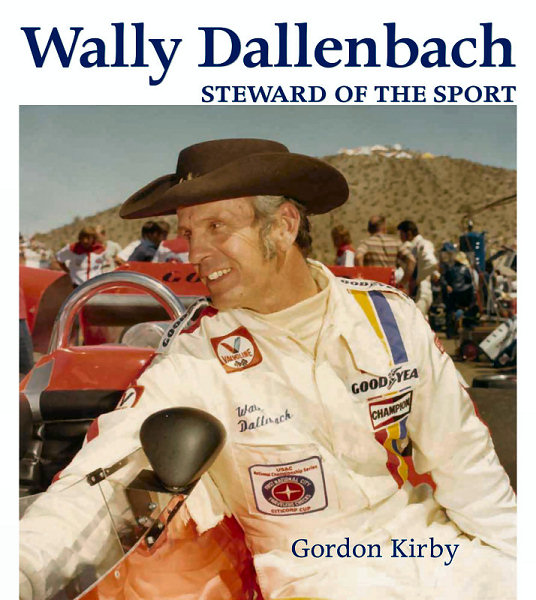 © Racemaker Press/Dennis Torres
Over the following twenty years Dallenbach built a rare reputation as a cool-headed, even-handed steward who became a tremendous proponent of improving all aspects of safety in motor racing. With the help of Doctors Steve Olvey and Terry Trammell and safety directors Steve Edwards and Lon Bromley he developed the sport's most progressive, state-of-the-art safety and medical team. And by working closely with the teams and car builders Dallenbach and his group also influenced many improvements in car and cockpit construction, embracing better ways to absorb energy on impact.
Dallenbach stands out as probably the best chief steward in the history of all automobile racing. He treated everyone fairly with an even hand and also pushed through a series of major improvements in car, driver and track safety during his twenty-one years as CART's chief steward.
"Wally was highly respected," commented Mario Andretti. "He was a voice of reason, one that you could disagree with but at the same time have a healthy debate with. Wally made his mark in a really positive way both as a driver and as a chief steward. He was a leader who set the standard for the sport that stands to this day."
"I regard Wally as a man of high integrity," Roger Penske remarked. "He's an individual who loved the sport and quite honestly to me he's a good friend and a first class human being."
"Wally Dallenbach was the unrivaled master of all chief stewards," Chip Ganassi declared. "What he brought in terms of the consciousness in the sport about medical issues and safety as a whole has become the standard for the sport today. Wally had a larger impact on the sport than 99 percent of the people in motor racing."
"Wally was good for everyone and the perfect chief steward," Rick Mears observed. "He was an old race car driver with a wise head on his shoulders. He was always very calm, very relaxed and in the moment. You never saw Wally go off half-cocked. He was a good calming influence on everybody and played a tremendous leadership role in Indy car racing."
"Wally was a super guy and a gentleman who genuinely cared about the drivers," Bobby Rahal added. "I think to a man Wally had the respect of the drivers. It's been almost twenty years since Wally retired and in my mind we've yet to find anyone who can fill his shoes."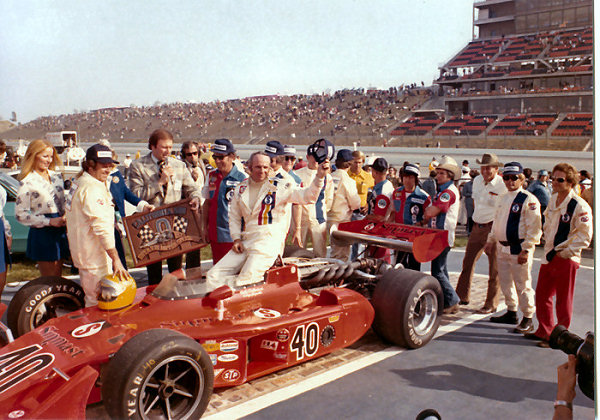 © Racemaker Press/Dennis Torres
In Wally's book we tell the story of his life starting with his roots in New Jersey where he learned to become a master mechanic and car builder in the workshop at his father's sand and gravel yard. He started building his first race car when he was teen-ager and set out to pursue his dream of racing at Indianapolis behind the wheel of a Buick-powered 1937 Ford modified stock car which he raced at local tracks across New Jersey, Pennsylvania and New York.
Dallenbach eventually made it to Indianapolis in 1967 and got his big break in 1973 when Pat Patrick hired him to drive beside Gordon Johncock in Patrick's STP Eagles and Wildcats. Wally won five races with Patrick, including the 1973 California 500. Despite leading the opening laps at Indianapolis in 1974 and running out front for 92 laps the following year, Wally wasn't able to achieve his dream of winning the Indy 500. But he was highly respected for his clean, fast driving by all the greats from that era--Foyt, Andretti, the Unsers, Johncock, Johnny Rutherford and Rick Mears.
Wally's life took a different turn in 1980 when Pat Patrick and Roger Penske asked him to retire from driving and take over as Chief Steward of the fledgling CART organization. The respect he earned as a driver helped him build a similarly high level of respect as Chief Steward and it's remarkable to report that after two decades in one of the most demanding jobs in the sport it's impossible to find anyone with a bad word to say about Wally. Team owners and drivers alike from that era say he treated everyone equally and fairly, always making the right decision.
Dallenbach also put huge effort into building and developing CART's safety and medical team, setting the standard for motor racing today. Renowned orthopedic surgeon Dr. Terry Trammell worked closely with Dallenbach and has great admiration for Wally.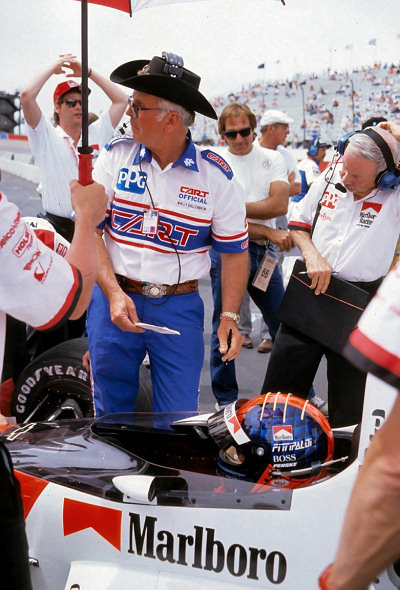 © Jutta Fausel
"The thing about Wally was he was always analytical and calm," Trammell observes. "Wally was always ready to listen and I was always impressed by his analytical way. He always stayed calm and didn't get excited no matter what the circumstances. He could roll with the punches. Wally had a low key but clear style like John Wayne. He was very clear and very consistent and he was always right."
Dr. Steve Olvey was Trammell's partner in running CART's medical team. "The way I describe Wally is he's a real life John Wayne," Olvey remarks. "He's a man of few words but he gets his point across and there's something about his manner that the first time you meet him you say, this guy knows what he's talking about. People listen when Wally talks and in a bad or excitable situation he can settle people down and calm the waters. We knew that Wally was going to sort out any bad situation in the best possible way.
"Wally was the key man in CART. He kept it all together. He was the guy who could pull everybody together and put them back on a level plain. There were times when I saw Pat Patrick or Roger Penske yelling at Wally, but he would never bend. He was above reproach."
'Steward of the Sport' is a high-quality, 9X10 inch, 190-page book, featuring more than 140 photographs. The book will retail for $65 and will be available from the end of this month from Racemaker Press in Boston. To order go to Racemaker.com or call (617) 723-6533.
Racemaker publisher Joe Freeman and I invite any of you who will be in Indianapolis on race weekend to come to our book launch at the Speedway's Museum on Friday evening May 25th. Wally will be there to sign books and he will also join us the following day at the Memorabilia Show inside the Indianapolis Motor Speedway. We look forward to seeing you there.
Auto Racing ~ Gordon Kirby
Copyright ~ All Rights Reserved