Presented by Racemaker Press

"There's a lot of junk out there today. If you want it straight, read Kirby." -- Paul Newman


The Way It Is/ Some lessons from Long Beach
by Gordon Kirby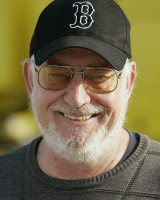 It's always a pleasure to spend the week in Southern California for the Long Beach GP. This year, my week began with a visit to All American Racers for Dan Gurney's 85th birthday party, followed by Bobby Rahal's popular Road Racing Drivers Club dinner on Thursday night at the Hilton in downtown Long Beach.
Bobby's guest of honor this year was George Follmer, one of America's great all-rounders from the 1960s and '70s, and the only living Can-Am champion. Follmer won the 1972 Can-Am title driving Penske Racing's turbo Porsche 917/10 in place of Mark Donohue who broke a leg in an accident testing the Porsche Can-Am car just a week after scoring Penske's first Indy 500 win.
"It was a tough assignment for George because Mark had such a leadership role in the team," Penske said. "I think at the end of the day it was a real opportunity for George to show what he could do as a driver and also as a person. He showed how he could fit in with and work with our team. Some people have called George a 'hired gun', but I call him a great race car driver. He did a tremendous job for us that year and he also did a great job when he drove for us in 1967."
The following morning I bumped into my old friend Arie Luyendyk who's enjoying his first season as one of IndyCar's new three-man team of stewards. Retired Ford Racing boss Dan Davis is IndyCar's latest chief steward with Arie and Max Papis joining him in the stewards' seats.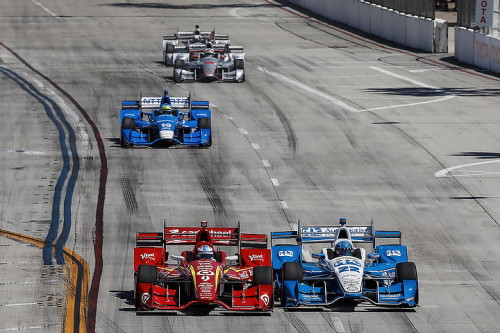 © LAT USA
"Jay Frye approached the three of us," Arie said. "Jay had us three in mind and we all wanted to do it. I think we have a good working partnership and I'm enjoying it. If there's an infraction and we have to penalize a guy, we vote and the majority rules. So far, we've pretty much been in agreement on pretty much every call. I like the process and I enjoy being part of the whole IndyCar family.
"We talk a lot among ourselves and there's a lot more communication with the drivers. We show them video so they can see what really happened. A lot of times because they're busy racing, they forget the details and when the look at the video they say, 'Oh, I didn't realize I did that.' A lot of times, in the heat of the moment, they don't recall or realize the details.
"Sometimes they call in to complain that they're being blocked, but they're not really being blocked. It's just aggressive racing. It's not over the top, and we tell them that. At Phoenix, Charlie Kimball crashed into Newgarden and initially he didn't believe he deserved a drive-through penalty. But after we showed him the video, he agreed."
Arie said that Davis, Papis and he try to be as practical as possible in making their decisions.
"We don't like to nit-pick. Like in Phoenix, Will Power hit his tire. He skidded into it and touched the tire, but the tire didn't go out of the box or move around. Sure, he hit the tire, but it didn't do anybody harm. So there was no penalty.
"He could have got a penalty if you wanted to enforce the rule in black and white. But you've got to have some leeway. You've got think about the show as well. It was a good race for the lead, and it didn't deserve to be upset unless there was a real reason.
"At St. Petersburg, Ryan Hunter-Reay made a pass on Helio and that was border-line blocking. But it was fair and hard. We all agreed it was good, hard racing."
Luyendyk said Papis consider Davis their spokesman but emphasized that Max and he will always be available for further comment.
"Dan is a good voice for the three of us," Arie commented. "Max named us the 'Three Amigos' and Dan is a good voice for us. If we need to explain some details to the media, Dan would be our voice. But neither Max nor I are worried about talking to the media. We're happy to talk to you guys."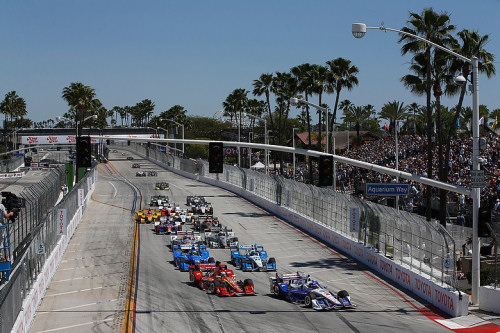 © LAT USA
During the weekend in Long Beach I conducted an extended interview with Roger Penske for Italy's renowned Autosprint magazine. We discussed the state of Penske's IndyCar and NASCAR teams as well as Penske Corporation's thriving global businesses.
In the middle of our interview Roger got into the ongoing debate about downforce in IndyCar. Penske believes less rather than more downforce is the way to go and he pointed to the way NASCAR has worked with its team in determining this year's low downforce rules package which everyone--drivers, teams and fans--prefers to last year's higher downforce package.
"I think it puts the driver back in the car and there's also a lot more strategy," Penske commented. "The tires wear because the car is sliding around a little bit more and there's more passing. If you have a better car at a particular time in the race, you can pass. You're not just sitting there with a bubble between you and the car ahead of you.
"I think NASCAR has done a good job and now, with the charter system, there's a competition and technical committee helping make the decisions and the timing of when any changes are going to be made so it doesn't come overnight without any room for planning and implementation. There's a thinking process and an opportunity to judge what's happening. They're looking at it from a cost perspective, from a timing perspective and a performance perspective."
Penske believes NASCAR is doing well despite declines in TV ratings and crowds at many races.
"I think NASCAR is in great shape," he remarked. "The average NASCAR race draws close to 100,000 people. I ran the Super Bowl in 2006 in Detroit and we were glad when we had 70,000, so I think to have a Super Bowl every weekend in NASCAR is pretty good. All sports are suffering a little bit from the TV perspective, but you've got add the social media aspect. There are a lot of new things out there and a lot of streaming, and I think when you look at the whole picture NASCAR is in great shape."
Penske says he would like to see IndyCar follow NASCAR's lead in cutting downforce.
"I think they've got to take the downforce off in IndyCar too, especially on the ovals," he said. "You just can't run around a place like Phoenix in eighteen seconds. I think the cars are too fast at places like Phoenix and Iowa. There's no chance to pass and it can result in a pretty rough outcome.
"To go fast at Indianapolis, you take the downforce off and that really puts the driver in the car. And I think that's what everyone wants to see from the drivers to the teams and the fans and media too.
"To me, Rick Mears has said it all about downforce. I would let Rick be the spokesman about cutting downforce. I support him completely."
To read Rick's opinions on this subject
go to my column
with Rick from May of last year.
Penske added that he hopes IndyCar won't make any last-minute changes to its rules package for this year's 100th Indy 500.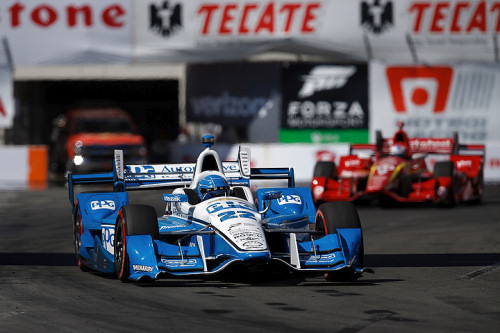 © LAT USA
"As you know," he said, "we all have to run these underwing pieces which make you run the car a little bit higher to keep the car from getting airborne. I think it's absolutely the right thing to do.
"I can't get into the balance of performance because no one is ever perfect. If you set a goal with a set of rules that people work to, and then they change them again, it's hard for everyone because you've made a major commitment, especially when it's the biggest race in the world.
"I don't think they need to change the rules thirty or forty days before the race. I think they need to announce the rules and keep them the same."
Another perspective on this subject came from Michael Andretti who again made the point that all the cars that took flight during practice and qualifying at Indianapolis last year were Chevy-powered, and yet the Honda teams seem to have come out on the downside of the 'balance of performance' aero package IndyCar is mandating for this year's 500. Michael said he hoped the 'domed skids' won't become the story of the month of May.
"We're not asking for more downforce," he pointed out. "We're asking for more underbody downforce and the reason we want that is because we want close racing. If you're dependent on just the wings, the more you take away from the bottom, you're depending on the top of the car. And then you can't get close to the cars in front of you and it screws up the race because you can't pass.
"So that's why we're asking for more underbody downforce because when you add the underbody downforce, you don't lose as much downforce when you're behind another car and you can run closer. That's what I think this case is about.
"My argument is you're taking away downforce from under the car by doing it. We wanted the strakes but they wouldn't give us the strakes or the side walls. I think theoretically it sounds good because you're getting the downforce back with that, but one thing they're forgetting about, you're raising the car half an inch, and in doing so, you have other problems.
"Now, you have other mechanical problems you're making," Michael added. "You're putting instability into the car. So what we'll probably have to do to make up the difference is run more wing on top of the car, which is not good. We were trying to get them to do strakes underneath the car, which would give it a little more downforce, which would, I think, offset raising it that half inch for the center of gravity. But unfortunately we lost that fight."
Of course, this 'balance of performance' stuff has deeply infected all forms of American racing from NASCAR to IMSA and IndyCar. Sadly, 'bop' has turned the sport on its head, favoring the elusive chase of a level playing field over the pursuit of excellence, which is penalized rather than rewarded. This is antithetical to what motor racing is, or was, all about and slowly but surely it is extinguishing the flame that fueled the sport from its birth at the turn of the 20th century through its unfortunate arrival in the spec car plagued 21st century.
Amid the eternal debate about what's wrong or right with IndyCar, Chip Ganassi's general manager Mike Hull was even more outspoken last weekend than Penske about the need to slash downforce. Hull believes the time has come to invent a transformative new formula.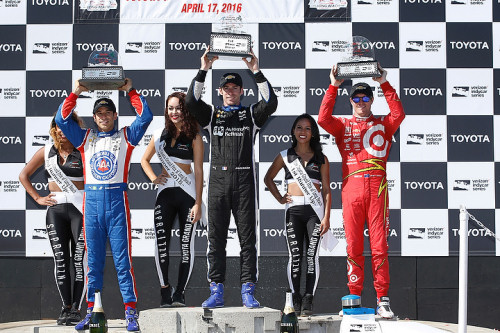 © LAT USA
"I think somebody in motorsports needs to make a statement for the future," Hull said. "It needs to be something that's not clearly defined, but clearly directed.
"I think there should be a basic rule package. It would say the car should have no wings and the rules would specify the car's wheelbase and the track. It would also say here's a basic formula for the engine with as few restrictions as possible. Let's keep it as simple and open as possible and let's go racing in 2018.
"I've thought a lot about this over the past few years and I believe this is the way the sport needs to go if we're going to give Indy car racing the push forward it needs. IndyCar can make a difference if it wants to."
I agree completely with Hull. The path IndyCar has taken over the past twenty years has destroyed the last remnants of America's open-wheel auto racing industry. The great chain of American car builders from the Duesenberg brothers through Harry Miller, Frank Kurtis, A.J. Watson, Vel's Parnelli Jones, A.J. Foyt/Coyote and All American Racers has come to a sad end and the drive to innovate and do your own thing that inspired and drove these great men and teams has been wrung out of the sport. It's been replaced with a socialist mentality that is anti-competition, aiming instead at the lowest common denominator.
Again, I believe Mike Hull is right on the money in proposing a wing-less new formula with as few specifications or limitations as possible. IndyCar needs a serious disruption aimed at re-creating competition, re-invigorating America's moribund Indy car industry and re-igniting the innovate, free-thinking spirit that drove the sport for almost one hundred years.
But IndyCar lacks the courage for such inventive, disruptive thinking and has no such plans for the future. Its intention, by all accounts, is to push on for years to come with the same uninspiring, out-dated car and formula. I'm among many longtime observers and participants in the sport who believe that's a road to nowhere.
Auto Racing ~ Gordon Kirby
Copyright ~ All Rights Reserved