Presented by Racemaker Press

"There's a lot of junk out there today. If you want it straight, read Kirby." -- Paul Newman


The Way It Is/ Can NASCAR broaden its base?
by Gordon Kirby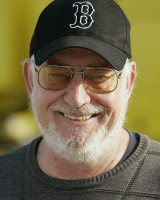 After a long, steady climb over five decades under the dictatorial leadership of Bill France Sr. and Bill Jr., NASCAR emerged at the turn of the century as the unrivaled big dog of American racing. Bill Sr. and Bill Jr's mission was made easier by the CART/IRL war sucking the life out of Indy car racing and by a different battle for control of American sports car racing which made that segment of the sport an equally small, irrelevant non-player in the country's popular culture.
Today, NASCAR dominates the scene to the point that it defines auto racing for most Americans. The only US racing series the average American consumer or sports fan is aware of is NASCAR's Sprint Cup series and the only race car drivers they know are NASCAR's stars--Jimmie Johnson, Jeff Gordon, Dale Earnhardt Jr., Tony Stewart, Kevin Harvick, Brad Keselowski, et al.
But as we all know, NASCAR's glory days of rapid growth and its dreams of competing with the likes of the NFL are long-gone. For the last half-dozen years, since the introduction of the 'Car of Tomorrow' spec car and the serious impact the great economic meltdown had on much of its fan base, NASCAR has been fighting twin declines in ticket sales and TV ratings.
Many hours and millions of dollars have been spent by NASCAR's marketing mavens trying to analyze and solve these problems. Among other things, they've endlessly tweaked the format of 'The Chase for the Cup' culminating in this year's monstrosity that eliminated top performers like Johnson, Gordon and Keselowski from championship contention while making mediocre types like Denny Hamlin and Ryan Newman into title contenders.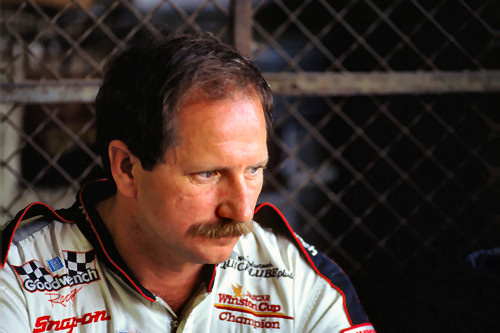 © Racemaker/Paul Webb
To the pleasure of the marketing mavens the latest version of 'The Chase' also created plenty of tension, resulting in some name-calling and a few scuffles featuring some of NASCAR's aforementioned biggest stars. Of course stock car racing is not like open-wheel or sports car racing. Using your car's fender to nudge another car out of the way, or even deliberately spin or crash the other fellow is a time-honored technique in NASCAR. It's happened many times over the years.
Quite a few NASCAR stars from the past such as Lee Petty, Curtis Turner and Junior Johnson were renowned for their rough and tumble methods. Indeed, one of the reasons the late, great Dale Earnhardt was celebrated as the quintessential NASCAR driver, loved by many fans and hated by an almost equal number of detractors, was because of his mastery of 'using the fender'.
During his career Earnhardt got into plenty of arguments with rivals he turfed out of the way or put into the wall. I remember well an IROC race at Daytona in the early nineties in which Earnhardt ran hard into the tail of Al Unser Jr's car as they powered into turn three on the race's last lap. It was the only way Earnhardt could pass Unser and win the race and he motored home to take the checkered flag as Al Jr's car spun and then flipped over the fence and flew 'out of the ballpark'. Fortunately, Al emerged from the wreckage shaken but unscathed.
A few minutes later I encountered Rusty Wallace, one of Earnhardt's primary rivals at the time. Wallace was fuming.
"Now you know why we all hate Earnhardt!" he barked at me.
Amid this kind of environment, it shouldn't be surprising that fender-bashing sometimes results in fist throwing. NASCAR's most famous fist fight took place on the last lap of the 1979 Daytona 500 and featured Cale Yarborough versus the Allison brothers, Bobby and Donnie.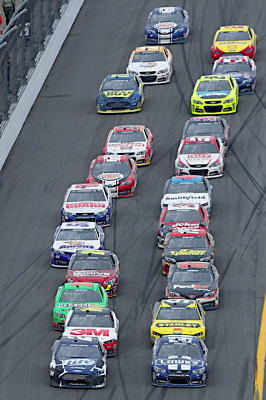 © Autostock
Yarborough and Bobby Allison had taken each other out as they battled to win the race and after their crashed cars came to rest in the infield they engaged in some fisticuffs. Yarborough and Allison were joined in the scuffle by Donnie Allison and the incident turned into a national news story. In fact, it's been credited with providing an important spark for NASCAR's subsequent growth as a TV commodity.
Recently, there have been many examples of epithets traded and fists thrown. Jeff Gordon and Clint Bowyer went at it last year at Phoenix and this year's 'Chase' witnessed plenty of scuffles. Both Matt Kenseth and Denny Hamlin went after Brad Keselowski after Keselowski ran into a number of cars at Charlotte last month while an irate Jeff Gordon confronted Keselowski after a collision in Texas a few weeks later.
The argument between Gordon and Keselowski resulted in a brawl among their crewmen that was featured on that evening's national TV newscasts. NASCAR subsequently handed out $185,000 in fines and multi-race suspensions to six crew members but none of the drivers were penalized.
Is this kind of thing good or bad for NASCAR? Some people believe it's exactly what's needed to boost TV ratings and crowds. But many people argue that fender bashing and fist fights cater only to NASCAR's hard core fan base rather than broadening the interest in NASCAR or attracting new fans. To many outside the sport this kind of behavior serves only to reinforce stock car racing's 'Ricky Bobby' image which prevails among the large number of Americans who know or care little about NASCAR.
Whether fender-bashing and fighting are good or bad for NASCAR the fact is they're not going to go away because they're essential elements of stock car racing and will continue to be for many years to come.
It's equally true that NASCAR cannot escape the image of itself that exists in the popular culture. It's considered a farm boy's sport populated by beer and whisky drinkers. NASCAR's garage area may be filled these days with plenty of open-minded, highly-motivated crewmen, car builders and engineers, but for many people NASCAR means 'redneck'. It's a steadfast image for much of America that NASCAR cannot separate itself from no matter how hard it tries.
And dare I say that some of NASCAR's most renowned TV commentators such as Fox's Darrell Waltrip and Larry McReynolds only perpetuate that image. In contrast, ESPN's Dale Jarrett and Andy Petree do an excellent job providing great information and insight.
Jarrett and Petree do the sport proud and if NASCAR is to thrive in the future I believe it needs to listen more to serious pros like them and less to the marketing mavens and bureaucrats who have helped push the ship off-course in recent years.
Auto Racing ~ Gordon Kirby
Copyright ~ All Rights Reserved