Presented by Racemaker Press

"There's a lot of junk out there today. If you want it straight, read Kirby." -- Paul Newman


The Way It Is/ The man behind Penske Racing's early success
by Gordon Kirby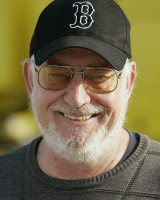 One of the most successful men behind the scenes of American motor racing from the mid-sixties through the nineties was Karl Kainhofer, chief mechanic at Penske Racing when 'The Captain' founded his team in 1966. Kainhofer was Penske Racing's chief mechanic through its formative ten years working with Mark Donohue on Can-Am cars, Indy cars and Penske's Formula One cars.
After Donohue was killed in Kainhofer's native Austria in 1975, Kainhofer returned to America and for the next twenty years he ran Penske's engine shop in Reading, Pennsylvania, building Cosworth DFX turbo V8s, Ilmor/Chevrolets and Ilmor/Mercedes engines, including 'The Beast', winner of the 1994 Indy 500 with Al Unser Jr. Kainhofer retired at the end of 1997.
Kainhofer's record over the years with Penske as a chief mechanic and engine builder includes more than 100 wins in the United States Road Racing Championship, Can-Am and Indy cars. Through the late seventies, eighties and nineties each of Mario Andretti, Rick Mears, Tom Sneva, Bobby Unser, Al Unser, Danny Sullivan, Emerson Fittipaldi, Al Unser Jr., and Paul Tracy won many USAC and CART races, including a brace of Indy 500s, with Kainhofer-built motors.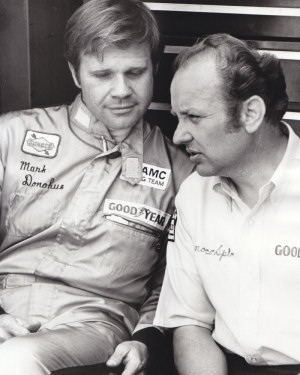 © Kainhofer Collection
This fall and winter I have the pleasure of beginning work on Kainhofer's biography for Racemaker Press and this week I'm going to share with you some of this great mechanical genius's philosophy of working and racing. Kainhofer was born in Austria in 1931 to a single mother who gave him up for adoption. He endured a tough childhood through the WWII years and began his working life in 1947 as an apprentice motorcycle mechanic.
"I started at a little motorcycle repair shop and we did everything," Kainhofer says. "You name it and we worked in it. Anything that had wheels, whether it was two wheels or three or four wheels or trucks, we worked on it.
"But at the same time we raced motorcycles on the weekends. That's how I got into the trade. I was a machinist, a fabricator, an engine-builder. I learned how to do anything, really, and I was paid 24 Austrian Schillings per week, the equivalent of about one dollar."
After nine years spent learning his trade Kainhofer joined Porsche in 1956 and was trained in Stuttgart as a factory mechanic. He emigrated to America in 1958 and worked for a handful of Porsche dealers and SCCA racers, including Roger Penske who raced a Porsche Speedster in 1959 and '60. Penske hired Kainhofer on a freelance basis to take care of a variety of his cars over the next few years, including the F1 Cooper and Lotus he raced in the United States GPs at Watkins Glen in 1961 and '62.
When Penske started his racing team in 1966 he asked Kainhofer to join him as his first and only employee. Kainhofer prepared Mark Donohue's Lola T-70 Can-Am car in 1966 and '67 and the combination made their mark immediately. Donohue won the third Can-Am race ever run, at Mosport in '66, and went on to win the 1967 United States Road Championship, dominating the series by winning six of seven races.
Kainhofer says he agreed to join Penske because he admired Roger's innate understanding of motor racing as well as his salesman's ability to attract sponsorship. Kainhofer also knew Penske shared his penchant for immaculate preparation and presentation. It was all about having the best-prepared and best looking car that would run the distance and thus bring results and attract sponsors. Fifty years later, Team Penske operates in IndyCar and NASCAR by the same ground rules instigated back in the day by Roger Penske and Karl Kainhofer.
"The reason I went with Roger and stayed with him for more than thirty years was because I think in a certain way which in those days nobody accepted," Kainhofer says. "I appreciated Roger's approach and he appreciated my spit and polish. I was the guy who cleaned and cleaned and cleaned, and he enjoyed that. My cars were always cleaner underneath than most guys' were on top. He liked and appreciated that and I appreciated his approach, too. That's why we stayed together.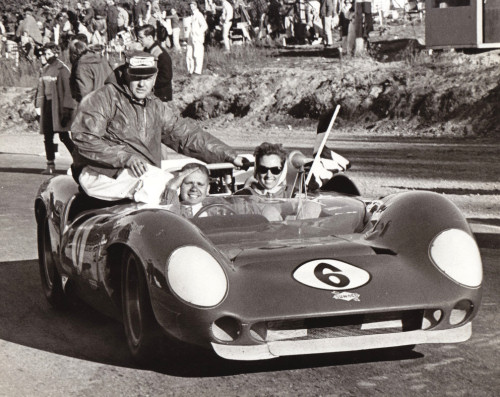 © Kainhofer Collection
"I got a little trophy at an SCCA national race in Pensacola, Florida with Roger's Porsche at the beginning of 1960. I got a little trophy that said, 'best overall appearance'. We had everything polished and shining, and most guys just had a race car. They didn't pay that much attention to whether they were greasy or dirty or leaky. They didn't pay that much attention to the polish. But we carried that kind of finish through the whole history of Penske Racing. That became the Penske trademark and it's still there today.
"That was always Roger's approach and mine too. We raced all over against a lot of people and their cars were never like ours. I guarantee you his Porsche Spyder was twice as clean as the guy lining up next to us. Even Holbert's car. Nobody had a clean car like we had. That was because Roger wanted it that way and I wanted it that way. We polished our wheels inside and outside and nobody did that in those days.
"Even in Formula 1. When we went to Formula 1 in 1974 and '75 we didn't have the fastest race car but we had the cleanest and neatest car. We made that the standard for motor racing and sponsors picked that up. A lot of Roger's success has been based on that and it was created in the early days when I worked on his Porsche."
Penske Racing got its start back in 1966 in a tiny shop near Roger's home outside Philadelphia.
"Roger had a little one-car garage in Newtown Square, Pennsylvania," Kainhofer recalls. "There were five, one-car garage stalls in this little industrial unit right behind the bank on the intersection in Newtown Square. There was a guy who did foreign car work in one stall, then there was a clock maker, and then we had two stalls, and then there was a sign painter and that shop got taken over by George Wintersteen for his Corvette.
"That's how we started at that hole-in-the-wall. There was a work bench, a grinder, a drill press, a little welding machine, a pay phone and a floor jack. That was it."
After hiring Kainhofer, Penske chose Mark Donohue to drive his car.
"Roger got to know Donohue over a period of time," Kainhofer says. "Donohue had driven in a bunch of different SCCA classes and he did some long-distance racing. Penske saw him and got to know him. Penske knew Walt Hansgen well and after Hansgen was killed during testing at Le Mans that year Roger went to the funeral and that's where he and Mark started talking. Roger got together with Donohue at Hansgen's funeral and that's how Mark started driving for us.
"Mark didn't become a full-time member of the team until the end of that year. Roger only paid him on a daily basis something like fifty bucks a day."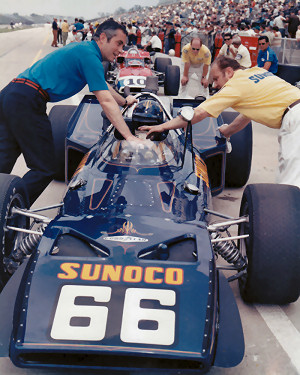 © Kainhofer Collection
Kainhofer and Donohue immediately formed a close bond.
"Mark and I worked well together and I respected him because he worked hard and could set up the car. I did the nuts and bolts and he worked with me to get the car so he could drive it.
"The first year was the toughest year," he adds. "It wasn't that easy the next year either. At the end of '66 I finally got a mechanic to work with me. Peter Reinhard was the second full-time employee.
"In '67 we won the USRRC championship and we ran the Can-Am again. We ran a second car in the Can-Am races for Follmer. After the USRRC we got a second, updated Lola. Roger Bailey worked on Follmer's car."
In fact, Donohue dominated the USRRC in 1967, winning six of seven races. Penske Racing was less successful in the Can-Am as neither Donohue nor Follmer was able to win a race. Donohue wound up fourth in Can-Am points behind McLaren, Denny Hulme and Surtees with Follmer taking sixth behind Jim Hall.
The following year Penske expanded into the Trans-Am and Indy cars. Donohue repeated as USRRC champion, won the Trans-Am title and finished third in the Can-Am behind the factory McLarens. Penske also made his first move into Indy cars in '68 with Donohue racing an Eagle-Chevy in a pair of USAC road races at Mosport and Riverside.
"It was a small company in'68," Kainhofer recalls. "We were no more than ten guys altogether. We grew from one guy to that many in two years. We had a very successful '68 season with just a small group of guys. In those days we raced two or three or four different types of cars. We were doing something different every day it seemed like.
"In '68 we had the Camaro Trans-Am cars, the M6 McLaren Can-Am car and later in the year a Lola Indy car. Looking back, with the small group of guys we had and the percentage of wins we had in different series it must have been the most successful year Penske Racing ever had.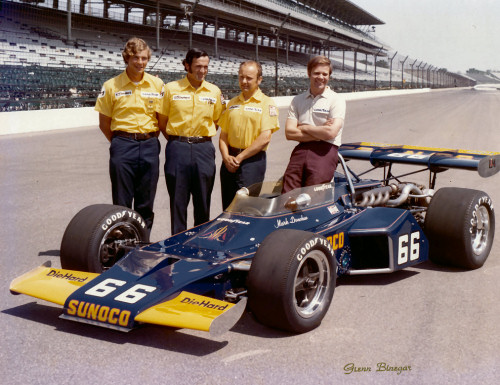 © Kainhofer Collection
"1968 was one of the banner years for Penske Racing. We did very well that year in the USRRC and Can-Am. We also ran an Indy car for the first time and won ten Trans-Am races."
The Trans-Am cars were run by LeeRoy Gayne a veteran mechanic who built Penske's successful Zerex Special in 1961.
"LeeRoy was a very good mechanic and I worked with him a lot on Roger's sports cars and the F1 cars Roger drove at Watkins Glen in 1961 and '62. Later, he worked on the Penske Formula One car.
"In '68 we started running Indy cars and by '69 I was flat-out on the Indy cars and then some Formula 5000 cars. We always had plenty of things to do--CanAm cars, long-distance sports cars, TransAm cars, Indy cars, F5000 cars, even Formula 1 cars. You name it, we raced it. The only thing we didn't race were dirt tracks, midgets and sprint cars.
"You look back at most American teams and they were more or less specialized in one thing. Gurney and All American Racers were the only other one who did a lot of different things, but nobody was ever close to that. There was a time when we had five different series going and remember we started the IROC too in the early seventies. But we finally concentrated on one thing which was Indy cars."
Penske Racing started 1969 by winning the Daytona 24 Hours with Donohue and Chuck Parsons driving a Lola-Chevy T70 coupe. Donohue won the Trans-Am championship in '69 and also made his and Penske's rookie start at Indianapolis. Aboard a turbo Offy-powered Lola T152 Donohue qualified fourth and was battling Dan Gurney for second in the race when the magneto failed. After a pitstop for repairs Donohue finished seventh, taking the 500's 'rookie of the year' honors.
In 1970 Penske's primary effort went into running a pair of AMC Javelins in the Trans-Am series for Donohue and Peter Revson. At Indianapolis Donohue raced a 4WD Lola-turbo Ford, finishing second to Al Unser with Dan Gurney third. Donohue ran three other USAC races that year and also raced a Lola-Chevy in three SCCA Formula 5000 races, winning at Mosport and Sebring.
In '71 Donohue's plate was extremely full. He won Penske's third Trans-Am championship, this time for American Motors; co-drove Penske's Ferrari 512M with David Hobbs at Daytona, Sebring, Le Mans and Watkins Glen; ran the Canadian and United States GPs in a Penske-prepared McLaren M19, finishing third in his F1 debut at Mosport; raced an F5000 Lola in the Questor Grand Prix in California; and ran nine USAC Championship races, Indy 500 included. Penske and Donohue switched to McLaren's new wedge-shaped M16 Indy car in '71 and Donohue scored Penske's first Indy car win in the Pocono 500 in July and also won a 200-mile race at Michigan two weeks later.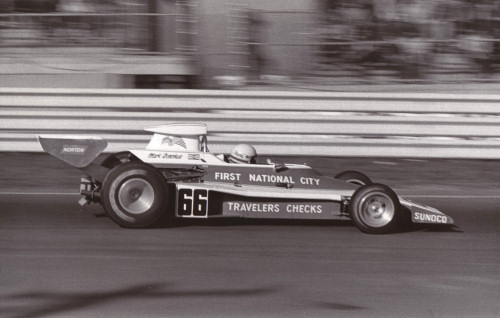 © Kainhofer Collection
The following year Donohue scored Penske's first Indy 500 win after teammate Gary Bettenhausen led most of the race until suffering an ignition failure. It was the first of 15 Indy 500s Penske would go on to win.
"In those days we had something different every day," Kainhofer says. "We changed the car around from practice to qualifying to the race. We changed everything. We changed engine sizes between races, if it had to be. There were certain things you couldn't do, or shouldn't have done. But that was really motor racing. We put in a lot of blood, sweat and tears but it was worth every penny of it.
"We used to work until two or three in the morning and take a shower and go on the road. We'd drive all day and night to get there and then start running as soon as we got there and got the car unloaded. Mark and I used to go to the races together and when we couldn't stay awake, even in the daytime, we'd pull over and sleep. We were often so beat up because we worked day and night to get the car together.
"In the early years we had a little truck with a bench seat and we were sliding under each other when we were driving. We used to do that all the time. There were just two or three of us doing the whole thing. I lived with Donohue for ten years. We were like brothers. We did a lot of things together, family-wise as well. Today, it's a different thing. The corporate world has taken it over.
"Penske Racing was three guys on the Formula 1 team in 1975 and '76 and today you've got about thirty guys on one pitstop. We had three guys to do everything from the pitstop to building the cars to getting to the races. But we enjoyed it. We worked hard but we enjoyed it. I'm sure the guys today work as hard as they have to and they still enjoy it.
"Really, in those days we just scrambled from race to race to make sure we had enough money and parts. I was challenged day and night through all those early years to make it happen and the guy who challenged me was Roger. He asked me to do this car and then that car and I took all these things on. I think a key part to it was I knew my job and I never tried to work over my capacity.
"We built and raced a lot of different cars in those days and the interesting thing is that from race to race the cars were never the same. Everywhere we went we were changing or adding something. The car looked different at every race. We were always doing something to the cars, trying to stay ahead of the next guy. We were always looking to try something different.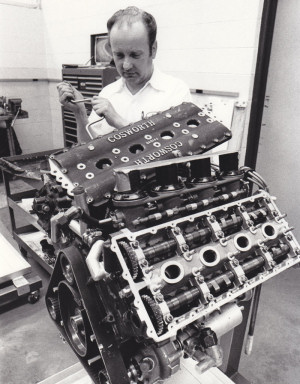 © Kainhofer Collection
"There was nothing like there is nowadays where you go to the racetrack and all the cars look the same. They have different paint jobs and that's it because they're not allowed to do anything to do the cars. It's the dumbest thing that can be. This spec car thing is an idiotic idea. I can't believe what's happening. You go to a racetrack today and there are so many things that are wrong and they wonder why there's nobody in the grandstands anymore.
"When Penske Racing won its first Indy car race at Pocono in 1971 there were many thousands of spectators there. The grandstands were full and you go there today and there's nobody there. There's nobody there watching practice or qualifying and just a few people there for the race.
"There's a reason that nobody's there. The cars are all the same and there's only four or five Americans in the field. A lot of mistakes were made over the years. The split with USAC shouldn't have happened and the second split with the IRL was a disaster for Indy car racing."
Kainhofer focused his efforts on Penske's F1 cars in late 1974 through '75, but after Donohue's death in '75 he returned to the United States to run Penske's engine shop in Reading, PA. Over the following twenty years Kainhofer built many race-winning engines for Team Penske before retiring the end of 1997 after one of the most successful careers in racing history.
"The sixties and the seventies was an interesting time in motor racing," he reflects. "Some people call it the Golden Years. I think it fell apart in the seventies. A few years later we had good success some years but then we were a big company with 40, 50, 60 people. The big corporations came in, and it changed. It's completely different today. Now Roger's got 500 people down in North Carolina. So it's a totally different world."
Yet the spirit of Kainhofer's immaculate, unrelenting method continues to be a driving force at Team Penske today and surely will for many years to come.
Auto Racing ~ Gordon Kirby
Copyright ~ All Rights Reserved