Presented by Racemaker Press

"There's a lot of junk out there today. If you want it straight, read Kirby." -- Paul Newman


The Way It Is/ Chasing money & markets
by Gordon Kirby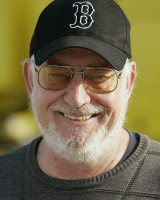 With both Caterham and Marussia teams failing and financial worries at Sauber, Force India and Lotus, F1's third United States GP at Austin's Circuit of the America's took place amid much hand-wringing about the state of the world's most expensive form of motor racing.
On the sunny side, we have Honda's return to F1 to look forward to next year. This is a big commitment by a major manufacturer with a serious record of success in motor racing. Honda left F1 six years ago with its tail between its legs and you can be sure the company intends to succeed this time around. Former Ferrari/Peugeot/FIA engine man Gilles Simon has been working on Honda's F1 engine project as a design consultant and if anyone can challenge Mercedes-Benz, it's Honda.
It will be interesting to see how the marriage between Ron Dennis and Honda takes shape. Dennis is a prickly character and already there have been problems with Dennis agreeing to Honda's contract with Alonso. Be assured that Dennis wants to be in the driver's seat of his latest marriage, rather than allowing his engine supplier to have its hands on the wheel. So it will be intriguing to see how these differences are resolved and how quickly the combination of McLaren, Honda and Alonso can get down to business.
There's also the promise of Gene Haas's new American F1 team. Haas's plans have been greeted with plenty of skepticism but the man is a sharp operator with plenty of resources. Few people are capable of making a deal with Ferrari, as Haas has done, and I expect his team to establish itself in F1. How successful it will be is entirely another question.
The likes of Honda and Haas aside, many people believe F1's bubble has burst. There's no question that too much money goes into the pockets of Bernie Ecclestone and CVC, and too little to the teams, particularly the smaller teams, and also to most promoters. For many years, Bernie's game has been to escalate the game and to squeeze and then squeeze harder.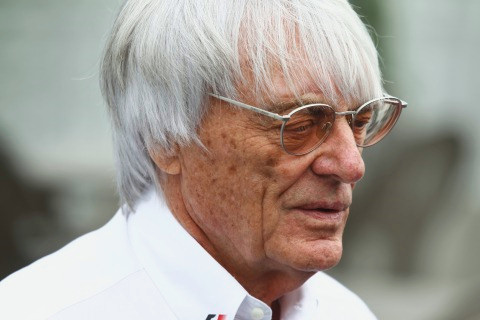 © LAT USA
Over the past decade in a concerted effort to increase the income from sanctioning fees Ecclestone has expanded F1 into new venues and expanded its global market with races in Bahrain, Malaysia, China, Turkey, Valencia, Singapore, South Korea, India and Abu Dhabi. This year Bernie added Russia to his expansionary program, sitting proudly with his pal and soulmate Vladimir Putin in Sochi last month.
These races have resulted in more income to Ecclestone and CVC from sanctioning fees than from TV rights, but ticket sales at many of these new venues have peaked or gone into decline. Many of the countries Ecclestone has taken F1 to lack a strong base of motor sports competitors or fans. While he's made F1 into a truly global championship there are doubts that most of the new venues can sustain the interest required to pay Ecclestone huge annual fees ranging between $30 million-$50 million.
Of course, the key to F1's remarkable financial growth over the last quarter-century was the income from television rights fees around the world. The F1 races are televised in more than 180 countries attracting a global audience of more than 500 million viewers, bigger than soccer's World Cup, the Olympics or the Super Bowl. In recent years this massive worldwide market has declined somewhat but F1 remains unchallenged as racing's global brand.
As well as firmly establishing F1 as a global brand and product Ecclestone has artfully and willfully pushed the concept of F1's ostentatious exclusiveness. That's precisely what the F1 brand has come to mean led by the modern marketing image of what Ferrari represents to the world's nouveau riche.
Ecclestone has proven himself time and again to be as wily a character as any in the history of humankind, but he is 83 and slowly but surely the post-Bernie era is coming to F1. It will be interesting to see who or what entity takes over and it's fair to say that F1's future new ringmeister is likely to find his job very difficult.
While Ecclestone steadfastly built F1's global TV market and substantially raised the sanction fees for his races, American racing has lagged far behind. NASCAR profited from a healthy domestic market and steadily ratcheted up its TV income over the years. NASCAR's rights fees have been a key component in the series financial health and its continuing ability to put 43 cars on the grid for every race.
But NASCAR has been unable to build a serious worldwide following. For its part, Indy car racing began to reach into the global market twenty years ago as CART boomed with the arrival of former F1 world champions Emerson Fittipaldi and Nigel Mansell. But CART's failure and the emergence of Tony George's IRL condemned Indy racing to a much reduced domestic existence.
Today, IndyCar generates very little income from international or domestic TV rights. In fact, IndyCar's global TV audience is tiny, maybe one percent of F1's, while its domestic audience is ten percent or less than NASCAR's. Nor does international sports car racing or our domestic TUSC series generate much money from TV rights. Le Mans is the only sports car race with a worldwide TV audience. The rest are small beans.
By the way, a classic case of the lack of any overall leadership for motor racing was evident last weekend with F1 running at CotA and NASCAR running on the same day only a few hours north at Bruton Smith's Texas Motor Speedway. Both races started at the same time on Sunday.
If there was such a thing as a commissioner of US racing, these two high profile races would have complimented each other and been run a week apart rather than on top of and in competition with each other. But so goes motor racing in America in particular. There are too many sanctioning bodies, all with their own agendas and everyone in it for themselves rather than any collective whole.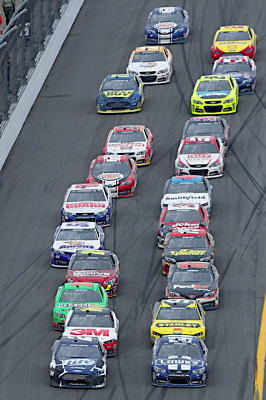 © Autostock
Meanwhile, as far as I'm concerned NASCAR has gotten itself into a pickle with this year's 'Chase for the Cup'. They've over-engineered and tweaked the thing way too much, making this year's championship completely unpredictable and unknowable. NASCAR is promoting the latest version of the 'Chase' as high drama featuring a new type of late-season pressure on the drivers and teams, but the story about who's in and who's out and who's a contender or not has been different and confusing after every race in this year's 'Chase'.
NASCAR should have enjoyed a magnificent championship battle this year between Team Penske and its pair of brash young drivers, Brad Keselwoski and Joey Logano versus a compelling, resurgent four-time champ, Jeff Gordon, and Kevin Harvick, who's enjoyed a very strong first year with Stewart-Haas Racing after thirteen years with Richard Childress.
Each of these are great stories on their own and could be woven into a complete master drama. But the narrative has been confused and diffused by this year's brain-rattling 'Chase' system that could end with a wild card like Ryan Newman or Denny Hamlin winning the championship. If that happens, the bureaucrats who now run NASCAR will have reaped what they deserve.
Of course, TV ratings have been down for most NASCAR races this year and that trend has continued through the 'Chase'. Some tracks are drawing pretty good crowds, but many are fighting a steady decline. Dover recently announced it was removing 15,000 seats while Daytona is undergoing a modern makeover that includes a substantial reduction in the number of seats. Still, NASCAR is solidly established as the big dog of American racing and will continue in that position for many years to come.
After much debate IndyCar last week announced a 17-race 2015 schedule. Two new races have been added early in the year on road courses in Brasilia and New Orleans. The California 500 at the Auto Club Speedway moves from an unhappy season-closing date to the end of June while Toronto has been confirmed for mid-June, two weeks before the Cal 500.
There will be only one race on Sunday in Toronto rather than a twin-bill like this year. Roger Penske's race on Belle Isle in Detroit will be IndyCar's only double-header next year while Pocono moves from the July 4th weekend to late August followed a week later by Sonoma which becomes IndyCar's new season-closer.
A big challenge for IndyCar in the years ahead is to retain its schedule in a consistent shape from year to year and to build stability and date equity for each race weekend. Until that happens, IndyCar will only stumble along rather than finding a proper footing toward a new renaissance.
It will be interesting and possibly exciting to see how Simon Pagenaud does next season in his first year with Penske's expanded four-car team. It will also be interesting to see how talented Brit Jack Hawksworth fares as Takuma Sato's teammate at A.J. Foyt Racing.
Meanwhile, a lot of money, time and testing is going into producing IndyCar's new aero kits for next season. It's hoped that Chevrolet and Honda's aero kits will introduce some much-needed variety and interest to the series but early grainy images suggest the kits could make the cars look even uglier rather than more attractive.
Let's hope these early takes are wrong, but it's fair to ask if anyone other than the existing fan base will care about IndyCar's aero kits. Will they broaden the market, or will they merely cater only to the hard-core base?
Amid the many issues and questions that face the sport motor racing's eternal pursuit of money and markets will continue, whether it's F1 at the high end, NASCAR in the middle, or the likes of IndyCar further down the food chain.
Auto Racing ~ Gordon Kirby
Copyright ~ All Rights Reserved