Presented by Racemaker Press

"There's a lot of junk out there today. If you want it straight, read Kirby." -- Paul Newman


The Way It Is/ Al Unser Jr's favorite race car
by Gordon Kirby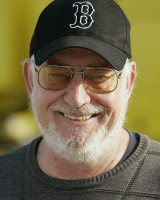 This week I'm going to tell the story of the last Penske Indy car, the PC27 from 1998 and '99. Designed by John Travis, the PC27 and following year's PC27B were beautiful, brilliantly engineered cars hamstrung by too little power and also by the wrong tires. The cars never won a race and at the end of the year Penske made a wholesale change of drivers, chassis, engines and tires, switching to Reynard-Hondas on Firestone tires and hiring Gil de Ferran and Helio Castroneves to drive his cars.
De Ferran took consecutive CART championships in 2000 and '01 driving Reynards that had been seriously Penske-ized with components from Penske Cars, but Penske moved his team to the IRL the following year and shortly thereafter he closed Penske Cars in the UK.
A former Lola engineer, John Travis joined Penske in 1996 to take over from retiring chief designer Nigel Bennett. During those years the Reynard-Honda/Firestone combination was coming on strong winning the CART title with Chip Ganassi's team and drivers Jimmy Vasser and Alex Zanardi in 1996, '97 and again in '98. In an attempt to counter this new wave Travis designed an all-new Penske for 1998.
The PC27 shared only the wheel bearings with the previous year's PC26. The new car featured an F1-like high nose, and included a longitudinal transmission with the gears located in front of the final drive without any reduction or drop gears. A key element in the PC27 was an equally all-new Mercedes-Benz IC108E turbo V8 which was substantially smaller than any previous CART engine.
"For 1998 we made a decision to make a big step," Roger Penske recalls. "It wasn't just that Penske Cars decided to build a new car, but it was really a combination of John Travis and Mercedes-Benz.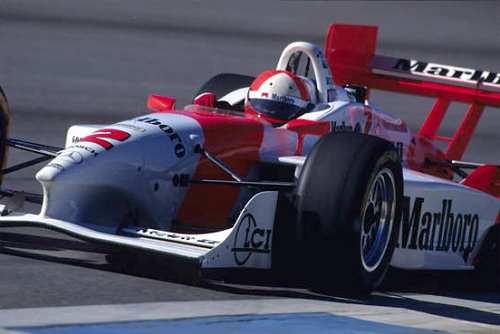 © Racemaker/Paul Webb
"Mercedes decided they would take the next step to go forward and make a completely new engine. They made it much smaller and were able to take almost forty pounds out and make it four and a half inches shorter. That gave our designers at Penske Cars the opportunity to manufacture a car that was built to gain some aerodynamic advantages."
Al Jr. finished second to Adrian Fernandez at Motegi in Japan early in the '98 season and was third at Milwaukee but he struggled in many races and finished the year eleventh in CART points. Teammate Andre Ribeiro scraped into the top ten in a few races but was a distant 21st in points. The hapless season brought an end to Ribeiro's Indy car career.
A revised PC27B was produced for 1999 but the results were even worse. Unser took a single fifth place and was 21st in CART points while Alex Barron, Tarso Marques and Gonzalo Rodriguez shared Penske's second car in an entirely forgettable season. Yet Al Jr. has warm memories of Travis's beautiful and under-appreciated PC27.
"The Penske PC27 that John Travis designed is my favorite race car," Al Jr. declares. "What made it my favorite was it had many fine features and was a beautiful car. It had a high nose and we were just getting into high noses in Indy cars at the time. Cosmetically, it was a really cool-looking car."
Unser loved the PC27's transmission finding it a delight to use.
"What I really liked about it the most was it's transmission," he says. "When you were warming up the engine the oil went through the transmission casing and warmed up the gearbox at the same time you were warming up the engine. Also, the gear cluster was a direct drive from the crank so it wasn't reductive. The mass of the gear cluster was lower and it took me a while to learn how to shift it.
"But once I learned how to do that it shifted like butter. You could use just two fingers on the shifter. It was a sequential shift, but all you needed was two fingers to go up and down, and I really liked that. It took a lot to get used to, but once you did, it was a real pleasure to drive."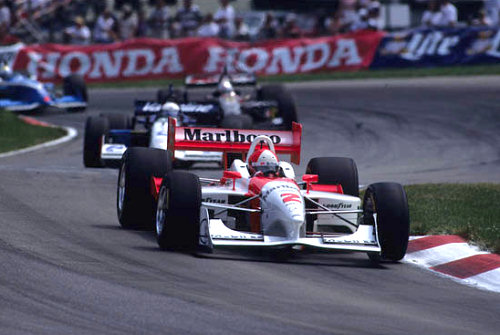 © Racemaker/Paul Webb
It also took a little while to sort out Travis's inventive tranny.
"When we first started testing the PC17 the vanes in the transmission had holes in the inside," Al Jr. recalls. "You would go out and make a lap and come in and oil would be pouring out. The first time it happened they couldn't find the leak. They cleaned everything up and I went out and made another lap and the same thing happened. That went on for about two weeks before they figured out the problem.
"Clive Howell told me it was like you took a water hose and put a bunch of little holes in the water hose. It would fill the inside of the gearbox with oil and then start puking out the oil.
"Then they figured out that the aluminum case heated up at a different rate than the gear cluster. So once I got running it would start to jump out of gear because the clearances on the cluster weren't right. But once they got it all figured out it was a dream to drive."
But the PC27 lacked power and grip and after getting their tails well and truly whipped Goodyear pulled out of Indy car racing at the end of 1999 to focus on NASCAR while Mercedes withdrew the following year to concentrate on F1.
"The reason that car didn't win any races is because it had Goodyear tires and the little Ilmor/Mercedes engine," Unser says. "At the time Honda and Ford/Cosworth and Toyota were all going at it and they just blew us off. They had the power and Ilmor built a tiny little Mercedes-branded engine and we couldn't run with Honda and Cosworth.
"We were also one of the last teams to stay with Goodyear tires. Firestone had Goodyear beaten so bad it wasn't even funny. They just blew us away."
Al Jr. remains convinced that the PC27 would have been a winner had it raced on Firestone tires and with a Honda or Ford/Cosworth engine.
"If we had the right tires and engine that car would have won many races but without those two items we were crippled. But the PC27 was a dream to drive. It really was. It was fun to drive and a beautiful car."
Penske Cars operated for thirty years, first building F1 cars, then concentrating on a long string of successful Indy cars. The cars were always beautifully built and often set the standard in design and performance, but after Roger moved his team to the IRL there was no need to have his own car-building facility.
For the last ten years Penske's IndyCar team has been located in North Carolina beside his NASCAR operation. The team's Dallaras are presented as slickly as any Penske machine, but they're nothing like as innovative, boundary-pushing or beautiful as the last Penske Indy car. Would that there was room for the likes of the PC27 in today's much reduced world of Indy car racing.
Auto Racing ~ Gordon Kirby
Copyright ~ All Rights Reserved