Presented by Racemaker Press

"There's a lot of junk out there today. If you want it straight, read Kirby." -- Paul Newman


The Way It Is/ Motor racing's identity crisis
by Gordon Kirby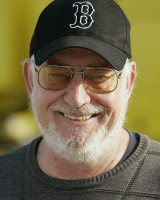 Without doubt these are parlous times for big-time motor racing 'round the world. Most major categories--Formula One, NASCAR and IndyCar--are struggling with declining TV audiences and overall popularity, especially among the much desired youth market. Each of these categories have been immersed for some time in fierce internal debates about what's right or wrong with their technical formula or 'the show' they're putting on.
After dabbling with KERS for a few years F1 adopted a new all-singing and dancing energy recovery formula this year in company with a smaller, lower-revving turbo V6. The new formula also made a useful stab at reducing downforce while increasing torque and power.
Some people like the new formula, some hate it, as they do other things like DRS which many feel is too much of a contrivance. But like it or not, there's no doubt F1 will continue to push more and more in the same direction of energy efficiency and stage-managed rules.
NASCAR made the move to its CoT spec car in 2007 and has fiddled with the package in recent years, allowing each manufacturer a little more identity while playing with the aero package and suspension to try to make the cars handle and race better. Next year will witness a power reduction and a smaller rear spoiler.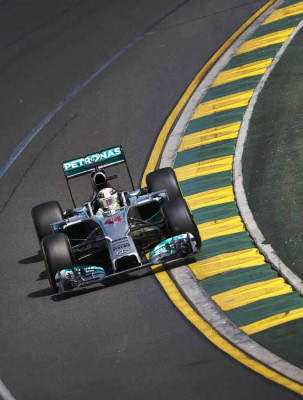 © LAT USA
Of course, NASCAR also has fiddled endlessly with the format for its 'Chase for the Cup' which debuted ten years ago. Many old-timers hate 'The Chase', particularly this year's knock-out version, but there's little doubt that we'll see more of the same from NASCAR for many years to come.
Both F1 and NASCAR have their problems but they pale in comparison to the deep web of difficulties IndyCar has drifted into over the past decade and a half. IndyCar's move two years ago to the current Dallara DW12 confirmed both its commitment to spec car racing and its marriage with Dallara through at least 2018.
As any regular readers know, I believe IndyCar's embrace of a single manufacturer has been an incredible, possibly fatal blunder. It's an insult to Indy car racing's great history and has also chased the American race car industry away from the Indianapolis Motor Speedway and what passes today for Indy car racing. I hope I'm wrong but I cannot see any way IndyCar can recreate the spark needed to make Indy car racing a respected, popular part of the American and international sporting landscape.
A similar but different conundrum confronts the Tudor United SportsCar seres. The TUSC has a number of things going for it--a good schedule of races, a brace of committed manufacturers who want to race sports and GT cars, and plenty of willing teams--but it's lost the spectacle and technical allure that the ALMS briefly enjoyed and has created plenty of ambivalence among America's traditional sports car fans.
Those fans are only too aware of the spectacular hybrid LMP1 cars that race at Le Mans and in the World Endurance Championship and would like to see something similar in America. It seems to me that as time goes by the WEC and TUSC will continue down divergent paths and the TUSC, like IndyCar, will be consigned forever to lingering on as nothing more than provincial backwaters. Again, I hope I'm wrong.
It's important to recognize that most sports are very simple. They require little more than a stick, a bat or a ball. Essentially they are the same today as they were 100 years ago. Whether it's football, baseball, basketball, soccer, golf, tennis, ice hockey, track and field, etc. the basics of the sport and the nature of the spectacle remain unchanged.
Not so in motor racing. We've been through multiple technical revolutions over the last 100 years so that today's machines are completely different in concept, appearance and performance from the giant, lumbering behemoths of the sport's early days.
Early ground-pounders like FIAT's 14 liter (850 cubic inches) S74 from 1912 morphed rapidly into the likes of the much smaller, lighter 4.5 liter Mercedes-Benz and Peugeot Grand Prix cars of 1913. The Peugeot set a new standard for engine design which prevails to this day with four valve per cylinder and a hemispherical combustion chamber. The concept was copied and refined by many race car designers to follow including the Duesenberg brothers and Harry Miller here in America.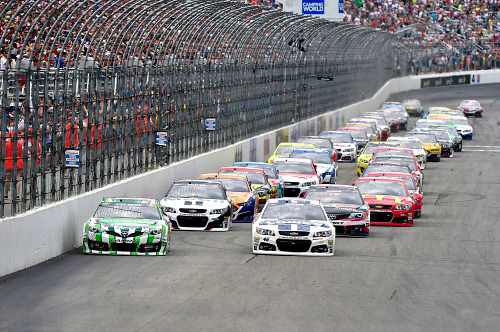 © NKP
Almost from the start the sanctioning bodies have been trying to slow down the cars. Much the same as the ACF (Automobile Club de France, forerunner of the FIA) in Europe, the AAA cut engine size from 300 cubic inches in 1919 to 183 cubic inches in 1920 to 122 cubic inches in 1923, then 91 cubic inches three years later. A few years later as the Great Depression arrived the AAA temporarily adopted a fuel efficiency formula, allowing no more than 37.5 gallons of gasoline to cover the 500 miles at Indianapolis.
Motor racing's technical revolution really took off after WWII, particularly as the sixties arrived, presenting the rules makers with plenty of challenges. Rear engined cars appeared across the board in the late fifties and early sixties, completely upsetting the traditional applecart in both Europe and America. This move was followed in quick order by the arrival of much wider, low profile tires, aluminum monocoques replacing tubular chassis, wings and aerodynamics in general, turbocharging, carbon fiber chassis, data systems, telemetry and electronics galore.
Unlike other sports therefore, the nature of motor racing's spectacle has changed many times over the decades. So too has the fascination with and appeal of ever increasing lap speeds. The eternal quest for new track records has been quelled by the perceived need to make the sport safer by reducing speeds and limiting or banning new technology. The focus, more and more, has been on making close, competitive racing rather than encouraging spectacular speeds and performance.
Many of us believe the essence has been sucked out of the sport by the bureaucrats and marketing mavens who long ago took over running the sport. Over the last forty years motor racing's sanctioning bodies have time and again seriously restricted or banned new technologies. In my view, they failed spectacularly at managing technology's role in the sport whether it was the SCCA with the Can-Am, Trans-Am and Formula 5000/'new era' Can-Am, or USAC, CART and IRL/IndyCar, not mention NASCAR or IMSA/ALMS/Grand-Am/TUSC.
Back in 1973 and '74 I had the pleasure of covering the last two years of the original, unlimited Can-Am series. I witnessed Mark Donohue and Penske's Porsche 917/30 steamroller the opposition in 1973 after chasing away the long-dominant McLaren team. The SCCA's response was to introduce a fuel limit for the '74 season which resulted in Penske and Porsche quitting the series. By the end of the year--dominated by the two UOP Shadow DN4As driven by Jackie Oliver and George Follmer--the Can-Am was dead.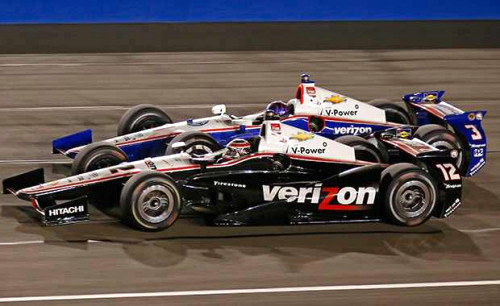 © LAT USA
The SCCA tried to replace the Can-Am with Formula 5000 before attempting to recreate the glory days of the sixties by putting fenders on F5000 cars and calling them 'new era' Can-Am cars. But the 'new era' lasted only half a dozen years and by the early eighties the Can-Am had become irrelevant and soon died.
Today, I believe IndyCar has backed itself into a corner with its current formula. It's trying to break out of its dead end with the introduction of 'aero kits' but it's very much an open question whether the aero kits will have any substantial impact on the media and public's interest in the category. A first glance at Chevy's aero kit suggests the new look will be even uglier with a proliferation of air deflectors and whatnot.
Will there be much difference in appearance between the Chevy and Honda kits? Will anyone in the wider world care? Or will the aero kits cater only to IndyCar's deeply diminished fan base? Meanwhile, Derrick Walker is very worried about how to manage and control the development of aero kits so that the playing field is not disrupted too badly.
IndyCar is also struggling with deep scheduling problems. More than forty CART/ChampCar/IRL/IndyCar races have vanished or failed over the past twenty years and every single one of 29 international races tackled by USAC/CART/IndyCar since the Race of Two Worlds at Monza in 1957 have disappeared, most after only a year or two. No other sanctioning body has endured such a miserable record of failure.
As I've written before, if IndyCar is to survive as a professional sport it must find a way to establish a solid, unchanging schedule of quality races run on the same date year after year. But I have no idea how the carpetbagging series that it's become can achieve that goal.
Nobody knows what the future holds, particularly in today's increasingly complex, fast-changing world. For all their faults, F1 and the WEC are trying to adapt, but our domestic sanctioning bodies seem to have fallen into a catatonic state of denial. I hope each of them can cope with their various identity crises and find ways to successfully embrace the future.
Auto Racing ~ Gordon Kirby
Copyright ~ All Rights Reserved