Presented by Racemaker Press

"There's a lot of junk out there today. If you want it straight, read Kirby." -- Paul Newman


The Way It Is/ Christian Fittipaldi on Action Express's TUSC title
by Gordon Kirby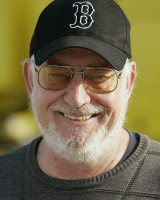 Action Express was the team to beat in this year's inaugural Tudor United SportsCar championship. Run by NASCAR veteran Gary Nelson, Bob Johnson's North Carolina-based team kicked-off the season with a convincing win in the Rolex 24 Hours and added two more mid-summer wins at Indianapolis and Elkhart Lake before wrapping up the title with a solid run to second at Road Atlanta's Petit Le Mans.
Action Express enjoys a very strong team of fast, experienced drivers with Joao Barbosa and Christian Fittipaldi running all the races and Sebastien Bourdais joining them for the long-distance grinds aboard one of the team's pair of Corvette Daytona Prototypes. They beat Wayne Taylor's team to this year's championship with a tally of three wins, one second, four thirds, a pair of fourths and one sixth place, completing every lap of all eleven races--an impressive accomplishment.
Last week I talked to Christian Fittipaldi about Action Express's sweep of both the Tudor championship and the Patron North American Endurance Cup. Christian, 43, has been racing for almost thirty years including three years in F1 and a long stint in CART with Newman/Haas. He's won quite a few races along the way but this is his first championship since winning the European F3000 title back in 1991.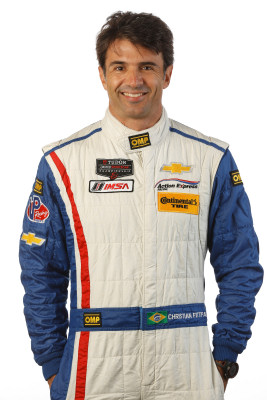 © LAT Photo USA for IMSA
"It was an awesome year," Fittipaldi grinned. "We had our ups and downs but we had a great year. I think one of the things that's the most surprising to me is we are the only car that finished every single lap of all the races this year. If we didn't win, there wasn't one race we finished a lap down. We finished every single lap of the championship.
"That all boils down to teamwork and having a good, reliable engine," he added. "A lot of time we had the engine to have for that particular track but sometimes it wasn't. But the engines were reliable, the car was reliable and the team made the right calls on strategy and tactics."
The year couldn't have gotten off to a better start with an almost unnaturally faultless run to victory in January's Rolex 24 at Daytona.
"Daytona was just great," Christian remarked. "The car felt great and everything clicked. There were no mistakes. I drove, Joao drove, Seb drove, and so it went. We shared exactly the same seat and everything worked perfectly. Probably though the whole race I spoke to our engineer Iain Watt no more than five or ten minutes because, really, we had no issues or problems.
"It was an incredible experience to run twenty-four hours so flawlessly. Everyone knew exactly what they had to do. I went back to the motorhome to get some rest. They knocked on the door and called me when they needed me and I went out to the pits and looked at the scoring monitor to see where we were. I was ready to go in the car and asked Iain if there were any issues, and there weren't. That's the way it went.
"Seb fit like a glove. He had driven this car for another team last year but our guys built his car and when he hopped into our car on the first day all the switches were in the same place. Everything was the same, exactly the way he was used to and right away he was able to drive the car flat-out. We couldn't have asked for a better partner.
"We were really well-prepared," Fittipaldi emphasized. "The whole team put a lot of effort into the program last winter and we did a lot of miles in testing and it paid off."
Fittipaldi, Barbosa and Bourdais finished third at Sebring while Christian and Joao followed that up with third at Long Beach, fourth at Laguna Seca and a lucky sixth at Belle Isle in Detroit.
"The only races we didn't finish on the podium were Laguna Seca, Detroit and Mosport, but we were competitive in all of them," Christian relates. "They just didn't go our way for one reason or another.
"We had a competitive race at Detroit but then we had a last lap incident. We still managed to cross the line and finish the race. Then at Mosport we had a flat tire and finished fourth. You couldn't say those were bad races for us because it could have been a lot worse.
"After Mosport we talked about what should we do and we decided we weren't going to do anything different. We were confident that everything we were doing was in the right direction and we were just going through a bad spell.
"After that we won two races in a row at Indy and Elkhart and that put us into the final approach to the championship. Indianapolis for sure was one of our best races. We qualified pretty solid considering our limitations there because of the BoP. We knew we had a very good race car and our race there was really strong. We dominated the race."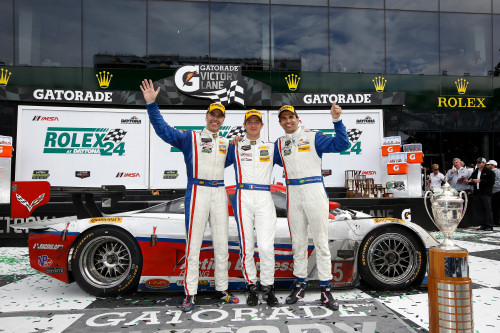 © LAT Photo USA for IMSA
Christian says the team took a different approach at CoTA in September, the season's second-last race. They also watched their Ps and Qs through the opening stages of the Petit Le Mans season finale.
"We were a little conservative at the last two races in Austin and Petit Le Mans. Really, it was only the first hour and a half at Road Atlanta. After that we were trying all we could to win the race.
"But in Austin we took a very conservative approach. We said either we could consolidate our position and make our lives a lot easier in the last race of the season, or we can go for it and possibly screw it up.
"So we opted to take a very gentle approach. We went into Austin with a 16 point lead and if we had left there with only an eight or ten point lead we would have been extremely happy. I was expecting to leave Austin with eight points but it happened that it was a lot better than we were expecting."
Fittipaldi also discussed the difficulties faced by IMSA in managing its 'Balance of Performance'.
"Were there races where we had an advantage? Yes, there were. I'm not going to say it never came our way. At the same time there were races were the P2 guys had an advantage. But in general, in my opinion, IMSA did a very good job with the BoP considering that the DP and P2 cars are so different. Hats off to them. But now, we've achieved a point where it's not going to be easy for them.
"An example is that the Ligier P2 car did the quickest lap of the race at Petit Le Mans. They whipped everyone by half a second in the race. They probably would have been on pole if they hadn't had a mechanical problem in qualifying. They are the quickest car out there if they run by themselves.
"They make up all their time in the corners and they're a little bit slower down the straight. So in order to BoP this you have to either take downforce out of them so they are then going to go quicker down the straight, or you need to give them a little bit more power and at the same time, less grip. So it's going to be very hard to balance the next step in the BoP."
Fittipaldi believes IMSA underestimates the overall performance of most of the Daytona Prototype teams in making its BoP assessments.
"You can go 'round in circles chasing the right BoP balance. I think an important factor that's not given enough consideration is that most of the DP teams out there race better than the P2 teams. I'm talking about the actual race strategy and all that stuff. Because we do a better job at those things it makes our car look quicker than it is.
"In reality, in my opinion, I think we did a much better job of strategy, teamwork, coming in at the right time and making quick stops. So please don't penalize us for that and I'm not just talking about us. I'm talking about the #5, #10, #90, the #01 and the #31. I'm talking about all the DP guys.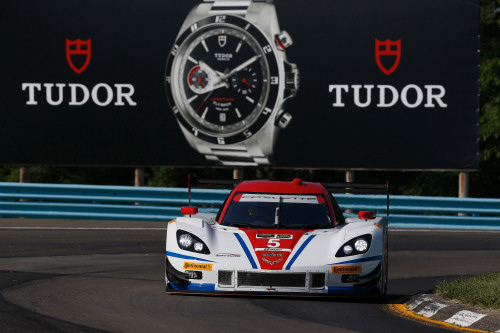 © LAT Photo USA for IMSA
"So I'm curious to see what the next step in the BoP is going to be. It's not easy and again, IMSA did an awesome job with the cars the way are right now because they are two completely different cars."
Christian pauses, then adds philosophically.
"You can be on one side of the scale or the other side. It's difficult. Either you try and accommodate everyone or you go Formula One racing. Money buys performance."
Of course, there's much more unhappiness with the ever-changing BoP in the GT categories, particularly GTLM where five different manufacturers competed this year, making the BoP problem even more complex.
Meanwhile, Fittipaldi is looking forward to some serious winter testing in preparation for next year's Rolex 24 Hours.
"It's all carrying on the same next year," he says. "We are going to be running in November and December. I think we're going to run two or three times before the 'Roar'. We want to keep the ball rolling.
"There are going to be some small changes in the bodywork from Chevrolet. They want the car to look more like the Z7. But otherwise we don't anticipate any changes. Maybe some minor upgrades but nothing significant. We're just going to fine-tune what we have.
"I'm looking forward to going back to Daytona because the car is so much better than it was at the beginning of the year. IMSA took away a lot of what we had over the year but the car has evolved so much through the year that I'm curious to see what we can do at Daytona."
While Action Express and the TUSC's other top teams get ready for 2015 the sanctioning body must get to work on improving its TV package and overall media coverage. It also needs to take a close look at running races with fewer full-course yellows. More attention must be paid in general to what the paying spectator wants as well as the TV viewer.
And if it's to be successful in the longterm the TUSC must find a way not only to attract more technologically relevant top level prototypes but also recreate the spectacle that made both IMSA's old Camel GTP series and a few of the ALMS's more recent years so compelling. Plenty of work lays ahead.
Auto Racing ~ Gordon Kirby
Copyright ~ All Rights Reserved