Presented by Racemaker Press

"There's a lot of junk out there today. If you want it straight, read Kirby." -- Paul Newman


The Way It Is/ A rare talent emerges
by Gordon Kirby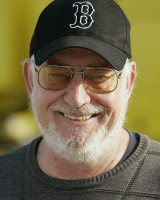 Kyle Larson has risen rapidly through the ranks from karts to midgets, sprint cars, Late Models, K&N series, Nationwide and now the Sprint Cup series. He was NASCAR's K&N East champion in 2012, rookie of the year in last year's Nationwide series and replaced Juan-Pablo Montoya this year in Chip Ganassi's #42 Target Chevy Sprint Cup car.
All along the way Larson has caught the eye of many people with his speed, winning ways and cool, calm demeanor. This year the uber-talented 21 year old Californian has caught the wider world's attention by running up front in a number of Sprint Cup races and showing his talent in spectacular style at the Chicagoland Speedway the weekend before last as he brushed the wall while battling for the lead in the closing laps with Jeff Gordon, Kevin Harvick and Brad Keselowski.
Ganassi spotted Larson's ability three years ago and signed him to a development contract. Larson won the K&N Pro Series East in 2012 driving for Rev Racing, then ran the Nationwide Series and some Truck races last year for Turner Scott Motorsports. He won a couple of Truck races and finished eighth in Nationwide points, taking the series rookie of the year award. Suitably impressed, Ganassi signed him to replace the departed Montoya this year and Chip has been very happy with what he's seen thus far.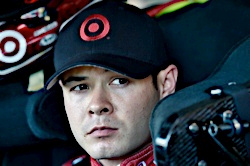 © NKP
"I think he's a new generation guy who's a little like some of the other new generation guys who drove for us like Jimmy Vasser, Zanardi, Montoya and Dixon," Ganassi says. "All those guys were new generation guys and Larson is one of them. When these guys come along they're not all out of the same mold. There's as much difference from Montoya to Larson today as there was between Vasser and Montoya. It's that dramatic.
"When you have a guy that's 21 years old you forget that he was born in 1993 and at that time our team was just getting ready to start winning races and championships. So when Kyle was born we were establishing the foundation of what we are today. We only had ten employees.
"But there's such a breath of fresh air about Kyle. He's won a lot of races on the way up and it's almost as if it's not new to him, which is the most refreshing thing. He's driven a lot of miles in big horsepower sprint cars. The horsepower to weight ratio of a winged sprint car is something to respect and he's learned from that how you have to drive Cup cars."
Ganassi couldn't be more pleased with Larson's progress.
"Kyle doesn't get overly serious about what he does for a living," Chip commented. "He understands the nuances of racing and the nuances of racing against each guy out there. A lot of drivers can drive race cars fast but they're not race car drivers.
"But he's a race car driver. He gets it about getting in and out of the pits, about his in and out laps and about cold tires and restarts. He gets it about when to go and when not to go. He understands about when to use the car up and when to not use the car up.
"He's one of these young guys who drives way beyond his years. All these young kids today have been playing video games since they were little more than babies and their hand-eye co-ordination is sharper than it was with you and me. They've also been racing go-karts since they were kids and they have so much experience and so much understanding of simulation and all that stuff. They're not scared by computers in any way. They embrace them."
Ganassi says he likes Larson personally and compares him favorably with Scott Dixon.
"Kyle has also got a nice fresh way about himself," Ganassi added. "He's a nice, calm kid. He's got a girlfriend and a child on the way and that's all good. I like him a lot.
"He fits our mold in many ways. He's Dixon-like in that they have a lot of the same traits. A lot of the things you can say about Dixon you can say about Larson. They're both quiet, unexcitable guys. There's no Hollywood to them. They just get on with the job. They've both got a little bit of ice in their veins."
Larson started racing karts when he was seven years old and was soon winning races and moving up the ladder.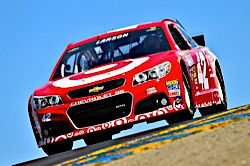 © NKP
"I didn't start racing until I was seven but I would play around on a go-kart at my dad's friend's house," Kyle recalls. "I liked it a lot and my dad bought me a kart when I was seven and we started racing. I moved up through the classes and bigger engines. We got into the 500 cc class when I was eleven and ran that until I was fourteen. Then I got into sprint cars and ran them for seven years.
"I thought I was always serious but probably didn't think I could make a career out of it until I was thirteen or fourteen because I was winning a lot of races and I got a ride in sprint cars without really bringing any money which was a great thing. I knew that my family wouldn't be able to get me further than go-karts or outlaw karts so I knew I had to go out there and do good, have a good image and try and get rides.
"My parents were huge supporters of my career. They just took care of everything as I grew up before I got to NASCAR. They made a website and put up articles and pictures and videos of me racing. My dad wrote articles to help promote me and they were just huge supporters."
Dave and Debbie Vertul from Elk Grove, California, Larson's hometown, gave him his first sprint car ride.
"I had an up and down first couple seasons in sprint cars and in the third year I started winning races. From there I hoped I could make it, but I knew it would be tough."
Young Larson's speed caught the eye of Rick Saddlehofer who owned a construction business and got him a ride with Brent Kaeding's renowned sprint car team for a few years before Keith Kunz and Pete Willoughby gave him the opportunity to move beyond California's borders and race USAC midgets, sprint cars and Silver Crown cars.
"I was fortunate to get rides on my own without having to bring money and it was all good equipment. It was about winning lots of races and meeting the right people that I got lucky with. Racing with Keith and Bill is what got Chip to notice me and from there it's been all good. Meeting the right people at the right time has been the most important thing."
Larson says he gained plenty of experience from racing against many Cup drivers in last year's Nationwide series.
"Running the Nationwide series you get to run with a bunch of Cup guys and if you don't make any mistakes that costs them when you're racing with them then you earn some respect from those guys. I race hard every week and hopefully that respect is going to continue. There's give and take throughout the race and if you race them hard but clean, that's how you gain the most respect.
"The more you run up front with those guys the more you learn from them. I don't know that there's a particular thing I can say I've learned other than you remember the times you ran out front and you learn to do a better job the next time. I think I learned a little bit about handling the air when you're behind people. There's a bunch of things but you don't really know until the situation pops up again.
"I feel like you race even harder when you're up front rather than when you're tenth to fifteenth you just try to make it to the next pitstop to make your car better. But when you're up front you just race hard the whole time. I don't know if everybody else feels that way but I feel like I race hard the whole race and that makes it a lot of fun."
Larson believes his dirt car experience with winged sprint cars has helped him perform well in NASCAR cars on high-banked 1.5-mile and 2.0-mile ovals.
"I think why I'm good on mile and half and two-mile tracks like Fontana is because of my winged sprint car experience where I learned a lot about momentum and how to run the top and to search around for different racing grooves as the tires wear out. That's why I think I'm good on those tracks and why I struggle on short tracks.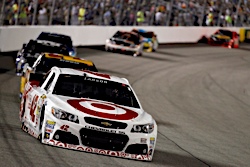 © NKP
"I think because I grew up racing sprint cars, the mile and a half tracks feel a lot like the three-eighths miles and half-mile race tracks we raced on where you try to carry a lot of momentum and you have to search around for different lines. Places like New Hampshire and Martinsville are difficult for me because they're different from what I've ever done. You get hard on the brakes and you just run the same line all the time.
"I think a lot of guys that grew up racing Bandoleros and Legends cars and Late Models, everything they did was on short tracks and you learn how to get your car around the bottom as quick as you can and get off the corner. That's why I think I excel on mile and halves because they didn't grow up doing that kind of stuff. But I think I'm getting better at the short track stuff where you have to use a lot of brakes, but I'm not where we need to be, for sure."
Larson freely admits to having little technical knowledge but believes he communicates well with his crew chief and engineers.
"I feel like I communicate okay to the team. I'm not very mechanical with my feedback but I'll describe what the car is doing. I'm not the type that will offer changes. My crew chief and the engineers are the ones who are getting paid to do that job. I just try to figure out the feel and feedback to make it go faster.
"I think I'm a pretty easy-going guy and that's been a good thing for everybody I've worked with I think. I don't get overly excited or stressed out. I've worked well together with everyone I've worked with and I think it's just because maybe my personality is just calm. I don't get down on them or myself very often and I think that's a good thing.
"I think the thing that's made the biggest difference for running well the whole race is understanding how I want the car to feel at the end of 'Happy Hour'. The first half of the season or so and the first half of last year in the Nationwide series I would always try to get the car looser so I can go faster. Then you start the race way too loose and you spend the first half of the race trying to get the car back to being competitive. I think now I understand better where I want the car to feel at 'Happy Hour' and go from there."
Larson's crew chief is Chris Heroy, known as 'Sunshine' or 'Shine'. Heroy started his career working on Formula Atlantic cars in his native California before moving to North Carolina to work for Hendrick Motorsports as a race engineer for seven years. He joined Ganassi three years ago.
"Kyle is really good at taking advice and providing fair evaluation," Heroy says. "I think he's got the skill set to become a champion. It's our job to raise him to that level by having good cars and making as few mistakes as possible. He's really good about his feedback and learning from mistakes we've made.
"His biggest strength is his feel for the car and his ability to tell us what it's doing. He's still learning about these cars and a lot of tracks so we've been trying to schedule tests and get him more time on these tracks.
"The key to being a productive team is getting through the hard times and making them better. There's nothing you can't fix. We have a test coming up at Martinsville, which I would say is the only poor race we've had. We're going to test and figure it out.
"I told him from the beginning that if he doesn't know the answer to any of our questions to just say he doesn't know. We can't be working off any ambiguity. We've got be working off the truth. If we don't know where we're at, let's try it a little tighter or a little looser and see how it goes. You've got to know what you're trying to fix, so you've got to tell us the truth of what you know or don't know.
"We try to have a mantra in our team of not getting too high or too low and let our overall success be our focus. This team has come a long way in the last two years in terms of performance. We've gotten that by sticking to that mantra and Kyle is really a good fit for us. We don't do a lot of rah-rah stuff. We just go to work and try to be fast."
Larson finished a strong second in New Hampshire last Sunday and hopes to win a Cup race before season's end.
"I definitely feel like we're really close," he says. "We've been close a couple of times this year. We were just a little bit off at Fontana and I think we had the second-best car at Chicago. But I think it's coming. I hope it's before the end of this year, but if not, I'm sure we'll be really good next year.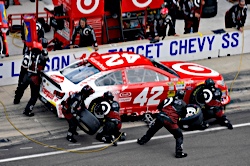 © NKP
"Finishing second at Fontana was good and Texas was a good race for us. I ran in the top five the whole race. There have been those moments where--I always felt like I deserved to be here but those races made me feel like I'm going to be here a long time."
Larson believes his best chances to win this year will come at Kansas, Texas, Charlotte and Homestead.
"I think Kansas will be a good track for us as well as Texas, which may be our best shot," Larson remarked. "We were in the top five there pretty much the whole race early in the year. Homestead is my favorite track. You run the wall there similar to how you do at Chicago, so hopefully, if I can keep it out of the wall I can be up front.
"I think we'll be pretty good at Charlotte. We weren't very good during the 600 but I like Charlotte and I think we can go there and run well also. The mile and a halves are by far my best tracks. Martinsville is my least favorite and will be the toughest one, for sure.
"You just try to go out there each week and do the best job you can and hopefully it works out at the end of the race. It would be nice to be the dominant car more often but I think our team is getting better and better each week.
"I'm still learning and adapting each week. These cars are way heavy compared to anything I've ever driven. The tires go off like they do in sprint cars but they do it in a different way. There's just a lot of stuff to learn.
"The weight of the car and the style of racing in NASCAR is way different than in sprint cars. With sprint cars you'll just blow right by somebody when you pass them but in these cars you have to work on the guy for ten or twenty laps before you get by him.
"So there's a lot of stuff I'm learning and still learning. I've had to learn a little bit about aero but winged sprint cars punch a much bigger hole in the air than these cars. Aero is almost harder in those cars."
Larson is not impressed with the fact that he's racing in the big leagues against the likes of Jeff Gordon, Jimmie Johnson, et al.
"I don't think about that at all," he grins. "I think another good thing about me growing up racing sprint cars is that my whole life I've been racing against adults. I think if I grew up racing Late Models and spent a lot of time in the K&N series you would race against a lot of people who are your age. But I think growing up racing against adults has maybe made me more mature for my age and not think it's really a big deal.
"I raced sometimes against Steve Kinser, Sammy Swindell and Donnie Schatz who are equivalent in sprint car racing to Jeff Gordon and Jimmie Johnson in NASCAR. So I just don't get too excited about who I'm racing against."
Larson made his sports car debut with Ganassi's team in this year's Rolex 24 Hours at Daytona and Ganassi could well provide Kyle with an opportunity to race in the Indy 500 in the coming years. I asked Larson about his interest in racing Indy or Formula One cars.
"I would like to race in the Indy 500 some day," he replied. "I got to compete in the Daytona 24 Hours this year, which was cool. I don't feel I would ever want to run a full season of F1 and no team is going to ask you to jump in and run a one-off race, but it would be cool to run an F1 race.
"I don't think I could ever see myself doing a full F1 season because I didn't road race at all until I got to NASCAR and I didn't race on pavement until a few years ago and those guys in F1 have grown up doing road racing in those types of open-wheel cars. So I think it would be hard for me to learn and the culture as well.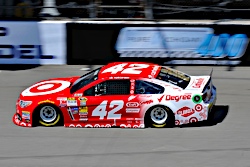 © NKP
"F1 is way different from NASCAR. F1 is way different from any kind of racing in America. The way everyone communicates is different. It would be tough, but it would be a cool experience. But I don't think it's something I would ever do full-time."
NASCAR's vice-president of competition Robin Pemberton added his observations about Larson.
"His ability is just amazing at his age," Pemberton said. "But his understanding of his surroundings when he's out on the race track, no matter what vehicle he's in, whether it be open-wheel or Truck, Nationwide or Cup cars, he's beyond his years. He really is. He's one of the best talents that I've seen out there maybe since Jeff Gordon."
Gordon has praised Larson frequently for a number of years, since the kid began to make his mark in sprint cars.
"I've been saying this for two years about Kyle," Gordon commented last weekend. "I've had my eye on him for a long time. He's the real deal and it's exciting for the sport.
"Over the years we've seen young guys come along who can separate themselves from the others and do exciting things that might want to make more people watch our sport and have a young guy to pull for. I've had a lot of people say over the years that they started watching the sport when I came into NASCAR. I see what he's doing and I see how people are reacting to it and it's very exciting."
The implacably cool Larson is delighted with Gordon's plaudits.
"It's awesome," he grins. "Jeff has seen me race in sprint cars and he's said good things about me for a few years. The same with Tony (Stewart) and some others, but it seems like Jeff's been my biggest fan over the last couple of years. It's awesome to see a guy who's been racing on the NASCAR circuit for as long as I've been alive to talk so highly of me.
"I don't know if he's ever talked about another driver like he has with me, so that makes it feel really special for me. Now I just want to go out there and beat him more often. Like I said, it's great to have somebody who's a hero to so many people be a huge fan of myself."
Thanks to its healthy ladder system NASCAR is enjoying a flush of young talent including the likes of Ricky Stenhouse Jr., Austin Dillon, Chase Elliott and Cole Custer who won last weekend's Truck race in New Hampshire to become NASCAR's youngest winner at 16 years of age.
But at this stage the most compelling of them all is 21-year old Larson, a special talent who appears to have a very big future ahead of him.
Auto Racing ~ Gordon Kirby
Copyright ~ All Rights Reserved