Presented by Racemaker Press

"There's a lot of junk out there today. If you want it straight, read Kirby." -- Paul Newman


The Way It Is/ Gilding the golden goose
by Gordon Kirby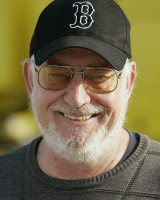 From the Rolex Monterey Reunion two weeks ago to this Labor Day weekend's Lime Rock Historic Festival and Watkins Glen next weekend, vintage racing is thriving in America. For many tracks, their historic race weekend is their healthiest and certainly most enjoyable event.
In addition to Laguna Seca, Lime Rock and the Glen, first-rate historic weekends take place at Elkhart Lake, Sonoma Raceway, Milwaukee and St. Jovite, and over the next few months vintage races will be run at places like Mid-Ohio, Savannah, Daytona and Sebring. As I've written, vintage and historic racing are as active and vigorous as any segment of the sport these days across North America and Europe and in Australia and New Zealand too.
This year the Indianapolis Motor Speedway introduced its first stand-alone vintage weekend on the weekend after the 500 as well as a superb concours on the opening weekend in May. Other well-established events like the Pebble Beach concours and Amelia Island add a further patina of excellence to a bristling, healthy scene.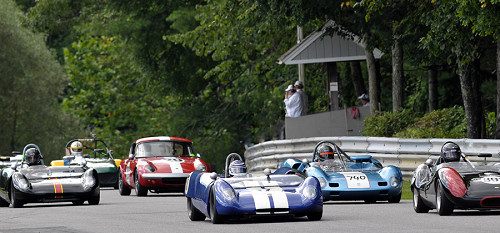 © Gary Gold
While visiting Phil Reilly's renowned restoration shop in California last week I talked to Reilly about the state of vintage and historic racing in America. We discussed the many plusses and some of the challenges faced by this thriving segment of the sport. Reilly is an unreconstructed disciple of Monterey Historics founder Steve Earle, putting Earle in company with Goodwood's Lord March.
"I strongly believe Steve Earle is the godfather of vintage racing in the United States," Reilly declared. "Steve absolutely set the standard. He has impeccable taste and encyclopedic knowledge of the sport. He owned the Ferrari Can-Am cars that Chris Amon and Jim Adams drove, and his original partner in General Racing was Jim Kaser who ran the SCCA for a while in the sixties.
"Steve's business plan was always to create as good a show as you possibly could and sell tickets for people to come and enjoy the show. It was the same as Lord March's business plan."
Of course, vintage racing has both benefitted and struggled sometimes because there's a proliferation of sanctioning bodies anxious to put on competitor-based events with little interest in attracting fans.
"Because vintage racing has no overarching sanctioning body, anybody can put on a vintage race," Reilly observed. "There are a ton of vintage racing sanctioning bodies and for most of them the business plan was entrant-based. If they sold any tickets it was a lucky happenstance. It wasn't part of the plan."
Still, the more successful historic events turned into money-makers for many tracks.
"The Elkhart Lake and Watkins Glen vintage races would have 500 or 600 entries and that became pretty profitable," Reilly remarked. "It's pretty hard to get an entry for the Elkhart Lake vintage weekend in July for under $1,000 by the time you signed up for the pit space and the tent and the parking and an extra test day.
"Whereas Steve Earle's Monterey Historics was always the cheapest entry fee of the year. It cost $200. Coincidentally, there is no entry fee for Pebble Beach or Amelia Island. When it's a ticket sales-based business the talent shouldn't have to pay to come.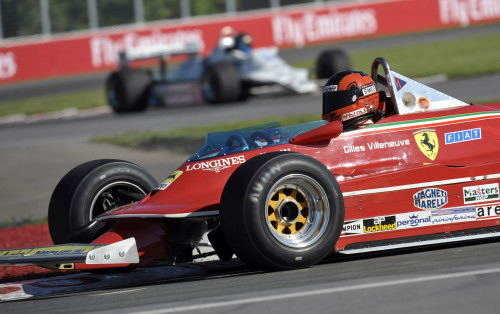 © Gary Gold
"But that seemed to have run it's course about five years ago, probably as a result of an aging demographic of the participants and some people who put on races taking advantage of the situation and collecting a big, fat entry fee. Certainly at Monterey these days you pay more for less track time. I personally think it's a little like NASCAR. They're strangling the goose that laid the golden egg."
Reilly knows whereof he speaks because he's not only a master of vintage race car preparation but also has considerable experiencing organizing the Historic F1 Grand Prix series in company with James King and Rebecca Evans. At one stage Reilly Restoration prepared almost half the Historic F1 field and all the Cosworth DFV engines.
"Historic Grand Prix was something that goes back to Steve Earle," Reilly says. "In the mid-eighties there were a few Formula One cars around but not enough to constitute a racing event. One of the people who had an F1 car was Steve. I think it was 1987 when he made it a class at Monterey and once there was a place to run them people were clamoring to get cars.
"I had a car. It wasn't done at the time but we were on the ground floor of that. In the early days we were looking after eight cars plus building all the motors. It was a pretty crazy time.
"Steve ran the F1 cars at Monterey, not every year, but enough to keep the interest up. They ran at Portland when he did the Portland historic race and they had a pretty big deal at Watkins Glen in 1999. They had almost fifty cars."
Historic Grand Prix ran at many vintage events and also at the Canadian Grand Prix in Montreal and at CoTA in Texas. The 1960s-'80s F1 cars also raced at Indianapolis in company with the short-lived F1 race at the Speedway.
"I sold Tony George on the idea of having the historic F1 cars at Indy with the United States Grand Prix but we needed an organization to make it happen," Reilly recalls. "The original group was Rebecca Evans, James King and Steve Earle, who was on the masthead for five years. Steve was very much a part of the original historic F1 thing.
"I've known Rebecca since she was three. Her dad Sammy was a drag racer and I'd known him forever so she became our secretary and fourth partner almost from the beginning. She was the heart and soul of the company. She's still involved today, but she works for Ralph Lauren overseeing his car collection."
Some of the steam began to seep from Historic GP with the passage of time and as more vintage sanctioning bodies wanted the F1 cars to run at their events.
"In the early 2000s there was a huge clamor to get cars but a lot of these people have been there and done that and want to do something else," Reilly observed. "The other part of it is, how many events can you support? As soon as it starts to feel like work people stop coming--as it should be. I think the notion of having six or eight events a year, particularly in the United States, is very difficult. From California to St. Jovite is a long way. It's a $7,000 tow before you've even taken your car out of the trailer."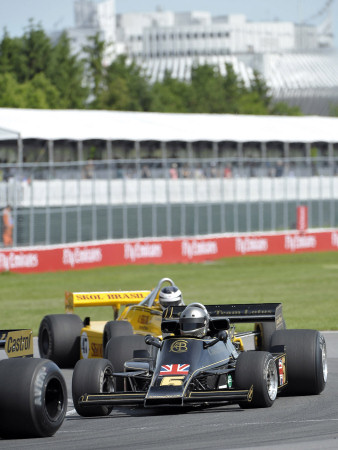 © Gary Gold
After a number of years Historic Grand Prix found itself priced out of appearing at the Canadian GP. The series was bought last year by Master's Grand Prix which runs an international series of eight historic F1 races for cars built between 1966-'85.
"We never made any money," Reilly says. "It was always a volunteer thing. But it was interesting that it went from being paid $25,000 to run the show to having to pay $150,000 to go to the Canadian Grand Prix a few years ago. For a track owner, fifteen years ago the plan was you brought in support races that would embellish the big show. But now it's a revenue stream.
"We found ourselves at major venues competing against BMW, Porsche, Ferrari and Mazda who all had their own series that were paying to be on the weekend's card and we couldn't afford that. We usually got a pretty good discount but it was still a lot of money. So that made it difficult. I don't really know how Masters is going to succeed because it's hard to make it work as a business model."
However, Reilly is very encouraged by the energy and commitment Tony Parella has displayed in taking over SVRA (Sportscar Vintage Racing Association) and initiating the vintage weekend at Indianapolis.
"The only bright spot I see is Tony Parella at SVRA," Reilly remarked. "He's a smart businessman who's pretty passionate about vintage racing. He bought SVRA which was always entry-based. They were the biggest events. It was run what you brung. If you had a checkbook and a pulse, you were okay and what your car was didn't much matter.
"It's still like that but Tony understands what it is and what's required. He's joined forces with Steve Earle which gives him a lot of instant credibility. I think there's some talk at least of a subset in the program for the good stuff.
"The problem is the people with the good cars don't want to take them to an event where they're going to get T-boned by a TR4. So the number of real high caliber cars is decreasing. They did pretty well at the Monterey Historics this year, but last year was pretty grim. I think there was only one Ferrari in the whole paddock. It's a real problem because who's going to pay money to go and see a bunch of so-so cars? I think people want to see the D Jags and so on.
"I vividly recall having a discussion with Stephen Griswold back in the seventies about who's going to care about the Duesenbergs and Packards because all those guys are dying. But in fact, people do care because the interest is as strong as ever. I don't think the age of the cars relates to the level of interest, but it is a factor for sure."
Reilly believes and hopes that Tony Parella, Steve Earle and the Indianapolis Motor Speedway will be able to build the Speedway's vintage weekend into an event to rival Goodwood in the UK.
"I think the future is special events for things that are unique," Reilly said. "I think that Parella has a real chance to build something special at Indianapolis. He's the only guy who's ever been able to rent the Speedway, so that's a big deal. My feeling is that if you take Goodwood as the standard of excellence, then Indianapolis might be the only place where you could do a similar event where the confluence of history, real estate and ownership all works together.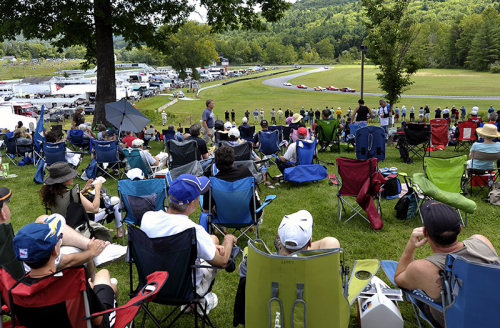 © Gary Gold
"I think Parella hopefully has the vision and the horsepower to do that and make that into a huge event. Just drawing on their own history they've got Indy cars, Formula One, motorcycles and NASCAR, and you put all that together and it can make a pretty good weekend's entertainment.
"If you did the midway and sideshows like Lord March does, I think they could make a very successful event at Indianapolis. I think that potential is there. The ace in the hole that Lord March has at Goodwood is he's a really clever entrepreneur who loves the sport and knows the cars."
Reilly believes the enthusiasm demonstrated by many of the vintage racers who drove their cars around the fabled, four-cornered Speedway for the first time this year will spread through the vintage community and help build and sustain interest in the weekend.
"I can't tell you how many people told me it was the best event they've ever done," Reilly grinned. "Many of these guys have run at dozens of other tracks but they had never been to or run at Indianapolis before. They had no idea what it's all about. Some guys who got to drive their F1 cars around the oval where absolutely in heaven. They loved the track and it really opened their eyes.
"If you can bring together that kind of magic at Indianapolis, like Lord March does at Goodwood, the Speedway's vintage weekend will become a great event. Like I say, I think the future is in special events like Goodwood and the Monterey Historics and Indianapolis."
Here's hoping that the likes of Tony Parella and Steve Earle can help steer the world of American historic racing in the right direction. We will all applaud if they're able to gild rather than kill the golden goose which gives this segment of the sport such a warm glow.
Auto Racing ~ Gordon Kirby
Copyright ~ All Rights Reserved