Presented by Racemaker Press

"There's a lot of junk out there today. If you want it straight, read Kirby." -- Paul Newman


The Way It Is/ The Monterey Historics many splendors
by Gordon Kirby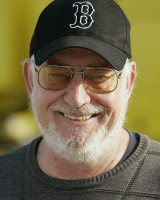 For any automobile enthusiast California's Monterey Peninsula is the place to be in August. From the Laguna Seca race course to nearby Pebble Beach and on every highway and bi-way between you'll find no wider celebration of classic and vintage automobiles and racing cars of all types and kinds.
I hadn't visited the Monterey Historics in five years but there was reason this summer to sign copies of my new book 'Jim McGee, Crew Chief of Champions' at Racemaker Press's stand at Laguna Seca. Next Saturday afternoon at the Sonoma IndyCar race Jim will join me for another book-signing in the paddock next to Firestone tire-busting operation at 6 pm.
The Monterey peninsula's motorsports roots go back to 1950 when the first SCCA road races were organized on a two-mile course through Pebble Beach's Del Monte Forest. Phil Hill drove a Jaguar XK120 to win the main event at the inaugural Pebble Beach road races and the 1961 World Champion-to-be won again at Pebble Beach in 1953 and '55 driving a Ferrari.
Carroll Shelby drove another Ferrari to win the last Pebble Beach road race in 1956 before Laguna Seca was opened the following year. The first big race on the exciting new 1.9-mile road course a few miles inland in the Monterey hills was won by Pete Lovely driving yet another Ferrari sports/racer.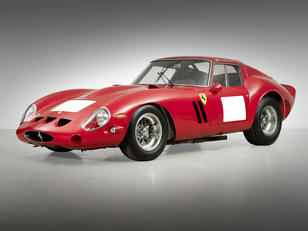 © Bonhams
Back in 1950 a group of SCCA members and sports car owners promoted a small concours d'elegance on the lawn next to the Pebble Beach golf course in company with the first races. Sixty-four years later the Pebble Beach concours and the Monterey Historics have grown into the biggest celebration of the automobile and motor racing in America. A superb collection of automobiles gathers at Pebble Beach and more than 500 vintage and historic racing cars run in the races up at the track.
More than half a dozen auctions take place on the Monterey Peninsula during the three-day weekend. Bonham's auction is at Carmel's Quail Lodge; Mecum's at the Hyatt Regency in Monterey; Russo and Steele's on the Monterey waterfront; RM Auctions at the Portola Hotel & Spa; and Gooding & Co. at the Pebble Beach Equestrian Center. Estimates put the total sales from these auctions at more than $400 million.
The star of this year's auctions was Bonham's 1962 Ferrari 250GTO Berlinetta. The car was delivered new to Jo Schlesser who drove the GTO to second in the 1962 Tour de France with Olympic gold medal skier Henri Oreiller. Schlesser sold the car a few years later and it's been in the possession of the same family since 1965, the longest single ownership of any 250GTO.
The GTO is considered by many to be the most beautiful of all Ferrari's GT cars. The 'O' stands for 'Omologato' referring to the fact that the GTO was built to the FIA's homologation rules requiring a run of 100 cars to qualify for 1962's new GT rules. Only thirty-nine GTOs were built between December, 1961 and May of '64 but the car was nevertheless approved by the FIA. Powered by a 3-liter V12 making around 295 bhp the GTO won twenty of twenty-eight FIA world endurance championship races over the 1962, '63 and '64 seasons. At Pebble Beach the ex-Schlesser GTO fetched no less than $35 million.
One car that caught my eye was a 1927 Bugatti Type 35C raced in 1930 and '31 by French lady Helle Nice. Anyone imbued with knowledge of Nice's life would have been attracted to the Bugatti in which she launched her racing career. Nice's supercharged Type 35C has been superbly restored by Bugatti expert Jim Standberg and was listed by Gooding & Co. for a mere $600,000-$800,000, a bargain for sure.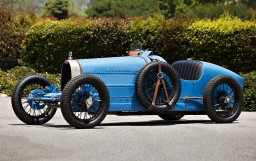 © Gooding & Co
The Type 35C was Europe's most ubiquitous racing car of the late nineteen-twenties and early thirties and Nice first built her reputation as a racer aboard this car. She ran some half a dozen races in the Bugatti and finished third in the Bugatti GP at Le Mans in 1930 aboard the 35C.
Before she became a racer Nice was a sylph-like dancer, renowned in Paris nightlife, and she amazed people with her driving skills. Nice was hired by promoter Ralph Hankinson to tour the United States in 1930 driving a 91 cubic inch Miller Indy car in demonstration runs at eighteen dirt tracks across the country from August through November.
Nice went on to race a series of Bugattis and Alfa Romeos over the following years and turned in many good results, consistently better than today's leading female racer, until she was badly injured in an accident driving an Alfa Romeo 8C Monza in an open road race in Sao Paulo, Brazil in 1936. She came back to do some record runs in 1937 and competed in some rallies after WWII. Her last race was the Nice GP in 1951.
The full story of Nice's remarkable life and racing career are told in Miranda Seymour's excellent 2004 book 'Bugatti Queen'. Seymour tells well the story of Nice's glamorous but ultimately tragic life. It's a great read for any serious race fan.
Meanwhile up at the track this year I encountered many old friends amid the superb collection of vintage race cars. First of all I bumped into Tom Gloy, an old friend and an ace in Atlantic and Trans-Am cars back in the late seventies and eighties. Tom was not only a fine driver but also a hands-on team owner and these days he builds prize-winning hot rods.
Gloy was hanging out for the day with Pieter Baljet from British Columbia who I first met back in Greg Moore's heydays fifteen and more years ago. At Laguna last weekend Pieter was enjoying himself driving his 1990 Chevrolet Beretta GTO car.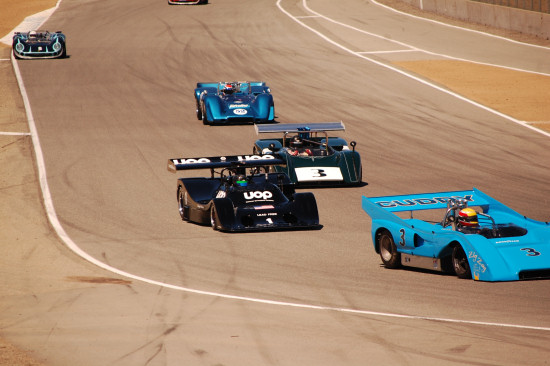 © John Zimmermann
While we were chatting Bobby Rahal walked up. Bobby was at Laguna Seca for the day before flying back to over his teams operations at last weekend's Milwaukee IndyCar race. He was in good spirits, enjoying the atmosphere, old friends and the fine collection of cars filling the paddock. We talked and joked for a few minutes before Tom and Bobby carried on their separate ways.
I also enjoyed a nice chat with Derek Bell who was driving a beautiful 1957 Maserati 300S. I've known Derek for forty years and after we shared our enjoyment for spending a few days on the Monterey Peninsula Derek told me about a conversation he had with the ACO and some FIA people this summer about the state of sports car racing.
Derek said he expressed to them his worries about the vast chasm in technology and costs between the high-tech factory P1 cars from Audi, Toyota and Porsche and the private teams. We talked about how striking the correct balance between the big dollar factory operations and smaller independent teams has been a recurring story in the history of sports car racing and remains the biggest challenge for all forms on motor sport.
Bell launched into a warm recollection about the heydays of IMSA's GTP series through the eighties and into the early nineties and emphasized the point that a key component in IMSA's success during that period was the Porsche 962, freely available to customers like Al Holbert, Rob Dyson, Bob Akin, Brumos and others.
"I think if sports car racing really wants to enjoy another golden era," Derek remarked. "Something like that is needed. As always, it's great that the factories are there building fantastic cars and pushing the envelope. But you've got to cater to the independents and the little guy too."
Rounding a corner of the jammed paddock a little later I encountered another old friend Donnie Hoevel, a longtime Newman/Haas chief mechanic who ran Mario Andretti's cars during his final years. Hoevel now runs his own historic race preparation business located in Fox Lake, IL, north of Chicago. He was Laguna Seca to take care of Don Orosco's cars which included Don's Lotus 15 sports/racer plus a Lola Mk 1 for his son Brian and a March 76B Atlantic car for another son Patrick. Orosco's Scarab Mk 1 was in Hoevel's compound but only for display purposes.
Hoevel is one of many veteran race car mechanics who have turned their talents to vintage and historic car preparation. Donnie has taken care of some of Bobby Rahal and Zak Brown's vintage cars and has found there's plenty of business out there if you're willing to work hard and do nothing less than perfect, beautiful work.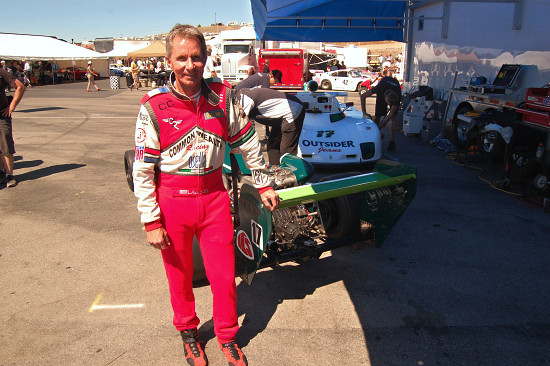 © John Zimmermann
"I've discovered running your own business is all about maintaining your integrity at the highest level and doing the job right," Hoevel remarked. "One thing I learned from working with guys like Mario was that's the only way to do it."
Donnie is a busy guy and had to get back to work but before I left he asked if I had any Jim McGee books with me. He said if I did, he'd buy one, so I dug out a copy and signed it for him. Donnie was as happy to buy the book as I was to sell it to him.
It was also a pleasure to see a superb field of Atlantic cars at Laguna Seca last weekend with some pretty serious competitors at the wheels. I was particularly taken with Eddie Lawson's beautifully prepared March 782 which he was running at the sharp end of the field, as you would expect. Lawson was also racing an equally immaculate 1975 Osella PA 3/5 at Laguna Seca and it's nice to see a four-time 500c motorcycle world champ enjoying himself in vintage racing.
Lawson started racing the Osella three years ago after his old friend Martin Adams convinced him to give vintage racing a try and they added the Atlantic car last year. Adams used to run the Smokin' Joe motorcycle racing team and is another veteran professional racer who's become a vintage racer. Adams' operation Commonwealth Racing maintain and run Lawson's superbly prepared Osella sports car and March Atlantic car and I can assure that Eddie is as serious a racer today as he was in his world championship-winning years.
Even though he was at the top of the time sheet after the first day of practice Lawson was totally focused on finding more speed as he carefully worked his way through every detail with Adams and his crew. It's a great thing for historic racing in America to have a guy like Lawson in their midst providing a lesson for all in exactly how to do the job.
As always there was also a fine field of Can-Am and USRRC cars at Laguna Seca. There were a brace of Lola T70s, McLaren M6Bs and M8Fs as well as a few Genies. Fastest qualifier was Craig Bennett's 1974 Shadow DN4, winner of the final original Can-Am championship with Jackie Oliver who fought a torrid duel that year with teammate George Follmer.
It was my pleasure to cover the last two years of the Can-Am series with Mark Donohue winning the championship in 1973 aboard the magnificent Penske/Sunoco Porsche 917/30K and Oliver and Follmer battling hard the following year. There were two black UOP Shadow DN4s at Laguna Seca and the cars are as beautiful and spectacular today as they were forty years ago.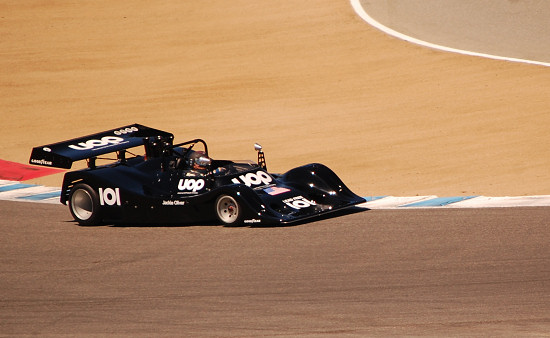 © John Zimmermann
Back in 1973 I enjoyed a few laps around the track as a passenger sitting beside Jackie Oliver in a Shadow DN2, the immediate predecessor to the pair of DN4s at this year's Monterey Historics. There were no niceties for me in the DN2, no seat or belts. I sat on the floor, hanging onto the roll bar and the instrument panel for dear life as we crested the hill at the top of the climb to the Corkscrew. It was exhilarating, but a little scary too, because I felt like I was going to fly to Salinas every time we roared flat-out over the crest and Jackie stepped hard on the brakes.
I had a much more comfortable and appreciative ride around Laguna many years later in 1999 sitting behind Mario Andretti in the first and best two-seater, a Reynard-Honda built by Chip Ganassi's team. Mario turned a lap with me onboard in 1 min 15.5 secs, quick enough to get onto the back of the grid for the previous day's CART race, and I wrote a story in Autosport about my experience.
In closing, I've written a number of times in recent years that vintage and historic racing may be the healthiest form of motor sport these days in North America and also in the UK, Europe and down under in Australia and New Zealand. There's a huge and growing participant base and equally strong fan base. The fans love not only the nostalgia, but also the wide variety of shapes, sounds and spectacle provided by many different cars.
Most but not all vintage or historic race cars also are a visual delight, curvaceous and appealing to the eye, refreshingly devoid of the modern plague of ugly aerodynamic deflectors, fences and other bits. In fact, vintage racing is about as far removed as you can imagine from today's aero-driven, increasingly spec car world. Vintage and historic racing offers the spectator every conceivable kind of visual and aural delight which is exactly what race fans love.
Auto Racing ~ Gordon Kirby
Copyright ~ All Rights Reserved