Presented by Racemaker Press

"There's a lot of junk out there today. If you want it straight, read Kirby." -- Paul Newman


The Way It Is/ Josef Newgarden is knocking on the door
by Gordon Kirby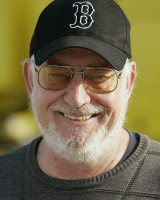 He's been fast in many races this year on all types of tracks, leading at Long Beach and finishing a quick-thinking second in Iowa. But all too often Josef Newgarden has been out of luck in his third year with Sarah Fisher Hartman Racing suffering too many DNFs and missed opportunities.
With four races to go Newgarden is a disappointing sixteenth in IndyCar points but he remains hopeful of scoring his first IndyCar win and confident that he'll be a contender at each of the Mid-Ohio and Sonoma road courses as well as the Milwaukee Mile and season-closing California 500.
"The cool thing for me about this year is that every event we go to I feel really optimistic," Josef remarks. "I truly do. I don't just say that in trying to get everyone's spirits up. I feel very optimistic that we're going to have a strong car wherever we're going.
"So I get excited from a speed standpoint going to Mid-Ohio, Milwaukee, Sonoma and Fontana. We have only four races left and I'm excited about all of them. My confidence is pretty high and that's what excites me about these last four races."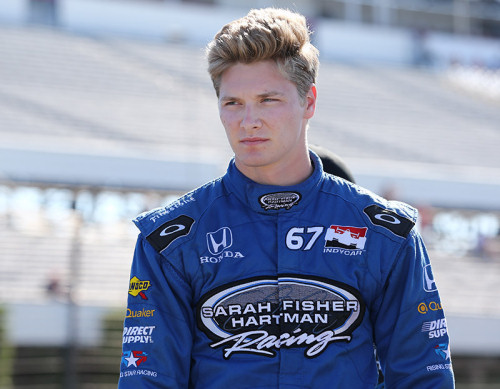 © Sarah Fisher Hartman Racing
After cutting his teeth in karts Newgarden showed his ability in Skip Barber cars, won a Team USA scholarship to race in the UK, and finished second in the British Formula Ford championship in 2009 when he was only eighteen. Josef raced GP3 the following year before returning home to win the 2011 Indy Lights championship with Sam Schmidt's team.
Newgarden made his move into Indy cars in 2012 with Sarah Fisher's team, signing a three-year contract. Fisher started her team in 2008 and retired from driving at the end of the following year. Her team ran Ed Carpenter in 2011 and took on a new partner, Wink Hartman, at the end of the year before hiring Newgarden for 2012-'14. Fisher's team is based on Main St. in Speedway, IN, and the operation is run by Fisher's husband Andy O'Gara.
"The team has been very good to me and very helpful to me in my early stages of Indy car racing," Newgarden says. "The way they operate is phenomenal for a young a driver. I think that's very commendable and they're a wonderful group. We've had our growing pains because they're a very young team. This is only the third full season for the group but in my opinion it has very large potential to do well.
"This year, when you look at where we're at compared to everyone else we're sixteenth in points right now, which is not stellar. But we were tenth going into the Indianapolis 500 and that was pretty encouraging early in the season."
Newgarden finished ninth in this year's opening IndyCar race in St. Petersburg before qualifying fourth at Long Beach and briefly leading the race only to be taken out in an accident with Ryan Hunter-Reay. At the Barber road course at the end of April Josef qualified fourth and finished eighth but his season took a bad turn with a pair of poor results in both the road course race at Indianapolis and the Indy 500.
"I would say the month of May is what kind of triggered our spiral down and really held us back in the points race," Newgarden observes. "We had a bad race on the road course. We should have done better, but that race really hurt us and we had the exact same issue in the Indianapolis 500.
"With the 500-mile races being worth 100 points, if you have an issue in that race it really hurts you on the charts. We were on track for a top ten finish in the Indy 500. We were doing a great job, running right in the top ten before we had our issue."
Newgarden qualified in the middle of the third row for the 500 and ran well in the race until a missed communication resulted in him running out of fuel. More time was lost struggling to restart his engine and Josef's race finally ended ignominiously in the wall.
"Our performance overall this year should have taken us into the top ten in points but we lost momentum with both races during the month of May," he says. "I think we can be a top ten team in points. I don't think that's unachievable for this group. We just haven't been able to make that happen so far, which is a disappointment for me because I think we're capable of it."
Newgarden has shown plenty of speed at most races but has had too few weekends when he and the team have made no mistakes.
© Sarah Fisher Hartman Racing
"I think our strength this year has been that a lot of the time we've been able to have the speed and pace, which is very important," he emphasizes. Most of the time speed makes everything better. It makes everything about the process easier. It should help you become more consistent and make better decisions when you have the speed. So that's a good thing. I think it's been good that we've had speed at a lot of places we've gone to this year.
"Other circumstances have hindered us. There are a lot of little things that have to go right during a race weekend. It's unbelievable how much more of a reality that becomes at this level and I think more recently in IndyCar because of the way the series has progressed."
With everyone working with the same basic package the competition in IndyCar is very close and everything has to go exactly right through practice, qualifying and the race to have any hope of a top ten finish, let alone winning any race.
"It's unbelievable that you can't pick a winner each weekend," Newgarden remarks. "You really can't predict what's going to happen. It's unreal. I think it's become a very difficult world to thrive in for anyone in the series. You see very big fluctuations in the points from every different person and team in the series right now. You don't really see any consistency.
"You see some consistency from the usual suspects. Ganassi, Penske and Andretti are at the top, but it's not as crystal clear as it used to be. It used to be easy to predict what was going to happen each weekend but right now it's almost impossible to predict."
Good luck is also necessary with yellow flags which can be frequent in IndyCar's street races.
"There's a mixed bag with the yellows," Newgarden observes. "Some races there are almost no yellows. At Pocono we ran 150 laps, nearly 400 miles yellow-free. People ask why we ran so long without a yellow. Are the cars too easy to drive? I don't think that's the case at all. It's because everyone is quite good.
"The place you do see a lot of yellows without doubt are the street courses. You're never going to get away from it. There are always going to be incidents on street courses because there's no room. The walls are right there and the tracks are narrow and usually pretty bumpy too, so you're going to have yellows on street courses.
"And those yellows either work in your favor or they don't. Sometimes they work for you and sometimes when you don't want the yellow to come out they work against you. It is really the luck of the draw. You try and predict it and play to the possibilities of yellows but it's so difficult and a lot of the time it just doesn't end up working out for you."
Newgarden says Long Beach was his strongest race so far this year.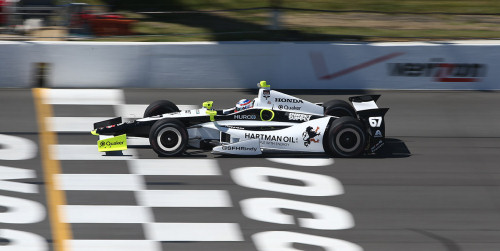 © Sarah Fisher Hartman Racing
"Long Beach undoubtedly was our best weekend overall. We had a strong car, we were very, very competitive all weekend and we showed that strength through each session right into the race. We had a very methodical, very steady, even-paced race running right in the top three until having an incident.
"It was nicely measured until then. We made a couple of mistakes towards the end. We didn't quite get our strategy correct or execute properly, but I was really happy with my performance. I thought we had a really strong car, which was engineered beautifully for that weekend thanks to a lot of hard work through the off-season with the engineering.
"For sure Long Beach was our best weekend so far this year even 'though it ended badly. It was just a very complete weekend for us for the most part. It didn't end right, but it was our most complete weekend. We've not had a lot of weekends like Long Beach unfortunately.
"We've not been able to replicate that. I can go through and say what happened each weekend and where the mistakes were made and where the pitfalls were. There wasn't a lot of them at Long Beach until the way it ended."
Josef was pleased to get some good recent results at Pocono and Iowa. He bounced back to finish a strong eighth in the Pocono 500 after crashing in qualifying.
"Pocono was very good to us," he remarks. "We put together a very good race. We had a really good car. We had some issues throughout the weekend but we put together a really strong race.
"Iowa was a strong race for us--very, very good. Aside from that you can look at St. Pete and Barber in Alabama as two other events for us where we got a result. But other than that we have to go through a list of what happened where. At least we've been competitive on a very diverse range of tracks and that's good."
Newgarden freely admits that being only a one-car team makes for a difficult task.
"I think being a one-car team is absolutely a disadvantage," he declares. "You're working with just one set of information. That's all you have. You know that other teams, even if they're testing the same as you, they're effectively testing twice as much or three or four times as much depending on how many cars they have, and that adds up.
"It's disheartening when you have engineering meetings to talk about different things you're working on and where you're progressing with setups for different tracks and what philosophy you're looking to try to progress with the car when you know you can't make as much progress as other teams. When you go to a test day you have a list that will take you three days to get through and most other teams can get through it in one day. That's just how it is on a one-car team.
© Sarah Fisher Hartman Racing
"Having said that it means you have to be very methodical and very precise with what you do. If something doesn't work you have to go on to the next thing. You can't let anything linger. As soon as you let things linger during your test days that can potentially drag down your development as a one-car effort.
"It's very important that you stay on task and are very deliberate about what you examine throughout the year. It's super easy to get yourself turned around as a one-car effort because you don't have the time or the people or the amount of data. That's the limiting factor of a one-car team.
"But having said that," Newgarden adds, "I don't think that's been the main factor for us. I think we've worked through that pretty well. We have a very strong engineering group this year which thinks through everything very well. They're very, very good about making sure we stay on track.
"I think we're doing a phenomenal job. It's bitten us a couple of times but we're fairly good at trying to stay on track and we've gotten better at it this year. I don't personally think that's our limiting factor but in the grand scheme of things being a one-car team is a negative when you're trying to look at the big picture."
Newgarden says he couldn't be happier with the relationship he enjoys with his engineer, Jeremy Milless
"The chemistry between the driver and the engineers is so important and particularly on a one-car team that chemistry and rapport is very crucial," he acknowledges. "That's been really good for us this year and I feel we have a really good starting point at every track we go to and we're going to be able to work well in what we need from the car.
"I have a new primary engineer this year. Jeremy was my assistant engineer for the last two seasons and I think Jeremy is a really talented guy. He's phenomenal and he's very smart. This is the first time in his career he's been a primary race engineer but I feel he's so talented in what he does."
This is the last year in Newgarden's three-year contract with SFH Racing. He will celebrate his 24th birthday in December three days before Christmas and by then he should have re-signed a new contract with SFH Racing or made the move to one of IndyCar's established top, multi-car teams. Josef says he's not dwelling on any such thinking until after the racing season is over.
"The only thing for me right now is to focus on what we have left for this year and the task at hand," he says. "The next four races are all I have to focus on and if I do that, hopefully the future will sort itself out. I have a great support group around me that's really helping me ensure that the future comes in due time.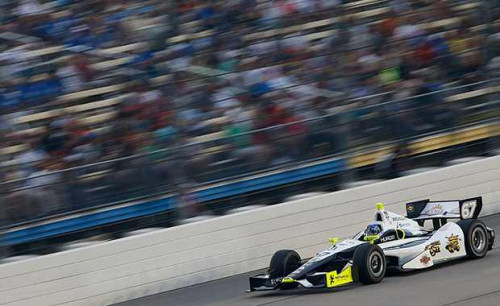 © LAT USA
"Hopefully, we can work everything out as it should be. But all I'm focusing on is just getting the most out of the equipment, the team and myself."
Newgarden says his goal is to establish himself as a winning driver and IndyCar championship contender but he also wants to do some sports car racing if and when the opportunity arises.
"I've been so enamored with open wheel racing through my whole career and I truly hope it stays that way," he grins. "I would love nothing more than to have an illustrious career for twenty years in IndyCar. I'm still young enough that maybe even F1 is a possibility. Those are the two formulas I consider the greatest form of motor sport and what gives me the most excitement. So that's my plan A.
"But there are a lot of drivers that run extra-curricular activities, guys who try and diversify themselves, and I'm one who's always wanted to do that. I always hoped that at some time I would have the opportunity to branch out and do other things while racing open wheel cars and I hope that happens.
"I would really love to do Petit Le Mans and the Rolex 24 Hours and any other events that are possible to fit in and make sense. Open wheel is my love and my life and my focus, but I'd love to run other stuff just to drive other equipment and get the experience and expand my resume."
Josef Newgarden is knocking on the door of achieving his goals and scoring that elusive first IndyCar win. He's shown he has the talent, intellect and human skills required to lead a successful team and it will be interesting to see if he pushes forward with Sarah Fisher Hartman Racing or moves on to the likes of Penske, Ganassi or Andretti. Either way, he's entirely up to the job.
Auto Racing ~ Gordon Kirby
Copyright ~ All Rights Reserved