Presented by Racemaker Press

"There's a lot of junk out there today. If you want it straight, read Kirby." -- Paul Newman


The Way It Is/ Searching for NASCAR's future
by Gordon Kirby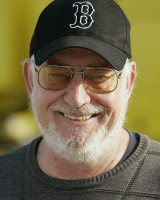 The formation of Race Team Alliance (RTA) has created a lot of hand-wringing among NASCAR's media. Traditionally, NASCAR has always been firmly opposed to unions of drivers or team owners and RTA's creation marks the first time in NASCAR's history that the teams will be represented by a formal organization of owners rather than each man lobbying on his own behalf.
Nine of NASCAR's biggest teams have formed RTA aiming to, "explore common interests, reduce costs and collaborate on initiatives to promote and expand NASCAR." At the moment RTA's nine teams represent 25 cars but RTA says it plans to invite all full-time Sprint Cup teams to join the organization.
RTA's founding members are: Hendrick Motorsports (four cars), Stewart-Haas Racing (four), Joe Gibbs Racing (three), Richard Childress Racing (three), Roush Fenway Racing (three), Michael Waltrip Racing (two), Team Penske (two), Chip Ganassi Racing (two) and Richard Petty Motorsports (two).
Rob Kauffman is RTA's chairman and spokesman. Kauffman has been the co-owner of Michael Waltrip Racing since 2006. In 1998 Kauffman founded Fortress Investments, a hedge fund and private equity firm. Kauffman's net worth was listed by Fortune magazine in 2007 at $1.8 billion although he fell off the billionaires list amid the recession of 2009. He sold his shares in Fortress Investments in 2013 for $180 million.
Kauffman lives in London and New York and has raced GT cars, including co-driving a Ferrari 458 Italia at Le Mans with Waltrip and Brian Vickers. Kauffman also owns a vintage car restoration business. He says the RTA teams will pool resources to save money on hotels and disability insurance and to create economies of scale in purchasing machinery and equipment.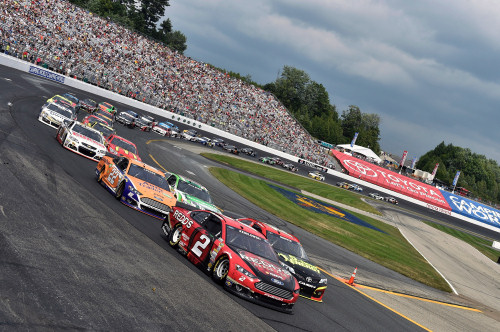 © Nigel Kinrade/Autostock
"The teams have met in various forms and forums over the years to explore areas of common interest," Kauffman said. "This simply formalizes what was an informal group. We all have vested interests in the success and popularity of stock car racing. By working together and speaking with a single voice, it should be a simpler and smoother process to work with current and potential groups involved with the sport."
Speaking from the back of one of NASCAR's haulers at New Hampshire Motor Speedway the weekend before last NASCAR's president Mike Helton briefly addressed the RTA's formation.
"We've got great respect for all of our stakeholders in the sport," Helton said. "We take very serious our responsibility to make decisions in this sport, in the garage area, for the race tracks and the other partners that we've got because we've all worked together for a long time to make a great product. Part of that responsibility is to have a sport that has a great product at great race tracks for our fans. And the owners have been very clear that that's their intention too, so we stand together very clearly on that.
"Part of our method of operation over the last six decades is to make decisions by listening to a lot of individual stakeholders in the garage area. Every car owner in here has a voice--crew members, drivers, crew chiefs--and we take that input and we make what we think are the best decisions that are good for the whole sport. We will continue to operate that way. We'll continue to do business the way we've done it in the past. We talk to a lot of folks to help us make our decisions about how to go forward."
Helton was asked how much dialogue NASCAR has had with RTA.
"They told us in advance of their announcement but we've had no conversations so far other than that," he said. "You know everything we know. Again, we will continue to operate the way we have the last six decades.
"I want to dispel the perception of any animosity," Helton continued. "They play an important role in the sport and they deserve to be able to put forward their views. I think they've made clear their intentions are to grow the sport, to make the sport stronger and their ownerships stronger. We have respect for what they do and for their business models."
Helton emphasized that NASCAR will continue to operate as it has for many decades. He also underlined the point that NASCAR casts a wide net in listening to all parties involved.
"We believe the way we've run our form of motor sport has worked," he stressed. "We continue to add assets and value in order to create growth and we want the teams to contribute to add to that. A lot of that is to limit the barrier to entry and we encourage owners, drivers and crew chiefs to be part of this sport.
"We talk a lot about rules and regulations and that doesn't stop. We're business as usual on that. What they're putting together, we'll get the information like you'll get it. We're going to stay our course on the way we do business.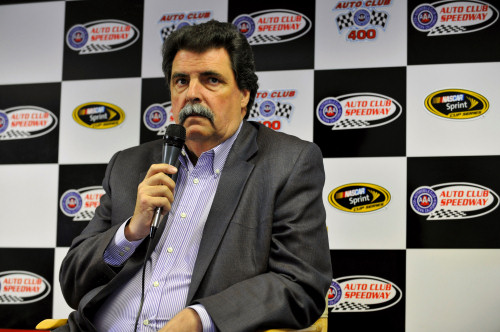 © Nigel Kinrade/Autostock
"I caution everyone on the perception of this," Helton added. "We've got a lot of people involved. More people are involved from NASCAR today than ever to listen to the different disciplines in the garage and hear them so we can make the best decisions that we can."
Six-time Sprint Cup champion Jimmie Johnson also was asked about the RTA during NASCAR's recent weekend in New Hampshire.
"I'm excited for the teams and the opportunity they have to work together and try to hold the costs down and have a more clear, concise role in a variety of aspects of the industry," Johnson said. "We'll see where things go. I'm happy that the teams are working together to try to drive costs down. It's a very expensive sport.
"I'm fortunate to drive for Hendrick Motorsports which gives us the best of any situation, but it's still tough and expensive. Hopefully, all the stakeholders can improve their positions and make our sport stronger.
"Everybody's paying attention for sure. We were briefed on it the week before the announcement. That was the first that I heard of it. But I absolutely think there are a lot of people from NASCAR to the drivers, team owners and fans who want to see the sport grow.
"So everyone is paying attention to any alliances that may be put together to see what direction NASCAR is heading. We all want the best for this sport and are paying attention to what others are doing for this sport too."
Johnson was asked if RTA could create a split or division of NASCAR.
"I think it's human nature for some people to worry," Johnson observed. "It doesn't matter what the topic is: one-third probably care, another third don't care and another third are mad. It doesn't matter what the topic.
"I just don't see any downside in the owners working together, sharing what's important to them to run their businesses successfully and to be able to put a race car in the field. I don't see anything wrong with that. That environment is there today in a far looser structure. Now it's going in the direction where there can be a more calm and common voice within our industry.
"From a team owners' side I think it's directed towards NASCAR and towards licensed merchandising--a variety of things. This could be beneficial from having one voice rather than hearing one thing at Hendrick and another at Roush. I think this will make it better for everyone to speak with one voice. I don't think there's any downside in organizing."
Johnson was also asked whether a drivers' union or organization could come next.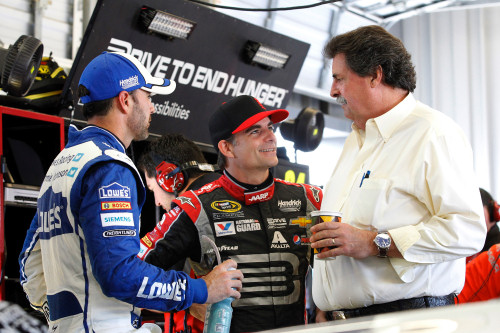 © Nigel Kinrade/Autostock
"That opportunity is definitely there," he remarked. "I don't know where others stand with it. I've thought about a little bit. I guess that in some ways it's something that's up for discussion and we'll see where it leads.
"Again, the way I see this is everybody cares for our sport and we want to help people lead and direct our sport in all ways. We'll see what the future holds. I feel like there will be a positive outcome. This is a good thing. I don't think it's going to drive a separation or split and I don't even know where that separation would take place.
"The things that have been discussed by the RTA are all about saving costs. It's all about driving costs down and I don't see that's a bad thing. The conversation that's taking place among the media and some fans is about the owners against NASCAR. But NASCAR is trying to bring costs down and so is the RTA. I think everybody's working in the same direction."
Cost cutting has always been motor racing's biggest challenge. Over the years many sanctioning bodies have tried and failed to contain or reduce costs. Often any such attempts have backfired resulting in increased costs because of added complexity or teams spending money on methods and testing in order to work around new rules.
Of course, a key element in driving up costs is the number of races in any series. More races mean additional costs in fuel, air fares, rental cars and hotels as well as wear and tear on trucks and transporters. Reducing the number of races would therefore have a major effect on costs.
Without doubt NASCAR has too many races, creating fatigue among fans and media. Crowds remain strong at some tracks but other venues from Indianapolis to Bristol have struggled to put bums in seats. As crowds and TV ratings have declined in recent years the weak sisters among NASCAR's tracks have been revealed.
Vested interests mean it's extremely unlikely that any tracks will be axed yet there's no doubt that a clinical reduction in the schedule would be good for the sport in more ways than one.
"It would be great to have a 25 race season with a few more weekends off," Jimmie Johnson said in New Hampshire. "My family and I would love it."
As everyone knows, NASCAR or ISC and Bruton Smith's SMI group own almost all the tracks on the Sprint Cup schedule. This is a strength no other sanctioning body enjoys but it also means it's all but impossible to prune the schedule.
Another area that needs attention but is unlikely to be addressed are NASCAR's four restrictor plate races at Daytona and Talladega which cost the teams many millions of dollars in wrecked cars every year. The multi-car accidents that proliferate at Daytona and Talladega serve only to lampoon stock car racing and do nothing to expand NASCAR's audience.
Personally, I've always believed restrictor plate racing is the silliest form of motor racing known to humankind but it seems to be folded into NASCAR's DNA and is unlikely to receive the thorough rethink required.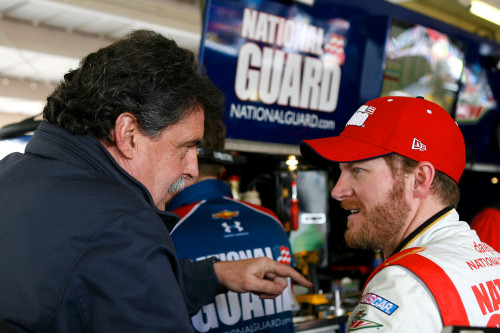 © Nigel Kinrade/Autostock
Then there's TV rights fees. Next year's new ten-year TV deal will bring NASCAR more than $8 billion in income, a substantial increase over the current TV agreements. RTA may well push NASCAR to create an NFL-style revenue-sharing program which the sanctioning body has always resisted.
All this discussion echoes the squabbles between Bernie Ecclestone and F1's team owners over the past thirty years. The team owners are always pushing for more TV and prize money while endlessly discussing methods of cost cutting. In F1 the game goes on and on with little or no resolution and it will be interesting to see if RTA is able to make some real progress with NASCAR.
One of NASCAR's biggest strengths is the excellent ladder system that's been developed over the decades. While American open wheel and sports car racing have frittered away a wide number of feeder or training series over many decades of gross mismanagement, NASCAR built a strong ladder system down to the grass roots.
Over the past twenty years, as American open-wheel and sports car racing have declined, young kids racing karts have dreamed more and more of becoming NASCAR stars rather than Indy car or sports car racers. Today the result is there in NASCAR's fat collection of young talent from Joey Logano and Kyle Larson to Austin Dillon, Chase Elliott and many others.
Finally, as I've written before, sometime in the next twenty years NASCAR will need to revolutionize itself and go to small capacity turbo engines, maybe even diesels and hybrids, and carbon fiber chassis too. NASCAR's cars and engines are antiques, fifty years out of date, but tube frame chassis and traditional gasoline-burning rocker arm V8 engines are at the heart of America's stock car racing industry from the Sprint Cup series down to local short tracks.
Even if the will was there to make revolutionary changes it would create massive disruption throughout the industry and cost a fortune as well. This would be antithetical to NASCAR's way of thinking which has always been about stability, clinging to the past and keeping as much technology as possible out of the sport.
But if NASCAR wants to thrive into the middle decades of the 21st century and somehow attract a larger, younger audience it will have to make some serious changes. So it will be interesting to see if RTA can be successful in nudging the sanctioning body over the coming years to evolve into a more modern and more profitable organization for the teams.
Auto Racing ~ Gordon Kirby
Copyright ~ All Rights Reserved