Presented by Racemaker Press

"There's a lot of junk out there today. If you want it straight, read Kirby." -- Paul Newman


The Way It Is/ Motor racing's new age has arrived without us
by Gordon Kirby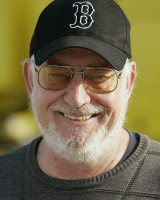 Reluctantly, against the will of many, international motor racing has arrived in the modern technological age. Le Mans and the World Endurance Championship was the first form of racing to embrace hybrids and now electric cars while Formula One has followed suit this year with its own energy recovery systems-based turbo V6 formula.
Half a dozen major auto manufacturers from Europe and Japan are competing this year in either the WEC or F1 with hybrids or highly sophisticated energy recovery systems and all of those manufacturers say that without the room in the rules to pursue this type of technology development they would not be in the sport.
Each of Audi, Toyota and Porsche in the WEC and Mercedes-Benz, Ferrari and Renault in F1 have made huge financial investments in racing for both marketing reasons and technology development and they'll be joined next year by Nissan in the WEC and Honda in F1.
This year's Le Mans 24 Hours witnessed a titanic battle at the front between seven factory P1 hybrids from Audi, Toyota and Porsche. All three teams led the race at some stage with Audi coming through to score an incredible thirteenth Le Mans victory in the past fifteen years. With Toyota's cars showing plenty of speed and the new Porsche 919 looking good in its debut season next year's race should be even more competitive.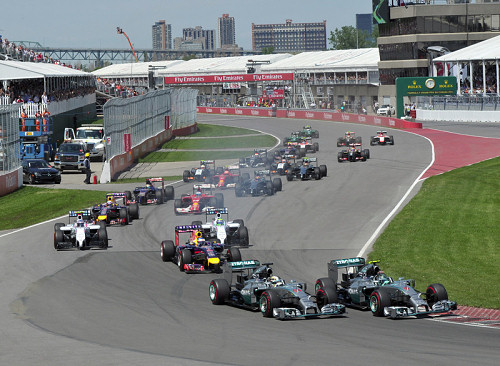 © Gary Gold
Nissan raced its ZEOD (zero emissions on demand) RC electric hybrid for the first time at Le Mans, running out of the race's '56th Garage' for experimental cars. In practice, running under purely electric power, the ZEOD hit 300 kph on the Mulsanne Straight and also completed a lap with only electric power, but the car was an early retirement from the race with a transmission failure.
Meanwhile, despite eternal hand-wringing about F1 teetering on the brink of pricing itself out of existence the F1 World Championship continues to operate as a giant money-spinner for Bernie Ecclestone, CVC, the top teams and some race promoters. Last week's column about the lengthy and intensive development program Mercedes-Benz put into its W05 F1 cars and power trains was an object lesson about the large amounts of money, engineering, planning and effort that go into today's handful of major manufacturer-backed racing programs.
Honda joins the F1 party next year, supplying engines and power units exclusively to McLaren in 2015 and '16. Honda's engineers have been working hard in recent months on dyno testing and Ron Dennis hopes his renewed partnership with Honda will help get McLaren back to the front of the F1 field.
As part of the package Honda wants a top driver but at this stage this is proving to be a difficult hurdle. Each of Vettel, Hamilton, Rosberg and Alonso are said to be committed to either Red Bull, Mercedes or Ferrari. Nor is it believed that Hamilton or Alonso have any interest in returning to work for Ron Dennis, as they once did.
Hamilton and Rosberg are with the strongest team in the business right now, but Alonso and teammate Kimi Raikkonen are having a tough time with Ferrari. The red cars appear to lack mechanical grip, aerodynamic efficiency and power, and it will be interesting to see how and when the team is able to respond under the direction of new team principal Marco Mattiacci.
Big news in Montreal was Red Bull's confirmation that the energy drink giant has reached a new longterm agreement with Adrian Newey. Ferrari's Mattiacci denied he had pitched Newey with a $20+ million per year offer, but regardless of any Ferrari entreaties, Red Bull founder Deitrich Mateschitz has responded by giving Newey a much larger role to direct a new Red Bull technology development center and expand into America's Cup yacht design or where ever Newey and Mateschitz's sporting and technical interests might take them. Newey will have a major influence on the design of next year's Red Bull F1 car but will then step back to 'advise and mentor' the design team as his focus shifts to other things beyond motor racing.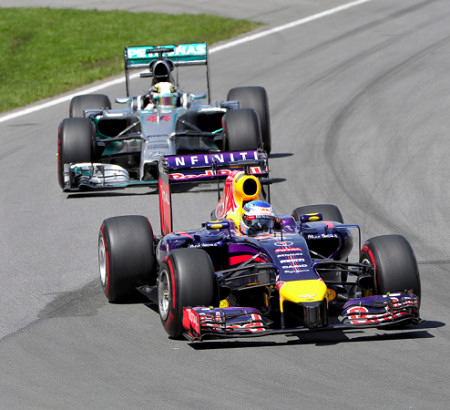 © Gary Gold
"I'm looking forward to different challenges," Newey said. "I've had a great time in Formula One. I just feel, to be perfectly honest, the current regulations are very restrictive, which is a shame. It's difficult to find new areas to explore as they are so tight, more engine oriented. They need more of a fundamental rethink in my opinion."
It's good to hear Newey being more vocal in his criticism of F1 and the need to further open the rules to allow more free thinking in terms of the basic configuration and design concept, much of which is defined by the regulations. The F1 chassis and aerodynamic rules are not quite as restrictive as the plague of spec car formulae that have infested modern motor racing, but the general layout and concept of an F1 car is strictly defined by the FIA. Over-regulation has sapped Newey of his interest and he will be missed in the years ahead not only by Red Bull's F1 team but by the sport as a whole.
I've had the pleasure of knowing Adrian for a third of a century since he first appeared in CART as a March development engineer and Indy car designer. He was always a bright spark with a keen sense of humor and uncanny understanding of the dynamics of a racing car. In Montreal the weekend before last I presented Adrian with a signed copy of my Jim McGee book and we enjoyed a couple of short, informal chats.
The Canadian GP celebrated its 35th running at le Circuit Gilles Villeneuve in Montreal this year. As usual, the city was filled with Grand Prix fervor all weekend and the race attracted a huge, roaring crowd. Montreal is one of the most popular stops for F1 and everyone was delighted to hear Saturday's announcement that promoter Francois Dumontier has negotiated a new deal with Bernie Ecclestone for the race to continue for another ten years.
The new agreement is reported to be the same as the old one, costing CAN$15 million per year with shared contributions from federal, provincial and city governments. It's also said some CAN$25 million will be spent on improving the site which may mean moving the pits and paddock complex. Quite how that's going to happen within the limited confines of Ile Notre Dame remains to be seen.
There was some skepticism about Montreal's new contract because Bernie Ecclestone was absent from the race and didn't offer any words of blessing. Of course, Ecclestone is very occupied these days with his trials on bribery and corruption charges in Germany and the UK so there was good reason for him not to make the trip to Canada.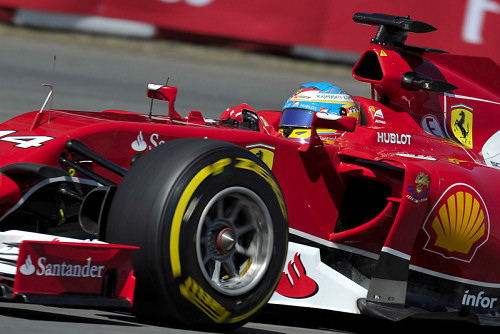 © Gary Gold
It's said that, regardless of the outcome, CVC will ask Ecclestone to step down as F1's boss once the cases against him are resolved. Nobody will believe it of course, until such a move actually happens. Nor are there any guesses about who might replace Ecclestone.
In that way, F1's future remains unclear, but the category's commitment to the new world of energy recovery systems and engineering efficiency has been cast in stone, as it has at Le Mans and the World Endurance Championship.
All of which means American racing will continue to lose relevancy as it has for a number of years because neither NASCAR, IndyCar nor United SportsCar possess the will, technical philosophy, financial resources or market position to encourage and embrace new technology, let alone the complete rethink that Adrian Newey and many others believe is necessary. Absent a dramatic change in direction, American motor racing is destined to remain forever a provincial backwater.
Auto Racing ~ Gordon Kirby
Copyright ~ All Rights Reserved