Presented by Racemaker Press

"There's a lot of junk out there today. If you want it straight, read Kirby." -- Paul Newman


The Way It Is/ Learning from a maestro
by Gordon Kirby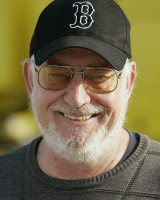 I want to start this week by offering a hearty round of thanks to the many fans and friends that Jim McGee and I had the pleasure of signing books for at the Indianapolis Motor Speedway. Thanks to my Racemaker Press publisher Joe Freeman we enjoyed a fine Friday evening on race weekend launching 'Jim McGee: Crew Chief of Champions' at the Speedway's Museum and signed more books the following day at the Speedway's Memorabilia Show. It was a great pleasure for Jim and I to meet and shake hands with so many of you.
Jim's remarkable career in Indy car racing ran from 1962-2006, although he's back in business on a part-time basis this season after Chip Ganassi asked him to call the strategy on Ryan Briscoe's car at Indianapolis and for the rest of this year's IndyCar races.
For those of you who haven't bought Jim's book this week I'm going to extract some parts from the book's second and third chapters focusing on McGee's formative years with Clint Brawner. Jim's Indy car career started in 1962 with Brawner's team. Brawner was one of the top Indy car chief mechanics of that era, running Al Dean's Dean Van Lines team.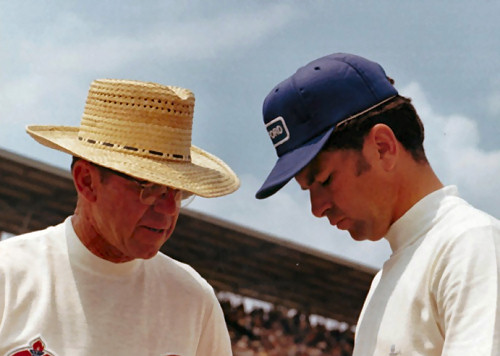 © Racemaker Press
Located in Long Beach, California, Dean Van Lines was one the nation's largest moving companies. Brawner's little team was based in Phoenix and operated out of Indianapolis in the summer. Dean's support helped the team become one of the best in the business.
With the legendary Jimmy Bryan at the wheel, Dean and Brawner's team won seventeen AAA and USAC Championship races between 1954-'57 with Bryan taking the 1954 AAA Championship and the 1956 and '57 USAC titles. A.J. Foyt replaced Bryan after Bryan retired. Foyt drove for Brawner and Dean in 1958 and '59 before leaving Dean's team to drive George Bignotti's Bowes Seal Fast Special.
Dean and Brawner chose Eddie Sachs to replace the talented Texan. The voluble Sachs had won USAC's sprint car championship in 1958, beating Foyt to the title. Sachs won nine USAC Championship races on pavement and dirt between 1956-'61 and was on the pole at Indianapolis in 1960 and '61 aboard Brawner and Dean's car. At Indy in '61 Sachs famously finished second to Foyt after stopping to replace a fraying right rear tire while leading with just three laps to go and young Jim McGee was there in the pits working as a go-fer for Brawner. In his first time at Indianapolis, Jim witnessed the heartbreaking loss from the pits.
Brawner lived in Phoenix were he operated from a small shop near his house. In the summer, like many teams in those days, Brawner maintained his Indianapolis and dirt cars in his garage in 'Gasoline Alley' at the Indianapolis Motor Speedway where they were centrally located in the heart of the mid-summer racing season. Brawner was taken by young McGee's enthusiasm and obvious car-building skills and suggested he come out to Indianapolis to work for him during the month of May in 1961.
The following year McGee joined Brawner's team on a full-time basis and after a few lean years the team's fortunes rose again when Brawner hired a promising sprint car driver from Nazareth, Pennsylvania named Mario Andretti. As a rookie at Indianapolis in 1965 aboard Brawner's first rear-engine car, despite burning his hands and feet, Andretti was able to finish an impressive third behind Jim Clark's factory Lotus-Ford and Parnelli Jones in J.C. Agajanian's Kuzma/Lotus-Ford.
"Mario had never driven a rear engine car and it was amazing to qualify fourth with a car that we had no experience with," McGee says. "We knew the springs and shocks that (Brabham) ran at Indy the previous year but the car was unbelievable. We cooked Mario during the race because the oil tank and radiator was up front and we didn't have enough ventilation to pull the hot air out and it blistered his feet and hands."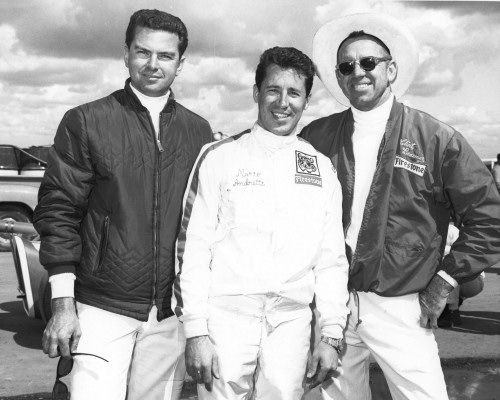 © Racemaker/Nehamkin
It was a great maiden run for Brawner's first rear engine car and helped launch Andretti's career. He was an easy 500 rookie of the year winner and in addition to racing Indy cars and continuing to race sprint cars he started doing development work and racing factory-backed USAC and NASCAR stock cars for Ford. The more Mario broadened his base, the more he brought to the table.
"Mario had been doing some work for Ford driving NASCAR stock cars and then Ford GT40s," Jim recounts. "In '65 he was doing some stuff with Ford and he started bringing back information about bump rubbers and all that kind of stuff and we just kept tweaking the Brawner/Hawk. We put pre-load in the anti-roll cars and did a lot of the things to that car."
Jim says Brawner kept Andretti and him on the right track.
"We would come up with some crazy stuff we wanted to try and Clint's attitude was it wasn't what you had, it was what you did with what you had. Mario and I always wanted something new or revolutionary and a lot of times what you had was better. Clint had a good feel that we had what we needed and just had to utilize it and make it better. He believed we should embellish on what we had rather than taking a leap into the unknown. Sometimes the grass always looks greener in the other guy's yard. He was a great role model for me, but sometimes he did not want to see progress and racing was moving forward.
"It was good for me because it made me have a different outlook on racing. A lot of the California guys had the cool look. They had this, that and the other thing. But Clint was more interested in making sure what he had was good and was going to run all day. That was how we beat those guys a lot of times. We had cars that ran all day. Our reliability record was so good. Clint was a great teacher at being able to figure out the problems before they happened."
Mario scored his first USAC Championship victory and the first for the new car at the Indianapolis Raceway Park road course in July, 1965, beating Bobby Unser and Roger McCluskey across the line.
"We won our first race with that car at Raceway Park," Jim grins. "That was with a two-speed transmission and the Lotuses had five speeds. Clint had promoted me that year to co-chief mechanic so that was my first win as a chief mechanic as well as Mario's first win. We went on and won the championship that year too because the dirt car really worked out well too. The dirt car was an old Kuzma but Mario ran up front with that thing and won at Langhorne."
Mario won only at IRP that year aboard the Brawner/Hawk but a string of seven, second places and a pair of thirds were enough to enable him to beat Foyt to the USAC championship. With the help of Brawner and McGee, the little man from Nazareth was on his way to carving out one of the most remarkable careers in the sport's history.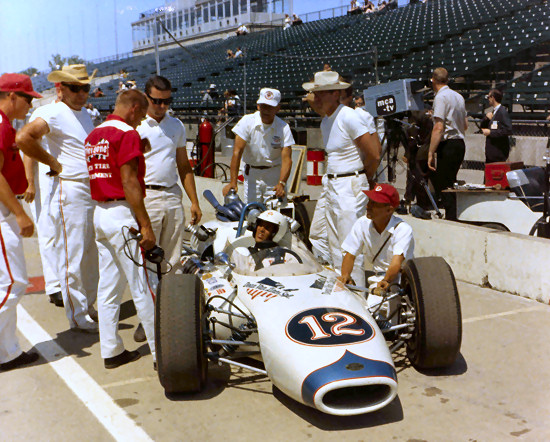 © McGee collection
Over the next four years Andretti and Brawner's team was the combination to beat in Indy car racing. Andretti won the USAC Championship for the second year in a row in 1966, finished runner-up to A.J. Foyt in '67, second again to Bobby Unser in '68, and took his third USAC title in 1969. Between 1965-'69 Mario won no fewer than 30 races and took 26 poles driving Brawner's Hawk Indy cars and Kuzma dirt cars with McGee working as Brawner's chief mechanic. McGee quickly developed the greatest respect for Brawner.
"Clint was the best mechanic in the business by far," he declares. "His work ethic was incredible and he was just so clever at building things. He wasn't a designer but he knew how to make things work. He was incredible on a lathe. He could repair or build anything. Clint's other famous saying was, 'A man made it, a man can fix it.'
"Clint knew what was right and what was wrong. He would speak his mind. He wouldn't let anything slide. If he thought he was being cheated or something wasn't a fair deal he would let you know. He would really lay into you. He wasn't a politician or salesman at all, unlike guys like Bignotti and Jack Beckley. Clint was a character and he was right in most of the stuff he did.
"I was so fortunate in getting hooked up with Clint. He was the best thing that ever happened to me as far as learning Indy cars and what it took to make them finish. So many of the crew chiefs in those days, if you were a stooge they wouldn't let you touch anything. But the minute Clint saw what you could do he would say, 'Go over there and build that gearbox, or rebuild that motor, or do that rear end.'."
McGee has fond memories of the family-like atmosphere that prevailed in racing during the sixties.
"In those days we all lived in the basements of people's houses, even some of the drivers. People in the town of Speedway would make their basements over and rent them to the race guys. I stayed with Vic and Henrietta Thomas. He was an engineer at the Allison plant and their kids had grown up, so they had room. They would charge us a dollar a day, seven dollars a week, and the next thing you knew you were part of the family. They were cooking your dinner and doing your laundry.
"I used to room with a fella they called 'The Wetback'. His name was Phil Martinez. He was a big, strapping Mexican kid from San Bernardino. He was quite a bit older than me. He worked for Foyt and for Lindsey Hopkins and other teams. We were really a close-knit family and we worked so many hours at the Speedway from eight in the morning to probably six o'clock at night. Then we'd go out and get something to eat and come back at seven-thirty and work 'til ten-thirty or eleven o'clock and then head off to the White Front, the local bar on Sixteenth Street.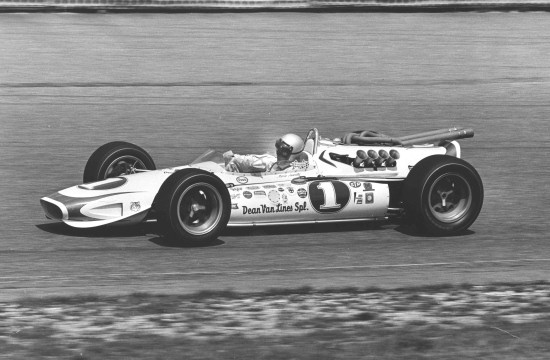 © Racemaker/Knox
"Everybody would meet at the White Front and drink 'til midnight or one o'clock in the morning and be up again first thing the next day. I don't know how we did it, but we did. We loved it. It really was a great era. There's not many of us left from those days but it was fun. It was a great era. There was a lot of fun and camaraderie. We all helped each other and worked together."
Mario won the Hoosier 100 at the Indiana State Fairgrounds in 1966 and '67 and McGee recalls sharing some of Mario's bountiful lap prize money.
"Joe Quinn was the promoter of the Hoosier 100 and he paid lap money that year, just like the Indianapolis 500, because it was the race's 25th anniversary. Joe Quinn paid $150 a lap to the leader and Mario sat on the pole and led every lap. We left the garage at the Speedway at eight o'clock in the morning, went out to the Fairgrounds, unloaded the car, practiced for an hour, qualified and then ran the race. We got back to the garage at the Speedway at four o'clock in the afternoon and we made $38,000, which was what they paid for third place at the 500 that year. That was great. We were rolling in the dough. The Hoosier 100 was a big race back in those days. I still have a couple of jackets that say 'Winning mechanic, Hoosier 100'. Those were prized possessions."
Few other drivers or teams can claim anything like their record of 30 wins, three championships and two seconds over five years.
"We had a lot of fun, but Clint was hard and tough," Jim observes. "He was rough and gruff. But to me, he was the greatest. He was definitely one of the most important guys to me in my career as far as what I was able to learn and accomplish.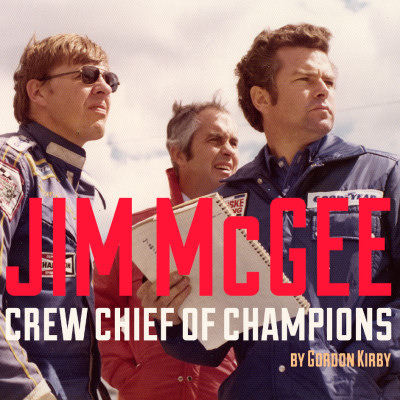 © Racemaker Press
"Clint used to pick stuff out of the trashcan in Gasoline Alley after people had thrown it out. He would collect old pistons and rods and darn near anything out of the trash and take it back to the shop and make it like new again. That was one of Clint's deals. He would take stuff that nobody else would use or think was any good and he would fix it.
"It was a lesson to me about it's not what you had but what you did with what you had. He was such a clever person as far as knowing when something wasn't fixable. He had a way of taking advantage of some people who didn't have the experience and knowledge of mechanics that he had. One of his big sayings was, 'Man made it, man can fix it.'
"Another thing about Clint was he was an expert lock picker. He could pick any lock and everyone around The Speedway knew it. Clarence Cagle used to say to Clint, 'I know you can open any of these doors. If I catch you, you'll be in trouble.' But Clarence could never catch Clint. But Clint only did it for fun. He never took anything. He was much too much of an honorable a man to do that.
"Clint would give you the shirt off his back. He was a rough, tough, gruff old man, but he was fair and honest. He had his ways, but like I say, he's at the top of the list of the people I worked for who were instrumental in helping me and showing me a path."
Over the course of a career spanning more than five decades McGee accumulated a record of 90 Indy car wins, including four Indy wins, plus nine USAC and CART championships with Andretti, Tom Sneva, Rick Mears, Emerson Fittipaldi, Bobby Rahal and Nigel Mansell. Read all about Jim's remarkable career in 'Jim McGee: Crew Chief of Champions' available from
Racemaker.com
for $74.95 plus shipping and handling.
Auto Racing ~ Gordon Kirby
Copyright ~ All Rights Reserved