Presented by Racemaker Press

"There's a lot of junk out there today. If you want it straight, read Kirby." -- Paul Newman


The Way It Is/ Hunter-Reay at the top of his game
by Gordon Kirby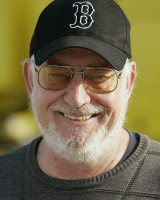 At Indianapolis on Sunday, Ryan Hunter-Reay confirmed that he's the man to beat in IndyCar this year. Ryan came through the field to establish himself as the pacesetter in the second half of this year's 98th Indy 500, eventually fending off challenges from Helio Castroneves and teammate Marco Andretti to score his first Indy 500 win.
Hunter-Reay also surged into the lead of IndyCar's championship, passing and pulling clear of Will Power who finished a disappointing eighth at Indianapolis after leading some of the opening laps.
"I'm so proud of this race for more than one reason," Hunter-Reay said after his great win. "I grew up as a fan of the sport. I was lucky enough that my dad took me to some Indy car races as a kid and I was just fascinated, especially with this race.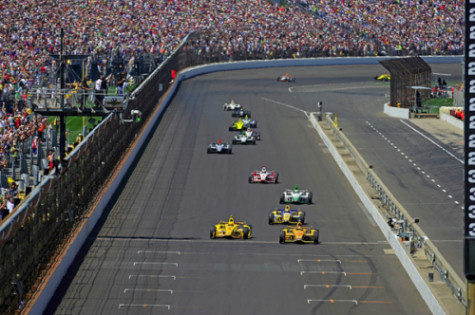 © LAT USA
"This is the big one. This is the granddaddy of them all. This is where drivers are made and history is made. When I was a kid, I looked up to the Andrettis, to Foyt, the Unser and Mears. It was always trying to get there. That was the top and just to have a shot at winning this race is unbelievable.
"This is what I've dreamed of since I was a little kid," Ryan continued. "Everything that I worked for, the championship is right next to this one and this is probably on top of that. It's amazing. Last year was very close and it was tough to lose to TK. I watched the replays on TV and to see how close TK has come a number of times. That's just the way this race is.
"Michael was one of the quickest drivers ever to race at this place but it never fell right for him on raceday. All I can ask for is being up front and having a car to win and we pulled it off today. I couldn't have done it without a tremendous group of people."
Ryan said he worried that, like his team owner, he might never win the Indy 500.
"Absolutely, particularly when you look at Michael's career. He ran so strong for so many races, but it just never fell his way."
Hunter-Reay admitted he took some risks in making his way from nineteenth in the starting lineup to the front of the field.
"It was tough to get a draft on somebody and make a pass, so it was very tight racing the whole race," he commented. "It was mentally draining for sure. You had to use every inch of the racetrack. I felt like a few times I got too close to errors, too close to mistakes. But that's where you have to run it in order to move forward.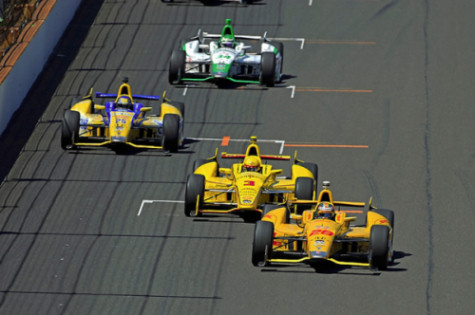 © LAT USA
"We had a big lead at one point when we were dealing with traffic and pit stops. Those two things combined helped us have a four-second lead at one point. But they ate that up and drafted right up to us.
"I knew if we got into a fight with somebody I had the upper hand for sure. The car was doing everything I needed it to. I could put it right where I need to to win the race."
Hunter-Reay took great pleasure from the opening 150 laps run without a yellow.
"The pace was just amazing going green that long," he said. "I was thrilled with the pace of our car, just picking through them. The leaders kept getting closer and closer. It was fun. You get into a racing rhythm and the in and out laps from the pit lane, that's the fun part about it too, trying to maximize that. I loved it going green that long."
A very rare red flag with nine laps to go after Townsend Bell crashed gave Ryan time to contemplate making the right movers in the closing laps.
"We had a great race car and it went yellow and then red," he remarked. "We were sitting in the pitlane and I had time to think about everything. Here I am the leader again, and I did my best not to do what we did last year, which is lead at the wrong time.
"It was tough to deal with the red flag. Just sitting there in the car thinking that we have a great shot at it.. You just have to keep your head about you. I wanted to win so badly."
Ryan emphasized the clean and respectful nature of his battles with Castroneves and Andretti.
"The fact that I was racing Helio and Marco, I knew there was going to be no funny business. We were going to race each other hard, take our line and stick to it. There wasn't going to be an unexpected move at the wrong time or something sketchy.
"Marco and I went close one time going into turn three. We respect each other a lot on the track. It was good, close racing. It was close racing, but all fair. The competition in the IndyCar series is ridiculous. It's probably the toughest it's ever been, the closest that it's ever been."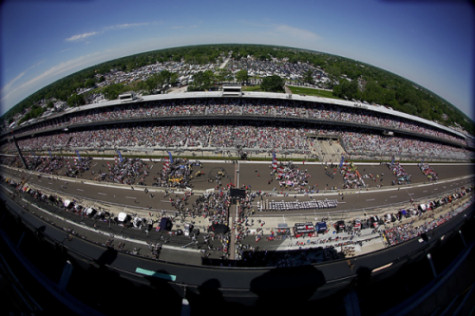 © LAT USA
Hunter-Reay said his team owner gave him every encouragement in the closing laps.
"Michael just said, 'Go win it. You've got the best car, you're the best driver out there. Go win it.' My engineer said the same thing. He said, 'We've got the tools to do it. Let's go make it happen.'."
Ryan emphasized that his dream always was to race Indy cars.
"I grew up a die-hard fan of IndyCar when Michael was in his prime. Michael and Al Jr. were the guys I wanted to emulate. For me, it was a one-track road. There were no other avenues. It was always about having a shot at IndyCar and the Indy 500. Being in the field is a privilege, let alone having a shot to win.
"If you look at the NASCAR side, it's all Americans," he added. "But this is a very international sport. It's the best talent from around the world coming in to do battle on every different discipline--ovals, street circuits, road courses, short ovals. It's the only championship like that. It's a true driver's championship and that's what I love most about it. And winning this one is great. It's a game-changer."
Michael complimented his team on an excellent month of May and saluted Honda for producing a very powerful engine for this year's 500.
"It was amazing to look at the scoring pylon at the end and see four of our cars in the top six," Andretti remarked. "If 'Hinch' didn't do his thing we might have had five cars in the top six. We have a great team and we were really well-prepared.
"I'm so proud of the whole team and Ryan and his guys, but the one that really stands out is Honda. You think where they were last year and they really came back strong with a great engine all month. They really turned it around."
Hunter-Reay said he believes Andretti Autosport's cars were the class of the field.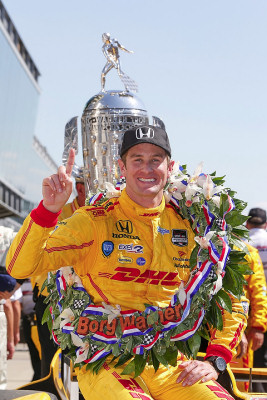 © LAT USA
"I knew last night before I went to bed I was going to have to battle one of my teammates to get this thing," he said. "For sure, we probably had the strongest cars out there."
Michael said he was proud of son Marco's strong drive to third place.
"As an owner, I can't be happier with what we had. Marco gave it a heck of a shot. Unfortunately, his car just wasn't quick enough at the end. He drove a really good race, as it seems he always does here. He's one of the best drivers I've ever seen around this place.
"I think Marco was running too much downforce. That was the difference with Ryan's car. I think they were both really good, but Ryan's was a little more trimmed and had a little more speed."
Michael was also delighted with Kurt Busch's fine performance in his rookie start in the Indy 500.
"He was real quick and we're proud to have had him this month," Andretti said. "Hats off to him. He did a really good job. He came in here with the right mindset. He came in with a lot of experience, but still with the mindset of a rookie. He went to school and was a great student.
"You could tell the way he ran the first part of the race. He fell back, but you could tell he was learning. When he started feeling confident, he started picking them off. He told me in the end he thought he had a car capable of doing better, but he was a rookie driver. I said you have nothing to be ashamed of. He did a great month and it was a pleasure having him on our team. Maybe we'll do it again some time."
Michael concluded with full-throated praise for Hunter-Reay's mastery of IndyCar racing.
"When we looked at Ryan one of the reasons why we wanted to have him in our family was the series requires a very diverse driver," he said. "You have to be able to race on different types of race tracks, including here at Indianapolis, and that's one of the reasons we went after him.
"He's everything we ever hoped for and we've just had a great relationship. We're very close and we're so happy to have him as part of our family. Hopefully, he'll be part of our family until he retires."
With a healthy point lead over Power and Castroneves it looks like it's going to be hard going for anyone to prevent Hunter-Reay from winning his second IndyCar title.
*I want to thank Jim McGee's family and many friends for helping make a roaring success of our launch of 'Crew Chief of Champions' at the IMS's Museum last Friday evening. We enjoyed a great turn-out of racing folks and it was a pleasure to sign books for so many of you. Thanks to all for being part of a fine evening at the Speedway's Museum.
Auto Racing ~ Gordon Kirby
Copyright ~ All Rights Reserved