Presented by Racemaker Press

"There's a lot of junk out there today. If you want it straight, read Kirby." -- Paul Newman


The Way It Is/ JR Hildebrand's dual lives
by Gordon Kirby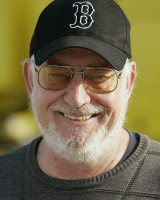 JR Hildebrand hopes to revive his career at Indianapolis this month. The almost-winner of the 2011 Indy 500 lost his ride with Panther Racing after last year's race and is back at the Speedway this year in a second Ed Carpenter Racing entry. Hildebrand and Carpenter hope to expand their agreement so that Hildebrand can run more races later this season.
"It's something that Ed and I have had conversations about since last summer," Hildebrand relates. "When everything went down at Panther last year, Ed was one of the first people who contacted me. There was a period of time when we were trying to put together a full-time second car program at ECR last year and it became clear that putting together a program for Indianapolis would be a good start to making that happen in the longterm.
"Ed and I kept talking and there were other opportunities that came up along the way. I did two races last year for Bryan Herta and that was certainly a consideration for this year, depending on sponsorship."
In the end, Hildebrand decided to ensure he had a properly funded and well-prepared car and team behind him at Indianapolis this year.
"When it came down to it, my focus was to make sure I had a ride at Indy. I wanted to be in a position where I had a ride at the Speedway in a program that was well planned, rather than a last-minute thing where we would be scrambling to find a crew and buy a car.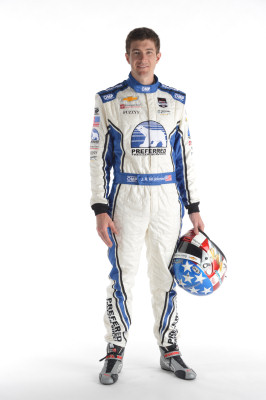 © Ed Carpenter Racing
"Once February and March rolled around we really started pulling all the strings to put this program together. We were able to find the funding and Ed wanted to hire me to drive the car. That was his outlook and that was certainly something that I appreciated. He wasn't relying on me to necessarily bring the funding.
"Ed had been planning all along to run a second car at Indy so he was well along in getting the right people and having the cars prepared properly. I'm going to be racing the chassis he put on the pole and raced last year so we should be in good shape from a preparation standpoint. I feel like that's where ninety percent of your speed comes from at Indianapolis these days. So it's exciting.
"There are a bunch of guys in the team who I've worked with at some point in my career. My crew chief, Dan Miller, was my crew chief at Panther the whole time I was there and our fueler was my fueler the last three years at Panther. And there are some other guys I've worked with at Andretti and Dreyer & Reinbold, so even though it's a new team it feels like a very familiar environment."
Woody Harvey is engineering Hildebrand's car at Indianapolis and JR is excited about having a teammate at the Speedway for the first time in his career.
"I think it'll be fun and it should be good running with Ed as a teammate," he grins. "I never had a teammate before and likewise for Ed. He's been running as a one-car team for a few years so it's an interesting scenario. I hope we can help each other be even more competitive. It's got to be a good thing having your team owner be your teammate because he's truly invested in the whole thing. So it'll be an interesting dynamic."
Hildebrand's car is sponsored by Preferred Freezer, an associate sponsor on Carpenter's car last year. If things go well, Hildebrand and Carpenter hope to add more races for JR later this year.
"There are plenty of discussions going on about running more races in a second car this year but it's all very up in the air at this stage," Hildebrand commented. "We're certainly looking at Pocono and Fontana as targets as being part of the Triple Crown, but I'm just as keen to get on track at places like Mid-Ohio and Detroit. We've had a lot of positive feedback from putting together this program to do Indy and we'll see how it works out and how we can build on it."
In addition to being a first-rate race car driver Hildebrand has demonstrated great academic ability. He was a National Merit Scholar in high school and was accepted by MIT although he deferred on attending the famed engineering school in order to pursue his racing career.
But Hildebrand's curious nature has propelled him to spend a lot of time in recent years developing an educational program to build more interest among American high school students in mathematics, science, technology and IndyCar racing.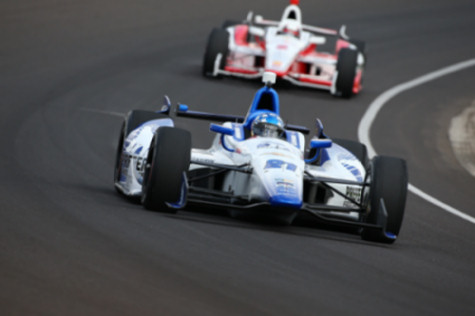 © Ed Carpenter Racing
"It took a couple of different experiences I've had through my career and educational life thus far," JR explained. "Math and science was always clearly relevant for me in high school because I was actually driving cars at that point. But before I began driving, math and science were always my areas of focus. By the time I got to high school and was considering a college degree in things I would like to do it was very evident that I would get an engineering degree in a field that was interesting to me. But that was largely due to my involvement in motor sports."
During his senior year in high school Hildebrand discovered that many American students are losing interest in studying mathematics and science.
"As a senior in high school I took BC calculus, which is certainly not a class you take casually," he observed. "It's a full college year of calculus in high school but only a handful of kids who took that class even applied for an engineering school. It struck me that here were all these smart, motivated kids, but for some reason math and science and engineering is not high on the list of things many young people want to pursue these days. It just wasn't piquing their interest.
"Since then I've been racing pretty much full-time and through some of the experiences I've had at the IndyCar level with the National Guard it became clear that this is a national issue. The culture around math and science has been turned upside-down. We've gone from being the leader in engineering and technology to a follower. While the entrepreneurial side of those things certainly is still thriving in the United States in Silicon Valley and elsewhere, the interest in kids becoming engineers has gone down."
Hildebrand points out that this is a growing national security problem for the United States.
"From the government's perspective this is a national security issue because defense companies have to hire American citizens with security clearances who have access to intellectual properties. As the pool of available talent becomes smaller, it's going to present a serious problem for our defense contractors in the next twenty years."
JR explained how he's planning to help tackle this problem.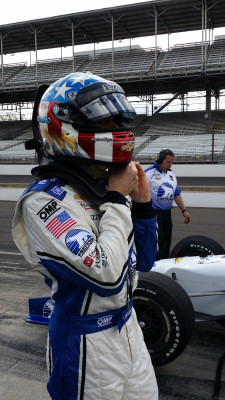 © Ed Carpenter Racing
"The root of the concept I've been working on is to use motor sports to engage students to become involved in math, science and engineering," he says. "I come at it from the point of view of being a race car driver, rather than an engineer or a big company. Over the past couple of years I've developed some ideas on how that could look and work.
"Motor sports is unique in that it's a sport that crosses economic and political barriers, unlike many other sports. One of the things we have at our disposal is to reach kids who are not currently being impacted. To me, that boils down to using something that is fast, exciting, risky and sexy, like we have in motor sports, and engaging with them on their level and being able to do it on their time.
"In motor sports we have an unbelievable amount of data that we collect from the race car. I don't think there's any other sport that comes close to collecting and analyzing so much data which puts motor sports in a very unique category. You can engage people in it because it's cool but you can also engage them in learning many aspects of math, science and engineering through all the data we collect.
"It took me a little while to grasp how important that is, but over the last eight months, since I've had a little bit of spare time on my hands, I've started to really dive into the educational field. I'm not an educator and I needed to learn about how the educational environment operates which has been an incredibly interesting experience.
"It's been great to get involved in something that's totally foreign to motor sports. I think I've learned more than I have in a long time. It's been very stimulating. I've been able to get engaged with a lot of people who see where this thing can go and the benefits it can provide to getting young people re-engaged in engineering."
Hildebrand has already begun to turn his ideas into reality.
"Over the last couple of months we've launched a program in a high school in Southern California that uses IndyCar information, data and circumstances to help teach ninth grade physics. So it's gone from an idea to actually impacting an entire class of kids.
"I'm working with a group called GreenDot Public Schools in the LA school district and they're looking to build that into an entire year of high school math and science teaching. The content is so immersive and so specific that they think they can teach an entire year's work of high school physics. They think that because of the impact this one class has had the students might come out of it testing higher than the kids going through the normal curriculum."
Hildebrand is excited about the increasing interest many people are showing in his ideas.
"I've had to put a lot of effort into making it happen but recently it's gained a lot of momentum," he adds. "MIT is keen to get involved and IndyCar is seeing the value in it. In a short time I've seen that it absolutely has the legs to grow and become something that could be meaningful on a much broader scale. It's a matter of figuring out how that works and how to build and expand the program."
This is a busy and motivating time in JR Hildebrand's life. I would love to see JR re-establish himself as a front-running IndyCar driver and it will be intriguing and good for all of us if he's able to achieve the beneficial effects he hopes for in his other life re-kindling interest among young Americans in math, science, engineering and IndyCar racing.
.
Auto Racing ~ Gordon Kirby
Copyright ~ All Rights Reserved