Presented by Racemaker Press

"There's a lot of junk out there today. If you want it straight, read Kirby." -- Paul Newman


The Way It Is/ The Delta Wing's road car future
by Gordon Kirby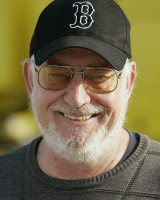 If Don Panoz and Al Speyer have their way the Delta Wing concept will have its biggest impact not on the racetrack but on the world's highways as a revolutionary fuel efficient, lightweight road car.
Speyer worked for Bridgestone/Firestone for 39 years, running the company's racing division for twenty years through his retirement last summer. Shortly after retiring Speyer was recruited by Panoz to push his plans forward to manufacture and sell Delta Wing road cars. Panoz would like the first production cars to appear in the next three or four years and Speyer has been charged with the task of making it happen.
"I came here to close the loop on my interest in the concept and because it's a great challenge," Speyer told me last week. "The concept has great environmental value to use less fuel with lighter weight, less drag and less horsepower for the same performance of a conventional car. The same things that make it a great race car make it an environmentally valuable road car that can save our country millions of gallons of fuel.
"My main focus is not with the race team. It's with getting a business going to design, market and sell Delta Wing street cars and we're well along the road with that. We have a full design of both a two-seat and four-seat car.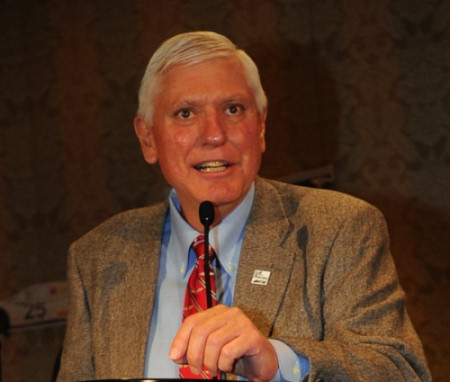 © Delta Wing Technologies
"We're very careful in protecting our intellectual property right now because we do have a law suit case against Nissan who, we believe, and a judge has recently ruled here in Georgia, that there are grounds that they have misappropriated intellectual property. So we're dealing with that legal issue but we're going full speed ahead."
Ben Bowlby has designed an electric hybrid Delta Wing-like car for Nissan, called the ZEOD. The car is powered by a tiny 1.5 liter three-cylinder turbo engine and will race at Le Mans next month out of the '56th Garage' for experimental cars occupied two years ago by the original Delta Wing. But Panoz is suing Nissan and Bowlby for violating the intellectual property rights of Delta Wing Inc. Speyer commented briefly on the lawsuit with Nissan. He added that he believes there's an important positive side to the dispute.
"The Nissan suit is very frustrating from our point of view," he said. "It's very important but we're going full speed ahead. In the end the market wants good, valuable, reliable products and we can deliver that regardless of what any court decides.
"However, there's one very strong positive and that is a major car company thinks the concept is worth enough to pursue on their own. We feel they've taken our intellectual property, but they are pursuing that concept for both a racing car and a street car. So it's not just us that think the concept works.
"If Adrian Newey or anyone else wants to go ahead with their version of this concept we think they should be licensing the base concept from us. We don't want to keep it for ourselves. We want more people to use it. Our business model doesn't preclude anybody from using the Delta Wing concept."
Speyer said he was convinced from the start that Panoz had the intelligence and chutzpah to make the Delta Wing road car a reality.
"Don's vision and creativity is amazing to me," Speyer grinned. "He's a very unique individual. He's got over 300 patents in the pharmaceutical industry so he knows the patent world very well and he's always looking for new and different ways to do things.
"He's involved in this because he thinks it's the right thing to do and we should be doing it, mainly because of the environmental benefits. Speaking for myself, it's not so much to make money. It's a challenge. It's about bringing a very efficient product into the market place."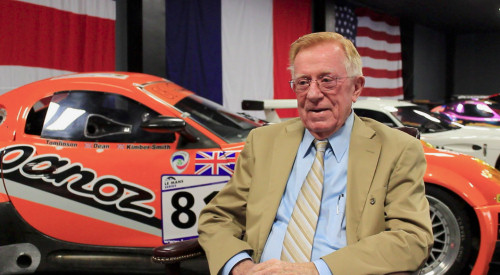 © Delta Wing Technologies
Speyer became a big supporter of the Delta Wing concept when it was first revealed to him at Indianapolis five years ago by the IRL's Brian Barnhart and Terry Angstadt.
"One calm day in May of 2009 I was minding my business in the Firestone garage in the hallowed grounds of Gasoline Alley at the Indianapolis Motor Speedway," Speyer recalls. "In those days when it was quiet and nobody was lined up at my door, I knew things were going well.
"So I was in a good mood and Brian Barnhart and Terry Angstadt came knocking on my door. They walked in with Ben Bowlby in tow and said they had something they wanted me to take a look at and see what my thoughts were. They said they thought this idea was pretty cool and Ben took his little model out of his case and gave me his sales pitch of his Delta Wing concept.
"At the time, not many people knew anything about it, but Ben and the IRL guys knew that tires were going to be an important part of the program. So we talked about it and I said I liked the idea. I thought it was pretty cool but I knew I was over my head on the engineering of the car so I asked one of our engineers to look at it and it went from there."
Bridgestone/Firestone's engineers loved the Delta Wing and it didn't take much selling to convince upper management of the concept's value both technically and as a marketing tool.
"Our engineers thought it was a great concept," Speyer said. "They thought it was almost simple for Bridgestone/Firestone to make tires that would work for the car. They said it was inside the envelope we currently operated within. It was less weight, less downforce and produced the same lap speed with less horsepower. So it wasn't putting more load on the tires. It was inside the envelope and well within the capabilities we had.
"We thought it was great. It was new technology, it was relevant. We ran it up the ladder and our management thought it was pretty cool. They thought it would bring in more fans. So we went ahead. We dove in and built some tires.
"We built the tires and supported the project and the first public showing of the Delta Wing was on the Bridgestone/Firestone stand at the Chicago Auto Show in early spring of 2010. It drew quite a lot of interest, particularly from the younger crowd.
"Then, somewhere along the line, the Speedway changed their mind and it wasn't selected as an Indy car. I can't begin to imagine the politics that went on behind the scenes. After that it fell of my radar for a little bit although we kept communications open with Ben."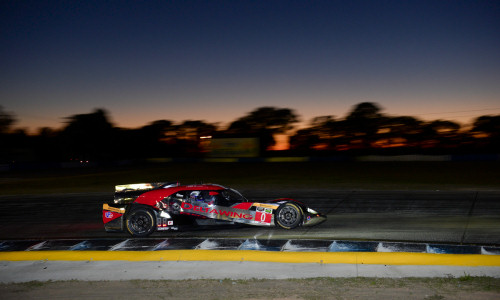 © Delta Wing Technologies
During this time Speyer started talking with the ALMS people about the possibility of Bridgestone and the Delta Wing racing in the ALMS.
"Scott Atherton and the people at the ALMS had always wanted Bridgestone to be involved in that series," Speyer related. "So we made some introductions and helped get it started on its path to becoming a current prototype sports car. The tires worked fine. From the first lap of testing the concept and the tires worked perfectly well and we put together a deal to run Bridgestones on the Delta Wing in 2013.
"But I bowed out of it. It wasn't on my plate of things to do at Bridgestone/Firestone and then I retired. I had a great career at Bridgestone/Firestone and I retired last June with full intentions of sailing off on my boat.
"Then one day shortly after I retired Don Panoz called and asked me to come down to Georgia to visit. He said he had a couple of things he wanted to talk to me about. So I did and Don convinced me to come to work with him in my current position as president and chief operating officer of Delta Wing Technology Inc."
Panoz and Speyer plan to forge a partnership with a major manufacturer to produce Delta Wings in quantity.
"Unlike previous projects that Don has done with his Panoz street cars we're looking for a major OEM manufacturer partner to make these cars in volume, maybe 40,000-50,000 a year to start with," Speyer commented. "We would license them our intellectual property on the design and development we've already done with the race car. There are a lot of things we have learned and we know what to do and what not to do with the concept.
"We see the advantages of having a much bigger sales and distribution network through an OEM. We feel the concept should have a large volume production to give its full benefit to consumers. The sky's the limit as far where we see production going because it's got the capability to be a hybrid, an electric car, or normal gas or diesel internal combustion engine, or it can run on natural gas. The Delta Wing concept and platform helps any of those power systems be smaller, lighter in weight and more efficient than any of the traditional automobile designs.
"Then there's the wow factor. It's unique and different, and it catches people's eye. Not everybody likes it, but some people love it and if you put together the functional and environmental aspects of the concept along with the styling appeal it has to some people it makes for an exciting concept with great appeal to an OEM."
Panoz's Delta Wing Technologies board of directors comprises himself as chairman, Margo Oge as vice chairman, Speyer as president and COO, Tom Wallace as head of engineering, and Cuneyt Oge and Joe Walton as directors.
"Don has assembled an impressive board of directors for the new company," Speyer said. "Margo Oge is the retired head of the EPA and she brought in all the new fuel economy standards which are a doubling of the fleet economy by 2025. Her husband Cuneyt has been a consultant to the automotive industry for many years and he's very well know with a lot of connections in the industry. Tom Wallace was the chief engineer at Corvette for his final six years at General Motors. He's recently retired from GM and is our engineering liaison. Joe Walton is an entrepreneur and venture capitalist who is a business advisor and board member."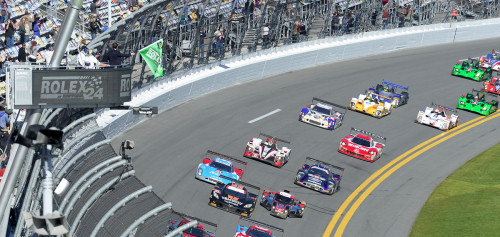 © Delta Wing Technologies
Speyer says work on producing an initial prototype of the road car is progressing well.
"We do not have any prototype hardware yet," he said. "It's all software and drawings. There are a fair amount of people at both Elan Technologies and the Elan Design Group who are involved at some level in the internal design of the Delta Wing road car.
"There's significant manufacturing and design capabilities right here in Braselton. Elan also manufactures a lot of other cars, like the IMSA Lights car and we're working on another spec car version of that right now.
"We're in the same building as the race team. I'm a fan and go to the races to see and talk to business contacts, but I am not actively involved in the management of the race team. We've got some sponsors we're working on for the race car. It's a long, involved process but we've got some very good leads."
Andy Meyrick and Katherine Legge are the Delta Wing's regular drivers. Alex Rossi was the team's third driver at Daytona and Sebring and Gabby Chaves drove with Legge at Laguna Seca this past weekend.
"We're continuing to run the race car in the prototype class in the Tudor United SportsCar championship," Speyer added. "Technology drives the race car much more than brute horsepower. It's based on handling and getting more miles out of a tank of fuel. Our tank is smaller.
"It's not a high horsepower car. It's meant to go longer on a tank of fuel and be more efficient. It's a David and Goliath and the racing has proved that the concept works.
"We're working on improving the reliability of the car. It's been an issue for us. Ironically, all the reliability issues have not been related to the Delta Wing concept. It's been standard parts like the turbocharger and transmission that have been unreliable, things that are not part of the Delta Wing concept."
Speyer loves to talk about the Delta Wing's responsiveness and turning ability.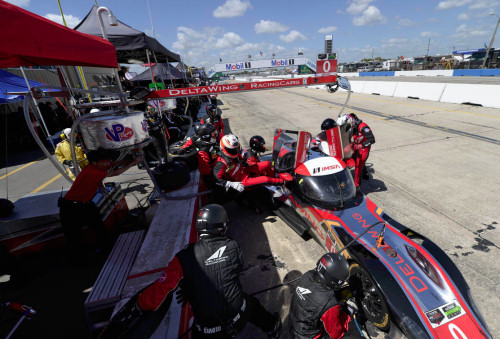 © Delta Wing Technologies
"It turns very well because the front end is very light," he grins. "Every driver I've talked to who's driven it says it feels like a regular race car. It's very nimble and agile, and they all comment on how stable it is under braking. That's because of the weight distribution and the way the whole concept has been put together. The car tends to squat down under braking rather than lurch forward.
"With the street car this should be an improved safety issue because it will be very stable under emergency braking. It's inherently very stable because most of the weight is on the rear."
Speyer says Panoz and his team are finding plenty of awareness and interest in the Delta Wing from major manufacturers.
"We have knocked on a lot of doors and they're all open to some degree. The door hasn't been slammed shut in our face anywhere, which I find encouraging, and some doors are swinging pretty wide open to us. You never know where the right fit is going to be but I'm encouraged because we're gaining momentum. Everywhere we go people are aware of the Delta Wing concept to some degree.
"They're not aware of some of the specifics of the design and the packaging and how it all fits together. When we get a chance to explain the whole business concept to them, it opens some eyes. A lot of people have said we really piqued their interest. They said they had no idea how much depth there is to the concept."
Panoz and Speyer believe they have all the pieces in place to able to start producing and selling cars much more quickly than any major manufacturer.
"A key component is offering an OEM a reduced cycle time," Speyer says. "By being a smaller, outside corporation we believe very strongly we can bring this vehicle to market more quickly than a typical large automotive company could.
"We're offering a fully developed prototype car with all the regulatory approvals in place for them to go directly into manufacturing. But we need their cooperation to make the final design to determine all the fine lines in the design and styling of the car and what specific parts go into it like a steering wheel and pedal cluster or windshield might come from a current model. The more we can use from an OEM's current parts bin saves them money, time and expense. They don't have to develop the entire car.
"If somebody signed on tomorrow we think we're two to three years away from having a car in the marketplace. We know there are consumers who will buy this car. They tell us that today. Young people are very interested in this car. They'd love to have one in their driveway. It is a wonder of modern technology.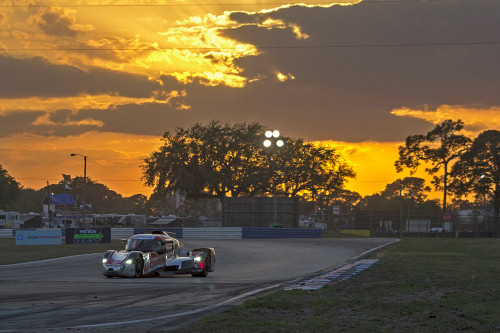 © Delta Wing Technologies
"We're working on a variety of new materials, particularly for the street car, in body panels and other components that are proprietary right now. These are all related to the light weight concept. Technology is progressing at an amazing rate and that's only going to continue. Some of the new materials we're working on are just amazing. It makes my eyes pop out. It's really good stuff. Some of it will work and some it won't."
Speyer insists that other than your average NFL and NBA stars, most people should fit comfortably into the Delta Wing passenger cars.
"There's both two-seat and four-seat hardtop models," he noted. "Both will fit at least two 95th percentile male adults in the front seats and probably an 85th percentile male in the back seat. It's a real back seat, not just a child's seat. A regular-sized adult can sit comfortably in the back seat of the four-seat family model."
Speyer closed our conversation by gazing into the future.
"My end satisfaction out of this whole thing will be twenty years from now when I see Delta Wing cars every day on the streets and highways and in parking lots. I just feel they need to be out there for the betterment of society and helping save fuel worldwide. If it saves just two percent of fuel around the world--and we believe it will save more than that--then it will have a huge impact. I have a slow-burning flame in me to make this happen."
It will be intriguing to see how successful Panoz, Speyer and their team can be at reaching their lofty goals.
Auto Racing ~ Gordon Kirby
Copyright ~ All Rights Reserved