Presented by Racemaker Press

"There's a lot of junk out there today. If you want it straight, read Kirby." -- Paul Newman


The Way It Is/ Honda's deep commitment to the sport
by Gordon Kirby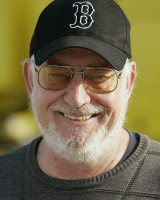 Before getting into this week's column I want to make sure everyone knows about an unfortunate accident my old friend Bill Alsup had while traveling in Europe last week. Bill suffered a bad fall, fracturing his skull and breaking multiple vertebrae in his neck. He's under the best of medical care in Ansi, France, and doctors plan surgery this week to stabilize his neck. He isn't expected to return to the United States for at least a month or more. Bill's son A.J. has set up a Facebook page Bill Alsup to keep everyone updated on Bill's progress. I encourage you to post messages and photos to help him work through a lengthy rehab period.
Meanwhile, this is American Honda's twenty-first year supplying engines to Indy car racing. The program began with Bobby Rahal's team in 1994 and after a shaky start Honda came through to win four CART manufacturer's championships between 1996-2001 before switching to the IRL and eventually becoming the series' spec engine supplier.
IndyCar's new 2.2 liter turbo V6 engine formula was born in 2012 and to Honda's delight Chevrolet (and briefly Lotus/Judd) took up the challenge to provide some much-needed competition. Indeed, Chevrolet and its technical partner Ilmor have been able to beat Honda to IndyCar's manufacturer's title the past two years although there hasn't been much to choose in performance between the two engines.
Honda ran a single turbo engine in 2012 and '13 of course, but has moved to a twin turbo setup this year, similar to Chevrolet. Last week, I talked with Honda Performance Development's vice president and COO Steve Eriksen about Honda's IndyCar engine program and the company's wider activities in LMP2 sports car and American short track and club road racing.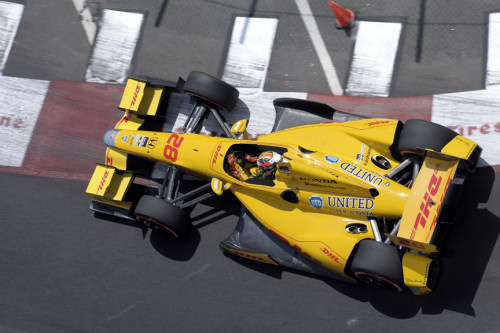 © LAT/Paul Webb
"Because of the regulation change requiring twin turbos we were required to do a fair amount of work, whether we liked it or not," Eriksen commented about this year's IndyCar engine. "On top of that, the homologation table also allowed quite a bit of flexibility to update components. I would say we were at a little bit of a disadvantage in that IndyCar allowed you to choose between your homologated components from last year and your new component.
"In our case, with the single turbo, that was not an option. We couldn't choose any of our components because there's no way a single turbo induction system would be compatible with a twin turbo. So we didn't have the same safety net, if you will, that our competitor had. We did a fair amount of redesign on the engine and we're pretty pleased so far with the results."
Through most of the IRL years Honda's engines were rebuilt and serviced by Ilmor's American operation in Michigan. But with the coming of the new turbo formula in 2012 Honda's IndyCar engine program was brought entirely in-house to Honda Performance Development in Santa Clarita, north of Los Angeles.
"Since 2012 we have been doing everything ourselves," Eriksen explained. "We do all the build work, dyno testing and support work out of HPD. In the previous era we had Ilmor UK, Ilmor USA, and ourselves working on the program. So we now live or die by our own actions and that's a new challenge for us.
"The engine we built for the 2012 season was truly a clean sheet design," Eriksen continued. "We had to expand our design group to make sure we had enough resources to do all the detail design work for a completely new engine from the ground up. That was a huge undertaking and the changes that were allowed by the homologation table for this year were pretty significant. It wasn't quite as big a job as the 2012 engine but it was a pretty big job."
As discussed in last week's column about Chevrolet's IndyCar engine program there's an additional challenge in successfully achieving IndyCar's requirement that each engine run 2,500 miles between rebuilds.
"I think the endurance racing experience we got in the ALMS was very useful to us in preparing for this new era of competition in IndyCar," Eriksen said. "One, because engines in endurance racing have to go 3,500 miles, and two, our LMP2 engine is a production-based V6 but it's a twin turbo and essentially the same twin turbo used in IndyCar. In the sports car era we did all the engine design, build and development out of this shop but the number of cars we supported was significantly less than what we have in IndyCar. So our sports car program gave us some good experience to draw from."
Eriksen agrees with Ilmor's Steve Miller and Chevrolet's Chris Berube that IndyCar's engine homologation program is working well.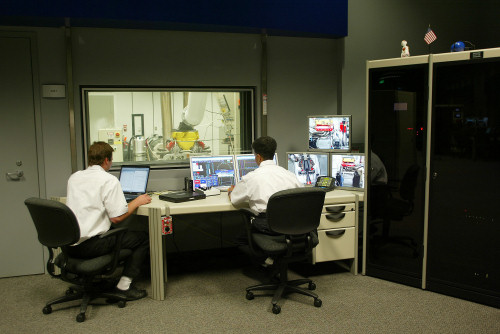 © Honda Racing
"I think the new homologation table has largely been a success," he commented. "If you look at how close Chevrolet's engine and ours are in performance you've got to say it's worked pretty well. It's allowed avenues for exploration without them being so wide open that you empty your bank account pursuing them. It was something all of us came up with as a concept and it was unproven but looking at the results you have to say it's worked well because it's a pretty close battle.
"You've still got things you can change every race if you so choose and there are other things that are fixed for quite a long period of time which helps when you order components. If you've got a nice long view into the future you can buy in greater quantities or negotiate a better price. So that aspect of it works well too.
"There are discussions about how the homologation table should look going forward," Eriksen added. "Should we follow a cadence of minor and major model changes like a production car would go through? Or do we keep changes at a very low level for a period of time to keep costs down? Those are all discussions that we're having."
Eriksen believes lessons from IndyCar's engine homologation program can be applied to next year's arrival of 'aero kits'.
"We're in discussion about 'aero kits' of course, and we're wondering whether or not the concept of a homologation table might not be applicable to that as well. Certainly, there are some parts of the bodywork that they seem to go through more often than others in the same way that you have components on the engine that you cycle through every rebuild."
Thirteen cars--three more than Chevrolet--run Honda engines in all of this year's IndyCar races with four or five more added at Indianapolis. Eriksen echoes Ilmor's Paul Ray's comments last week that getting everything ready to go for the month of May is a challenge.
"We've got more engines in our pool than Ilmor because we're supporting three more cars on a regular basis and we're working very hard to prepare for Indy," he remarked. "It's the same situation for Ilmor and us to get everything ready and sorted out. You're only allowed to have so many engines in the pool and essentially Indy dictates the number of engines you have to have in your program. So we're working hard to get that engine spec finished and ready in enough quantity to service all our teams at Indianapolis."
Eriksen says Honda would like to see IndyCar adopt sensible rules to embrace energy recovery systems in the next few years.
"I think it's certainly a very relevant technology and if there was a way to do it in a manner that didn't break the bank I think it would be very interesting and relevant technology for people to see in operation. It was announced some time ago that the NSX is going to incorporate some of that technology, so it's clearly part of the Honda and Acura lineup. The big question mark is can we do it in a manner that is both technically challenging and doesn't go out of the scope of what is proper from a cost standpoint for the series?
"Our colleagues in Japan have some experience already with racing hybrids," he continued. "There are ways to reduce some costs by deciding how much power you're going to get out of the system or what life you want to get out of it, or if it's an off-the-shelf component or a bespoke piece. There are lots of choices you can make that will affect the final cost. I'd like to think we could put our creative heads together and come up with a given set on constraints that would work."
Eriksen believes Indianapolis provides a unique environment for generating and harvesting heat energy.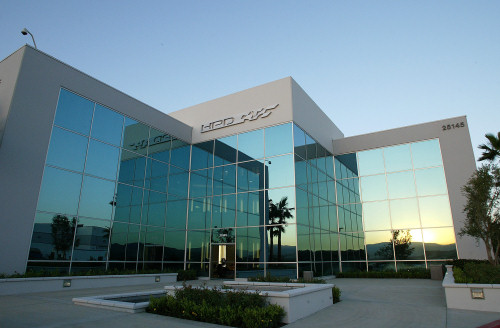 © Honda Racing
"I think that would be very interesting," he grinned. "We talk about innovation at the Speedway and given the operating conditions you have at the Speedway I think there's some opportunity there to harness that energy and demonstrate the application of an energy recovery system that's very much tailored to what we see on a superspeedway. You've got nearly constant exhaust flow and very little rpm variation and there's energy there to be harvested in a different way than on a road course.
"Maybe you don't carry much storage on the car," Eriksen ruminated. "Maybe the energy you create is immediately used. They haven't really delved deeply enough into the technical discussion to see what's possible with the cost constraints and the space constraints on the car. So we need to put all the creative minds together and say, 'What is possible for us to do?'
"We're having those discussions but we need to keep moving the discussion forward to decide what is a practical option for energy recovery systems. Of course, our compatriots in Japan are entering Formula One next year and they will have lots of fresh experience to feed back to us and give a reality check to our discussions."
Eriksen said Honda is committed for the longterm to IndyCar and its other American racing programs but would like to see more competitors in IndyCar.
"We're always looking for an excuse to race," he emphasized. "Nobody can imagine Honda not being involved in racing. It's in our DNA. Look at how long we've supported the IndyCar series. Part of being a good corporate citizen is to support what's good for the country and Indy car racing is so much a part of the heartland of America. That's part of why Honda has made such a firm commitment to supporting IndyCar.
"We're able to compete against worthy competitors today because we kept the series going for a number of years and we would love to see more competitors. We stand ready to help any potential competitor who is giving it serious thought and provide them with any information we can. It would be great to see three or four engine manufacturers competing in IndyCar. Three would be great. Four would be even better. We think four manufacturers would be ideal.
"I think the stability we've had in the engine regulations is great. I think the quality of the competition between Chevrolet and us is great and it would be great to have one or two other competitors."
Honda recently announced it is building a new LMP2 coupe to race next year. The ARX-04b is being designed and built in the UK by Nick Wirth's company, which designed and developed the Acura ALMS P2 and P1 cars.
"We started the Acura sports car program in 2007 and brought out the ground-breaking P1 car in 2009," Eriksen recounted. "The P1 car was a clean sheet design and we went to Le Mans in 2010 with a P2 car with a bespoke Le Mans aero kit that was very low drag. That was really the last time that we had an opportunity to do a major change to the car. The cost cap in the ACO regulations required that we leave it untouched but after so many years the car is still competitive, as we saw at Sebring.
"So the new ARX-04b coupe really represents our first chance since 2010 to come out with an all-new car that reflects the best of what we can do. I expect that car will be a very special and competitive car.
"Our hope is not to produce twenty of these cars. We don't want to be a volume producer. We're looking to have just a handful of these cars run by the very best teams to show our capability in the very best light. We also feel that by supporting just a handful of teams we can provide the level of customer service and support that they expect to help them be successful."
Honda is in discussion with teams in Europe and the United States about racing the ARX-04b next year.
"We're talking to all the usual suspects and some unusual ones too, and we'll see what comes out of that," Eriksen said. "We'll have the car ready for testing later this year. We'll have cars out testing before the 'Roar before the 24' test at Daytona in the winter so we can be ready for the official Daytona tests.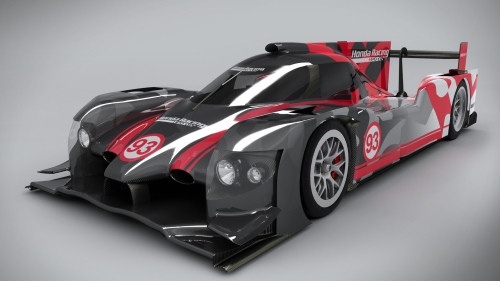 © Honda Racing
"The first car will be built in the UK at Nick Wirth's facility but then typically a team can go to Wirth's facility and work with them to build the car or the components will be shipped to the team's headquarters over here and they will build the cars here."
Eriksen believes the ARX-04b will be particularly well packaged and state of the art in terms of safety.
"It will have our production-based LMP2 2.8 liter direct injection engine which is running in our cars currently. The nice thing about it is it's a comprehensive approach. The engine, chassis and electrical system are all designed with a very deep level of integration which isn't possible in anybody else's P2 package. The chassis is designed specifically to excel with our engine. The electronics are designed around the engine and chassis combination and the ECU uses our software.
"We've gone to great lengths on this new car to incorporate every safety advance that we could and the car will actually exceed the P2 requirements for safety. We're also incorporating the fuel safety interlock system that we developed for IndyCar. That will be part of our coupe as well. We're going to make it absolutely the safest we can."
Honda hopes to have a handful of ARX-04bs racing next year in both the World Endurance Championship and our own domestic TUCS.
"We're making it available to any customer in any of the series we've previously supported, including the WEC," Eriksen said. "We'd obviously love to see the car race here in the Tudor series. We envisage a handful of cars split between Tudor and the WEC.
"Some of it depends on how the performance-balancing goes in the Tudor series. If they get it wrong, they're going to see a lot of customers go to the WEC. If they get it right, people will stay and the series will thrive. Time will tell. I'm confident that given time and attention they will get it right and we're looking forward to seeing the coupe race here."
With the TUCS's intake restrictions Honda's P2 engine makes between 450-500 bhp like most of it's similarly restricted competitors. Eriksen chuckles that this year's rules allow a much cheaper drive by wire throttle system to be used.
"The regulations now allow you to carry the stock DBW system which is great because before we weren't allowed to use that. Instead we had an $8,000 throttle blipper on the engine that we now can eliminate and put a stock $75 DBW component on the car. We're also allowed to put on a fresh air valve which keeps the turbo spinning so the combination of those two things makes for a normally aspirated-like driving experience."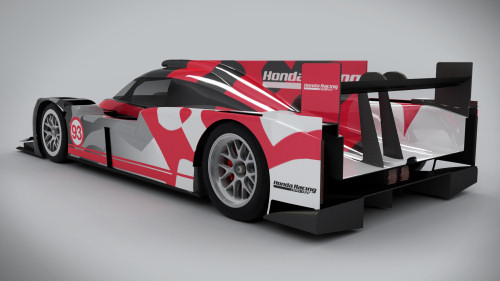 © Honda Racing
American Honda also conducts very active programs in quarter midget, midget, Formula F and touring car racing. Marc Sours runs this division of Honda's racing activities.
"It's a fairly small group but it's surprising how much scope Marc and his people are able to cover," Eriksen said. "American Honda is involved with USAC which has opened up some new avenues for us. We have engines running in midgets and we've supported quarter midgets for quite a few years through the power equipment side of Honda. That work has been transferred over to us at HPD so we're shepherding that forward.
"We're proud that our Formula F engine has helped give a resurgence to that formula. It's a great formula and the interest level and number of competitors keeps going up. The karting side has also taken off and we are supporting Honda Fits and Civics in touring car racing, including the World Challenge and Continental Tire series. We also have an all-wheel-drive TRX that will soon be competing in the World Challenge. The great thing is it all comes out of the same group here at HPD and it keeps us very busy.
"If you look across our program you go from completely stock power plants all the way through to bespoke, one-off style engines. So we've got all the different variations covered and there's different technology transfers depending on which of those many variants apply."
HPD employs almost 160 people in Santa Clarita plus some independent contractors.
"We've still got room to expand here," Eriksen said. "As new challenges come about or we expand our involvement in existing series, we've got room to grow further. It's helped that our last two HPD presidents spent most of their careers on the R&D side of American Honda so there's a great synergy there and an easy exchange of connecting people on our side with the right people on the production side."
Honda's founder Soichiro Honda believed in racing his products to achieve a higher level of engineering and technical development. That philosophy is woven deeply into the company's sinews, resulting in an impressive record of success over many years in Formula One, Indy cars, sports cars, MotoGP, Superbikes, moto-cross, touring cars and even the Paris-Dakar rally. It goes without saying that IndyCar, the TUCS and American motor racing as a whole are fortunate to enjoy the fruit of Honda's deep commitment to the sport.
Auto Racing ~ Gordon Kirby
Copyright ~ All Rights Reserved