Presented by Racemaker Press

"There's a lot of junk out there today. If you want it straight, read Kirby." -- Paul Newman


The Way It Is/ An evening with Mario
by Gordon Kirby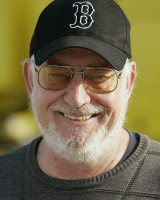 For my coverage of Sunday's 40th Long Beach GP please go to
www.motorsportmagazine.com
. Meanwhile, in this space I want to share some humorous stories from Mario Andretti that we enjoyed last Thursday night at the annual Road Racing Driver's Club dinner at the Long Beach Hilton hosted by Bobby Rahal.
During the evening Mario and Bobby spent an hour or so reminiscing about Andretti's remarkable career, beginning with the story touched on in this space last week about Andretti and Colin Chapman deciding to get together over breakfast the morning after the 1976 Long Beach GP.
"It's amazing how some things happen," Mario said. "I was given the notice by none other than Chris Economaki at Long Beach on the grid. 'Mario,' he said. 'What do you think now that this is going to be your last race in Formula 1?" I think Parnelli forgot to tell me that they were going to pull the plug on the program.
"The next morning, I'm having breakfast at the Queensway Hilton, all alone. My wife didn't even join me, I was so pissed. Colin was a few tables away, and obviously his chin was in his socks as well. He said they had probably had the worst race of his career, and I said 'Join the crowd.' He said 'Why don't you join me? But I have nothing to offer you, I know the cars are really not what you'd like.'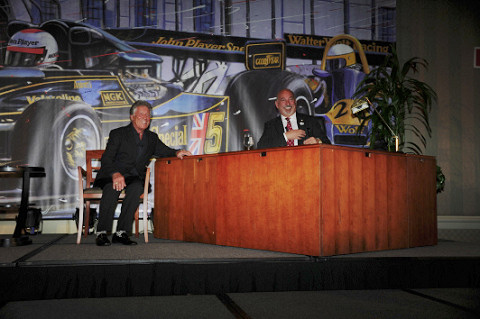 © Dennis Ashlock
"Motor racing was not his priority at the time, so I said 'Colin, if you come back to motor racing 100 percent, I'll do that.' But I had to be number one on the team, because I knew Colin didn't have two or three of the best, whether it was engine, chassis or whatever. That's the deal we made. If you look at Colin's career, it's all peaks and valleys. If you were with him during the peaks, usually there was a pretty good chance to put some numbers up."
And indeed they did as Andretti went on to challenge for the 1978 F1 World Championship aboard Chapman's John Player Special Lotus 78 before sweeping to the title the following year driving the beautiful JPS Lotus 79. Mario told us a few tales about Chapman's adventurous approach to racing and life in general.
"I told Colin, 'I'm not a candy ass, but I want to keep on racing as long as possible.' His mentality was to give the driver every opportunity possible to have the so-called unfair advantage. I always used to tell my mechanic Bob Dance to put and extra half gallon in, and that was a huge amount in Colin's eyes. He wanted to end the race with half a liter. That's the kind of guy he was and he would tell Bob Dance to take out that half a gallon before the start and there were two or three times when I had a race won and lost it because I ran out of gas on the last lap."
Mario added a story about Chapman's cavalier attitude toward flying.
"I had a Navajo, the same as his. Turbocharged engine, you had to warm up the oil and so forth. We're leaving Hethel, we're going to Silverstone, and it's a chilly morning in England. He doesn't do any warm-up, just ramps the engine up. The oil pressure, all the gauges are right up in the red, and of course once you get too much oil pressure, it bypasses the filter, which means your turbos sooner or later are going to fail. I used to get like 700 hours out of my turbos and he'd get like 50 hours.
"Silverstone had a grass field, and one morning we waited to watch him come in. It was a cold wet morning, you're landing in a field so of course you were gonna go long. He pitches that thing in sideways — have you ever seen a plane going sideways? Then he taxis right up like it was nothing. I didn't fly with him unless I really, really had to."
In 1966 Andretti turned down an offer to drive F1 for Ferrari. He eventually made his F1 debut with Lotus in 1968, qualifying one of Chapman's Gold Leaf Team Lotus 49s on the pole for the United States GP at Watkins Glen. Three years later he scored his first F1 victory driving for Ferrari in the South African GP.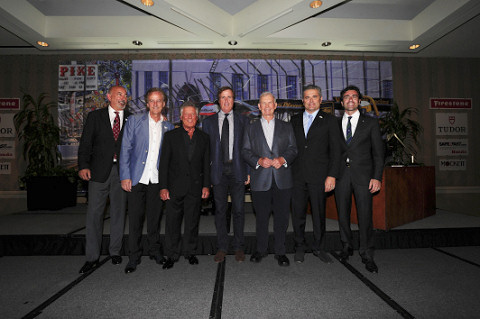 © Dennis Ashlock
"It seemed like whenever I got a bona fide offer from Ferrari, I couldn't do it. And vice versa. When I was ready, their seats were taken. We always had a relationship but what's important is that I pretty much started my F1 career with them and ended it there too. At the end of '77 we had a contract year with Lotus, and I already had a handshake with Colin to run another three years. But we didn't sign a contract.
"At Monza, Mr. Ferrari said 'I have to talk to you.' I won Monza in '77 and I love it when a plan comes together. I'm sitting there with Mr. Ferrari and we're getting down to it. It's always tough to talk money, but with him it was like being with Walt Disney: 'You should just be happy to be here.' Walt Disney never paid Mickey Mouse anything!
"I told Mr. Ferrari I had a handshake with Colin, and he said that's what lawyers are for. It came down to money, and I knew what I got out of Colin, so I doubled it. And he said okay. I basically said we have a deal. The next day I'm in the States, and I got a telegram from Ferrari saying I don't think we can finish the deal. I came to find out that half an hour after I left, Colin Chapman went in there and just ripped him to bits. The thing I did was I got Colin to triple his fee! I said, 'Colin, you don't want an unhappy driver.' So he brought in Courage beer to make up the difference."
Five years later in 1982 after retiring from F1 to focus the last twelve years of his career on Indy cars Andretti was invited by Ferrari to drive a turbo Ferrari F1 car in the Italian GP at Monza. The offer came after Gilles Villeneuve was killed earlier in the season and Didier Pironi was grievously injured a few months later in an accident in heavy rain. To the great pleasure of the partisan crowd Andretti qualified his Ferrari on pole.
"It was the worst of circumstances, but it was an opportunity," Mario recounted. "I had never driven a turbo Formula 1 car so I had to get used to a lot of things. I ran 87 laps the first day and we actually broke the track record at Fiorano. I really liked the car. I felt we were going to be competitive at Monza, but not as competitive as it turned out to be. We lost a turbo so we finished third, but it was an incredibly satisfying weekend. My dream started at Monza, I clinched my World Championship there — obviously under the worst of circumstances because of Ronnie (Peterson) — and I pretty much ended my Formula 1 career there. You really couldn't write a script like that."
Our host Rahal then asked Andretti about his adventures on Daytona Beach with a Hertz rentacar.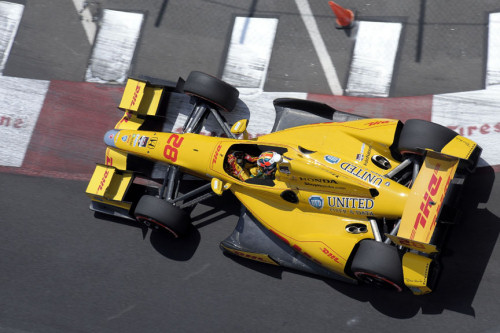 © Paul Webb
"It was after my first Daytona 24 Hours with Pedro Rodriguez in a Luigi Chinetti Ferrari. In those days, we had one driving suit for a 24-hour race. We finished the race, and our hotel was a few miles up in Ormond Beach. So I drove right down to the beach with this beautiful Hertz car. I think it was a brand new Ford Fairlane or something.
"We stank and I was weaving around, just taking in a little bit of the wake, running in the water, and finally we were just sucked right in. We had water up to our knees. I'm really ashamed, but at least we were getting washed up a little bit. So then I had to go find a pay phone, and I looked all scruffy and had to ask people for a dime so I could call Hertz. After that, Avis was really a good company."
Rahal then asked Mario to tell a story about taping Bobby Unser inside a phone booth immediately before Unser was to got out to qualify for a USAC Championship race at Hanford, California.
"Bobby had it coming," Mario grinned. "We're driving back from the track. I don't know why he was riding with me. Maybe he was too cheap to get a rental car, but we were driving, again, in a brand new Hertz rental car. I'm coming off the freeway and he blindfolds me. Of course, boom, we hit a curb and blow the left front tire.
"I said, I'm not going to change a tire, so I just kept driving and the thing pretty much caught fire. I finally pulled over, and Bobby starts jumping up and down on the roof of my car. He tries to stop somebody, and who stops? Danny Jones of Ford. I said 'Where the hell is the spare tire in this thing?' He goes in the trunk, so we jumped in his car and took off! So I felt we owed Bobby one.
"The next day we're all waiting to qualify. After I ran, I paged Bobby to take an emergency call in a phone booth. He ran over there and I taped him in. Judd Phillips was looking for him and he missed his qualifying run. Can you imagine that today? There was some retaliation later..."
Mario also told a funny story about Carl Haas's famous ritual of blessing his car before the start of a race. At Mid-Ohio in 1984 Haas confused Rahal's red and white car with Andretti's similarly-colored car.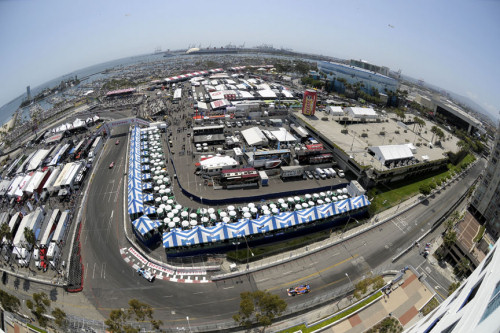 © Paul Webb
"Carl was very religious, and he had a ritual to bless the cars," Andretti explained. "He was serious about it. At Mid-Ohio one year, the cars were being pulled up on the grid, and Bobby and I both had red cars. My car hadn't arrived yet, and Carl started going through his ritual on Bobby's car. At least it was a Lola! Early in the race, I fell out with something in the ignition and Bobby won the race. I said, 'Carl, you blessed his car, and I fell out on the 13th lap. Thanks a lot!' True story."
Andretti concluded our evening by telling us how when he just beginning to make his name racing the Mataka Brothers' Kurtis-Offy midget he dreamed of racing in Formula One like his hero Dan Gurney.
"I wouldn't change the dirt track part of my career for anything," he said proudly. "Yet there was always something about Formula 1. When Dan Gurney got his ride in Formula 1 after competing with Arciero in sports cars, I was sitting in a midget in Hatfield, Pennsylvania in 1963. I won three races in one day, and after the race, I'm sitting there all proud, but I'm thinking about Dan Gurney. Somehow, that's where my mind was, ultimately."
Indeed it was as Andretti established himself as the most renowned example in racing history of a dirt track racer who made his way to international racing and won races and championships in Indy cars and Formula One adding more wins in NASCAR and long-distance sports car racing. In the end, Mario Andretti and Dan Gurney emerged as two of the most versatile and masterful racers of all-time. They also played key roles in the creation and development of the Long Beach Grand Prix.
Without doubt, we owe a deep debt of gratitude to Dan and Mario for the many great things they have done for our sport. Their legacies will last forever.
Auto Racing ~ Gordon Kirby
Copyright ~ All Rights Reserved