Presented by Racemaker Press

"There's a lot of junk out there today. If you want it straight, read Kirby." -- Paul Newman


The Way It Is/ America's first racing champion of 2014
by Gordon Kirby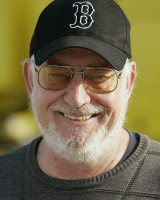 Spencer Pigot is America's first racing champion of the new season. Pigot, 20, won last month's four-race Cooper Tires WinterFest Pro Mazda championship and hopes to carry his momentum into a successful assault on this year's Pro Mazda title.
Pigot raced karts for eight years with considerable success before graduating to cars. He won the Skip Barber/BF Godrich/Mazda championship in 2010 and raced in the Cooper Tires USF2000 championship the following year on a Mazda scholarship. Pigot won eight of 14 F2000 races in 2011 but was narrowly beaten to the championship by Matthew Brabham.
Last year Pigot moved up to the Pro Mazda series with Team Pelfrey. He won at Mosport and was second in three other races, finishing fourth in the championship. Meanwhile, the talented Brabham won the Pro Mazda title and has graduated to Indy Lights this year with Andretti Autosport while Pigot has moved from Team Pelfrey to Juncos Racing for a second year in Pro Mazda. After the WinterFest series Pigot is convinced he made the right move.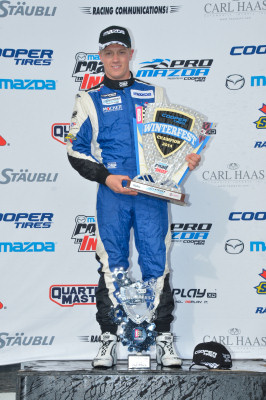 © ProMazda Championship
"It was really good," Spencer says. "The first few races with the team we all worked really well together so we're all excited and confident about the season.
"Last year was a bit disappointing after what we were able to do in F2000 the year before when I was teammates with Brabham and I won eight races and he won four. Going into the season we were expecting a good fight with him but the team went through a lot of changes and it just didn't go quite as well as we hoped.
"This is going to be a much better year because they've got an experienced, settled team at Juncos Racing. They know what they're doing and they've won races and championships in different categories so I think we made the right decision."
Juncos runs four Pro Mazda cars for Pigot, Kyle Kaiser, Jose Gutierrez and Julia Ballario. Pigot raced karts for Juncos and feels very comfortable with the team.
"I raced go-karts for Juncos Racing since I was ten years old so I've know them for a long time. It's not like it's a new team to me."
Spencer couldn't be more pleased with the way things have gone so far this year.
"We did a little testing with the series at Barber and we did a couple of days before the WinterFest. We didn't do that much testing but we did enough to have a good baseline setup. The Cooper tires have changed a little bit this year. We've got a narrower front tire than last year so we had to do a bit of development and fine tune for that."
Spencer went on to qualify on the pole for the first two races in New Orleans and qualify fastest again for the second pair of races at Barber Motorsports Park. He won the opening races at both venues and wrapped up the WinterFest title by finishing a close second to 19-year old Canadian Scott Hargrove in the second race in Alabama.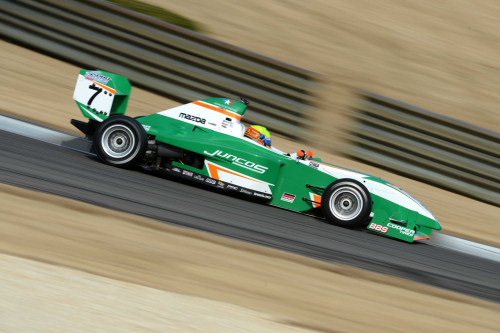 © ProMazda Championship
"From the first practice in New Orleans we were fast," he remarks. "The car was really good from the start and we made some good improvements during the weekend. We had a good car and were fastest in every session through the whole WinterFest. We always had a good car but even if we were fastest there were always some areas where we could improve and we did that and were able to win a few races and be strong in all of them."
Pigot enjoys a healthy sponsorship package led by Doug Mockett & Co and including Rising Star, Vitamin DPro App, California Scents and OMP.
"I wouldn't be able to do it without my sponsors and all the investors who have helped keep my career going," Spencer notes. "Hopefully we can deliver them a championship. If I can do that we won't have to ask them for as much money next year and move up to Indy Lights with the Mazda scholarship money."
Rising Star is a new program designed to promote promising young American drivers and Pigot was selected as one of the first Rising Stars in company with IndyCar ace Josef Newgarden and fellow Pro Mazda driver Neil Alberico.
"It's a really cool program and it's a compliment and pleasure to be chosen to be part of the first group with Josef and Neil," Spencer says. "Rising Star is doing everything they can to help us find sponsorship. They understand that money is the most important thing in racing and they're willing and motivated to go out and try to market us as a group and find sponsorship for us through this program. So it's great to be part of it."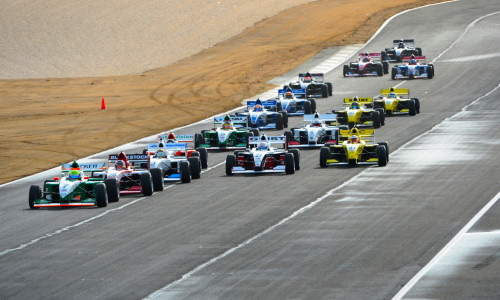 © ProMazda Championship
After winning the WinterFest title Pigot is excited about the Cooper Tires Pro Mazda season-opener in St. Petersburg at the end of the month.
"I can't wait," he grins. "We're going to do a little testing before St. Pete and get ready for the season. Winning the WinterFest is great but the Pro Mazda championship is the one we really want. We'll be working hard to try to reach that goal but there are a lot of good drivers and good teams that are going to be working hard to try to beat us."
Pigot has earned his place as one of America's most promising young open wheel stars. He's a talented, motivated and entirely promotable young man who appears to have a great future in the sport.
Auto Racing ~ Gordon Kirby
Copyright ~ All Rights Reserved