Presented by Racemaker Press

"There's a lot of junk out there today. If you want it straight, read Kirby." -- Paul Newman


The Way It Is/ Celebrating Newman/Haas Racing
by Gordon Kirby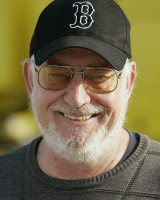 Newman/Haas Racing enjoyed a fine reunion in Indianapolis last weekend. More than sixty former Newman/Haas employees turned out for an evening organized by Peter and Mary-Lin Murphy who ran the team's motorhome and hospitality unit for 27 of the team's 29 years.
Founded by Paul Newman and Carl Haas at the end of 1982 as a one-car team dedicated to Mario Andretti, Newman/Haas won eight Indy car championships and 107 races as well as taking 110 poles over a 29-year run through 2011. The team's heritage also includes three Formula 5000 and four Can-Am championships won by Carl Haas's own teams between 1974-'80.
Newman/Haas's last few years were tough as Paul and Carl remained loyal to CART/Champ Car to the bitter end. Even as Sebastien Bourdais won four consecutive Champ Car titles between 2004-'07 they found it ever harder to sell sponsorship and their ultimate move to the IRL in 2008 after Champ car's failure did not help the situation.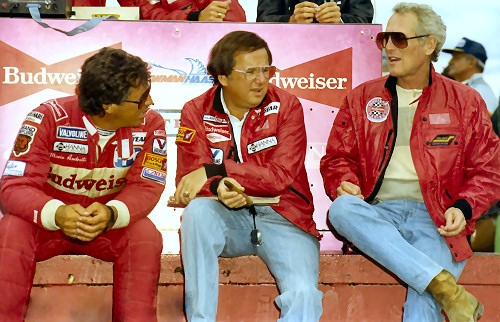 © Racemaker/Hutson
With Newman passing away in the fall of '08 and Haas ailing one of America's great race teams was reduced in its final years to running some paying drivers. The business of racing Indy cars was a losing proposition for four or five years for Newman/Haas and at the end of 2011 Carl and his wife Berni finally took the difficult and painful decision not to continue in Indy car racing after 29 years of operation and 45 in all going back to 1967 when Haas started his race team with Masten Gregory driving a McLaren Can-Am car.
Newman/Haas was formed at the end of 1982 when Haas convinced a skeptical Newman to become his partner in an Indy car team. The catalyst was Mario Andretti who agreed to drive as long as it was a one-car team dedicated to him.
Mario had quit F1 the year before and Newman/Haas proved the perfect place for him to rekindle his career in Indy cars. Tony Cicale was brought in to engineer Mario's car and Nigel Bennett designed an all-new Lola for Newman/Haas's second season in 1984. Sure enough, Andretti took CART's championship in style scoring six wins and taking eight poles.
The team went on to win three more CART titles with Michael Andretti in 1991, Nigel Mansell in '93 and Cristiano da Matta in '02 followed by Sebastien Bourdais's four straight Champ Car titles from 2004-'07, including one-two championship sweeps with Bourdais and Bruno Junqueira in '04 and Bourdais and Oriol Servia in '05. Other drivers to win CART races for Newman/Haas were Paul Tracy in 1995 and Christian Fittipaldi in 1999 and 2000 while each of Graham Rahal and Justin Wilson won an IRL race in '08.
But, as I say, there's much more to Newman/Haas's heritage than 29 years of Indy car racing. In addition to his celebrated career as one of Hollywood's leading men Newman was a renowned amateur racer who started racing aboard a Lotus Elan in 1972 when he was 47 and went on to win five SCCA national championships driving C and D-Production Bob Sharp Racing Datsuns.
In 1979, Newman successfully tackled Le Mans, co-driving a Porsche 935 turbo with Rolf Stommelen and car owner Dick Barbour to finish second. Sixteen years later he finished third in the Daytona 24 Hours co-driving a Roush Mustang with Tommy Kendall/Mike Brockman/Mark Martin. Newman also started more than sixty Trans-Am races during his career and won twice, at Brainerd in 1982 and his home track, Lime Rock, in '86. He continued to race a Corvette occasionally in SCCA races at Lime Rock through the last year of his life.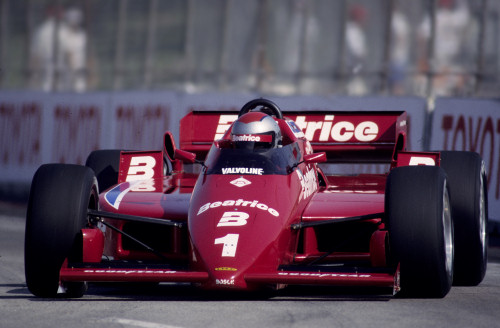 © Racemaker/Hutson
Newman also ran his own Can-Am team from 1978-'82 with Keke Rosberg, Danny Sullivan and Elliott Forbes-Robinson among others driving his cars. Newman's team won ten races during that time but was always beaten to the championship by Haas's team.
Haas started racing in 1952 aboard an MGTD before racing a series of Porsches, then Elva sports cars. He grew up in Lincolnwood, an inner Chicago suburb, and started selling race car parts and gearbox pieces out of the basement of his mother's home. He formed Carl Haas Auto in 1960 moving into a small showroom on North Broadway Street on Chicago's north side selling Elva race cars and Hewland gears and transmissions.
A few years later Haas Auto moved half an hour north to Highland Park where Carl sold McLaren and Lola Can-Am cars and became Lola's US agent and distributor. Haas sold thousands of Lolas--Can-Am and F5000 cars, FAtlantics, Formula Fords, Super Vees and Sports 2000 cars--and later would sell Reynard Atlantic and FF2000 cars.
Back in the sixties and seventies in the days before FedEx, Haas operated 'Haas FasPac', an overnight delivery service for Lola and Hewland parts establishing himself as the country's leading supplier of road racing cars, parts and gearbox components.
Carl retired from driving in 1966 and fielded his first professional race team in 1967 with Masten Gregory driving a McLaren Can-Am car in the United States Road Racing Championship. The following year Carl's team ran both the USRRC and the Can-Am series with Chuck Parsons and Skip Scott, and in 1969 Parsons finished third in the Can-Am championship behind Bruce McLaren and Denny Hulme.
Peter Revson drove Carl's Can-Am Lola in 1970 and in '71 Carl hired F1 star and two-time world champion Jackie Stewart to drive his L&M Lola T260. Stewart went on to score Haas's first two Can-Am wins and finish third in the '71 championship behind Revson and Denny Hulme's factory McLarens.
Carl turned to Formula 5000 in 1973 in a partnership with Chaparral boss Jim Hall and Haas/Hall Racing won three F5000 championships in a row from 1974-'76 with Brian Redman driving. F5000 was replaced in 1977 by the 'new era' Can-Am and Haas's team continued to dominate winning four straight titles with Patrick Tambay (twice), Jacky Ickx and Alan Jones. In total therefore Haas's race teams have won fifteen major American racing championships and more than 140 races.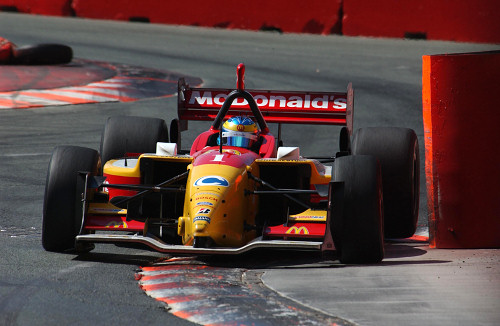 © Racemaker/Webb
Nor can we forget Carl's role in the SCCA. He was chairman of the SCCA's board of directors from 1993-'96 and served on the club's Pro Racing board from 1993-2001. And of course there was his brief foray into F1 in 1985 and '86 with bountiful sponsorship from Beatrice and turbocharged engines from Ford. His design staff included Adrian Newey and Ross Brawn with Alan Jones and Patrick Tambay driving but Beatrice was taken over in a leveraged buy-out and the team came to a quick end before it could achieve its potential.
By then Newman/Haas Racing was in full flight and the fleeting Beatrice sponsorship allowed Haas Auto and the team to move into much larger new digs in Lincolnshire, a short drive west of Highland Park. Newman/Haas has resided in Lincolnshire for more than a quarter century and the team's remarkable racing heritage is evident in the superb collection of trophies won by the team on display in the lobby of Carl Haas Auto.
Mario Andretti spent the last twelve years of his career from 1983-'94 with Newman/Haas. Mario won sixteen races during that time as well as the 1984 CART Indy car championship, his fourth and final Indy car title.
"The thing that I appreciated always from day one about Carl was the fact that he was a hundred and ten percent racer," Andretti says. "He was an icon in the sport because he was a part of Lola and Hewland, two manufacturers who have been so important in the broad history of our sport in the United States, and he depended on the sport one hundred percent for his financial success. Carl was one hundred percent involved in racing. That was his only focus every day.
"Paul was a great support system," Mario adds. "He was a real strong shoulder to lean on at any time and a security blanket for the entire team. Paul was so sensitive to the psychological needs of the team. Everyone in the team, especially the key members, felt so supportive of him, and they showed that. All these things worked in a very positive way. Everybody had a function and contributed in one way or another to something that was very positive. You don't get results by luck only. You might get some sporadic results, but consistent performance comes from the effort of everyone over a long period of time.
"And Berni was an incredible stabilizing force behind it all. She was very cool and collected. I think she would be the one who would probably show the least emotions. She was a great partner for Carl in making a lot of key decisions, no question about it."
Tony Cicale was Andretti's race engineer at Newman/Haas from 1983-'85 and returned for a second stint from 1988-'91. Cicale looks back with great warmth on his six years with the team and says Haas was always entirely honest and straightforward with him.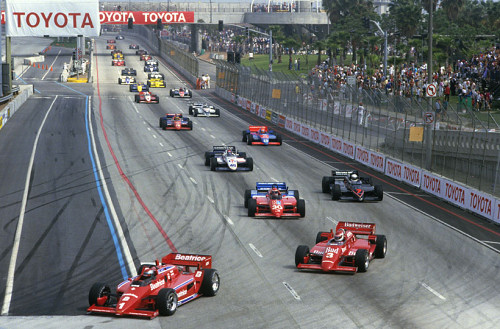 © Racemaker/Webb
"Carl was a little on the loose side, but always in control," Cicale remarks. "He was a gambler and liked gambling, but he wasn't a wild gambler. He was more of a speculator than a gambler. He liked to go out on a limb and if the limb broke, well okay, no problem. We'll do something else. The characteristics that I remember the most about Carl were his true uniqueness as an individual with no pretense at all about him. There were no apologies for anything about the way he was."
A youthful Adrian Newey engineered Mario's car at Newman/Haas in 1987. Mario dominated that year's Indy 500 only to drop out late in the race with a blown engine. But he was on the pole at six races--Indy included--and won from the pole at Long Beach and Elkhart Lake.
"Carl was a very decent guy to work for," Newey says. "He was very straightforward. The refreshing thing about Carl and those days was that people did what was right rather than turning everything into a game of personal gain all the time. What impressed me about Carl is that he is a genuinely nice guy who has tremendous loyalty to his people.
"Carl was very straightforward, very easy. He was very sharp. He knew exactly what was going on and if you wanted or needed something technically, he would do whatever was required to make sure that it was provided. He was a very good guy to work for. I very much enjoyed my time there."
Michael Andretti drove for Newman/Haas from 1989-'93 and again from 1995-2000. Michael scored 31 of his 42 Indy car wins with Newman/Haas and took the 1991 CART championship. Michael left Newman/Haas to join Barry Green's team for the final years of his driving career before becoming a part-owner and then sole owner of what is now Andretti Autosport.
"This is a very tough business and for Carl to be successful over so many years is very rare and very impressive," Michael remarks. "I've got a lot of respect for him. He was a big part of the history of American racing for many years. He sold a lot of cars and parts to a lot of people and made a great living out of it. But he gave a lot to the sport. He's had a huge impact.
"And Berni was a way bigger part in all of it than people think. She ran a lot of the show in the background. She's tough, but you've got to be tough in this business."
Michael adds his observations about the late, great Newman.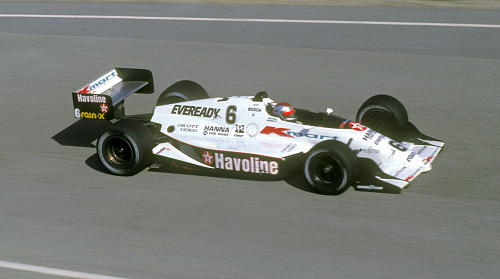 © Marc Sproule
"Paul was a guy who had a sheer love for the sport. He didn't get over-engrossed in it. He let Carl and Berni run the show but he still had a big influence in a lot of the things that went on because he would do so many things to support it. The relationship between Carl and Paul just seemed to work. It's so funny because they were such enemies (in the Can-Am days) but they became partners and it worked. It's a weird deal that it came about and I'm glad to say I was right in the middle of it.
"I had a ton of respect for Paul. He was such a real guy. There was no bullshit about him. He just loved racing and wanted to be involved in it. But he was just a nice guy, a really good guy. He was humble and talented, and he was honest and straightforward."
Nigel Mansell came to America to race Indy cars for Newman/Haas in 1993 and '94. Mansell had won the 1992 F1 world championship with Williams-Renault and won the CART championship with Newman/Haas in '93 as an Indy car rookie, thus becoming the only man ever to win F1 and Indy car titles in successive years.
"Paul Newman was literally a legend in his lifetime," Mansell remarks. "He was the most incredibly charismatic and fabulous fun guy to work with and be part of. I'm so proud that he enriched my life. I just feel so privileged and proud to have been associated with Paul and to have had him as a guest a couple of times at my home in Florida and have him support the charities I was supporting at that time.
"It was so much fun. It was a blast like there's no tomorrow and not forgetting that Paul was a race car driver himself so he was a great fan of racing. He related to race car drivers because he was one himself. It was just a fabulous time.
"Of course, Carl Haas was a very different character and personality. He was an incredible businessman and his lovely wife Berni was very much the driving force behind Carl. Sometimes unfortunately, Carl did move the goalposts a little bit, but I was very grateful for the opportunity to come to America and make history. You never know when one door closes what other door may open and to make that history together with Paul, Carl and Berni was a fantastic achievement.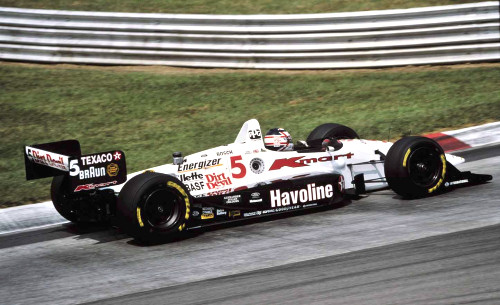 © Dan Boyd
"It was a complete pleasure to be part of the Newman/Haas team from everybody from the tea ladies to the mechanics and engineers to Paul, Carl, Berni and Jim McGee. We were one, big traveling family and it was a wonderful relationship. It was a joy."
Jim McGee was Newman/Haas's team manager in 1993 and '94. McGee adds his observations about Haas and Newman.
"Working for Carl was great," McGee says. "He was probably one of the best people I worked for. There was no bull with him. He was smart in so many ways. He just made your life easier. He never got upset. He was cool and provided you with everything you needed.
"Carl probably was as good as there was. He ran a good operation. He had a lot of good people working for him in the race shop and in the office. I cannot remember one unpleasant incident during my two years with Carl. It was a good operation and I enjoyed everybody there.
"Carl was there all the time. He was there in the morning when you came in and then Berni came in a little later in the morning and she stayed into the evening. When you left at night she was the last one there, so Carl and Berni were represented there all the time.
"Carl was always a great guy to work for and I had some really enjoyable times with Newman/Haas. It was a great organization. A lot people didn't understand Carl. He could be so funny at times and he could be pretty grumpy at other times.
"A lot of times you have factions at race shops. You have a group complaining about how screwed up things are, but you never had that at Newman/Haas. Everybody at Newman/Haas was happy.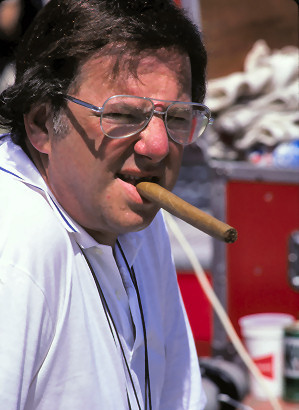 © Racemaker/Hutson
"In every race team you always have to bridge the gap between the engineers and the mechanics. There are always complaints from the mechanics that the engineers don't know what they're doing, but that was minimal at Newman/Haas. The engineers, Brian Lisles and Peter Gibbons, had a good rapport with the mechanics and it worked very well.
"Paul Newman was never in the way," McGee adds. "That's what we used to say about him. You never knew he was around. He was always there to add his two cents whenever needed, but he never said too much. He stayed in the background and let us do our thing. He just supported everything we did, which was great."
Jackie Stewart drove Haas's Lola T260 Can-Am car in 1971, winning two races and finishing third in the championship behind Peter Revson and Denny Hulme's factory McLarens. Stewart compares Carl and Berni to Ken and Norah Tyrrell with whom he won all three of his F1 World Championships.
"I loved driving for Carl and Berni," Stewart remarks. "It was like Ken and Norah. It was the same kind of relationship, like a family. Carl and Berni had a great team of mechanics. There was a great spirit in the team. They were very keen winners and whether it was Can-Am or Formula 5000 or Indy cars Carl always had winning drivers and teams. He's been a tremendous stalwart of motor sports and particularly road racing in America. To many people in Europe and around the world, Carl Haas represents American road racing more than any other man."
Carl and his fabled partner's dissimilarly unique characters forged a team of endearing appeal that helped define the past half century of American racing. They are much missed these days around the racetracks of America.
Auto Racing ~ Gordon Kirby
Copyright ~ All Rights Reserved