Presented by Racemaker Press

"There's a lot of junk out there today. If you want it straight, read Kirby." -- Paul Newman


The Way It Is/ Remembering a revolutionary era
by Gordon Kirby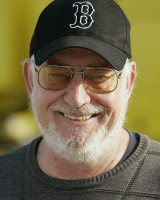 Fifty years ago the Beatles came to America, signaling the beginnings of revolutions in popular music, film, theater, television and culture as a whole that careened through the nineteen-sixties. The Space Age was also in full flight at the time and it seemed as if America was at the center of the universe. Motor racing reflected the spirit of the times as well with revolutionary thinking affecting every corner of the sport after decades of incremental change and plenty of Americans participating at the top levels of international racing.
Phil Hill became America's first F1 World Champion in 1961 driving one of the memorable shark-nose Ferrari 156s. Hill arrived in Europe in the mid-fifites as a Ferrari sports car racer and led a wave of American drivers who tackled F1 and/or international sports car racing in those days. In addition to his F1 title, Hill won Le Mans three times for Ferrari between 1958-'62 and was joined in Europe by Richie Ginther, Dan Gurney, Masten Gregory, Carroll Shelby, Jim Hall and Roger Penske.
Meanwhile, Shelby's Cobra GT program evolved into the development of the Ford GT40 and subsequent mk 2 and mk 4 models. Ford broke Ferrari's stranglehold on Le Mans in 1966 and '67, winning the race with first a mk 2 and then a mk 4 before winning again in 1968 and '69 with GT40s run by John Wyer.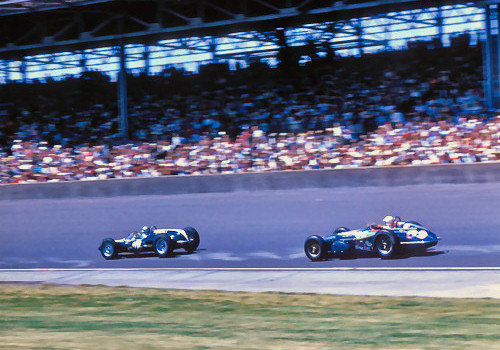 Brabham's Cooper at Indy in '61
~
© Racemaker/Knox
Jim Hall's first rear-engine Chaparrals appeared in 1963 and two years later Hall and Hap Sharp won the Sebring 12 Hours. In succeeding years the Chaparral 2 would undergo a series of revolutionary developments, introducing high wings to the sport and the first taste of ground effects with the 2H 'sucker car'.
Although Hall's Chaparrals were consistently beaten to the Can-Am title by Team McLaren's 'Bruce & Denny Show' the white cars from Texas defined the spirit of the Can-Am. Hall and Sharp also ran a Chaparral long-distance sports car team in Europe in 1966 and '67, winning the Nurburgring 1000Ks in '66 with Phil Hill/Jo Bonnier and a six hour race at Brands Hatch in '67 with Hill/Mike Spence.
At the Indianapolis Motor Speedway the first harbinger of the '60s revolution was the appearance of Jack Brabham's F1 Cooper-Climax in 1961. The new wave exploded two years later when Colin Chapman, Jim Clark and Dan Gurney arrived with their Ford V8-powered Lotus 29s. Clark and Chapman took three tries to complete the rear-engine revolution in 1965 when the Scot scored the 500's first rear-engine victory, leading 190 laps. All but six cars in the field in 1965 had their engines in the rear and by 1969 the traditional front-engine roadsters had vanished.
Yet rear engines were just the beginning of the great revolution that swept through Gasoline Alley over the course of the '60s. Rear engine cars brought aluminum monocoque chassis in place of traditional tubular frames as well as Ford V8s running on gasoline competing against the traditional alcohol-burning four-cylinder Offenhauser, a mainstay of the Speedway since the '30s. At the same time a burgeoning tire war between Firestone and Goodyear brought much wider, low-profile tires while the growing battle between Ford and Offenhauser ushered in a new era of turbocharging, resulting in a sharp increase in horsepower.
The late sixties also saw the arrival of turbine engines and wings. STP turbine cars built by Andy Granatelli and Lotus dominated the 500 in 1967 and '68, although victory eluded them, while over the next few years wings began to appear, quickly increasing in size and creating much more downforce and higher cornering speeds.
The massive technological revolution of the '60s produced big steps in handling, grip, downforce and horsepower. As a result, lap speeds skyrocketed at Indianapolis from 150 mph in 1962, to 160 mph in '65, 170 in '68 and almost 196 mph in 1972 when Bobby Unser broke the previous year's track record by more than seventeen mph, the biggest jump in one year in Speedway history.
Through this period the SCCA's Can-Am series arrived and boomed in a similar way with a variety of ever more powerful engines and spectacular cars festooned with increasingly larger wings and the arrival of ground-effects in the shape of Jim Hall's Chaparral 2H 'sucker car'. The Can-Am was dominated by the factory McLaren team, but there was plenty of competition from Lola and Chaparral and other top teams like Penske, Carl Haas and Dan Gurney's All American Racers.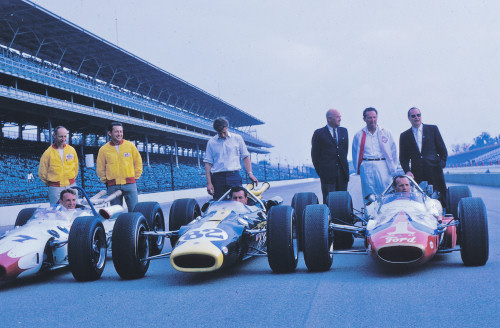 Indy 500 front row '65: Gurney, Clark & Foyt
~
© Racemaker/Knox
During the late sixties and early seventies the SCCA also enjoyed healthy and growing Formula 5000 and Trans-Am series. USAC took notice of road racing's growth in America and began to experiment with road racing, adding its first road race in 1965. Three years later seven road races were on USAC's Championship schedule that included a total of 28 races, more than any year before, or since.
Many American car builders produced rear-engine Indy cars through the late sixties with as many as fifteen or sixteen car builders represented at Indianapolis during those years. Among the domestic car builders who turned their hands to building rear engine Indy cars to compete against English Formula One constructors Lotus, Lola, McLaren, Brabham and BRP were A.J. Watson, Clint Brawner, Don and Fred Gerhardt, Ted Halibrand, Rolla Vollstedt, Joe Huffaker, J.C. Agajanian, A.J. Foyt, Vel's Parnelli Jones, and of course, Dan Gurney's All American Racers.
Aside from Jim Clark and Graham Hill's consecutive Indy 500 wins in 1965 and '66 and Clark's win at Milwaukee in '63, traditional American racers raised on dirt ovals continued to dominate at Indianapolis and in the USAC Championship as a whole.
A.J. Foyt won three Indy 500s and four USAC Championships during the sixties while Mario Andretti took three USAC Championships and his lone Indy 500 win in 1969. One-time Sprint car star Parnelli Jones fended off Clark to win the '63 500 and dominated in '67 with Andy Granatelli's STP turbine until a late-race mechanical failure enabled Foyt to score his third Indy win. Bobby Unser also emerged during this period. Bobby U won both the Indy 500 and USAC title for the first time in '68 while younger brother Al turned the same double in 1970, adding a second Indy victory in '71.
At the same time a brace of F1 world champions and top American sports car racers tackled Indianapolis through the sixties. After Jim Clark scored the first rear-engine win at Indy in 1965 driving a Lotus-Ford, Graham Hill won in '66 aboard a Lola-Ford and Jack Brabham also returned for a few years with his own cars and teammate Jochen Rindt--all of them world champions. Denny Hulme also drove factory Eagles in three 500s between 1967-'69 and a factory McLaren in the '71 500.
Some top American road racers, led by Dan Gurney, also raced at Indy during the sixties. These included Walt Hansgen, Dave MacDonald, Masten Gregory, Peter Revson and Mark Donohue. Roger Penske's team ran the Indy 500 for the first time in 1969 with Donohue driving a Lola co-owned by Carl Haas. It was the beginning of the most successful dynasty and team in Indy car racing history.
Gurney took his rookie test at Indianapolis in 1962 aboard a traditional Offy roadster and drove the only rear engine car in the field that year, Mickey Thompson's Buick-powered Harvey Aluminum Special. At the time, Dan was an established Formula One star who won his first Grand Prix later in '62 at Rouen, France.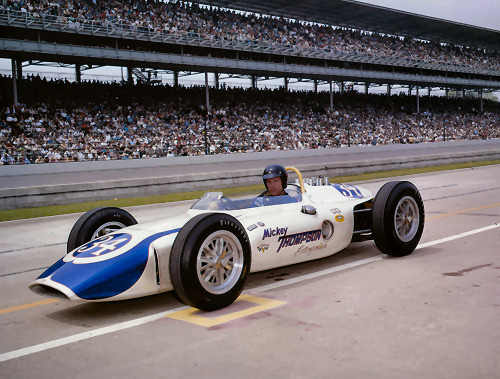 Gurney in only rear engine car at Indy '62
~
© IMS
The following year Gurney joined Colin Chapman and Jim Clark in bringing the factory Lotus team to the Speedway and writing a dramatic new chapter in the 500's history. A few years later with his beautiful and often ground-breaking Eagles, Gurney came to personify the revolutionary spirit of the '60s and went on to have a huge influence on events at the Speedway as a car builder and team owner through the sixties, seventies and into the eighties.
In 1964, Gurney started 33 races around the world in seven different categories. He started the year by scoring his second win in a row in NASCAR's season-opening road race at Riverside and also raced a Ford stock car in that year's Daytona and Atlanta 500s. Among his many other duties Gurney led the Shelby Cobra attack on the world sports car championship in '64, winning the GT class and finishing fourth overall at Le Mans co-driving with Bob Bondurant. He also won the GT class and finished third overall driving solo in the Tourist Trophy at Goodwood.
In addition, the '64 season was Dan's second of three with Jack Brabham's F1 team and he won the French GP for a second time that year and also took the F1 season-closer in Mexico City. Gurney also found the time to race his own much-modified Ford V8-powered Lotus 19 in half a dozen US sports car races.
Amid his amazingly energetic schedule Gurney was a tremendous advertisement for America. He was tall and handsome with a wide, winning smile, and was a sublime racer and gentleman who charted his own course. It was no wonder 'Car & Driver' launched a tongue-in-cheek 'Dan Gurney for President' campaign in 1964.
Of course, Gurney would go on to start All American Racers in 1966 and build a superb series of F1 and Indy cars renowned for their elegance as well as speed. In '67 Dan scored an historic victory in the Belgian GP at Spa driving his own AAR Eagle-Weslake V12 and finished second at Indianapolis in 1968 and '69 and third in his last Indy 500 start in 1970.
Gurney won two Can-Am races that year driving a factory McLaren in place of his friend Bruce McLaren who was killed in May of '70 while testing one of his new Can-Am cars. He also drove one of McLaren's cars in three F1 races that summer but retired at the end of the season to focus on his exceptional second career as a team owner and car builder.
AAR's Eagles were the dominant car at Indianapolis through the middle seventies. With Jerry Grant and Bobby Unser driving, the big-boost '72 Eagle-Offy was the first car to lap a closed course at more than 200 mph while Gordon Johncock and Unser won the Indy 500 aboard '72-type Eagles in 1973 and '75.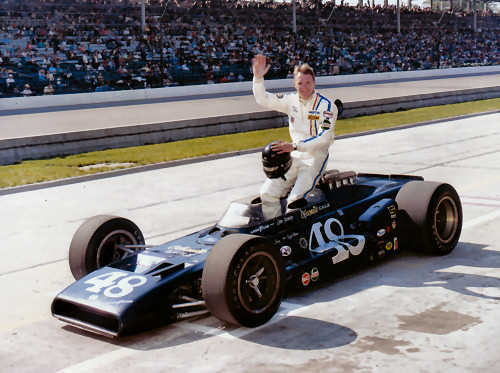 Dan and second place Eagle-turbo Offy, Indy '69
~
© IMS
Some years later in 1981 and '82 AAR built and raced the unique all aluminum Chevy-powered Boundary Layer Adhesion Technology (BLAT) Eagle. Mike Mosley qualified the car in the middle of the front row at Indianapolis in '81 and won in style at Milwaukee two weeks later, coming through the field from the back of the grid.
But car and engine were completely different than the traditional ground effect cars and Cosworth engines raced by most of the field and over the next few years the BLAT Eagle and AAR's classic California hot-rodder aluminum block Chevy were written out of CART's rulebook. Many people believe this was the beginning of ever more restrictive rules that brought us eventually to today's spec car age.
Regardless, it's stunningly clear today that we no longer produce innovative car builders like Gurney and Jim Hall. Nor do we produce great drivers such as Gurney, Hall, Phil Hill, Mario Andretti, A.J. Foyt, Parnelli Jones, the Unsers and Mark Donohue.
Looking back, 1964 seems to many of us as if it was yesterday rather than half a century ago. Yet when we look at how much the sport has changed over that time, an eon has passed.
Auto Racing ~ Gordon Kirby
Copyright ~ All Rights Reserved