Presented by Racemaker Press

"There's a lot of junk out there today. If you want it straight, read Kirby." -- Paul Newman


The Way It Is/ A bumbling start
by Gordon Kirby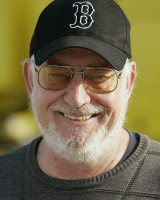 For my coverage of the Rolex 24 Hours please go to www.motorsportmagazine.com. In this space this week I'm going to discuss the intense state of displeasure that permeated the garage area at Daytona last weekend where all the Daytona Prototype and LMP2 teams were beside themselves with the late arrival and constant changes made through last week to the Tudor United SportsCar Series rules.
I heard an earful from many people in the garage at Daytona and decided to sit down for a pair of thorough discussions about the teams' worries with Chip Ganassi's sports car team manager Tim Keene and Extreme Speed's director of operations Rob Hill. Ganassi's team races Ford V6 turbo-powered Riley Daytona Prototypes while Extreme Speed runs HPD ARX-03b-Honda P2 cars so Keene and Hill provide perspective from both sides of the TUSC's performance-balancing game.
"The most frustrating thing for us is the rules administration keeps giving us a very limited amount of time to respond," Keene commented. "They keep issuing new technical bulletins asking to make changes in an impossibly short space of time.
"We know this is a work in progress. But they're trying to balance the performance too much and make all the cars the same where we would rather see something that said: here's your low downforce number and here's your high downforce number and let us decide where we want to run in between those numbers. That's what we would like to see rather than the sanctioning body telling us we have to run this amount of downforce. You've got to allow the teams to play with it.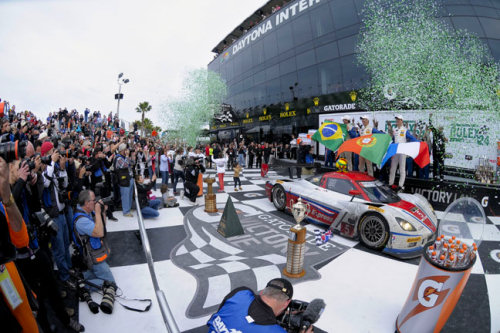 © LAT/Paul Webb
"You can make a driver who's not as good look even worse when he has to try to drive the same car that's been balanced in performance. But you make it a driver's series rather than a car racing series. You can't balance the performance of the drivers. There are faster drivers and slower drivers.
"In the past, we've always had the ability to change your car to fit your driver. You build your race car to fit your driver and not all drivers are the same. If you make all the cars the same then it just becomes a driver's series rather than a racing series among teams and drivers with different cars.
"I don't disagree with them setting limits on how low or high we can go on downforce but I very much disagree with them trying to limit us to a certain amount rather than allowing us to run different levels of downforce. I think all series are making the same mistake--Formula One, NASCAR and IndyCar as well.
"I think they're trying so hard to make it equal that they're actually making it worse. They think you're up to something when it's really just your driver is faster than the other guy. They forget about the driver but the driver has a lot to do with how fast a race car goes.
"I've had dinner with Robert Yates and his guys and they say it would be a lot easier for them to run with Hendrick and the other big teams if NASCAR would open up the rules rather than trying to make all the cars be the same. Yates believes they could more competitive at more tracks if NASCAR would allow them to play around a bit and I'm sure they're right from what I've seen here.
"The sanctioning body is trying to do our jobs for us, which is frustrating. It's up to us to balance performance, not them. There's got be some rules but we have too many. You've got to open up the box or window so it's not too small to get through."
Rob Hill agrees with Keene about the late arrival of the rules and constant fiddling through the start of the race at Daytona.
"The merger was announced nearly eighteen months ago and we waited six months for them to come out with a name," Hill began. "That was a big thing and they all patted themselves on the back. Then we waited for a rule package to come out to adapt our ALMS P2 cars to the new series. We waited and waited and the most recent package came out a few weeks ago which is ridiculous because it doesn't give anyone any time to build parts or test.
"They decided with great intentions that they wanted to give the DPs more downforce and more horsepower, thinking that the downforce would slow them down on the straightaway and the horsepower would make up for the difference. They said they were going to leave the P2 cars more or less alone.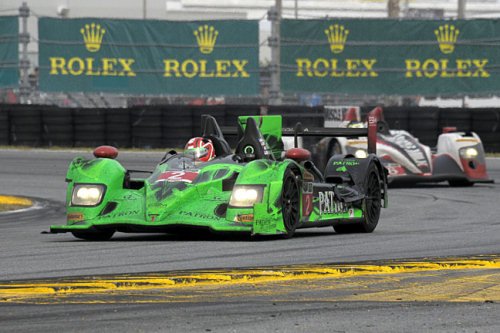 © LAT/Paul Webb
"We came down here for the test in November and it was a complete disaster because they put diffusers on the cars and gave them more front downforce but didn't think about the car in a yaw situation when the car steps out and the loading goes into the tires and so on. So the DP cars were blowing tires, getting airborne and flying into the catch fence. When you put all that extra load and horsepower, it wasn't surprising to see what happened.
"After the test we all went away for Thanksgiving thinking we wouldn't come back to Daytona until 'The Roar' in early January. But immediately after Thanksgiving the USC told us they wanted us to test here in December. We had not budgeted for that test. One day of running costs roughly $50,000 in wear and tear, tires, hotels and so forth. But the series decided we had to be here, so we came here and took part in their test. Afterward, they didn't tell us anything about any conclusions or decisions they had made.
"In my opinion, they didn't do their homework. None of that should ever have happened. Some very intelligent companies offered to come up with a process for merging that cars that would have made them compatible. But the series decided they didn't want to use any of those people. Instead, they waited until the twelfth hour and keep putting out technical bulletins which expect us to jump through hoops to make it happen."
Keene said his team's working relationship with the TUSC's Scot Elkins and his technical people is not good.
"When they deal with teams, especially with us, they always act like we're trying to pull something over on them," Keene remarked. "Whenever we do anything to the car they want to know why we would want to do that. They don't understand that we also want to it to be competitive. We don't want to go out there and smoke everybody's ass because that's not going to be good for the series or good for us. We want it to be competitive.
"You know, there's not a lot of trust left in motor racing. There used to be a lot of trust in the paddock. You could talk to people pretty candidly and they got it. But now, everybody looks at you with a sour eye. They don't trust you. It's like the government. They want to do it for you. They don't think you can take care of yourself.
"They need to understand that if a guy is talking to you candidly he's telling you the truth. If you know what you're talking about, you know how to make that judgement. But if you don't know what you're talking about you're not going to understand that this guy is telling the truth and not messing with you. And they don't understand enough to know whether you're messing with them or not."
Hill feels the same way about his working relationship with the TUSC. He believes the TUSC don't understand the financial realities of racing.
"I'm a little disappointed in their mentality because they are now mandating this is what it is," Hill said. "Our cars were on the ground last weekend ready to go to the racetrack on Tuesday to go through technical inspection according to the specifications they had mandated. Then they told us we had to be here on Monday even though we didn't run until Thursday, which increases the costs in hotel bills and rebooking flights.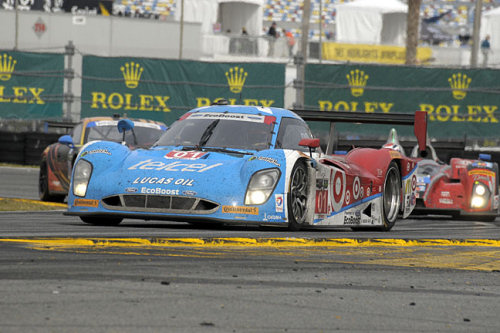 © LAT/Paul Webb
"When we got here they told us we couldn't run this and that. We showed them the rulebook and said what we had done was correct and they said, 'No, that's not what we're doing.' We don't know from day to day what spec our car is supposed to be and I don't understand how they think this way of doing business is going to be fine.
"I don't envy them their job, but they took it on. They walk around patting themselves on the back without offering any assistance. Financially we haven't been hit as hard as the DP teams who've had to make all these development pieces, put them on the car and were then told to take them off.
"I think the thought process for the series going forward is that they're looking at the next minute. They are not looking down the road for the product they want at the end of the year. Instead they're forcing things on us that should have happened a year ago without any thought about the costs or resources that are needed to adapt to what they're mandating.
"Initially, they told us we had to run a low downforce kit. To build that kit is expensive because you've got to make molds and get the pieces built. It's a two week process to change the fenders on our car but the people at United SportsCar seem to think we can do that overnight.
"We approached them about it, but they didn't seem to care. It's their way or the highway and they don't seem to care about any of the problems they've given the teams. They seem to have lost sight of the fact that the teams put on the show and make the sport."
Hill believes it would have been smart to start this year without any rule changes and begin to make adjustments later in the season.
"I've been saying since March of last year that in my opinion they should have said 2014 is going to be a learning year," Hill said. "They should have said the P2 guys run what they have and the DP guys run what they have. That would have meant no extra costs for everyone. They could have said each category gets its own points and we'll do that through Daytona, Sebring and Long Beach--three very diverse tracks--and then figure out how far off the two categories are and begin to make some adjustments.
"That way everyone would have come to Daytona with what they ran last year. All of us would know what we had and there would have been no added costs for anyone."
Hill said the TUSC people seem to be oblivious to the extra costs required by this year's schedule.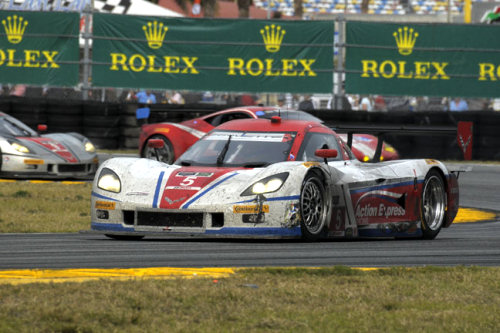 © LAT/Paul Webb
"If you look at the number of miles a race team has to run with this year's twelve-race schedule we'll be running one-third more miles than last year," Hill observed. "So if your budget for the past few years was $5 million you're going to have to find another $1.5 million for this year because of the extra miles you have to run.
"This year's schedule wasn't announced until October and by that time sponsorship budgets for this year were already set a few months earlier. How do you go back to your sponsor and tell them you can't afford to run the whole series?
"But the sanctioning body don't see that. They don't understand how a race team operates and the challenges the teams face. They're not looking at where their bread and butter comes from which are the teams that put on the show.
"They don't seem to understand we can't just show up and put a high downforce kit on the car. At the November test they wanted us to run sixty extra kilos--more than 120 pounds. Where do you put 120 pounds on a prototype car?
"If I was a team owner," Hill added. "I would sit out 2014, keep all my guys on payroll, do some testing and get ready for next year. That's how I would address it and I believe Dyson is doing the right thing by sitting out most of the year."
Keene said Ganassi's switch from BMW engines to Ford's turbo V6 has made things doubly difficult for their team.
"We made an engine change as well which has added to our work load and effort," Keene said. "Trying to figure out what we need with the new Ford package has been difficult as well because the turbo is all-new for the guys at Roush and having a turbo in the car is new for us.
"The time and effort that's been put in has been like nothing else we've done since we began racing sports cars. It seems like we've never had a chance to sit back and really be able to figure things out the way we would like to. Everything has been let's get it done and get it on the car.
"There have been some changes on the aero side and the changes we were making were based on us running a diffuser. But then they decided to take the diffuser away for Daytona and it's really caused an imbalance with what we have with the current splitter. We have a porpoising issue on the front. It's a very small window but when you get the car wrong and hit it that window the car is undrivable.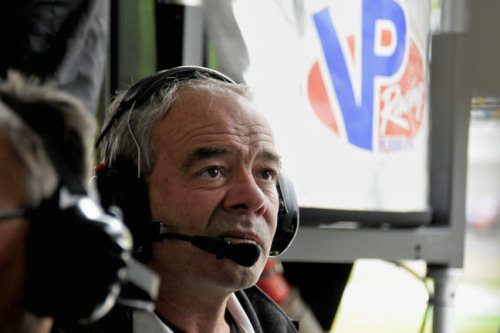 © LAT/Paul Webb
"We've been able to find it at times but if you miss it by a little bit you spend time trying to fix it. There are so many things we don't know because we haven't run long enough. After the 'Roar' test our biggest concern was the exhaust cracking and actually blowing up. Our main focus was on that. There were some issues with mapping and running on the rev-limiter and the shifting was too harsh. We took our best educated guesses from looking at data to try to help soften the blow.
"The most running we got to do was 260 miles at Homestead trying to run like we would want to in the race. We did three long runs and did a little bit of work on the balance. But that was about all we got done. We came out of there feeling good because we had been able to run those miles. Then we came here and we had the porpoising issue back. So again, like I say, it's frustrating."
Keene and Ganassi's team worry that the lighter P2 cars will be much quicker than a Daytona Prototype at Sebring and Long Beach.
"They've been in the wind tunnel enough by now that they should have a pretty good idea of what each car can do," Keene said. "Our biggest concern is the weight of P2 car being just over 300 pounds lighter than us. I think that needs to be addressed because weight goes along with tire wear and brake wear and allows you to be faster through the corner. Three hundred pounds is significant and I think making a change there is the biggest thing that's required. The weight difference is going to be huge at Sebring."
At the same time Keene worries that the TUSC will over-react to the results from Daytona.
"I think they understand that you can't balance performance off Daytona because it's the only track of its kind we race on," Keene said. "In the past they've reacted in a really big way after Daytona. They've said they had to do something big when they probably didn't need to do anything because Daytona is different than any other track.
"When Penske ran a Daytona Prototype a few years ago their car was wicked fast at Daytona and after the race the Grand-Am took way too much away from them. They over-reacted and took a gear and some revs away from them, which made them top five but not a runaway like they were at Daytona.
"Then they slowly started giving Penske more room and at the end of the year they were running exactly what they had been running at Daytona and they were competitive. So its wrong to make judgements and adjustments based on Daytona."
Hill has little faith in the TUSC's vision for the future.
"I don't think the series has a longterm plan," he declared. "I can honestly see sometime next year we'll be running some kind of restrictor plate and they're just going to continue messing with the cars trying to equalize everyone. I think that's going to be their MO for trying to bring a fan base to this series.
"A DP is nothing more than a late seventies Trans-Am car with more bodywork. They're an antique, tube-frame car and the mentality of the people we have to deal with is equally antique. They don't want change, they don't want technology. They're not interested in selling technology and I think it's going to kill them in the long run. They're just hurtling toward the cliff and they don't seem to realize it."
Strong words from some very informed and experienced people. But the fact of the matter is NASCAR has won the battle for control of American motor racing and if people want to race in the TUSC they're going to have to accept NASCAR's constant rule tweaking and 'performance balancing'. The traditional form of racing as we knew it with some type of interesting, forward-looking formula and a clear rulebook set in stone for a few years and has passed into history.
Auto Racing ~ Gordon Kirby
Copyright ~ All Rights Reserved