Presented by Racemaker Press

"There's a lot of junk out there today. If you want it straight, read Kirby." -- Paul Newman


The Way It Is/ Jim McGee's racing wisdom
by Gordon Kirby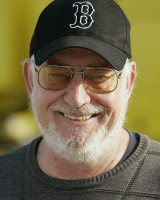 Over the last month or two I've been working out flat-out with my publisher Joe Freeman to complete the final details of a book I'm particularly proud to have written. Racemaker Press will publish 'Jim McGee: Five decades of Indy car wins' in May with a launch at the Indianapolis Motor Speedway's Museum on Friday of race weekend at this year's 98th Indy 500.
McGee is one of the sport's most successful chief mechanics and team managers with 90 USAC and CART wins, nine championships and four Indy 500 wins to his credit. Jim's Indy car career spanned 45 years and five decades from 1962-2006 and in addition to telling his story in very warm, personal style McGee provides a comprehensive look at racing's evolution over the past half-century.
Jim also tells many stories in the book about what it takes to manage a group of highly-motivated, creative people and keep them working together as a team and headed in the right direction.
McGee's biography comprises more than 90,000 words with over 300 photographs. I'm indebted to Racemaker Press's superb archive of more than half a million images of American racing photography and a great group of recent or contemporary photographers for helping bring the book to life. These include Dennis Torres, David Knox, Dan Boyd, Jutta Fausel, Paul Webb, Steve Swope and David Hutson.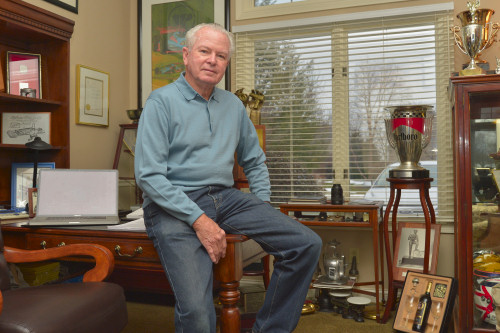 © Dan Boyd
McGee was born and raised in Boston and has nothing but good memories of growing up in Mattapan in the heart of Boston in the nineteen-forties and fifties.
"It's a big family," Jim grins. "There are probably sixty of us. My brother had three children before he died in 1978 and my sister had five children and there are plenty of grandchildren. It's really great to go back to Boston to visit because it's a real close-knit family.
"My dad was a tough old guy who was brought up the hard way. It was spare the rod and spoil the child, and you make your bed and you sleep in it. He was wonderful. He worked hard and gave us everything we needed. I had a great childhood. In those days you were free to do anything you wanted to do as long as you came home before the street lights came on. It was a real family atmosphere where we lived. Everybody knew each other and everybody looked after each other."
McGee became enamored with auto racing in the nineteen-fifties when he was a teenager at Boston English High School. He started going to watch races with his brother at Norwood Arena, a quarter-mile paved oval.
"It was a beautiful facility," Jim recalls. "Everyone called it the million dollar racetrack because it had beautiful grandstands all the way around and was well lit, and had a club house too."
McGee struck up friendships with Norwood Modified racers Paul Doody and Dick Carman and started working with them on their race cars.
"I worked on the race cars at night," Jim recounts. "Paul Doody was a mechanic and engine guy and Dick Carman was an engineer. They raced against each other. Carman designed and built the car and Doody did the engines. Carman and Doody built some nice cars and had good engines. They were kind of like a team even though they weren't a team. Doody's car was #0 and Carman's car was #1 and they were both painted red and white. It turned out they were key guys in starting my career in racing."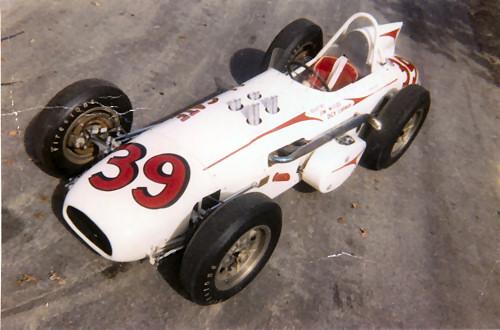 © McGee collection
In 1959 and '60 Jim helped Carman build an Indy car in Carman's garage next to his house. After graduating from high school Jim worked as a typesetting apprentice at the Boston Globe where his father had worked for many years. He also worked at second job as a mechanic at Baker Ford in Brookline.
"I would get to Baker Ford at eight o'clock in the morning and work 'til five o'clock at night," Jim recalls. "Then I'd drive home, get a bite to eat, take a quick shower and go out to Foxboro to work on Dick Carman's race car. I'd do that five days a week. I'd get out of there about ten o'clock at night and drive into Boston and go to work at the newspaper."
Looking back, Jim reflects on how much he learned in those days.
"It was very educational for me learning not only from the engineering standpoint with Carman but from the building standpoint as well. And with Doody it was the mechanical side of things I learned about. For me, it was just like going to school. It was on the job training. One thing I always tried to do was work with people that I could learn from and I was very lucky being able to get with the right people."
Carman and Jim tried to race their Indy car a few times with local Modified driver Ed Hoyle at the wheel but they didn't have the money to compete. The car caught the eye of renowned Indy car chief mechanic Clint Brawner who invited McGee work for his team as a go-fer at Indianapolis in 1961. The following year, to his father's chagrin, Jim turned his back on a career at the Boston Globe to go to work full-time for Brawner's Dean Van Lines team.
Jimmy Bryan had won the 1954 AAA and 1956 and '57 USAC Championships with Brawner and Al Dean's team. A.J. Foyt drove Brawner's cars in 1958 and '59 followed by Eddie Sachs who was on the pole at Indianapolis in 1960 and '61 with Brawner's Dean Van Lines Ewing-Offy roadster. McGee quickly developed the greatest respect for Brawner.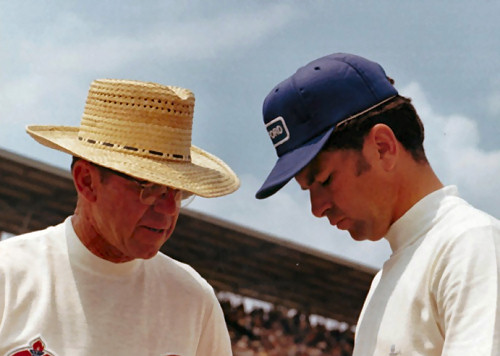 © Racemaker Press
"Clint was the best mechanic in the business by far," he declares. "His work ethic was incredible and he was just so clever at building things. He wasn't a designer but he knew how to make things work. He was incredible on a lathe. He could repair or build anything. Clint's other famous saying was, 'A man made it, a man can fix it.'
"I was so fortunate in getting hooked up with Clint. He was the best thing that ever happened to me as far as learning Indy cars and what it took to make them finish. So many of the crew chiefs in those days, if you were a stooge they wouldn't let you touch anything. But the minute Clint saw what you could do he would say, 'Go over there and build that gearbox, or rebuild that motor, or do that rear end.'
"It was good for me because it made me have a different outlook on racing. A lot of the California guys had the cool look. They had this, that and the other thing. But Clint was more interested in making sure what he had was good and was going to run all day. That was how we beat those guys a lot of times. We had cars that ran all day. Our reliability record was so good. Clint was a great teacher at being able to figure out the problems before they happened."
In the second half of 1964 a rookie sprint car driver named Mario Andretti joined Brawner's team and Andretti won the following year's USAC Championship. Andretti, Brawner and McGee went on to win a total of 30 races through 1969 and add two more USAC titles in 1966 and '69 as well as scoring what would turn out to be Mario's only win at Indianapolis.
"McGee was pretty much my age and he and I really hit it off," Mario says in the book. "McGee was really what I needed there and it was a perfect balance between the two of us. McGee was picking up on the new things that Brawner wasn't seeing. Brawner was strictly old-style and set in his ways. He had a closed mind but McGee was just the opposite. He was the modern chief mechanic coming on and the relationship between us really clicked.
"Jim is such a calm guy. He knew how to keep the tension at a minimum. He had that ability. We had fun doing what we were doing. I liked the sense of humor Jim had. It lightened things up and took the edge off of all the intensity that goes into the game. We understood each other. Jim was one guy who knew that I was hell-bent to try to impress.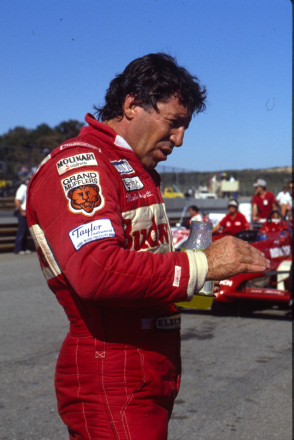 © Racemaker/Paul Webb
"He knew how to cool me down and not overdo it. He would remind me that I was going fast enough for Clint and me. Those words were what a young driver sometimes needs to hear, especially someone who is going to really push that envelope, and I was one of those. All of those factors that Jim brought to the table worked for me and we got immediate results once we teamed up."
Over the next few years Andretti and McGee teamed with Andy Granatelli and then Vel's Parnelli Jones before going their separate ways. They came together again at Penske Racing where McGee worked as Penske's Indy car team manager from 1975-'80. During this time McGee's cars won back to back USAC Championships with Tom Sneva in 1977 and '78 and CART's inaugural title with Rick Mears in '79.
"My whole career was like going to school," McGee says. "From Clint I learned a lot about the mechanical side. Then I went to work for Roger and learned the business side and the politics and how it all goes together. But Roger never wanted to give you the responsibility. He always wanted to be the one that was in charge and I just didn't like to work that way. When Roger made up his mind that this was the way something was going to be, then that was the way it was going to be. There were no negotiations.
"But I enjoyed my time with Roger and learned a lot from him about business and how to manage people. It was a great experience and we've remained good friends over the years."
After six years with Penske, Jim went to work for Pat Patrick where he became a full partner with Patrick. McGee ran Patrick's team from 1981-'91 and again from 1995-2003, a total of twenty years. McGee's and Patrick's cars won two Indy 500s with Gordon Johnock in 1982 and Emerson Fittipaldi in '89 plus the ' 89 CART championship with Fittipaldi. Between his two, lengthy tenures with Patrick there were two more CART titles for McGee with Bobby Rahal in 1992 and Nigel Mansell at Newman/Haas in '93.
"I always felt like it was nice to win championships with different owners," Jim comments. "I probably could have stayed with Penske and won 150 races but it wasn't the same. We won races with Clint and Dean Van Lines, we won some races with Parnelli, we won races with Penske, won races with Pat Patrick, and later with Rahal and with Newman/Haas, and championships too.
"I always felt more fulfillment doing that rather than being tied to one team and just racking up a score. To me, it was the challenge of going into a place and seeing if you could turn it around or even start from scratch with a place and build it into something."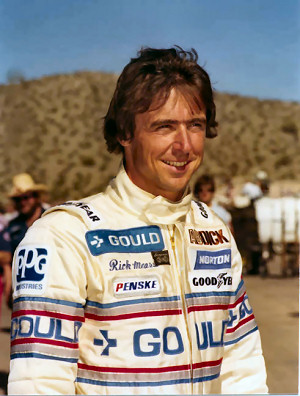 © Racemaker/Torres
McGee has fond memories of working with Mears during Rick's formative years with Penske. Jim was impressed with how skillful Mears was at playing psychological games with the wily and far more experienced Unser.
"Rick was a natural," Jim observes. "He was a cool, smart guy and he had Bobby figured out. We would go testing and when Bobby came into the pits during the test and was telling us what was happening with the car Rick would kind of stand back. Rick would be out flying his model airplanes.
"But the minute Bobby went back out onto the racetrack Rick came right over to the pitwall and wanted to know everything that was going on. Rick knew how to play Bobby. Rick knew that the more he was looking over Unser's shoulder, the less information Bobby would come across with.
"Rick was smart enough to know that he didn't want Bobby to be in direct competition with him. He was really clever at disguising his interest level. Rick knew one hundred percent what was going on but he camouflaged it with Bobby."
McGee rates Unser at the top of his list of the most complete, hard-driving racers he worked with over his long career.
"Bobby Unser was the cleverest of them all," Jim declares. "He figured out all kinds of things and he would try not to show anybody what he was doing. But keeping Unser under control was a problem. We had to work hard to keep him under control, but it was all part of the game. That's what made him the great driver he was."
Unser pays McGee the highest compliment. "Jim is the king of Indy car crew chiefs," Bobby declares. "Not George Bignotti or anybody else. Jim is the king and I'm proud to say I helped him and worked with him at one stage in his career. Roger Penske provided the foundation for a real superteam, but to have Jim McGee. That was the big deal.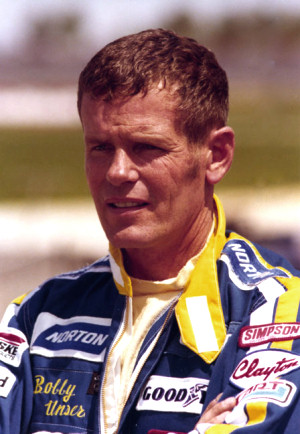 © Racemaker/Torres
"McGee was the best of them all. He could think while he was walking or sleeping. He was a good organizer, engineer and mechanic. He knew it all. He was a good psychiatrist as well. He knew how to make people get along with each other and work well together."
Reigning F1 world champion Nigel Mansell arrived in CART in 1993 with Newman/Haas and won the Indy car championship with McGee managing the team. Mansell drove the global interest in Indy car racing to new heights and he joins many other drivers and team owners in the book who reflect on McGee's way of working.
"The first time I met Jim McGee he was very welcoming and very professional," Mansell says. "For me, working with Jim for those two years (1993 and '94), he was a consummate professional. He was very motivating, very thoughtful and basically a father figure for the team. He kept everybody focused but also motivated to do the best job they possibly could. When you have someone with those skills and credentials, whoever he works for and whatever team he represents you're only going to exude professionalism and do the job to the highest quality.
"It was wonderful because whatever the challenge or problem was Jim's attitude was let's get on and fix it. Jim believed there was always a mechanism to go forward. Jim was honest and he was never behind the curveball. He was always in front of any curveball and got the team to behave professionally to the point that if something dropped off he never allowed it to affect the team too much. He caught the ball before anything happened and that's a clever skill.
"Jim has a wonderful talent of never being confrontational. He was very pragmatic. He said there are some golden rules that we need to keep addressed. The great thing with Jim was not only that he was the team manager and main mover and shaker of the team but he had the great ability of becoming your best friend. For me as a driver and enjoying the team as the reigning World Champion at that time, we never spoke really as team manager to driver or driver to team manager. It was more like, how can we help one another?"
Emerson Fittipaldi has equally glowing words to say in the book about McGee's management skills and deep understanding of all aspects of motor racing.
"I liked very much working with Jim," Fittipaldi says. "I felt very comfortable and very at home with Jim and right away there was a bond with Jim and the team. Immediately it was a very good relationship with a lot of respect. Jim knew a lot about racing and he knew how to handle the driver and the team. Ninety percent of Jim's conversation was directly about racing and immediately we started working really together.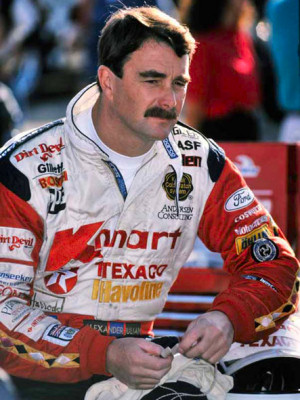 © Dan Boyd
"There was the technical side of Jim McGee and the human side of him that made him an excellent team manager who was able to handle the human things that are always happening inside a racing team. He was always very sensitive to any of the difficulties that can occur between people who are working together in a very demanding situation.
"When I met Jim I could see immediately that he was a racer. He knew how to run a team, how to talk to the driver and the engineer. He was always on top of everything. It was a great experience for me to work with Jim and we became very good friends. I had a lot of respect for all his experience and his life in racing and what he was able to deliver.
"He was not just a team manager but a man who understood the whole world of racing," Fittipaldi adds. "Jim was much more than just a team manager. He understood every sector of motor racing. He understood the rules and regulations and he understood the personal side and the human side of the mechanics and all the people in the team. Jim is a racer through and through who understands all the aspects of racing and it's very rare to find a man with all those qualities."
McGee discusses some of the key lessons he learned and applied to his remarkable career.
"A lesson that I learned early on that was reinforced by Clint Brawner is that a chain is only as strong as its weakest link," Jim says in the book. "So if you think you haven't properly addressed a problem or done a good job at something you need to stop right there and do it right.
"That was always my criteria in racing. If I didn't think what I had done wasn't right never go beyond where you were because that thing was going to come back and get you. You could do everything right from then on but it didn't make a difference if you had made a mistake or had not really looked at something thoroughly.
"Clint taught me to look at stuff and understand that you were better off with a bearing that had miles on it than you were with a brand new one because you knew the manufacturing was right on the bearing you were using. If it had lasted 500 miles it would probably last for 10,000 miles.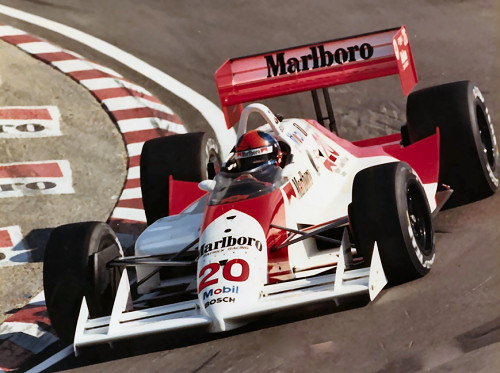 © Racemaker/Torres
"That's some of the thinking that I used that I think helped me enjoy pretty good reliability over the years. With Roger Penske we ran so close to stock all the time, it wasn't even funny. It was about nice, clean preparation and attention to detail and the rest of it was up to clean pitstops and good strategy.
"Racing is not about trickery. Emerson had a saying that there's no magic in racing, and he's right. There is no magic. Everybody thinks that everybody has got a trick this or that, but the teams that are winning are the teams that are doing a good job. They're getting the basics right and they're consistent.
"Look at Chip Ganassi's team over the past few years. They don't have any tricks. They're getting the basics right. Ganassi's general manager Mike Hull and I are pretty good buddies and he told me they just got way off the track at the start of the 2013 season. Their engineering group wanted to try some new stuff and it didn't work. So they got rid of it all and went back to what they had been running for years and all of a sudden they were right back in business again."
I've only skimmed the surface here and can assure you there's much more in the book about McGee's life in racing and the top drivers and team owners he worked with over the decades. I join Joe Freeman and everyone at Racemaker Press in looking forward to launching Jim's fascinating biography at Indianapolis in four months.
Later this year, Joe and I will publish our next Racemaker book, 'Second to One', about the forty drivers who finished second in the Indy 500 but never won the big race. And sometime in 2015 or '16 we hope to publish our definitive history of Carl Haas and Newman/Haas Racing. Working with Joe Freeman and Racemaker Press is a rare pleasure and in the coming years we plan to publish many more books about the great history of American racing.
Auto Racing ~ Gordon Kirby
Copyright ~ All Rights Reserved