Presented by Racemaker Press

"There's a lot of junk out there today. If you want it straight, read Kirby." -- Paul Newman


The Way it Is/ Discussing IndyCar's many challenges
by Gordon Kirby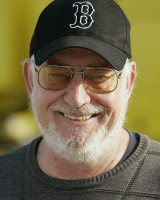 A couple of months ago I wrote the following blog for Motor Sport's website about the state of IndyCar. This week, as the holiday season approaches, I'm re-posting the blog and appending twenty or so responses from Motor Sport readers.
It was, I wrote, good to watch a hard-fought IndyCar season-closer in California this year with Scott Dixon taking a very deserving third championship. Dixon has now won three IndyCar titles in 2003, '08 and this year while Chip Ganassi's team has won six of the last seven championships and accumulated ten championships over the last eighteen years in CART/IRL/IndyCar. These came in 1996 with Jimmy Vasser, 1997 and '98 with Alex Zanardi, '99 with Juan Pablo Montoya, plus three with Dixon and three more with Dario Franchitti in 2009, '10 and '11. Quite an achievement.
All this is great for Ganassi and his excellent team which has been challenged in recent years only by Team Penske and Andretti Autosport. But it's equally clear that IndyCar faces many challenges if it's ever to drag its TV ratings out of the gutter and re-establish itself as a major form of motor racing covered in depth by newspapers other than the Indianapolis Star. A glance into the grandstands at the California Speedway said everything about IndyCar's struggles with the vast majority of seats empty, as they have been for quite a few years at a track located in the heart of one of America's biggest urban centers.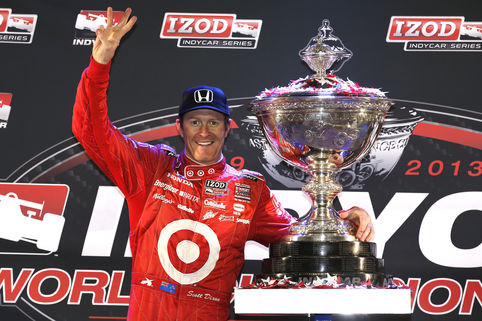 © LAT USA
The California Speedway (or Auto Club Speedway as its officially known these days) remains committed to IndyCar for at least one more year, but over the past fifteen years no fewer than forty tracks have given up the battle of trying to draw crowds. Among these are twenty-one ovals, a dozen street circuits and nine road courses. A sad story indeed.
Clearly, IndyCar has lost the battle for popularity on ovals to NASCAR. There were only six ovals on this year's IndyCar calendar with small crowds at most of them and little or no prospect for any additional oval races in the years ahead.
But IndyCar's unhappy story is no better elsewhere with five street circuits and four road courses completing next year's schedule. Three street circuits ran 'double header' weekends this year to bolster the dwindling calendar and the same game will play out next year. In an attempt to improve media and fan interest IndyCar's new boss Mark Miles has compressed the 2014 calendar into five months starting at the end of March and finishing at the end of August. It is the shortest calendar in big-time motor racing today and may be the most abbreviated season in professional sports.
At the behest of the Boston Consulting Group, Miles has also added a new race on the Indianapolis Motor Speedway's road course on the second weekend in May, directly before practice starts for the 500. Some people praise this move but many are aghast at yet another departure from the many traditions of the month of May at the Speedway.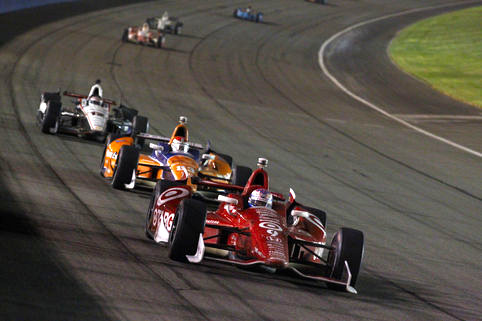 © LAT USA
The other road courses on next year's schedule are Barber Motorsports Park, Mid-Ohio and Sonoma Raceway. Classic American road courses like Elkhart Lake and Laguna Seca are long-gone after suffering precipitous declines in crowds ten years ago during CART's final days. It's a sad fact that the most successful crowd-pulling races on permanent road courses in America these days are the NASCAR races at Watkins Glen and Sonoma.
It's also abundantly clear that IndyCar needs to substantially upgrade its poor standards for street circuits. Most of IndyCar's street circuits are notoriously rough, crude and poorly presented. This year's races in Detroit, Baltimore and Houston were an embarrassment, doing nothing but harm to IndyCar's poor reputation. The time has come to start applying much higher standards to every element of these tracks from road surfaces and fencing to overall presentation.
Similarly, IndyCar must raise the quality and consistency of its officiating. We've seen too many bad or inept calls in recent years and everyone hopes Derrick Walker will help bring a more informed and consistent voice to race control.
Meanwhile, IndyCar is trapped in its contract with Dallara as a spec car formula through 2019 at least. There's no question that many longtime fans have little or no interest in spec car racing and have voted with their feet. If IndyCar is ever to enjoy any kind of turnaround in popularity it must revolutionize its formula and bring back the spirit of competition and innovation but it appears as though it will be years before that's possible.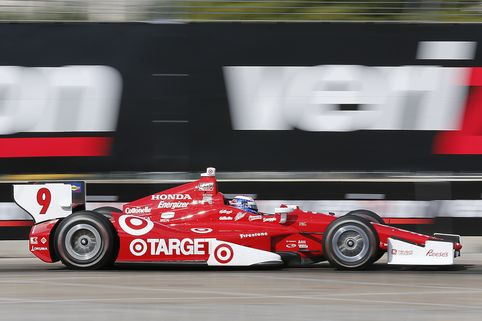 © LAT USA
IndyCar's increasing irrelevance is emphasized by the sad state of the Indy Lights series which drew only eight or nine starters for most races this year. Indy Lights has little or no commercial value and is comprised mostly of overseas drivers. IndyCar has outsourced the management of the Lights series and the rest of the open-wheel ladder system to Dan Andersen, a successful building magnate from New Jersey who has great passion for open-wheel racing and is working hard to rebuild IndyCar's weak and equally irrelevant ladder system.
Those of us who enjoyed Formula Atlantic back in its heyday almost forty years ago when Gilles Villeneuve, Keke Rosberg and Bobby Rahal made their names in Atlantic cars, pine over the demise of Formula Atlantic and its euthanasia a few years ago after Champ Car was absorbed by the IRL.
I could go on, but the bottom line is that IndyCar must pull its head out of the sand and revolutionize itself somehow, some way. Otherwise, its sad decline and fall is sure to continue.
Comments:
Pat Kenny, 28 October 2013 10:43
Well said Mr Kirby. I had the privilege of attending a number of Indy car races before the ruinous split. At times it seemed to me that this was a series that could challenge the position of F1. Perhaps we will find out in time what went wrong and who convinced people to take the course of action they did, which was the equivalent of sawing the boat they were all sailing on in two.

Let's hope IndyCar can turn it around even at this late stage, though the omens do not look good. At the same time by abandoning its European ancestral home F1 has left the door open over here. I, for one, would welcome more competition on that front.
Ian Taylor, 28 October 2013 12:30
Gordon, You and I have watched motor racing rise and fall since we both attended The Players 200 at Mosport in 1961.

IndyCar's problems are also part of a worldwide fact in most forms of motorsport, NASCAR stands are not as full, F1 venues are down in attendance and with the exception of the campers that attend Road Atlanta, Sebring and Mid Ohio, Sports Car racing is down although the fans who attend the ALMS races do relate to the cars, Ferrari, Porsche, Audi, BMW, Viper and Corvette.

The fans from the 60s — 90s who embraced car racing have been replaced by a generation of young people who are more interested in their I-phones and twitter than cars and have not adopted Hinch, Will, Helio or Dario the way we supported Mario, AJ, JR, and Bobby Rahal.

Now that we have both critiqued the world of Motor Sport, what do we have to offer as the solution to the problem.

Certainly NOT the recommendation of a consulting group from Boston.

Remember the definition of a consultant, ...

He knows 5o ways of having great SEX but, can't get a girl.

We have seen the best season for a long time at IndyCar with multiple winners, the Championship going down to the wire, the come from behind retribution story where it looked stacked against the eventual Champion and two engine makers in a battle to the final lap.

The product is great, the drivers are super. The cars ???? The solution is not to tamper with this part. Better TV coverage with better commentators would help, Watering down the INDY 500 will not. Any other suggestions??? Let GK know.
IM, 28 October 2013 12:59
I have a book called "Indy's Greastest Decade" by Alex Gabbard (you can get it from 8 USD on Amazon US) which gives some clues as to the problem. It deals with the technological progress of Indycars in the 60s. It is amazing and in sharp contrast to the current set-up. The only area which comes anywhere close now is the WSC or, more specifically, the Le Mans 24 hours which still pulls in 250k people each year.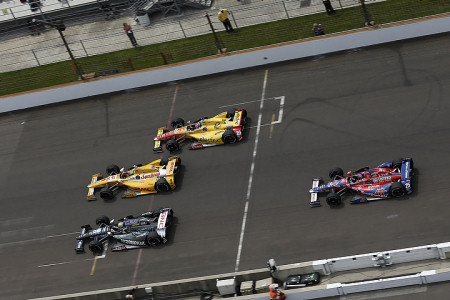 © LAT USA
Simon, 28 October 2013 15:39
The demise of Indy is sad for me. When I first moved to Canada in 1990 it was a great series, possibly better than F1, which itself was much better than it is now.

The early 90s was the time of Mansell, Fittipaldi, Mario Andretti, Rahal, et al, and then the Vasser, Michael Andretti, Montoya, Zanardi, Tracy era was still quite brilliant and then it all just seemed to unravel almost overnight.

I seem to remember the dispute over the use of the "Indy" name, the loss of the Indy 500 to IRL and suddenly my interest in it rapidly diminished.

Like F1, it will have to do something dramatic to regain it.
Rich Ambroson, 28 October 2013 18:38
Who the hell is the "Boston Consulting Group" and why should we or IndyCar care? Oh, I see them on google, but the top links are all from the (self-serving) company itself.

What a joke.

Drop the pre-500 road race at the Brickyard. Buy out of the contract with Dallara that is locking the series into spec cars. Improve the officiating. And don't waste money on this "consulting group" anymore.
Sam Salamander, 29 October 2013 15:16
IndyCar must "revolutionize" so it can ... return to the past? The past is over. The fans are not there, the money is not there. Really, F1 and NASCAR are the only successful forms of motorsports in the world today, and both do it by selling everything around the racing, not the racing.

Will a new car save IndyCar? A bunch of new cars? People who don't watch IndyCar now aren't going to suddenly get excited because there are three new chassis. The fans who remember the days when there was real chassis and engine competition are dwindling in number daily, and reaching out to them isn't likely to provide a future for the sport.

What is working for NASCAR and F1 is making the sport more than the on-track event, making attending a race a meaningful cultural event. IndyCar needs to convince people who are late teens now that the sport is exciting, the drivers are cool, and attending races is something that the happening people do.

Maybe IMS needs to hire some current cultural icons (not Gene Simmons a decade after KISS burned out) to get young potential fans to identify IndyCar as something modern, forward-looking and relevant to the iPhone generation.

The old guard die-hards are either going to watch regardless of where the series heads, or are likely never going to come back, and all of us will be too old to matter soon anyway.

IndyCar already has great competition, exciting stories, interesting personalities ... but no one knows about them. Reaching the iPhone generation is essential to the series survival.
Sam Salamander, 29 October 2013 15:16
Part II
Then "if the money comes back — it will make sense to talk about multiple chassis manufacturers and real engine competition. Right now, IndyCar is nothing but a terrible business investment which can't offer financial profit or public relations profit, so there is no way multiple chassis manufacturers are going to want to get involved. Look how hard it has been to get engine manufacturers.

Until the money comes back, IndyCar will have to do what it does now, "provide good racing on the cheap". Until IndyCar can convince the IPhone generation that the whole sport has as much cultural cachet as a NASCAR race, or F1 Grand Prix, the stands will mostly contains aging relics like me, and will constantly get emptier.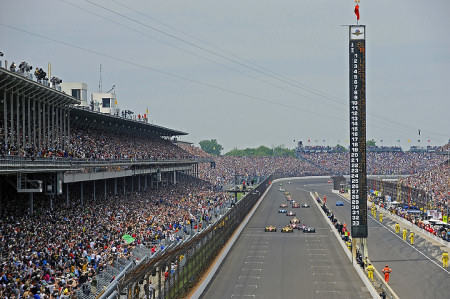 © LAT USA
Frank, 29 October 2013 15:31
or ... the new chassis has provided close, exciting racing. the street races are well-attended and exciting. the competition is good. two engine manufacturers. re-boot of ladder program under Andersen proceeding well. talented, personable drivers. diverse tracks. financially responsible. two television networks. Iowa and Indy always do well. tightening of schedule is a good thing.

open-wheel racing faces challenges in the US. the ratings on television are not good. but the competition for ratings and the sports dollar is incredibly stiff. the low ratings have nothing to do with spec cars or what Atlantics did or didn't do 20 years ago. It's now. there are more than 3 channels on tv.
John, 29 October 2013 22:49
I have been watching F1 since the late 1980s, this year I finally realized I had lost a lot of the interest that I had for the sport, the vacuous personalities and races finally drained me of much of my interest. It says a lot about the state of F1 when watching the BBC guys mess around before the race is by far the most enjoyable part of watching a Grand Prix.

In contrast, the IndyCar races have been a joy to watch. I have really enjoyed them all, and have re-watched some of them on Youtube. The series is coming back from the slow death caused by the IRL/CART split. It can't be expected to return to the glory days of the past for many reasons. What it needs to do is continue to produce amazing and thrilling races. If it gets that right, a lot of the other problems will sort themselves out sooner rather than later.

Messing with the calendar is fine, I'm looking forward to the first race at IMS, but squeezing it all into 5 months is just crazy. With the number of gold fish memories and sports/series with long calendars to choose from, I worry that in the rush to get back some of the lost ground they might just have started to change things too much too soon.
Bruce, 30 October 2013 09:08
I agree with John, the racing has been fantastic this year. A particular point was 6th October, I'd been bored to death by the Korean GP and then later watched the Houston race 2 which was brilliant entertainment (except for poor Dario's accident in the end).

As far as tracks are concerned, I would love to see IndyCar return to Road America, although I personally don't think Lagua Seca ever gave IndyCar a truly memorable race, even Zanardi's bomb-dive in 96 wasn't a classic race, just a classic move. I don't agree with the street circuits though, I want to see drivers fighting bumps and dealing with zero runoff, true challenges you don't see in F1 anymore. Houston was great because drivers had to use different lines and think about where they were going.

One final point. This year I got a friend, who has watched only F1 since 2000, to start watching Indycars, his first race was Rio and he loved it, and now he watched the whole season and keeps asking me when the next race is going to come on. My point is the technical package is fine, they just need to improve the promotion of the series and then the money will come back and they can move forward, back to the glory days.
Steve W, 30 October 2013 09:44
The problem with IndyCar — ever since the Split — is the endless HYPE. Look at that photo at the top of this story ... Looks like the most glamorous thing that ever hit racing. Or maybe any sport.

And then you see what happened at Houston. Quarter-midget racing couldn't have done any worse.

IndyCar has been dressing, polishing and perfuming the same old turd for years now, and the public has figured that out. It's still a turd ...
Noel, 30 October 2013 19:30
I'm 64 years young and have attended hundreds of races. Indycar racing this year has been very exciting. I spend hundreds of dollars getting Autosport magazine. F1 this year is getting so boring even they put Mr Vettel's latest win to the bottom of the page. Lets hope the new turbo era brings more competition. Why would they fine him for doing a burnout? Le Mans is even worse. Always Audi by six laps. Hopefully Porsche will add some excitement.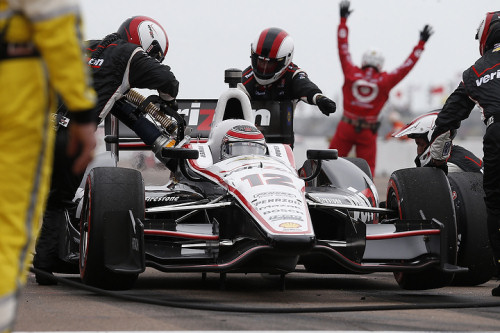 © LAT USA
Wayne Wachtell, 30 October 2013 20:46
Remember back in the early 90s lots of different drivers and cars but then the cancer, aka Tony George, decided to do things his way and what you see is the result! Its still great to see the skill of the drivers and the drama at the indy 500 is unbelievable but they took a great product and destroyed it with ideas that made absolutely no sense! All he had to do was leave it alone and it would have been great !
Sam L., 30 October 2013 20:51
I haven't watched Indycars since before CART died. Two reasons: I couldn't tell which car was which and teams had cars with different liveries, and I really didn't like the announcing team. For NASCAR, reason one, on steroids, and I don't care for ovals.
Maloyo, 30 October 2013 22:59
I was a CART fan. I didn't see any reason for the creation of the IRL but I would have watched it and would probably be watching it now, albeit with complaints about the ugly spec cars, dumb tracks, yada, yada, if the Hulman-George coterie had not gone out of their way to insult and alienate me. As long as these people control AOW I will never support it again (and unlike the 1990s, I actually could afford to be more than a television fan now). I don't care what the racing is like, what they race in, where they race, or even how good it may be. I don't blame the drivers or the team owners for going to the dark side; they need to earn a living. However I have no vested interest in this; I'm a fan and I can do something else.

If Tony George had been just a bellicose blowhard and said that he was destroying CART because he could, I would have stayed with CART as long as I did, but I'd be watching IndyCar now. He didn't do this. He had to make it a holy crusade to protect a group that didn't exactly need protection. Of course, he was just protecting his own interests, but he didn't have the guts to say that. How did that work out for you, Tony?

IndyCar won't start to turn anything around unless it gets people like me back, and as far as I'm concerned the people who caused this would have to literally fall on their swords in order for me to consider it. I'd rather see AOW die. Then maybe somebody with some sense would try again.
Earl McKenzie, 31 October 2013 00:34
The saddest part is the great drivers in this series who are, essentially, trapped on a sinking ship. It's really very simple. IndyCar has to have the balls to take a giant risk and re-write the rules. It has to be such a big risk that IndyCar wold essentially disappear for a year or two. But without taking the leap, it's just going to dribble away in a couple years anyway. Wish somebody there had the stones to pull the plug and start over.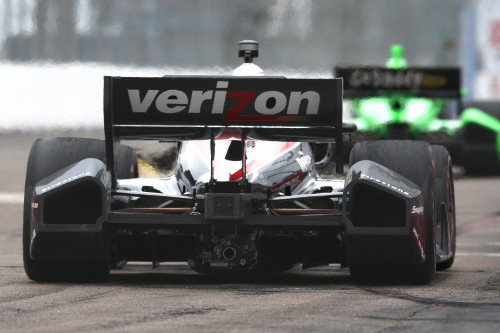 © LAT USA
Nicholas, 31 October 2013 06:12
I used to follow the series but lost all interest when the new Dallara was introduced-an ugly car with a ridiculous go-kart style rear end. Get the look of the car right and the fans will start to come back.
David, 31 October 2013 06:57
This might be a minor thing, but it sums up IndyCar's way of thinking:
IndyCar has a mobile phone app, everything these days has one. They're great ways of reaching an audience 24hrs a day.

Can you download it though? No, not unless you live in America. And not unless you have a Verizon mobile phone contract. This means nothing to me in the UK, or the rest of the world, where most of the few viewers reside. All that does is serve Verizon.

This is part of IndyCar's problem, their moves tend to serve everyone but IndyCar — see the Dallara deal.
Tom, 31 October 2013 18:04
I think the fourth from last paragraph says it all.In my opinion at some point the Indy Car people started acting like the 'fans" didn't matter anymore. Maybe with all the childish battling over the break up of CART, they just didn't have time?The cars are boring and there are no real interesting personalities racing.

I used to be one of, if not their biggest fan, but now if I can find it on TV, it does not entertain enough to keep me awake.
Aljanguy, 31 October 2013 22:23
I think it would be best for the fans and the future of the sport if IndyCar as it exists today would fail/die and then come back in a few years under new management, when the economy is better and manufacturer support can be a part of the equation.

The spec car is a disaster and I finally stopped watching Indycar racing — which I had followed since Wide World of Sports on ABC back in the 1960s.

Whats happened since 1996 is a disaster, but to be fair even then a lot of the drivers were either old and past their prime, or F1 rejects. None of the players involved of course would ever vote for a reboot, but they probably will have no choice. The market has decided for them already.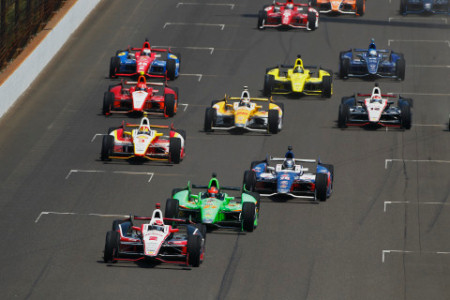 © LAT USA
Tiger Al, 2 November 2013 03:07
So if CART hadn't self-destructed by disrespecting their biggest asset and partner, George and the Indy 500, where would they be today? They would probably be lucky to be where IndyCar is is now. All those CART boards back then had no idea what they were doing. And if IndyCar is "trapped"with that wonderful, racy Dallara, I'm not complaining. At least all the gimmicks are available to all the drivers all the time in Indy cars. DRS has made F1 a bad joke. The fact is, many sports that enjoyed unprecedented success 20 years ago can't sustain it now. There is not that much money being thrown around anymore. F1 has turned into an entertainment spectacle for the video game generation and is drowning in it's own self-importance; IndyCar still boasts the world's most famous race but has slipped out of fashion. Things change; dreaming or living in the past doesn't help.
Mark O'Day, 2 November 2013 13:11
Like so many I was an ardent CART fan in the 80s and early 90s. After the split I boycotted the IRL and stuck with CART but over time my interest diminished. I have tried to give the unified series a chance and watch it some but it has failed to capture my interest. As for solutions:

Cars — spec series are of no interest. The aero kits are too limited to help — if they ever are allowed. The cars are ugly as well (as all race cars seem to be these days). How about a spec tub (or two) and let teams build from there and allow for a complete car to be bought if a team can't or does not want to build a car.

Tracks — get rid of most of the street circuits which seem to be endless processions behind the pace car. I don't watch these. Bring back Watkins Glen, Road America, Laguna Seca and Cleveland Airport, which was always the best race of the year.

Racing Rules — drop the double file restarts, which lead to the constant pace car processions. Get someone who knows racing to be the steward. The two penalties in late season races against Scott Dixon were absurd and further damaged the credibility of the series.

Gimmicks — a five month season, a winter series, double file restarts, push to pass all diminish rather than enhance the sport. Get rid of them

They heydays of CART maybe have been 20+ years ago but they had the formula right. It seems to me that were in not for the fractious CART ownership and Tong George the IndyCar series may be in a healthy state today.
Auto Racing ~ Gordon Kirby
Copyright 2013 ~ All Rights Reserved