Presented by Racemaker Press

"There's a lot of junk out there today. If you want it straight, read Kirby." -- Paul Newman


The Way It Is/ Chip Ganassi on Scott Dixon's third championship
by Gordon Kirby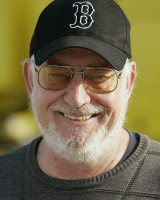 In recent years Chip Ganassi's team has established itself as IndyCar's most consistent powerhouse. Chip's team has won six of the last seven IRL/IndyCar championships and accumulated a grand total of ten titles over the last eighteen years in CART, IRL and IndyCar. Ganassi's championships have been won by five drivers--Jimmy Vasser in 1996, Alex Zanardi in 1997 and '98, Juan Pablo Montoya in '99, Scott Dixon in 2003, '08 and '13 and Dario Franchitti in 2009, '10 and '11.
"It's nice to have another championship," Ganassi remarked. "That's ten now with five drivers. What makes it happen? The team never gives up. They never give up. That's the strength with everybody, the drivers, the crew, the engineers, the people on the shop floor.
"A big thing is that many guys have been with us a long time," he adds. "There's stability in the team and that's a big thing."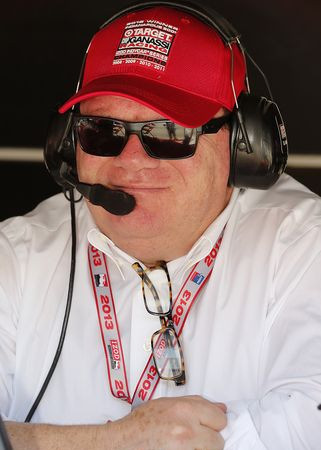 © LAT USA
Ganassi couldn't be more pleased with Dixon's performances this year and in the season-closing 500-mile race in California in particular.
"My man Dixon did a great job, didn't he? He's a hell of a driver. He's tenacious and the race at Fontana said it all. He just sat back there in the early stages, didn't get excited and worked his way up and he was ready for the end."
With 33 wins to his credit Dixon ranks seventh on IndyCar's all-time winners list behind only A.J. Foyt, Mario and Michael Andretti and the Unsers--Al Sr., Bobby and Al Jr.
"You look at a lot of those guys," Chip noted. "Their careers went on for a long time but Scott is only 33. He has time to win more races and championships."
Chip calls the shots from the timing stand for Dario Franchitti's car while Mike Hull is in charge of running Dixon's car.
"Mike Hull is as tenacious and smart as Scott," Ganassi observed. "Every time I think those guys are down and out of it, they surprise me and you see what they're really up to."
Ganassi discussed the effort that went into producing his team's mid-season turnaround.
"I'd like to tell you it was karma," he grinned. "It started in Detroit. Honda started to listen to what the drivers needed around Detroit and that started the ball rolling. We were onto something around Detroit and then at Pocono we showed what we could do on a big speedway.
"It was helped by good fuel mileage but Pocono was where Honda started having a motor that worked well on a big oval. When you overlay Pocono with Fontana you can see a situation where Honda made some big gains on the speedways but they still have some work to do. I'm sure they'll figure it out.
"Little things can spark your season and I think we were onto something at Detroit and then Pocono was a big spark. It got everybody back to attention and then we went on to Toronto and Scott showed again that we were ready to race to win."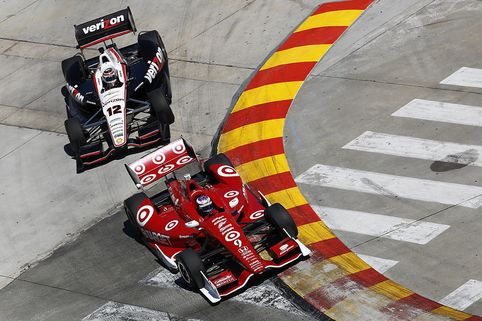 © LAT USA
Ganassi wasn't a fan of the decision to run Saturday and Sunday races this year in Detroit, Toronto and Houston. He thought the double races would result in too many crashed cars and extra work for his team but chuckles over the success Dixon enjoyed in Toronto and Houston.
"When they announced the double header races I said if you were going to have two races on two days you might as well award double points," he commented. "And that's exactly what it was. That what's happened to us in Toronto. We were the beneficiary of exactly why I had criticized the idea so Toronto worked out well for us. If that's what the fans want, then that's what they want. I won't criticize it anymore."
Chip pointed out that having three very competitive cars and drivers was an essential factor in Dixon winning this year's championship.
"You have to factor Franchitti and Kimball into Dixon's championship because they took away many points from Castroneves by beating him in many races. The fact that we had three strong cars was no small point in Scott's championship."
Ganassi has nothing but praise for Charlie Kimball who came into his own this year in his third season in Indy cars.
"Kimball did a great job this year. At Fontana, he wasn't fazed by Helio Castroneves or anybody else. He would've won that race if he hadn't lost his motor at the end. Charlie works hard and deserves everything he showed the world he can do this year."
Dixon's championship run was almost derailed at Sonoma and Baltimore. Scott was given a controversial penalty in Sonoma after colliding with Will Power's right rear tire man and was knocked out, inadvertently or otherwise, by Power in Baltimore. Ganassi believes IndyCar needs to be more measured in assessing penalties and suggests that Derrick Walker and Beaux Barfield take a leaf out of NASCAR's book.
"It's easy to look back now and say what happened in Sonoma is water over the dam, but we don't forget those things," he remarked. "We felt we were clearly robbed. Whether Baltimore was a racing incident or not, I'll leave that one open to discussion. But in Sonoma they made an instant call that I think by their own admission they felt differently about on Monday or Tuesday.
"I think IndyCar needs to take a look at, dare I say, the way NASCAR does it. NASCAR make their calls on Tuesday. They say all disputes or penalties are resolved on Tuesday because they look a little different on Tuesday. They do a couple of things by doing that. They keep the press and the fans interested and they don't spoil a good race.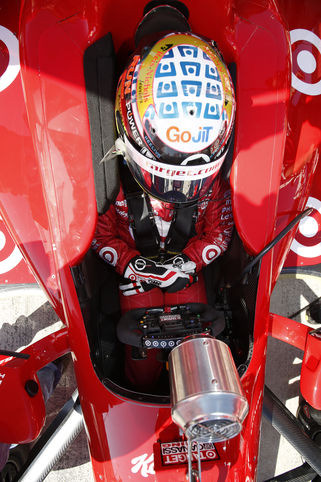 © LAT USA
"We had a great race going at Sonoma and it was spoiled by their instant decision. I've talked to Walker about it and he at least listened and we had a useful discussion about it, but we need to talk some more about the way they make their calls. I will say Derrick at least puts himself out there. He's available and he'll talk to you and have a discussion."
Chip ruminated on two incidents early in the first race at Houston.
"I thought it was interesting in Houston on the first restart Castroneves hit Dixon and Will Power hit him too," Ganassi said. "When Power passed Scott he hit him and there was no call.
"Castroneves says it was because of a gearbox failure but you can't blame the gearbox because he flew over the curb and pounded the transmission. The gearbox broke in half because he landed on the curb. He landed on the curb because he wasn't driving where he was supposed to be. He was hearing footsteps behind him and he messed up."
Everyone in the sport was knocked sideways by the unexpected death in August of Chip's much-respected father Floyd.
"As much as you appreciated him when he was around, you really realize what a great guy he was when he's not around," Ganassi said quietly. "I miss him a lot. I always talked to him after the races. He was one of my first calls after the race if he wasn't there and he always had a good perspective on things. He knew how to see the good side of a bad day.
"He was a little bit down with how we had been running this year so he would have been happy to see what happened at the end of the season. But we sure do miss him.
"He was good for the sport because he was everybody's pal from the guys in the team to our competitors and the fans. He was an ambassador for the sport and I think that type of person lacks in our sport."
Chip also explained the thinking that went into his decision to change from Honda to Chevrolet engines for next year.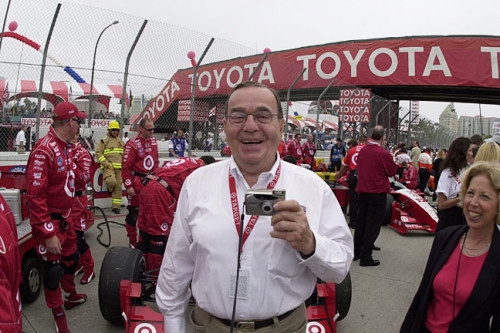 © Paul Webb
"I have a lot of confidence that Chevrolet can give us the support to be strong at Indianapolis and over the long term through the whole season," he commented. "I think Mario Ilien is closer to everything that needs to happen to maintain a high level of competitiveness at all times and all tracks and I think Chevrolet have a degree of focus on the IndyCar program.
"Honda is very interested in what racing does for their company and I applaud that mentality and approach. I don't want to criticize Honda but they're involved in a wide range of racing activities from sports car racing, to club racing and Formula Ford. I understand all that has value for Honda, but I'm not sure of the value it brings to their IndyCar program."
Chip hopes Dario Franchitti will be back in action for the Rolex 24 Hours at Daytona in January and ready for the entire IndyCar season.
"He's saying all the right things so we're hoping he'll be ready to go."
Ganassi is looking forward to running four cars next year with this year's Indy 500 winner Tony Kanaan joining his team.
"We're happy to have Kanaan," he said. "We're hoping it will be a shot in his arm and our arm. Tony really impressed me when he drove our sports car at Indy this year. He was really into it. When you got Dixon, Franchitti and Charlie in the same room with Tony, man, they really got into it. I couldn't believe how deep they dug into it.
"When you sprinkle Dixon, Franchitti, Kimball and Kanaan into our sports car team at Indy and Daytona you'd be surprised how much that picks that car up for the rest of the year. They bring some ideas and development to the table and that's invaluable. It really helps our sports car team."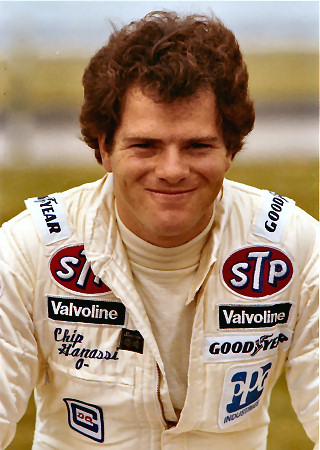 © Racemaker/Torres
Ganassi's team will run two cars in next January's Rolex 24 Hours at Daytona with the usual star-studded selection of drivers. He also hopes to run two cars in the entire Tudor United SportsCar series.
"We will definitely run two cars, as usual, at Daytona and we're working on a deal to run two cars for the whole year," he said. "I'd like to because it makes more sense. We're working on a deal that would be a real good compliment to the two guys we have. I'd say it's better than fifty-fifty, maybe sixty-forty."
Chip retains the same pure enthusiasm for racing he displayed as a Super Vee and then Indy car driver back in the early and mid-eighties. Ganassi showed a lot of potential racing Wildcat Indy cars for Pat Patrick's STP team in 1983 and '84 until his driving career was cut short by a huge accident with Al Unser Jr. at the Michigan 500 in 1984.
He tried to make a comeback but reluctantly realized something was missing and subsequently turned his focus to becoming a team owner. He purchased a portion of Patrick Racing and quickly took over the team, re-establishing it in 1990 as Chip Ganassi Racing.
Today, Ganassi runs multi-car teams in each of IndyCar, United SportsCar and NASCAR, and has established himself as one of America's top race team owners. His teams' remarkable record speaks for itself and says a lot about Chip's deep understanding of the sport going back to his days as a driver and his particular skills as a manager and boss.
After a quarter century as a team owner, it's fair to say Ganassi has arrived on an equal footing with his arch rival Roger Penske, no better a compliment for any race team owner.
Auto Racing ~ Gordon Kirby
Copyright 2013 ~ All Rights Reserved