Presented by Racemaker Press

"There's a lot of junk out there today. If you want it straight, read Kirby." -- Paul Newman


The Way It Is/ Scott Pruett on United SportsCar & Tudor
by Gordon Kirby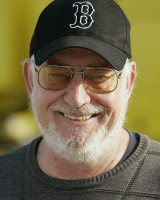 To conclude my survey of top Grand-Am teams and drivers who are committed to next year's Tudor United SportsCar Series I talked with five-time Grand-Am champion Scott Pruett. At 53, Scott is America's most experienced and accomplished sports car racer. This was his 46th year of racing.
"The good Lord has blessed me with an incredible career of 46 years of active racing," Pruett grins. "I started when I was eight and I've raced every year since then and I'm still winning races and championships."
After many successful years in karts Pruett went on to accumulate 11 IMSA, Trans-Am and Grand-Am titles, race successfully in Indy cars, compete in NASCAR for a few years, write four children's books with his wife Judy and found and build their own winery, Pruett Vineyard.
"We have three wines that got 93 ratings and one of them got number one in value for California wine under $35," Scott proudly comments.
Over his long career Pruett has seen many changes in the sport. He knows next year's inaugural season will be difficult for USC but looks forward to a better future for American sports car racing under the Tudor United SportsCar banner.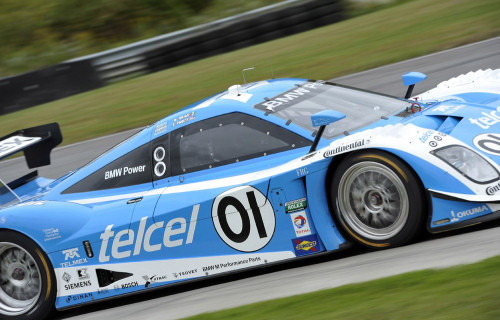 © Gary Gold
"I've lived through a number of splits in Indy car and sports car racing and it's never a good thing," Scott reflected. "However, it's always a good thing when you see two series come together to make one because it eliminates the confusion among the fans, the manufacturers and the media. So without a doubt, the fact that the two series are coming together for a united series is a good thing.
"Will it be good for 2014? That's a big question mark. Will it be good for 2015, 2016 and beyond? Absolutely. It will be a great thing for the sport.
"In the short term, as always when you're trying to bring two things together that are significantly different and try to take care of everybody, it's a great challenge. I think next year will be a difficult season but we're looking down the road to the sport's longterm future.
"We're all just looking to get through 2014 and get to 2015 and beyond. I think a lot of manufacturers are taking the same view, Audi specifically. From what I've heard, they're going to sit back and see what 2014 looks like before they make a decision about going forward."
Pruett takes an entirely pragmatic view of the late arrival of the Daytona Prototype/LMP2 equivalency rules.
"The technical aspect of trying to bring the rules together and the realities of things like the rules for going over the pitwall are different in the Grand-Am than they are in the ALMS. All these details have to be decided and I'm sure they've been overwhelmed by all of it."
Of course with the resources of Ganassi's team behind him Scott knows he should be in better shape than most of his competitors at Daytona next January.
"We're not testing until we know what the rules are and I don't believe we're going to have a full set of rules until January," he commented. "I think for the initial tests next month at Sebring and Daytona you can't react fast enough to get the pieces built that you're going to want for Daytona for the race.
"I think there will be continual change because there's been no on-track testing. We've been around long enough to know that simulations will get you seventy-five per cent of the way to where you want to be. But that final twenty-five percent comes from on track, real live testing. That's the reality, and it always is. When you start testing it will throw up new questions as we go forward.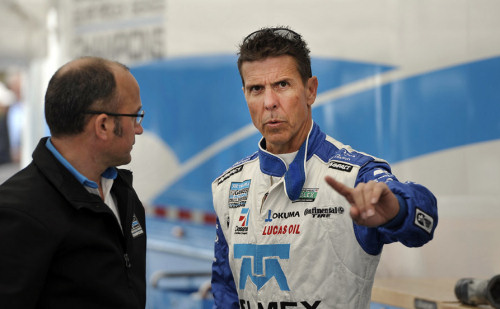 © Gary Gold
"We were still bolting together our new bodywork for Daytona three years ago when we arrived at the racetrack. So going to Daytona with a new package is not something we haven't done before."
Pruett points out that with more power and downforce the DPs are sure to run into reliability problems from the additional loadings.
"They're talking about improving the horsepower and performance of the DP car and that will start opening up some new doors that we don't know about," he remarked. "These cars have been incredibly well developed for the horsepower, torque and the aerodynamic and physical demands that we now have on the car.
"When you up the power, the aero and the cornering speed, it changes a lot. The durability on all the components changes, whether it's an upright or a steering arm or a driveshaft. Those are the unknown pieces we're all going to have to work through."
I asked Scott for his opinion about the ideal USC formula and suggested that most fans would like to see as much technology as possible.
"I think it really depends on what Jim France's view is," he replied. "Ultimately he was the mastermind behind Grand-Am and the new series too, and NASCAR is in the business of going racing. When NASCAR looks at anything they certainly don't look at it one year at a time. They look at it over a ten or fifteen year period.
"So I don't see my view of what it should or shouldn't be as relevant. It's what NASCAR wants from this in the longterm. NASCAR has always been about taking care of the fans and making sure that they're entertained. That's their number one priority and whether you have a $500,000 car or a $10 million car, it makes no difference if you can't entertain the fans.
"Their number one priority will continue to be their mission statement that the fans come first. It's about whatever we have to do to entertain the fans. I'm sure that NASCAR and Jim France have a view of how they're going to do that.
"NASCAR constantly asks their fans what they would like to see. The fans told them they wanted to see cars that look more like real road cars and they wanted to see closer racing. So NASCAR looked at it and gave the fans cars that look more like real cars and some great, close racing this year."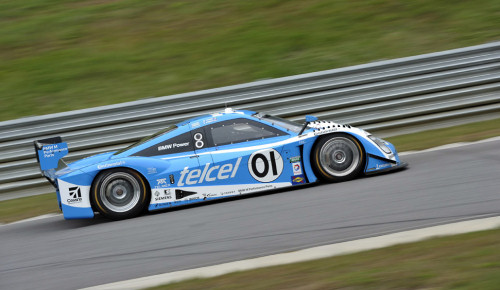 © Gary Gold
It's all well and good to talk about applying NASCAR's techniques to USC but sports car racing has a long way to go to match NASCAR's fan following and mainstream media coverage. For example, last month's Grand-Am finale at Lime Rock didn't get a single line of coverage in the New York Times or USA Today and wasn't even among the weekend's TV listings.
"I think NASCAR missed a great opportunity by not celebrating the last Grand-Am race at Lime Rock," Pruett remarked. "It was the 141st and last race in an eleven-year run and it was a great opportunity that they should have celebrated and marketed. I don't know why there was a disconnect there. Maybe it was because they've been so occupied with all the details of bringing the two series together.
"We had an incredibly close championship with three teams and a bunch of drivers in contention. It was a great conclusion for the Grand-Am's eleven year run and they should have done more to promote and celebrate it."
Scott emphasized how important it will be for Tudor and USC to put plenty of effort into promoting the stars of the series.
"You've got a bunch of very experienced drivers who've come from Indy cars like myself, Bourdais, Fittipaldi and Tagliani," he observed. "Then you've got international drivers like Sarrazin and some great new young talent like Dane Cameron.
"I think, just like NASCAR promotes their characters, the new series has got to do the same with our stars. I would love to help promote the sport. They've got to publicize it as an interesting, exciting sport and it can easily be done with all the potential we have in the new united series."
As I've written before, Pruett is America's quintessential sports car racer with a superb record and a well-rounded life. He should be an essential part of the promotion of United SportsCar.
In fact, it would be great to see Tudor decide to make the likes of Pruett, Alex Gurney and Christian Fittipaldi star as the faces of United SportsCar. They're a trio of great racers with renowned racing names and reputations who could provide the platform for a perfect advertising campaign for Tudor and United SportsCar in major newspapers and magazines. This is precisely the kind of creative thinking and vigorous marketing and promotion needed to push the sport forward.
Auto Racing ~ Gordon Kirby
Copyright 2013 ~ All Rights Reserved