Presented by Racemaker Press

"There's a lot of junk out there today. If you want it straight, read Kirby." -- Paul Newman


The Way It Is/ Wayne Taylor's proactive philosophy
by Gordon Kirby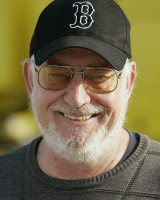 Wayne Taylor has been a mainstay of American sports car racing for more than twenty years. After winning the national open-wheel championship in his native South Africa in 1986, Taylor raced sports cars in Europe before coming to America in 1989 to race in IMSA's Camel GT championship. He scored his first US win in New Orleans in 1991 driving an Intrepid-Chevy and won IMSA's WSC championship in 1994 and '96. Taylor also won the inaugural Petit Le Mans in '98, co-driving with Eric van de Poele and Emmanuel Collard.
Through the early years of the new century Taylor drove for Cadillac's Le Mans team before forming his own Grand-Am team in 2004 with Italian Max Angelelli as his co-driver. Driving a Riley-Pontiac, Taylor and Angelelli won four races in 2004 and took the championship in '05 with five wins, including the Daytona 24 Hours. Taylor retired from driving in 2007 and switched from Riley to Dallara chassis the following year.
Angelelli has continued to lead Taylor's team, first with Michael Valiante as his co-driver, then Brian Friselle before Taylor's sons Ricky and Jordan graduated to the job. Angelelli and Ricky finished second to Scott Pruett and Memo Rojas in the Grand-Am Daytona Prototype driver's championship in 2010 and '11 and over the past ten years the team has won 26 Grand-Am races.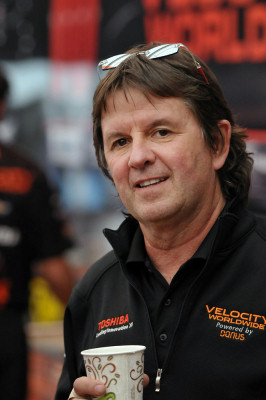 © Gary Gold
This year, Angelelli and Jordan Taylor were able to beat Pruett and Rojas to the driver's title although the Ganassi/Sabates team eked out the team championship by six points. Taylor's Dallara-Corvette won five races this year, including the last three in a row, and he hopes to run a pair of Corvette DP's in next year's Tudor United SportsCar series.
"My deals with Toshiba and Velocity go through the end of 2015 and my General Motors program has been going forever," Taylor commented. "GM renew for one or two years at a time and we're in the process of negotiating that again, but there's a commitment there on both sides. We're trying really hard to have a second car and it's getting close to reality, but I will only run a car with professional drivers. I won't run a second car funded by a wealthy driver.
"I've heard some suggestions that the whole series should be a pro-am deal. But why? There's plenty of room for pro-am partnerships in LMP Lights and many other categories. When you've got a manufacturer and a constructor behind you and you spend a lot of money and time developing the car you don't want to put some guy in there who's paying to drive. There are other places for those guys to race."
Taylor is delighted that the ALMS and Grand-Am have come together.
"My perspective is that when the merger came it was probably one of the best kept secrets in racing, which was a good thing," he observed. "When it happened I said, 'Thank God. We're now going to have one series. We can have all the great venues--Daytona, Sebring, Petit Le Mans and so on.' I haven't been to Sebring for years, so from that perspective, it's fantastic. It's a great schedule of tracks."
I was glad to hear Taylor say he regrets the loss of Lime Rock from next year's inaugural USC schedule.
"One of the races I'm upset we're not doing is Lime Rock," he raised an eyebrow. "It's a great little track and the fans are real race fans. They know who we are and what equipment we're running. It's a great place and I hope in the future they will come back to Lime Rock. If they asked me to chose, I'd trade any race, other than Daytona or Sebring, to have Lime Rock back. That's how much I like that place."
He also observed that the merging of two series means there will be fewer opportunities for some drivers.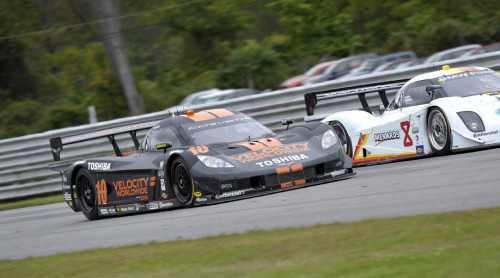 © Gary Gold
"From a drivers standpoint, as I was all my life, I don't think the merger is the best thing because sports car drivers have been able to race in the Grand-Am and the ALMS and make a little more money. Those guys who were doing that now have only one shot. So it's difficult from a driver's standpoint."
Taylor says the delay in USC announcing the DP/LMP2 equalization formula makes it tough for all the teams. But he says part of the game is to ferret out all the information you can.
"I think the ALMS have some very good people and getting the best of the people merged together is a good thing," he stressed. "The only thing that's difficult is that they've taken so long with the rules. But I have to say if you're not proactive with your ear to the ground every day, you won't know what's going on. That's the way it always is in racing and I can tell you that I've been proactive with Scot Elkins, Ed Bennett and all of them.
"Elkins has delivered a set of outlines for the rules to all the constructors. This outline has gone to Dallara and to Riley and anyone else interested in building cars. I hear people in the pitlane complaining that they don't know anything but I can only say they haven't been doing their job."
Taylor may be a step ahead of some of his competitors by anticipating the DP/LMP2 equalization formula and preparing a car for November testing.
"My second car is at Pratt & Miller being developed because we know what the 2014 car is going to look like," he says. "It's going to have a double element rear wing, a diffuser and a paddle shift system--all of that. There are one or two details left that they still need to analyze but I can tell you we're scheduled to run the test days at Sebring and Daytona in November.
"From an owner's standpoint you have to make the decision to invest into something that's going to be a development year. But I've always liked to be in programs from the ground floor. That means being proactive with the promoters and with the technical department and leadership at United SportsCar. We have to bug them until we get the information we need and we'll be okay. If we do our job right. it'll put us ahead of everyone else who are whining and complaining."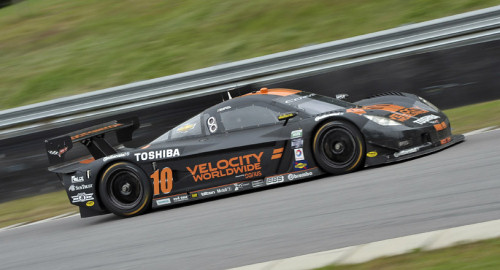 © Gary Gold
Taylor's biggest worry concerns the brake package USC may or may not settle on for DP/P2 cars.
"There's only one part of it that's a massive dilemma and that is if they don't make the right choice on the brake packages," he noted. "That's the most crucial decision to be made. If they make the wrong decision there it's going to put us all in the shit."
Taylor is proud that his sons Ricky, 24, and Jordan, 22, have developed into first-rate professional sports car racers.
"They've both done a tremendous job," he glowed. "I couldn't be more pleased with how well they've done and how they've accepted and taken on the challenge of doing the job right. It's been great to see them develop into race-winning and championship-winning drivers."
Ricky and Jordan raced karts before moving into cars through the Skip Barber series where both won races and championships. From there they tackled GT cars and then Daytona Prototypes.
As his sons rose through the ranks Taylor met Nicolas and Dominic Cape and formed Cape Motorsports with Wayne Taylor Racing in 2010. Cape Motorsports competes in the Cooper Tires USF2000 Championship and the FF1600 Championship. Cape drivers Scott Hargrove and Neil Alberico battled hard for this year's USF2000 title with Canadian Hargrove beating Californian Alberico to the championship.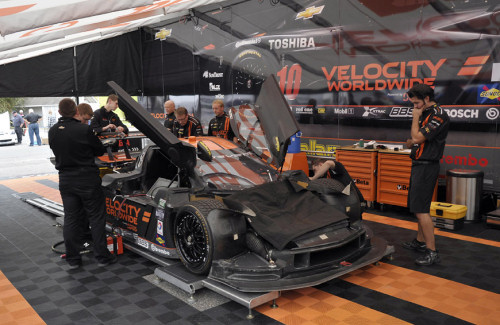 © Gary Gold
"The Cape guys are brilliant on young drivers," Taylor remarked. "When my kids were growing up I worked with them and got to like them a lot. We've become such good friends and we have a partnership with them. Initially I helped them set the whole thing up and now they've taken it over and they run it.
"It's healthy financially and they have access to all our resources so they can bring their young drivers over to our shop and see how we do things. It's a really good relationship and we will keep that going for a long time. It only makes us better."
Wayne Taylor has a thorough, well-grounded approach to motor racing and his team is sure to be a major player in next year's Tudor United SportsCar series. Taylor's team is run by veteran Simon Hodgson and its cars are always fast and well-prepared for the many challenges of long-distance racing.
Taylor and Hodgson are as sharp as anyone at calling strategy and veteran team leader and part owner Angelelli and young Jordan Taylor have proven what they can do. They will be hard to beat again next year.
Auto Racing ~ Gordon Kirby
Copyright 2013 ~ All Rights Reserved