Presented by Racemaker Press

"There's a lot of junk out there today. If you want it straight, read Kirby." -- Paul Newman


The Way It Is/ United SportsCar's many challenges
by Gordon Kirby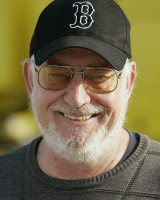 This year's Rolex Grand-Am championship was determined in the season finale at Lime Rock last weekend. The 141st and last Grand-Am race was won by Max Angelelli and Jordan Taylor who scored their third win in a row and fifth of the season aboard Wayne Taylor's Velocity Corvette DP. Angelelli and Taylor thus took the Grand-Am driver's championship while Scott Pruett and Memo Rojas came through the field to finish third at Lime Rock and secure a seventh Grand-Am team championship for Chip Ganassi and Felix Sabates.
Perfect fall weather prevailed on race day with barely a cloud in the sky and afternoon temperatures creeping into the mid-seventies. As expected, a great crowd arrived, jamming the beautiful little race course-in-a-park in Northwestern Connecticut. Lime Rock's fans may have been jilted by United SportsCar, but they turned out as enthusiastically as ever last weekend.
I can only reiterate everything I wrote in this space a month ago about the tragedy of United SportsCar excluding Lime Rock from next year's schedule. Lime Rock has drawn great crowds to both its ALMS and Grand-Am races in recent years, better crowds than most races on either schedule. In fact, Lime Rock's clientele is not only substantial in numbers but also represents the strongest demographic profile of any track in the United States.
The parking lots for any race at Lime Rock are filled with Porsches, BMWs, Ferraris, Corvettes, et al. and it doesn't take a brain surgeon to figure out that the purchasing power of Lime Rock's audience is mighty healthy. It's also New England's only real road course and is only a short drive from each of New York City and Boston with many smaller cities in between. Like most of the track's many fans I remain incredulous and mystified that United SportsCar has jilted Lime Rock.
© Gary Gold
Meanwhile, there's plenty of work to do if United SportsCar is to re-establish American sports car racing in the country's mainstream media and popular culture. The ALMS has continued to draw reasonably well at some races but the Grand-Am has attracted little fan interest at most tracks and neither series is covered in the mainstream media. Both series have been consistently ignored by the likes of USA Today and The New York Times and the media centers at ALMS/Grand-Am races are emptier than IndyCar's, if that's possible, occupied primarily by pr people and photographers.
In the past two years the ALMS races at classic road courses like Laguna Seca and Mosport have suffered a steep decline in attendance and the absence of fans at the recent ALMS/WEC twin-bill at CotA underlined the problems United SportsCar faces. The ALMS enjoyed a brief renaissance a few years back when Audi's factory team and Penske's Porsche P2 operation competed but there's precious little interest among hard-core sports car fans for what's been on offer the last two years with only two P1 cars and a handful of P2s and none of the lure or promotional flare provided by factory teams.
It's all well and good to boast about the brace of factory-backed GT teams, but the prototype field remains the primary draw for fans and media. Next year's inaugural United SportsCar field looks likely to be dominated by Daytona Prototypes bolstered by a handful of P2 and Prototype Challenge cars and whether that's sufficient to spark much interest from an increasingly disaffected fan base remains to be seen.
Meanwhile, the teams wait patiently for the LMP2/Daytona Prototype equivalency rules to be revealed. Normally, sanctioning bodies issue new rules a year or more in advance so the teams can build or buy their cars and engines with some proper forethought and financial planning. Not so with United SportsCar, which has dragged its feet through the summer and into the fall in announcing the much-awaited P2/DP equivalency formula. Testing is scheduled at Sebring and Daytona for the middle of November with next year's opening Rolex 24 at Daytona less than four months away and still we wait....
Mike Hull is Chip Ganassi's general manager. Hull runs Ganassi's Indianapolis operation where Chip's IndyCar and Grand-Am teams are based. Ganassi is entirely committed to United SportsCar and will field two cars as usual at Daytona next January, but Hull's patience with the rules makers is wearing a little thin.
"It would be great if we already had a rules package," Hull said. "But I'm not in the sanction office board room to understand the complications they've had to deal with and all the things they've had to do to bring these two series together. They have good technical people there and whatever happens, we're ready to go forward.
"2014 is certainly going to be a transitionary year," Hull continued. "And that means it's going to be very much a moving target. I don't honestly know why it's taken so long and as yet we haven't really seen a set of rules. We haven't seen any provisional rules or been given a set of directions for any rules. We only know what we've been told by the sanctioning body and what's been written, that they're going to come up with a kit and they're going to continue to look at the balance of competition. But in reality we haven't see anything.
"Everyone in this sport will react when we are told what the rules package is. I don't think it's going to be perfect and it's not going to be what we've been used to. It's going to take some testing to figure out. We will do the best we can and I think everyone in the series will do they best they can with the resources they have in partnership with the sanctioning body."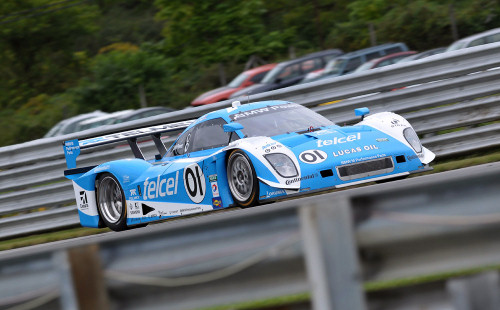 © Gary Gold
Hull emphasized the technical and management challenges facing United SportsCar.
"The sanctioning body is really going to have to have their ear to the ground as to what's going on with the cars and the teams are going to need to be very forthright with the sanctioning body about what they really need, not only to have a competitive package versus their neighbor but have a durability package so they can finish the races.
"It's going to take both of those things and then you tie that in with the OEMs and what they're going to provide to the teams with their technology and what the sanctioning body is going to want to do to create the power to equalize racing. The sanctioning body has a big job on their hands in a transitionary year to prepare the ground to be successful for a long period of time."
Hull stressed that there are many positives to United SportsCar.
"The upside is that the NASCAR mindset is really good because they work for the longterm," he commented. "In the short term you may not like what they decide but for the longterm you understand the benefit of them being able to create arenas for racing. They're very good with partnerships with the auto manufacturers and that's what sports car racing needs in order to create heathy revenue streams.
"The other thing sports car racing needs is continued promotion of the stars in their series and NASCAR does an extremely good job of that. They promote their stars and that's what you need. And the final thing is how to create a good television package. If you combine all of those things together, it's a leg up from where sports car racing presently is.
"So I think it's a good thing and if we look down the road for the longterm of sports car racing in America it's a great directional change. To me, there's so much upside potential that's unrealized so we just need to be patient because good things are coming."
An apparent casualty of the ALMS/Grand-Am merger is longtime IMSA/ALMS competitor Dyson Racing. With the team's existing P1 equipment obsoleted and no clear direction on the rules Rob and Chris Dyson find themselves unable to make any commitment to new cars and engines.
The Dysons may race in United SportsCar in the future once the series' formula and philosophy is established, but 2014 looks like a non-starter for the team. The Dysons have no interest in racing a Daytona Prototype. They prefer to race an LMP2-type car, but have been unable to move forward because of the delay in the rules.
"We're talking to all the drivers, sponsors and manufacturers we're involved with and trying to assess what the right platform is for us," Chris Dyson commented. "Before we rush into anything we want to see a technical plan for the future. We need to know what our objective is. So we're taking a wait and see approach. Our issue is the timing of when we would make any entry and in what category.
"We've been set up to go out and win races and championships for many years, but that's been dependent on the stability and clarity of the regulations and right now nobody really knows how the landscape is going to shape up in the prototype field."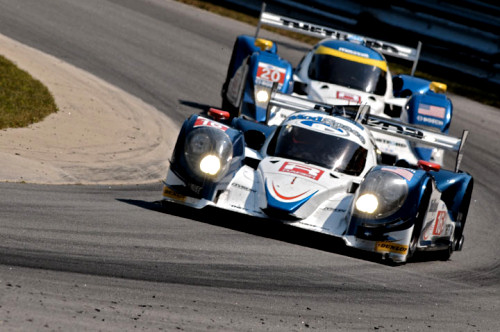 © Gary Gold
Dyson hinted that his team could race a GT car next year.
"In the GT field there's a lot more definition and we're not averse to looking at different avenues," he observed. "We're weighing up all of our options right now. We've got twelve full-time guys and we've got a great crew of people. I'd like to keep them busy and keep the shop vibrant but I don't want to make the wrong type of investments.
"In fairness to Scot Elkins and all those guys, they've been given a very tough brief. It's difficult to take such disparate formula and try to integrate them. We knew there were going to be challenges in doing that and they're confronting them."
Chris raced a non-wing sprint car for the first time in California this summer and will run his first race in a winged sprinter later this month.
"I've really enjoyed doing lots of different types of racing this year and I'd like that to continue," he grinned. "I've really enjoyed competing in some World Endurance Championship races this year. I also got my first taste of sprint car racing this summer and I'm looking forward to doing more of that. I found I really loved it. I'm excited about that because it's fresh and vibrant and I feel like I'm driving better than ever. It's nice to expand your horizons.
"I've also been doing a lot of karting and we've got a lot of different businesses we're pursuing both inside and outside of racing. There are new opportunities for us across the board.
"We had a great run in IMSA racing and the ALMS," Dyson added. "That chapter is obviously closing and we'll see what the future holds. You have to look at a schedule that has Daytona, Sebring, Petit Le Mans and Watkins Glen as being nothing but good for sports car racing. There's a good base of events and date equity to build on. It's down to the implementation.
"In the end, I think the most important thing is to listen to what the fans want. Over the years IMSA has always been the strongest when it's had the most diverse, interesting and evolving content, and I hope those things continue to be embraced."
I agree wholeheartedly with Dyson, but fear a different agenda is afoot. To further explore what's coming down the road for United SportsCar I will continue this discussion with some of the leading competitors over the next few weeks about the challenges the new series faces.
Auto Racing ~ Gordon Kirby
Copyright 2013 ~ All Rights Reserved