Presented by Racemaker Press

"There's a lot of junk out there today. If you want it straight, read Kirby." -- Paul Newman


The Way It Is/ Montoya's uncommon odyssey
by Gordon Kirby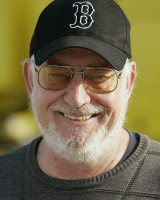 Needless to say, I chuckled heartily when Team Penske announced Juan Pablo Montoya will drive one of Roger Penske's three Indy cars next year. The announcement came three hours after I posted last week's column in which I exhorted Penske to make some changes. As always, RP was one step ahead of me.
Of course, none of us guessed that Penske would sign Montoya. I covered the surprise announcement on Motor Sport's website last week and it's been interesting to see the fans' reactions. Many think Montoya is too old and chubby to win again in open-wheel cars. Others believe he will be fiercely motivated and will show every inch of the speed and aggression we saw fifteen years ago when he won seven races and CART's championship in his rookie year in Indy cars.
Either way, it will be intriguing to see how Montoya fares with Penske. He's sure to light a fire under the team and its two current drivers Helio Castroneves and Will Power. I listed their litany of shortcomings last week and can only add that Montoya's confident and sometimes forceful personality should provide Team Penske with a type of leadership that's lacking from Castroneves and Power.
More than a few people think Penske missed the boat by going for Montoya's experience and star power rather than picking a young driver on the way up. Many point to Josef Newgarden as an obvious choice. Newgarden has shown plenty of speed over the past two years with Sarah Fisher's cars. He served his apprenticeship in FF1600 and GP3 in Europe before returning home to tackle and win the Indy Lights championship.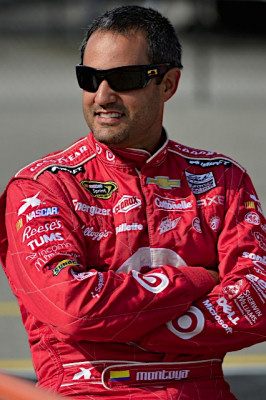 © Brian Czobat /Autostock
Josef is fast, aggressive and smart with an outgoing personality--a real racer who's also a sponsor's dream. If Penske ever decides to replace Castroneves or Power you would think Newgarden would be at the top of his shopping list.
Meanwhile, Montoya is sure to bring some excitement and fresh interest to American open wheel racing, but the challenges facing IndyCar continue to be immense. Derrick Walker confirmed last week that there won't be any new races on next year's schedule and Walker doesn't sound confident that any new US races may happen anytime soon, nor does he express much hope for IndyCar returning to traditional CART road courses like Elkhart Lake, Laguna Seca or Cleveland.
Walker holds out hope for some unspecified, non-championship overseas races in 2015. He also confirmed to disbelieving fans for the umpteenth time that IndyCar is stuck with its current Dallara DW12 spec car through 2019.
Other than the minor novelty of 'aero kits' arriving in 2015, IndyCar faces six more years of spec car racing with its latest Dallara. It's a very sobering fact that by the time 2020 arrives Indy car racing will have subsisted as a low cost, spec car category for almost twenty years. The spec car plague is one of the primary complaints everyone hears from all quarters about Indy car racing and it's at the heart of IndyCar's substantial challenge simply to retain, let alone rebuild, its dwindling fan base.
For his part, Montoya is sure he will be fighting fit and ready to race at the front of the field when next year's IndyCar season gets underway. He insists he's already stepped up his physical fitness program and declares he will do everything necessary to hit the ground running next year. Juan reiterated these comments at New Hampshire Motor Speedway last Friday before practice began for Sunday's 300-mile Sprint Cup race.
"When I started talking with Roger about it, it was a no-brainer for me," Juan remarked. "I always loved open-wheel racing. That's my background. I had seven great years in NASCAR but when you get a chance to run for Roger I wouldn't turn that down. Roger's team is probably the best team out there, if not one of the best teams. They're showing some faith in me and I'm showing some faith in them. It's all good.
"It was something I wanted to do. I've been lucky enough to race for Chip in his Indy cars in one of the best teams out there. I've run for Williams and McLaren and the only one on the list I haven't run for is Roger. So if I can get some wins for him next year, I'll be really excited."
Montoya says he was struck by how quickly Penske got down to business with him.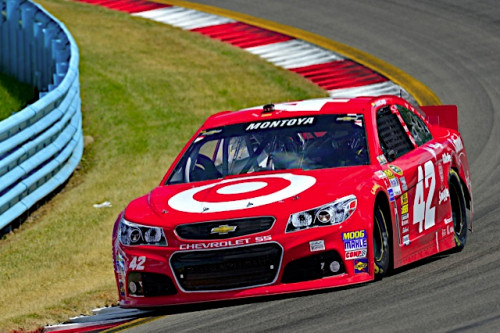 © Brian Czobat /Autostock
"When I went to meet with Roger you never know," he grinned. "Does he just want to have a chat and look at how serious I am about the business? But I don't think it took him five minutes to realize how serious I am and I don't think it took me a minute to realize how serious he was.
"I've raced for some of the best teams and I can say I'm going to the best team you want to race for. Roger has got all the resources and all the commitment in the world and my focus will be on the team, which is unbelievable."
Montoya was delighted with the enthusiasm expressed by the crew at Team Penske's shop in North Carolina. He also said he believes Will Power and he can be a big help to each other.
"After we sent the press release out I walked out onto the shop floor with Cindric and the excitement on peoples' faces that I was there was awesome. I've got an uphill run to learn everything, but if you think about it, I have Will Power as a teammate and he's the fastest guy out there at most tracks.
"In one way, that's hard for me, but in another way it's awesome because I can learn a lot from him. And to tell you truth I think I've done enough racing in different types of cars and with different teams that I can help Will mentally as well and what he needs to focus on. I think as a team we're going to be a lot better off.
"I know Helio well and I met Will this week and I told him I'm going to need his help a lot to get up to speed. I think it will be fun. I think I can bring a completely different aspect to the cars. I've got a lot of open-wheel experience. It will be a lot of fun."
Juan is looking forward to the Indy 500, a race he dominated in his only previous start in 2000. He also dominated the Brickyard 400 in 2010 until hit by a pit lane speeding penalty.
"Going back to the 500 is a big deal," he grins. "Roger hasn't won it since '09 and I'm one for one there. So maybe I can make a difference. You've just got to be at the right place at the right time.
"Open-wheel racing is what I know and grew up doing but I feel like I'm a stock car driver. I love being a NASCAR driver but this Penske opportunity is golden. I jumped up and down when we did the deal. I felt like a five-year old kid.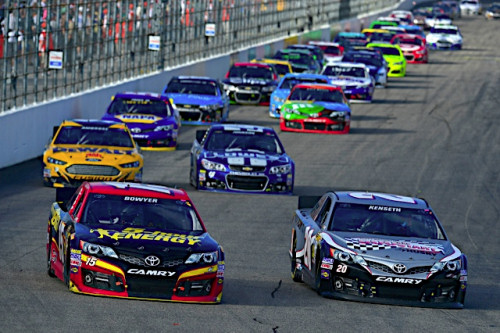 © Brian Czobat /Autostock
"If I want to run well I'm probably going to be very busy at the start of the season. I know I've got an uphill battle. I think the first few races are going to be hard before I figure everything out. But I think it will be fine."
Montoya also discussed the lessons he's learned over his seven years in NASCAR. He says his time in NASCAR has made him a smarter, more complete driver than when he was in CART or F1.
"You learn a lot of different things when you do different types of racing," Juan observed. "In NASCAR, you really learn how to be a team player and I think that's going to be a huge help to me. I think you learn so many things about the cars that you would never understand or believe or see. There are a lot of the more basic things about the setup that you ignore in open-wheel. You learn to understand more about suspension geometry and how the tires work.
"The tire management in NASCAR is so much more noticeable. It's huge. In open-wheel you do a little bit of that, but the more you understand it, I think that's going to pay off. There are a lot of plusses from being in NASCAR for seven years. I don't think they were wasted years. I think I learned a lot and I'm just looking forward to being in a winning car. I said I wanted to have the best opportunity to win races and Roger gave me that."
Montoya says there's an outside chance he could run the odd NASCAR race like the Daytona 500 for Penske in the coming years.
"The focus will be getting up to speed in the Indy car," he insisted. "Roger and I talked a little bit about doing some Cup races, but the focus is going to be totally on the Indy car. That's what we need to do and that's the goal at the moment. I've been looking at a lot of video and onboard cameras and it's fun because I know a lot of the tracks. There are a lot of things to learn. As I said, I know it's going to be an uphill battle, but it's a challenge."
Montoya doesn't expect any special rivalry with Ganassi or his team in his new role as a Penske driver.
"I always tell people Chip and I are really good friends and have a really good relationship. It'll just make it more interesting and fun next year. I don't see them as the enemy. I won the championship with a lot of guys that are still there. I have great friends there and I still will, and I'll be making new ones at Penske.
"Chip understands that he made a decision to not have me in his car in NASCAR next year and I made a decision to go back to open-wheel and Roger gave me the opportunity."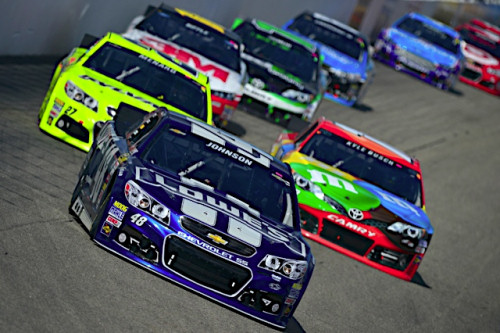 © Brian Czobat /Autostock
Juan is looking forward to having more modern gadgets to work with than are available in NASCAR.
"I drove open-wheel cars from 1992 to 2006 and one of the good things about it is when I last drove Indy cars they were a sequential, mechanical gearbox and now they're paddle shifters like the F1 cars I drove were. So I would say it's easier than it used to be. When you had a six-speed, hand shift and you had to go from sixth to first on a dime it was a lot of work. But with the paddle shifter it's just a flip of the fingers.
"There's also the push to pass. I haven't even thought about that yet. There are a lot of things I'm going to learn and a lot of small mistakes I'm going to do. but we'll learn and I think the more I look at videos and prepare myself, the better I'm going to be.
"It will be cool to have proper data again on the race weekends to look at everything and to look at how Helio and Will are driving their cars versus how I'm driving. When you have the data it makes your life easier. You know you need to go quicker here or there and you give a try and see what happens."
Many fans have rubbished Montoya for the weight he's put on during his NASCAR years but he's definitely lost some flab and was looking fitter at NHMS last weekend than he's been in many years.
"They all talk about how physical the Indy cars are, but I drove them before," Juan remarked. "I grew up with that and I'm working really hard. I've lost a lot of weight already. I feel like I'm not even halfway to where I want to be. I think strength-wise I'm pretty close with my arms. I feel really good there. I know the neck needs to come up a long way but I carry around a helmet with weights and I wear it mornings and evenings every day.
"You know, if I'm going to do it, I'm going to do it right. I'm not going to do it in a half-assed way. I'm going to do it right, and Roger is the right person to do it with. The chance to run the Indy 500 in a Penske car, it doesn't come any better than that. It's pretty cool. "One of the things that made the decision easy was that the most fun I ever had was when I raced Indy cars. So I'm looking forward to it. I'll work on it and address what needs to be addressed, get comfortable in the car and drive the shit out of it."
Meanwhile, Montoya is hoping to score that elusive, first NASCAR oval track victory before the end of the season in November.
"Target has been a great sponsor for me and I'm committed to them and the team all the way to the end of the season," Juan said. "Today, the focus is on finishing the Cup season. I still want to get that oval win for the guys. They've been working really hard and giving me a lot better race cars. We've run really well some places.
"We've been trying a lot of different strategies all year and it's come close to paying off a few times. We're not there yet, but it's not over yet. We'll see. We've been working really hard. I have a great group of guys here. They're fun to work with and they're determined and we'll be trying to win down to the last race in NASCAR."
Always one to steer his own course, Montoya will soon set off on a new chapter in his career's remarkable odyssey.
Auto Racing ~ Gordon Kirby
Copyright 2013 ~ All Rights Reserved