Presented by Racemaker Press

"There's a lot of junk out there today. If you want it straight, read Kirby." -- Paul Newman


The Way It Is/ New books brewing at Racemaker Press
by Gordon Kirby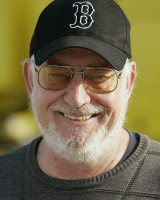 I've been flat out over the past few years working on three book projects for Racemaker Press in Boston with more to come. I'm frequently asked about the status of my history of Carl Haas Auto and Newman/Haas Racing so I wanted to take the time this week to update you on that and other projects I'm working on with Racemaker Press publisher Joe Freeman.
The Newman/Haas book is a huge project covering more than half a century. It starts in earnest in 1952 when Carl Haas bought his first car, an MG TD, joined the SCCA and began his epic career in the sport. Starting as a driver, Carl went on to found Carl Haas Auto in 1960, quickly establishing himself as one of America's leading purveyors of road racing cars and components. Carl Haas Auto sold Elvas, McLarens and Lolas of all types as well as Hewland transmissions and Carl started his own race team in 1965, competing in the USRRC and Can-Am series with Masten Gregory and Chuck Parsons driving his cars.
Carl's team became a mainstay of the Can-Am with Jackie Stewart scoring the team's first Can-Am victories aboard an L&M Lola T260 in 1971. A few years later with Brian Redman driving a Formula 5000 Lola T332 in a partnership with Jim Hall, Carl's team won three straight F5000 championships before adding four consecutive 'new era' Can-Am titles with Patrick Tambay, Jackie Ickx and Alan Jones.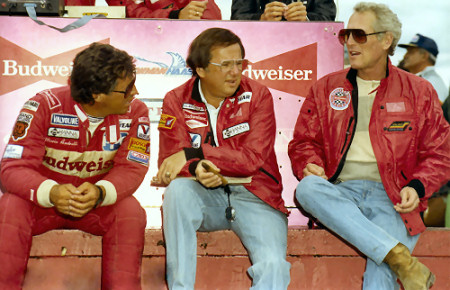 © Paul Webb
In 1983 Carl struck a new partnership with Paul Newman to run an Indy car team for Mario Andretti who spent the last twelve years of his remarkable career driving for Newman/Haas. Mario won the 1984 CART championship with Newman/Haas and his son Michael joined the team in 1988 adding a second CART title to the team's collection in 1991. Two years later Nigel Mansell won Newman/Haas's third CART championship with Cristiano da Matta taking the team's fourth CART title in 2002 and Sebastien Bourdais adding no fewer than four Champ Car titles in a row to Newman/Haas's tally between 2004-'07.
I've had the pleasure of writing the entire story of Carl Haas Auto and Newman/Haas Racing as well as Carl's years running the SCCA plus his two years in Formula One in 1985 and '86. Before he passed away in 2008 Paul Newman told me he wanted the book to portray the definitive story of his and Carl's lives in racing. I wanted to be true to PLN's admonition and I spent almost four years working on the project toward that end. I hope and believe I've achieved PLN's wishes in a giant volume comprising some 250,000 words.
Book publishing has always been a tough business and is tougher than ever in today's world. It was difficult to find a publisher who was willing to properly tackle this massive project until I met Joe Freeman. Joe's company Racemaker Press specializes in vintage racing books, a field in which he has established a major presence, and Joe has fully embraced the Newman/Haas project.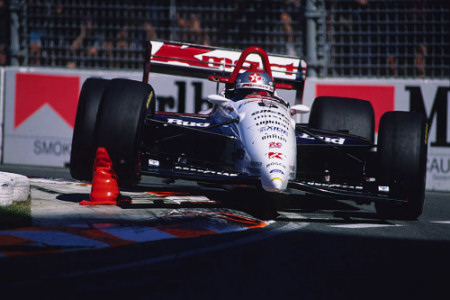 © Paul Webb
The book has been delayed by Carl Haas's illness but I'm sure everyone will find it's well worth the wait when we finally publish this book. At this stage I can't tell you when that day will come but I can assure everyone that it will be a very large book with many hundreds of photographs and a complete statistical listing of race results of all of Carl's teams as well as Newman/Haas Racing.
Joe has accumulated a superb collection of American racing photography at Racemaker with more than 600,000 images and over the past few years he's added substantially to his collection by purchasing the life's work of a number of contemporary American racing photographers including Dennis Torres, Dr. Harlan Hunter and Paul Webb. Ultimately, Joe will have more than one million photos in his collection which will enable us to publish many more books in the coming years, including Paul Webb's superb volume of racing photography covering a wide range of the sport from moto-cross to Formula One.
Over the past two years I've tackled two other books with Joe and Racemaker. The first of these is a book called 'Second to One' about the forty drivers who finished second in the Indy 500 but were never fortunate enough to win the big race. The book was Joe's idea and he has written the first half of the book covering 1911-'52. Joe is an excellent historian and writer and has done a great job and it's been a pleasure for me to work him writing the second half of the book.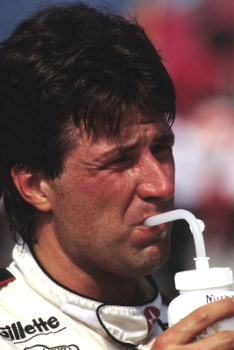 © Paul Webb
We've also enjoyed help from Tom Saal and Jim O'Keefe in researching many historical details for 'Second to One'. Both Tom and Jim have written other books for Racemaker and it's a great pleasure to learn and benefit from their unrivaled historical knowledge of the sport. Check out Racemaker's website for further information about Tom and Jim's excellent work.
We are currently sorting through the final details of 'Second to One' and will publish the book some time this coming winter or early next spring. The book will include more than 600 photos plus the complete Indy 500 statistics of the forty drivers who raced their way into this intriguing slice of racing history. Among the many great drivers who are in 'Second to One' are Earl Cooper, Harry Hartz, Ted Horn, Rex Mays, Tony Bettenhausen, Dan Gurney, Peter Revson, Michael Andretti and Paul Tracy.
The most successful 'Second to One' driver is Michael Andretti who graces the cover of the book, side-by-side with Rick Mears in turn one at Indianapolis in 1991. Michael led more laps (431) at Indianapolis than any driver who was unable to win the 500 and had a legitimate shot at winning no fewer than nine races at the Speedway. As such, we asked Michael to write the Foreword to the book and he's done a tremendous job detailing the many heartbreaking moments he experienced at Indianapolis. Michael's Foreword emphasizes how much luck is required and how difficult it is for everything to come together to win the 500.
The other book I've been working on over the past year is the story of Jim McGee's amazing career as an Indy car mechanic, crew chief and team manager. McGee began his career in Indy car racing in 1961 working with legendary chief mechanic Clint Brawner on Al Dean's Dean Van Lines team. Eddie Sachs was Brawner's driver when McGee joined the Dean Van Lines operation and Jim was Brawner's chief mechanic when Mario Andretti broke into Indy cars with the team in 1964.
With Brawner and McGee spinning the wrenches Mario went on to win the USAC championship in 1965, '66 and '69 and was a very close second in points to A.J. Foyt in 1967 and Bobby Unser in '68. Few drivers have enjoyed such a powerfully competitive stretch in any form of racing and those years established the foundation of Mario's superb career as one of the most versatile and respected drivers of all-time.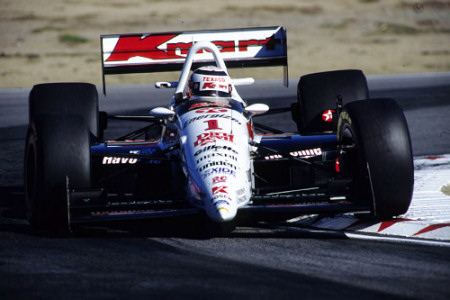 © Paul Webb
After five and half years with Brawner's team Andretti and McGee moved together for two years with Andy Granatelli's STP team before spending another two years with Vel's Parnelli Jones Racing. They were re-united again a few years later at Penske Racing where McGee was Penske's team manager from 1974-'80 and again at Patrick Racing in 1981 and '82.
McGee ran Pat Patrick's team from 1981 through '91, winning the Indy 500 with Gordon Johncock in 1982 and both the 500 and CART championship with Emerson Fittipaldi in 1989. Patrick sold his team to Bobby Rahal at the end of 1991 and Rahal won the CART championship in '92 with McGee running the operation. Jim was hired the following year to run Newman/Haas when F1 World Champion Nigel Mansell was brought in to replace the departed Michael Andretti. Newman and Haas believed McGee was the only man who could successfully run a team for two powerful drivers like Mansell and Mario Andretti and sure enough Mansell was able to win the 1993 CART championship in his rookie year in Indy cars.
Late in 1994 McGee rejoined Pat Patrick's revived team to test and race Firestone's new Indy car tires. Scott Pruett was Patrick's driver from 1994-'99 and the combination of Patrick, McGee and Pruett helped Firestone re-establish itself as the dominant tire builder in Indy car racing, ultimately driving Goodyear out of the sport.
McGee continued with Patrick's team through 2004 when Pat Patrick reluctantly decided to retire from racing as Indy car racing slipped into sad decline, riven by political squabbling. Jim concluded his career in 2008 after a few less than fulfilling years with KV Racing and continues to work these days for his old friend Pat Patrick. Together, Patrick and McGee hope to introduce natural gas to motor racing in the coming years.
© Paul Webb
When Jim retired he had surpassed George Bignotti to become the most successful chief mechanic/team manager in Indy car history with 90 wins, nine championships and four Indy 500 wins to his credit. He's a highly accomplished technician and remarkable team leader and mentor.
In the book Emerson Fittipaldi joins many other great drivers in revealing what made McGee so good at his job. "There was the technical side of Jim McGee and the human side of him that made him an excellent team manager who was able to handle the human side of things that are always happening inside a racing team," Fittipaldi says. "He was always very sensitive to any of the difficulties that can occur between people who are working together in a very demanding situation. It was a great thing for Pat Patrick to have a man like Jim McGee running the team."
We expect to publish Jim's biography next spring and hope to launch the book at Indianapolis during the month of May. I believe it will provide any race fan with a tremendous insight into the sport and provide many evenings of warm reading about an epic career covering more than half a century. Thanks to Joe Freeman and Racemaker Press it will be my great pleasure to bring you this and many other books in the years ahead.
Auto Racing ~ Gordon Kirby
Copyright 2013 ~ All Rights Reserved