Presented by Racemaker Press

"There's a lot of junk out there today. If you want it straight, read Kirby." -- Paul Newman


The Way It Is/ Charlie Kimball arrives
by Gordon Kirby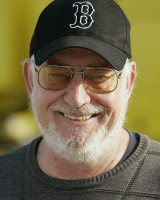 He's arrived with little fanfare, almost stealth-like. While many people have been waiting and waiting for Marco Andretti and Graham Rahal to mature into regular race winners and championship contenders Charlie Kimball has been making steady progress becoming more and more a factor in many races this year before scoring an excellent first IndyCar win at Mid-Ohio last week.
This is Kimball's third year with Chip Ganassi's expanded team. Kimball's operation is based in Brownsburg, fifteen minutes west of Ganassi's regular Target facility, but on race weekends the two teams work closely together as a single team.
Charlie is particularly proud of the way he earned his first win by throwing caution and fuel-saving to the wind. Kimball drove the race flat-out, turning qualifying laps all the way.
"One of the things I personally enjoyed about that race was it was a great strategy call," he remarked. "Brad (Goldberg) and Tom (Wurtz) made absolutely the right call from lap ten when they first committed to three stops. But that strategy was only going to work if we could put the laps down. That's what we had to do and that's what we did.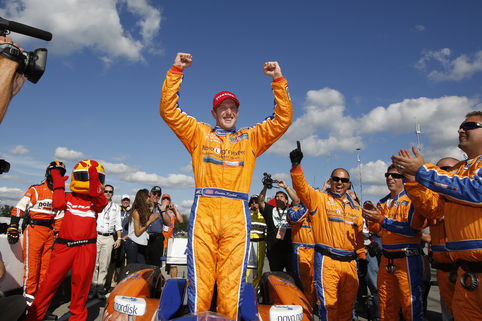 © LAT USA
"It wasn't as if there was a yellow and we managed to stay out and hold off the pack. We drove all day to earn that win and to me that's extremely satisfying. There was very little I left on the table. A couple of hundred for fastest lap maybe, but even then it was a success all the way across the board."
Charlie explained the thinking that went into adopting a three-stop strategy at Mid-Ohio.
"The front three guys--Hunter-Reay, Will (Power), Scott--and then myself with Dario behind me had settled into a rhythm. Both Dario and I got around Marco on the primary tire and we settled in and were saving fuel. Having got through the start cleanly and not gotten any yellows where we could make some good fuel mileage the team was looking at the fuel number and what it was going to take. They said now's the time to hedge our bets.
"We had talked about in the strategy meeting with Scott and Dario, their engineers, Chip and Mike (Hull). Everyone in that strategy meeting agreed. My engineer said to Chip, 'We'll do everything we can to help Scott in the championship race. We're outside the top ten. What can we do best to help?' And Chip said, 'If you can hedge the bets and go off-strategy, don't be afraid to go after a three stop. But don't be afraid to go for two stops either.'
"So we had it in the back on our minds. Last year, two and three stops were kind of a toss-up. But with them adding five laps to the race it made three stops look like the way to go. We knew that the mileage hasn't got a whole lot better. We're doing faster lap times than last year but the mileage isn't a huge amount better, so it looked like dropping the hammer and using the fuel and the tires we had saved throughout the weekend was going to be the right way to go.
"When they made that call they came over the radio and said it with complete confidence. They said they were committed to a three-stop race and don't be afraid to burn fuel. They said go to the richest mixture and if you can get past Dixon and get a little further up when we get into our pit window we'll be that much better prepared.
"I wasn't able to get the move made on Scott in an intelligent, clean way, but I knew we had to be fast to make it work. When it looked like we could get a pitstop in and come out on a clean track in clean air I could put the fast laps down when I needed to.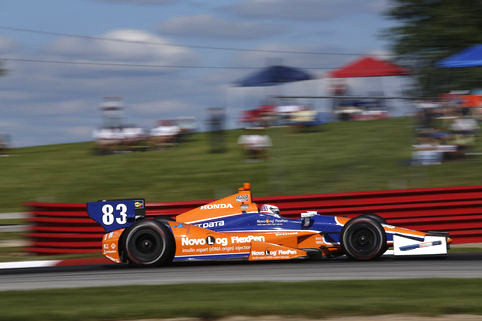 © LAT USA
"One of the things my engineer and I talked about before the race was if we go out there and start fifth, save fuel and end up finishing tenth, we're going to be extremely disappointed. But if we start fifth and run our race and focus on getting the absolute maximum out of the car for every single lap and we get beaten by somebody making two stops we can't be disappointed because we gave it everything we could."
Mid-Ohio is a physically demanding track but Kimball had no problems at all completing the race's 90 laps.
"We knew going into it that it was going to be physically challenging. That was one of the things that played into my mind at the end of the race and one of the reasons why it was so satisfying and gratifying to win that race. My engineer said if we go to three stops and drop the hammer they needed to see qualifying laps for ninety laps. Can you do that?
"It was a little cooler, in the seventies, and that helped. Mid-Ohio is very technical and very physical, but once you get into the rhythm the lap times just take care of themselves. You just click them off and when you're leading an IndyCar race, you do not feel any fatigue."
Kimball says he's benefitted from the talent, depth and teamwork of Ganassi's operation.
"There's a lot of resilience in the Ganassi organization that I think people don't see, especially when they're doing consistently so well," he observed. "But when the chips are down and everyone's on their back foot we really dig in and dig deep to work together as a team to move forward.
"To me, the best indication of that is that I crashed on Saturday morning at Mid-Ohio in the primary car and they rolled out the backup car, put the engine in the backup with a different gearbox, different suspension, different tub and different electronics. There were as many red Target shirts as there were orange Novo Nordisk shirts working on that car to get it ready for qualifying.
"We went out in qualifying and on the first lap on primary tires the car was as good as the primary. It wasn't surprising to me from that first lap, knowing the quality of the preparation they put in back at the shop and there at the track, that the backup car was capable of being a top five qualifier.
"That carries all the way through from setting up the cars and the different preparation we do for street circuits, road courses and ovals. As a team I think we have a very rock solid foundation and the best rapport among the drivers and among the engineers to communicate and be efficient working back and forth."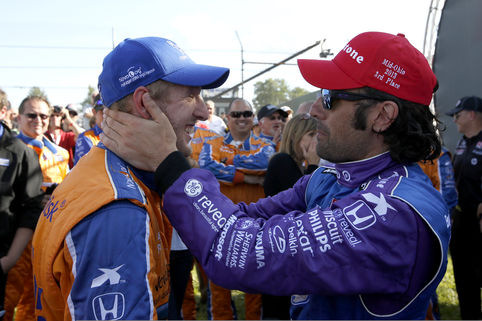 © LAT USA
Ganassi and his team have always encouraged their drivers to work together and Franchitti, Dixon and Kimball enjoy a particularly close and comfortable working relationship.
"Working with teammates and learning from Scott and Dario has been extremely beneficial and very helpful to me," Kimball says. "They're two of the best in the business, if not the two best in the business, and I'm trying to be able to learn from them and respect their experience and do it with the right mentality to make sure that when I'm learning from them I'm not taking advantage of them. I hope they've been able to see that, and I think they have, because of how they continue to help me and how excited they both were for me to get the win at Mid-Ohio."
He says this high level of teamwork has been the key to Ganassi's team turning a poor start to the year into a much stronger mid-season.
"It's working with Honda to give them the information so that they can help us," Kimball remarks. "It's working with each other so that we can build quicker race cars and cars that are more forgiving for us as drivers so we don't have to be quite as on edge all the time. And it's just believing in the team and believing in the effort that they put in at the shop, week in, week out, day in, day out, so that when we get to the racetrack we're going to have the best and most competitive race cars out there."
Charlie grew up in a racing family. His father Gordon worked with John Barnard in the mid-seventies at the Vel's Parnelli Jones Indy car team in California and also worked with Barnard in England at the McLaren F1 team in the mid-eighties. In fact, Charlie was born in the UK while his father was employed at McLaren.
"Racing was always something I was around," Kimball says. "As a young kid I don't think I knew enough to know if I was interested in it. I knew I enjoyed watching it and I knew my father was involved in it and successful at it. And of course, there were always wheel hubs or drive shafts or suspension pieces or gearboxes that my dad was working on and I was always intrigued by that. My mom is a mathematician by education so I have a very linear engineering brain and that side always appealed to me.
"But when I got into go karts I realized how much I actually love it and how much I really wanted to be a part of it. Even now, my mother's the only sane one who's not involved in racing because my older sister works in brand management at Mercedes AMG Formula One. So we are a racing family. It's a pretty incredible family and to be fair it's my mom who's the glue that holds us all together."
Kimball has a great sponsor in Novo Nordisk, a brand name company with a broad advertising campaign capable of making Charlie known to the wider world.
"They're a great partner for me, not just in racing but in managing my diabetes in everyday life. I use the FlexPen every day and that's a great story. I think without that relationship with me personally they wouldn't be involved with motor sports. They wouldn't be in motor racing without that first person connection.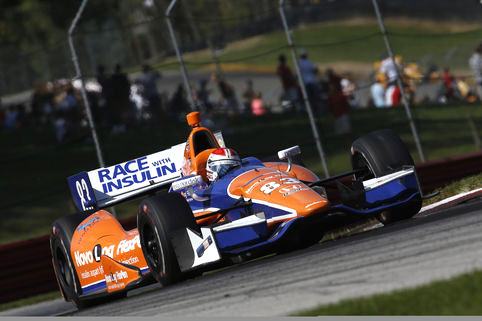 © LAT USA
"So to be able to represent that so well and be able to share their message through racing is very satisfying for me. It's fulfilling for me. So many great people across the country are overcoming their challenge of diabetes in their own ways and I'm proud to help get their message out.
"I train at PitFit Training in Indianapolis with Scott Dixon, James Hinchcliffe, Josef Newgarden and Stefan Wilson. There's a small group of us and the fact that I have diabetes doesn't change what I do in the gym at all. It changes my preparation a little bit. I have to be a little bit more proactive in making sure that I'm getting the right nutrition. I'm more focused on getting my blood glucose to where I need it to be so I can perform in the gym and build fitness as needed. But once I'm in the gym I'm just like any other driver who's training there, as it is on the racetrack."
Kimball sharpened his skills by racing in Europe for five years from 2004-'08 in FF1600, Formula 3, World Series by Renault and A1GP. In 2005 he became the first American to win a British F3 race in thirteen years and the following year he established himself as the first American ever to win an F3 Euroseries race. Kimball has no doubt that his years in Europe have served him well.
"Until Mid-Ohio I think there were always doubts because I hadn't won a race yet, and I haven't won a championship or a 500. So who knows if you've done the right thing because you haven't won yet.
"But having had the validation of Mid-Ohio I definitely feel that my time in Europe was well spent. The racecraft I learned over there has been invaluable. I think that's one of the reasons why my races are stronger than my qualifying, but even when you're leading an IndyCar race you're working through lapped traffic and you've got to keep your momentum up and find the right timing for your passes.
"After the race at Mid-Ohio, Simon (Pagenaud) said, 'Man, that was a big move!' And I was thinking that if he had pushed it harder I was in a position to be able to go deeper. I would have had to gather the car up to go deeper but I was ready for it because every pass is that much harder racing in Europe. I made many harder passes over the years in Europe. I may not get credit for that foundation, but I definitely reap the rewards of it."
Kimball is pleased with the progress he's made over his two and half years racing Indy cars for Ganassi.
"It's been a natural progression," he says. "Each time you take a step you set a new foundation for yourself. Finishing in the top ten at Barber Motorsports Park in my first year was a good indication of what we could achieve as a team. Last year, finishing on the podium at Toronto was very worthwhile and another indication of where we could achieve and begin to lay down a foundation for achieving that consistently.
"Then being a part of a Ganassi podium sweep this year, whether it was a race with a little bit different circumstances, or a little bit better pitstops here or there, we came away with a victory on an oval, somewhere that I don't have anywhere near the experience of Scott or Dario. That was another indication.
"Each of those results is kind of a new plateau for me, and I think the great thing is as a team and as a driver we keep moving forward. We keep climbing those plateaus rather than leveling off. Everybody involved in the program--Chip, Mike, Tom, Brad, everybody who's around me--each time we learn a lesson, we learn it in concrete. We don't forget it and we keep building on those lessons."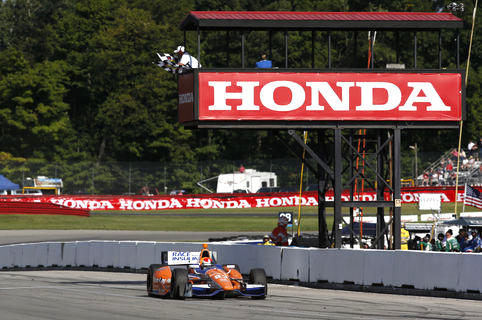 © LAT USA
Charlie is looking forward confidently to the next IndyCar race at Sears Point and the final races of the season.
"I love Sonoma. I raced Formula Fords and F2000 cars there. It's a track I enjoy and being out on the west coast in California, it's nice to have that home support. At Baltimore last year we were looking good for a top five or a podium before we had a mechanical failure so I feel good about those races.
"As far as I'm concerned Houston is a complete unknown. I've talked to some people about it and I remember watching a couple of races from there on TV but I have no idea if it's going to be the same layout, or if it's going to be rough or smooth. With a double-header maybe I have an opportunity to learn in race one and apply that to race two. Those two races are probably the biggest unknown and I don't know that I'm worried about them. I just have no idea what it's going to look like.
"And obviously with the result we had at Pocono, I'm looking forward to the 500-mile race at Fontana to finish this year.
"I think the goal, no matter what you achieve or don't achieve throughout the year, has to be the same from what you come in expecting at the beginning of the year. Our plan this year was to win a race or two and I think we still might do that. We've won the first race and had a podium as well and we want to keep moving that marker forward. I think having a victory under our belts will continue to grow our confidence. We want to be consistently in the top ten or the top six and from there podiums will happen consistently and there will be that opportunity for race wins."
At 28, Charlie Kimball has arrived as one of America's best open-wheel racers. He's an intelligent fellow and a gentleman with a great sponsor and a first-rate team. It will be interesting to see if he can develop over the next few years into a genuine championship contender.
Auto Racing ~ Gordon Kirby
Copyright 2013 ~ All Rights Reserved