Presented by Racemaker Press

"There's a lot of junk out there today. If you want it straight, read Kirby." -- Paul Newman


The Way It Is/ Rebuilding America's open-wheel ladder system
by Gordon Kirby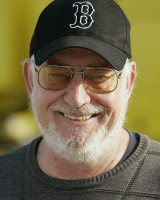 Dan Andersen freely admits that many of his friends have told him he's crazy to tackle the job of attempting to revitalize the flagging Indy Lights series and America's open-wheel ladder system as a whole.
"Some people tell me I'm out of my mind and that's hard to argue," Andersen grins. "But it's interesting and challenging and I guess that's what floats my boat. I'm an entrepreneur by heart, spirit and everything else. Whether we can resurrect Indy Lights and keep the entire ladder reasonably healthy remains to be seen."
Early last month it was confirmed that Andersen Promotions, the promotional arm of the US F2000 and Pro Mazda series, will run the licensing and operations of the Firestone Indy Lights series next year. Last week an announcement was made that Andersen and his group, led by Tony Cotman, have completed an analysis of choices of a new Indy Lights chassis for 2015. An announcement of the new chassis is expected soon and work has also begun on selecting a new engine for the 2015 car but Andersen knows he's facing a steep uphill climb.
"We have ideas and we have a style that people seem to like," he remarked. "But it's nevertheless challenging because, frankly, open-wheel racing in North America is not at its healthiest right now. You can have a ladder system but if there's not much interest in the top of the ladder it makes it difficult.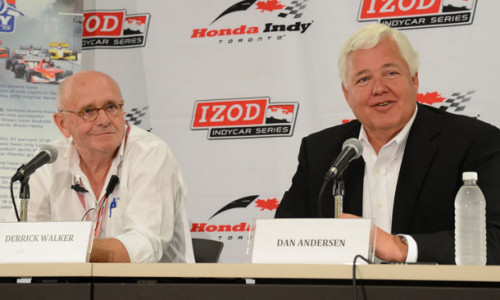 © F2000 PR services
"The success of my ladder system is going to depend on something which is out of my control which is the popularity at the top. I think we'll be able to make a reasonably healthy stepping stone program but whether it means anything is something that I don't have control over. The best thing that could happen to me is for everyone in the country to become very interested in IndyCar racing."
Andersen has successfully promoted the US F2000 championship and has also owned and operated race teams in F2000, Pro Mazda and Indy Lights series. Andersen's company operated the US F2000 championship from 1992-2001 and relaunched the Cooper Tires USF2000 Championship Powered by Mazda in 2010. In December of last year Andersen Promotions took over running the Pro Mazda Championship Presented by Cooper Tires after the Star Mazda Series went out of business after 22 years. This year, at IndyCar's behest, Andersen has also agreed to take over running the Indy Lights Series so his company will operate all three levels of the Mazda Road to Indy ladder system.
Andersen's primary business is a commercial construction company operating in New Jersey and Florida. He founded the business forty years ago and has built it into a very successful enterprise which has allowed him to pursue his passion for racing.
"My main residence is in north Jersey where I grew up. I've got a commercial contracting business. We do office buildings, schools, hospitals and the like. We are a sub-contractor performing all the inside work once the shell is up. I started the business in 1974. We employ several hundred carpenters. It's a business that's been good to me. We recently expanded down to Florida. I've got three offices in Florida now doing a fair amount of work for the Disney organization at Magic Kingdom and so on.
"I bought a one-mile road course in Palmetto, Florida, half of which is used for go-karting. We have a very active karting community and a pretty solid corporate karting program. The full road course is used for open testing of junior formula cars. I've got one team based at the track and the Cape F2000 team is local and they come over and test all the time.
"My daughter Michelle Kish runs the Andersen Promotions operation and she's based in Florida. I've got a condo down there and I go there once a month to check on the racing businesses. My daughter has really stepped up. She's been involved since the nineties. She handles all the day to day logistics and the book-keeping too.
"Paul Walter has been my race director and I retain his services. His IMSA duties have pulled him away from being a race director for me but he's been very helpful on so many other levels."
Andersen says he will push the IndyCar organization to try new ideas.
"I am a classic entrepreneur and I am a very stubborn guy," Andersen remarked. "I've butted heads with IndyCar in half of the last four years and I don't let them go. I'm so annoying to them because I'm not going to accept their approach that this is the way we've always done it.
"IndyCar has got to push themselves out of being a niche sport, if that's possible. I think they put on great shows and I think from the conversations and meetings I've had with Mark Miles that he impresses me with his views and his energy. He certainly has a lot to learn and I think he knows that and is the first to admit that. But he seems to be looking at the problem from outside the box and maybe that's the first step in Indianapolis where they seem to continue to do things the same way and expect different results.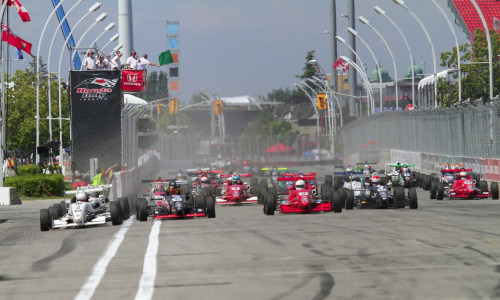 © F2000 PR services
"It's going to take years to turn it around," Andersen added. "It starts with somehow making the actual sport more interesting and appealing. I'm not on that level and I don't know what the solution is, but it's got to revolve around the technology. The one thing IndyCar can offer versus NASCAR is a higher level of technology. They've got to maybe move away from the model they have of a spec series. It's great for the ladder series but at the top there's got to be some variation to create some interest."
A lifelong race fan, Andersen didn't get into formula cars until he was into his forties.
"I'm in my sixties and I've loved motorsports pretty much my whole life," he said. "I worked on hot rods when I was a teen-ager before I got my license and did some drag racing. After I had kids I got back into it with a Supergas Chevy that I campaigned at Englishtown.
"When my son turned seventeen he turned me on to formula cars. This was in the late eighties and in 1990 we went to a Skip Barber school together. He was just turning seventeen and I was much older. We did a three-day school at Lime Rock and we both fell in love with it.
"After the Skip Barber school we went club racing in the northeast in Formula Ford. He did very well and I had fun but wasn't very fast. After two seasons of Formula Fords I didn't know what to do with Mike. He was doing very well, but there didn't seem to be anyplace to go other than the Canadian F2000 series and a west coast US F2000 series run by USAC at that point. So I looked around and while some race dads buy their kids a team I actually started a series. The truth of it is I started the series for my son in 1992."
With USAC sanction, Andersen launched the F2000 Series East in 1992 and a few years later he merged with the west coast series to form a single championship. Then the SCCA asked Andersen to take over their series and under his direction the combined SCCA/USAC F2000 series took off through the nineties.
"We brought the two series together under a joint SCCA/USAC sanction and in 1995 we hit our stride. We had a field with as many as 60 cars. It became the US F2000 Series in 1995 and we carried that name up to 2001 and at that point I thought I had done all I could do with it.
"I was getting tired of it. I had never made any money at it. We ran an open formula so there was no revenue stream from the sale of cars or engines. I was contributing to the fun of everyone else and I decided I wanted to try the team side of things."
Andersen sold the series to Jon Baytos in 2001, then started his own F2000 team in '03. Andersen expanded into running a Star Mazda team in '04 and added an Indy Lights team a few years later.
"During that decade we ran three, multi-car teams in each of F2000, Star Mazda and Indy Lights and there again I learned that there's no money in racing. It was a fun period of time but I lost my shirt on it."
Meanwhile, Baytos was struggling to make the Star Mazda series work. It had become too expensive and Baytos was forced out of business.
"In 2009 Tony George Jr. called me and said that I had run the series through the nineties and they would like to see the series revived because IndyCar needed a farm system. He said there was no other series to replace it. I said I had no interest in being a promoter but I said I would help him.
"So he and I worked on a business plan. As they say in the mafia movies, 'When you think you're out, they suck you right back in.' And that's what happened. We decided we would start a company and resurrect the US F2000 series, which we did.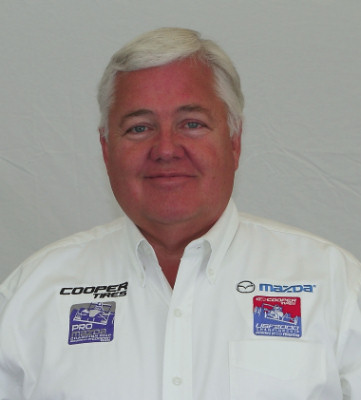 © F2000 PR services
"We decided to go with a spec formula to keep the costs down and provide a revenue stream for the promoter, meaning me. We started modestly. In 2010 we had fields averaging eleven or twelve cars and in 2011 we moved up to about seventeen cars and in 2012 it all came together. We were averaging almost 30 cars which we continue to do today in our fourth season.
"We have great partners in F2000 with Cooper Tires and Mazda. Cooper provides us with a tire that comes in a little bit slowly. It's a hard compound but once it comes in it stays in for an entire race. Van Diemen is the spec chassis, Carl Haas is the spec parts supplier and the group that we put together worked.
"We think this could be a year where we actually make money on F2000. The last three years I've continued to invest. Fortunately, I have a construction business that's done well. It's a business I actually earn money at, but we might turn F2000 around this year and finally see the black instead of the red ink at the end of the year."
Last year Andersen also took over running what is now known as the Pro Mazda series.
"Gary Rodrigues suddenly pulled the plug on Star Mazda and IndyCar and Mazda asked me if I would step in and take it over on very short notice," Andersen explained. "We looked at it and thought it would probably be worthwhile. Mazda is a good partner and we had Cooper Tires and IndyCar was willing, not to make it easy--IndyCar doesn't do that too often--but they were willing to at least not gouge me on the sanction fee.
"It's been slow going but we finally had a decent field of sixteen cars at Mid-Ohio. We're rebuilding the mess that we inherited, which is a story unto itself. The series was collapsing before Gary pulled the plug. The cost to run the series was in the mid $500,000 range due mainly to tires and engines that didn't last. People were putting new engines in cars after three races and it was just silly.
"So we've gone to a different engine builder. Sylvan Tremblay is building them and we've come up with a program where the engines do the whole season for the same price and the Cooper Tires last much longer than the old tires. So the budgets have come down a bunch and now the teams are starting to fill seats. We hope that the growth pattern that we've seen in F2000 will continue in Pro Mazda.
"Mazda's been a great partner with the scholarships they provide," Andersen added. "Geoff Brabham's son Matthew won the F2000 championship in his first year and won a full scholarship to Pro Mazda and it looks like he's going to win the championship in his first year unless he completely collapses. So he may move into Indy Lights as the first driver who only spent a year at each level."
Equally out of the blue, Andersen found himself taking over the Indy Lights series this year and becoming the unofficial guru of America's open-wheel ladder system.
"I heard they had pulled the plug on their new car for 2014 and were actually thinking of shutting the whole thing down. So I called Mark Miles and Jeff Belksus and said if they were seriously considering shutting the series down I would like to at least sit in on a meeting and hear what their replacement plans are. I told them I have an investment in the first two levels and I was concerned if there was not going to be a third level. They turned that around and said since you've raised the issue we've been thinking about asking you to take over the third level. So once again, here I am."\
Andersen has no doubts a new, more appealing, more cost effective car and engine package is required for Indy Lights. He and Tony Cotman have been hard at work in recent months and will soon decide who will build the new Lights car for 2015.
"The teams are very supportive of this decision," Andersen observed. "They are begging for a new car. The Dallara that they have now is not marketable as an interesting, contemporary race car. Unfortunately, Indy Lights is still at the level where the drivers are required to bring a substantial amount of the budget so you have to interest drivers to want to come here.
"I don't think the car is the whole thing, just like I don't think that the cost is the whole thing. Drivers worldwide need to see the career opportunity and our biggest challenge is going to be selling people on the idea that coming to America and racing in the Indy Lights series is good for your career.
"Once we get that appetite going obviously they want to drive a car that's relatively state of the art. We can't afford at the budget levels that we're aiming at to have a Formula One car or anything resembling that. I like some of the examples we've looked at. The Formula Nippon car is a very cool car and the GP2 and GP3 cars are cool cars.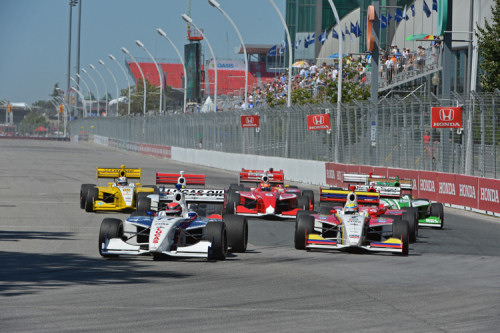 © F2000 PR services
"We're talking to Swift, Multimatic, Dallara and Mygale. Those are the four chassis people that have already submitted proposals. The criteria that I have are that the car needs to be relatively high tech. We need a paddle shifter and I want to introduce a paddle shifter into the car as an upgrade for next year. We're working with Tony Cotman to come up with some pieces that we can put on the existing Dallara for one lame duck year and those pieces will move on to the new car.
"I don't want to force my teams to spend money on something that they just throw away after a year. That's important to me because I still wear the hat of a team owner or at least have the heart of a team owner. I know what it takes to run a minor league team and it's very different than running a big league race team.
"I've had this conversation with Mark Miles, Jeff Belksus and Derrick Walker. When you're running a top level pro team your business model is more along the lines of you need to sign a team sponsor or sponsors and you need to deliver value to your sponsor for whatever their marketing strategies are. Then you go out and hire a good driver.
"But the Indy Lights and even some of the IndyCar teams just don't operate that way. Most of the teams require the driver to pay to race. So we've got to come up with a package that's interesting to drivers. The return on their investment has to be valuable enough for them to invest."
Andersen discussed the economic and safety requirements of the new Lights car.
"I'm looking at an operating budget, not including the cost of the car, of somewhere in the $700,000-$800,000 range per year, which is far less than the comparable European series. But we have to build the interest before we see the budgets rise and to do that we need a car that's sexy and relatively high-tech.
"If I could, I'd go back and take the last Atlantic car, the Swift 016, and upgrade it so they could run it at Indianapolis because I think that's a cool car. Swift actually pitched me on taking that car and adding some side intrusion panels and attenuators and wheel tethers and so on to allow it to run on the Indianapolis Motor Speedway. They've also got the 017 which is their Formula Nippon car.
"There's interest in those things as possible cars that we could let in 2015, but there are problems too. I need a car that's available at a price that my teams can handle and part of my requirement is that the manufacturers that I deal with offer financing. So far, so good. They seem to be willing to do that.
"If you're a team owner and it's a quarter of a million dollars for a car you need to write a check for half a million to just get the cars. Then you've got to buy the spare wheels and gears and everything else that goes with it. Then you've got to lease an engine and before you know it you're limiting the participants to very wealthy people who don't run it as a business and there aren't enough of them.
"So we need to not necessarily cater to the bottom end, but we need to come up with a package that's achievable and that requires three-year pay outs on the cars. So we're going down that path.
"I work my butt off to get teams into our series and to listen to them about their problems," Andersen added. "You can't listen to every complaint that comes along but you've got to see trends and you have to realize that your partners are the players in the series--the teams."
Andersen also explained his approach to oval racing.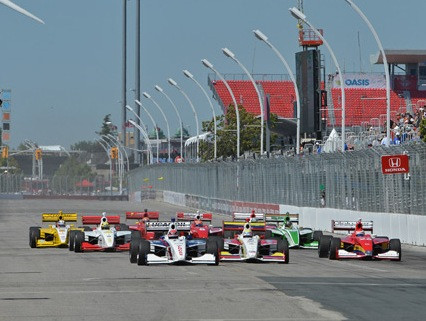 © F2000 PR services
"We're going to do less ovals," he said. "I think that the model that requires Indy Lights to do five, six or seven oval races a year is just not workable. It defeats the population in the series because too many drivers from foreign countries don't understand ovals or are scared of them. Oval racing is exciting but there's a high cost in crash damage and everything else.
"We definitely need to train drivers on ovals. My F2000 series does one oval race. My Pro Mazda series does two oval races and my Indy Lights series will do three oval races. That's the progression that I think we need to do. In the years to come if we see ourselves healthy and we can expand beyond that without hurting the car counts, we'll do that.
"We're looking at the Indianapolis Motor Speedway because the Freedom 100 is kind of the iconic event of the series. And then two short ovals like Milwaukee and Iowa. If they ever brought back Phoenix, I'd love to run the Lights cars there.
"Unfortunately, the Indianapolis Motor Speedway component is the one thing that makes it impossible to take a current car from Europe or Asia and bring it over because it's just not a safe enough car to race at the Speedway. If I said we're not going to race at the Speedway I could take a GP2 or Formula Nippon car and just say that's fine as it is, but unfortunately that won't work.
"The plan is to upgrade the current car with a paddle shifter and also do new dampers that can roll over to the new car and maybe some aero tweaks.
"We've uncovered all the cars that have been built and we're working on seeing who's willing to bring them out. For those who aren't, we're asking what can we do to lease them so that I can get new teams who are buying 2015 cars to jump in next year and lease a car for a year and still come play.
"Those are my strategies to resurrect Indy Lights as well as a pretty strong marketing campaign all over the world to try and tell our story and get people interested."
Confirmation of a new Indy Lights tire supplier, most likely Cooper Tires, is expected this week.
"This week you'll see a press release about tires," Andersen said. "That's been our first task. We went out with RFPs and received proposals from a number of tire companies and will be awarding the tire agreement very soon. The tires came first because I need to test oval tires in September at the Speedway and I need to have the tire agreement in place so molds can be built and we can go tire testing before the weather runs out on us."
A big decision will focus on the new 2015 Lights engine.
"The next step in the process is the engine," Andersen observed. "We've been talking to a number of engine people and certainly Mazda has thrown their hat in the ring. They're a good partner of mine. Honda has talked to me and Tony Cotman is talking to three others at least to see what the level of interest is. We hope to chose an engine partner within the next thirty days.
"That will likely be for 2015 because the cost to convert the current car for a different engine for one season wouldn't be worth it. So we'll continue with the current engine program for one more year although we may brand the series with the new engine partner next year and introduce that company's motor in 2015."
Andersen commented on the engines under consideration.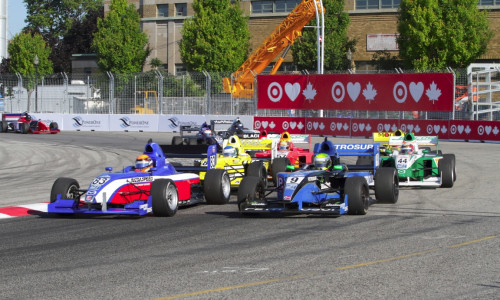 © F2000 PR services
"We need to come up with a motor that's got the right horsepower, the right sound and also a cost that's reasonable so the teams can fit it into their budgets. That's what we're trying to accomplish.
"It will likely not be a V-8. That's a possibility but it will more likely be a turbo V-6 or even or a turbocharged in-line four. We need about 400-450 horsepower. Honda makes a twin turbo V-6 and Ford makes a twin turbo V-6 that are perfect for what we're looking for. Mazda's got their SkyActive diesel and gasoline engines that make between 400-475 hp that are possibilities and Tony Cotman has talked to Chevrolet and Ilmor. I'm not sure what motor they're proposing.
"My goal on engines is to solve the cost problem. This year they reduced the cost and they're losing their shirt on it. The budget was $96,000 a year to do an engine program because the motor only lasted 1,700 miles. Honda's proposal, for instance, is a 6,000 mile motor which is for a full season and the annual cost is considerably less than $96,000."
Andersen points to the two liter Mazda MZR engine used in F2000 as an example of the cost for performance he wants in the Lights series.
"The Cape team won the F2000 series last year and also finished second and both of their drivers had three seasons on the motors without a rebuild. That's huge in keeping costs down. The motors were still putting out the same 170 hp that they were putting out three years ago. So that's a huge plus."
Andersen says the challenge of turning a business around intrigues and interests him more than making money.
"I tell people that the old entrepreneurial spirit isn't really about money, but nobody believes me. Sure, nobody minds making money, but the bigger challenge is you've got a situation or a problem and can you make it work? It's satisfying when it works.
"Money is how you keep score. If the money's dropping into the bank then you're doing something right. But I've never gone into business to make money. I've done it because I find it interesting and challenging and if you're successful, you'll make money.
"But so far in racing that's eluded me. I've lost a lot of money in racing, but no regrets. It's fun and you meet a lot of interesting people. There's a whole community that travels around and the longer you're in it I've gotten to know a lot of friendly people. Of course, like all businesses there are some scoundrels and you get to know them too."
Andersen believes new thinking is required to make the Lights series and the ladder system successful.
"I hope we can handle it," he remarked. "I think we can. We're optimistic but it's not going to be simple. We've got to make it interesting. With Indy Lights I'd like to follow the NASCAR model and get some cameo appearances from IndyCar drivers to step down and do a race. That would give the fans some reason to watch the Lights race.
"Right now, we're touting the story of the up and coming kids, which is a great story, but if you dropped in one or two names it would provide an additional draw for the fans. I'd like to put JR Hildebrand in a car. He was a great Indy Lights driver. That would give the PA announcer something to talk about and the newspaper writers something to write about. Let's have Tristan Vautier run both IndyCar and Indy Lights races for Sam Schmidt. If it's not working you can't keep doing it the same way. You've got to do something different."
We are lucky to have a motivated, energetic man like Dan Andersen committed to trying to rebuild America's open-wheel ladder system. Without him, the system might well be doomed. With him, it has a chance to survive and maybe even thrive. But in the end, as Andersen knows only too well, it all depends on IndyCar recapturing its lost popularity and good health.
Auto Racing ~ Gordon Kirby
Copyright 2013 ~ All Rights Reserved