Presented by Racemaker Press

"There's a lot of junk out there today. If you want it straight, read Kirby." -- Paul Newman


The Way It Is/ What makes Jimmie Johnson & Hendrick Motorsports tick
by Gordon Kirby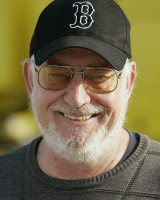 To gain a greater understanding of Jimmie Johnson's re-emergence as the man to beat in NASCAR I talked recently with Ken Howes, Hendrick Motorsports' vice president of competition. Marshall Carlson is the president of Rick Hendrick's 500-person team. Carlson takes care of the finance and administration. Doug Duchardt is Hendrick's vice-president of development. Duchardt runs the engine shop as well as the chassis and body-building shops.
Howes is a South African who came to America in 1984 with Sarel van der Merwe. They won the Daytona 24 Hours with a Porsche-powered March GTP car and Howes went on to run the Corvette GTP program for a few years. The Corvette was run for Chevrolet by Rick Hendrick who was beginning to seriously develop and expand his NASCAR team at the time.
Howes thus found himself as a key man in Hendrick's burgeoning operation and has been at the helm of the team since Jeff Gordon's arrival more than twenty years ago. Howes has worked with many drivers over the years and couldn't be more impressed with Johnson.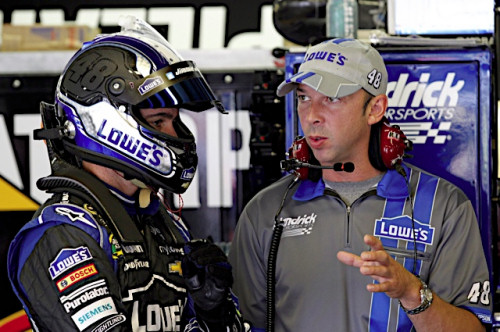 © Brian Czobat/Autostock
"I think over time he just turns into more and more the complete professional race car driver," Howes observed. "His dedication, the amount of time he puts into it, the amount of time he puts into his fitness, the way he works outside the car, his dealing with people, you couldn't wish to be around a better person.
"There's the old adage, 'Good things happen to good people' and I think that fits in his case. He's just a genuinely good guy. He pays attention to his family. He does all the things you like to see in a person. To me, he's just thoroughly professional at all times and I think that sets him apart."
Howes says Johnson has an open mind as a driver and also provides strong leadership for his team.
"His talent obviously and the experience he brings from his years of racing before stock cars, all of that gave him experiences and ideas to work on," Howes commented. "If a certain line is not working on a given day, or at a given race, he'll change pretty quickly and search for another way around. If it's not working, he'll see what he can do and at the next round of pitstops he's ready to do something different. He's always ready to keep working, to keep searching.
"You've got to give Chad and the team credit. They do their job just as well as Jimmie does his, but Jimmie's personality leads them and encourages them to do their best. He brings a great ambience to the team and that's very important."
Howes says Johnson learns quickly from his mistakes on and off the track.
"He does get flustered from time to time. It can happen. He's human after all. But he's able to deal with it quickly. He's aired some of his frustrations about restarts but he's decided it's something he has to learn to do better. It has cost him, so rather than howl at the moon he's gone away and figured out what he needs to do."
For many years Howes operated at the races out of Jeff Gordon's #24 hauler but these days he bases himself at Kasey Kahne's truck. Howes says newcomer Kahne fits perfectly into Hendrick's team.
"Kasey is very happy," Howes said. "He's very competitive. He's had a lot of strange things happen that are out of his control and some that perhaps he could have controlled. But on any given week, he's a threat and a potential winner. He fits in well with the guys.
"We feel very fortunate. We have a good group of guys who all get along. They all understand the importance of being together and working together and using that to their advantage. Right now, everything's good. It's solid and we hope it will last quite some time. You hope Jeff and Jimmie keep their energy and enthusiasm and keep at it."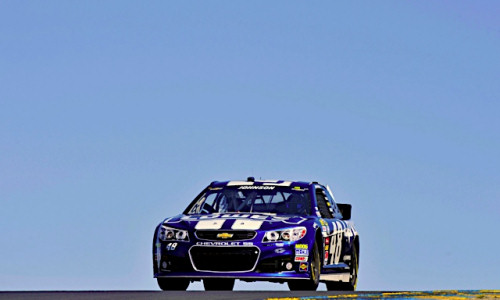 © Brian Czobat/Autostock
Howes has watched the relationship between Gordon and Johnson change over the years.
"Some days you wonder when the pupil becomes the teacher," he grins. "Some days you see Jeff kind of looking over and seeing Jimmie doing something new that he needs to do."
Howes is as perplexed as anyone with Gordon's terrible luck in recent years.
"I don't know what to do. Maybe we need to bring in a witch doctor to exorcise the demon! But I think you can say much the same things about Jeff as you can about Jimmie. He's been doing it for a long time now. We surprise ourselves sometimes in realizing how fast it's gone by. But he's still the talent that he always was. Obviously, he's older and wiser now and as competitive as ever.
"If we could somehow have a few weeks of trouble-free runs with nothing crazy happening. We'd really like to see him make The Chase of course. So we're looking for a break-out any day. It's hard to be optimistic when you're running low teens into the twenties each week, but for the most part he's got us into a position to have good results. But lately he seems to find himself in the wrong place at the wrong time. Hopefully, the worm will turn sometime soon."
In addition to its four cars for Johnson, Gordon, Dale Jr., and Kahne, Hendrick's operation builds cars and engines for Tony Stewart's three-car Stewart-Haas team. The company also provides engines to James Finch's Phoenix Racing entry, Dale Jr.'s JR Motorsports Nationwide team and the Turner Motorsports Nationwide team.
"I think everybody understands that the engines are all exactly the same," Howes stresses. "There's no difference between them. There are no second tier or lesser engines. They're all very, very close before they're released from the engine shop.
"It's part of the business side that keeps the company going because it makes sense economically. When you have a shop that's the size that we have to build some extra engines is do-able and makes economic sense. Everybody understands that it's a necessary evil, if you like, just to keep it all going.
"For a team like Stewart-Haas to try to build an engine shop to compete with us doesn't make sense. That's why I think you see over time it's come down to just three or four engine builders supplying engines in NASCAR. I think economic decisions drive that. It's part of the competitiveness of course, because not only Stewart-Haas, but Ganassi have the same engines."
Hendrick employs around 500 people. As many as eighty engineers are on the payroll and just over 100 people work in the engine shop. Around 200 Hendrick engines have been in circulation in recent years.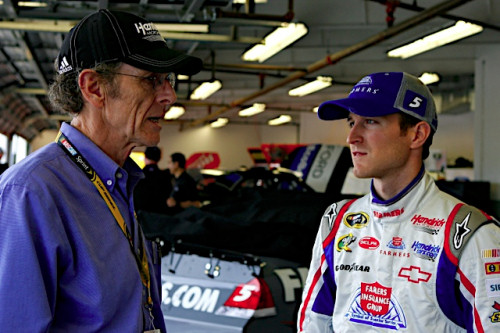 © Brian Czobat/Autostock
"It's well into 200," Howes notes. "It's a lot of engines. It's manageable where it is right now. It's enough of a strain keeping all that going."
One of the keys to Hendrick's success has been retaining many employees for the longterm.
"We pride ourselves on having a stable team," Howes remarked. "At the end of every season you do lose some people but it's good to have a stable environment without a yearly churn. If you're constantly changing employees that makes it really hard to manage so you try to avoid it as much as you can. Inevitably, people see opportunities at other teams and leave, but it's not a huge problem."
Amid NASCAR's deeply competitive field, it's a major accomplishment for Hendrick's team to stay on top year after year. Howes explains the psychology that drives the team's continuing success.
"I always joke that it's the fear of punishment that drives us. I say that somewhat seriously. Everybody's extremely competitive and we understand the need to stay competitive because that's what keeps this operation going. The performance of the company drives everything. That's what attracts partners and sponsors and it's why companies show interest in working with us. So I think in a sense we run scared all the time. That's the way I see it.
"It all feeds on itself because when you're competitive you also have the ability to attract the better engineers. You're constantly trying to do your best to beat the other teams and stay up there. It's a lot of hard work. It's a large company now and that means there are difficulties in keeping it all going and managing it.
"There are a lot of talented drivers in NASCAR and with it being so competitive and so close it really is very difficult. I think that's what keeps you at it, just the sheer competitiveness of it. You never seem to get to the point where you can sit back because there are a lot of organized, strong teams. Some days we're the target and other days there are other teams ahead of us. You have to keep at it and keep going."
So goes the never-ending treadmill of big-time automobile racing and it's this relentless commitment to hard work that makes Jimmie Johnson and Hendrick Motorsports the powerhouses that they are.
Auto Racing ~ Gordon Kirby
Copyright 2013 ~ All Rights Reserved