Presented by Racemaker Press

"There's a lot of junk out there today. If you want it straight, read Kirby." -- Paul Newman


The Way It Is/ Jimmie Johnson on chasing his sixth championship
by Gordon Kirby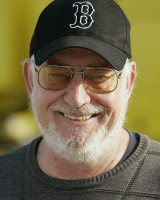 After ceding NASCAR's Sprint Cup title to Tony Stewart in 2011 and to Brad Keselowski last year, Jimmie Johnson has re-established himself this year as the man to beat. At the mid-point of NASCAR's 36-race season Johnson is comfortably leading the championship by 56 points from Clint Bowyer and Carl Edwards. Kevin Harvick is fourth ahead of Dale Earnhardt Jr., Matt Kenseth and Kyle Busch and everyone is asking, can anyone beat Johnson?
Johnson's #48 Hendrick Chevrolet has been the dominant force in many races this year on all types of tracks. He won both of Daytona's restrictor-plate races this year, controlling them from the front, and teammate Jeff Gordon and others have said the championship is Johnson's to lose. For his part, Johnson points out that there's a lot of strong competition starting with Matt Kenseth who's thus far equalled Johnson's tally of four wins in his first year with Joe Gibbs' Toyota team.
"Without a doubt, there's a few out there that have shown their strength," Johnson remarked. "The #20 is the first one that comes to mind. Right now we have a big points lead but that all goes blank when the Chase gets here. The Chase changes the game. We still have a few months before the Chase starts and we all know how fast things can change in the garage area and the speed that an organization can have two months from now.
"So we're looking ahead and working ahead. We've been testing and we have a lot of test sessions left on the books that NASCAR will allow us to test at tracks that we race at. All of that has been saved in the hopes that we can find more speed to develop our cars.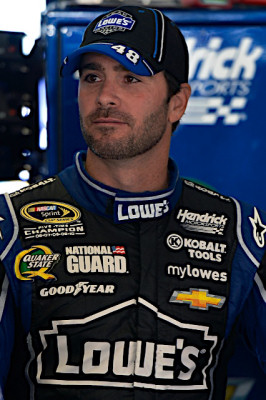 © Brian Czobat/Autostock
"We started the season a little bit off on the mile and a half and two-mile tracks and we were able to find that speed in our cars. We had some good test sessions and took it to the next level."
If Johnson wins this year's Sprint Cup title it will be his sixth championship, just one shy of NASCAR's record of seven championships shared by Richard Petty and Dale Earnhardt. Yet Johnson says he feels little or no pressure from being expected to win this year's title.
"I don't let that outside pressure affect me much," he remarked. "There's more pressure on myself to perform, more pressure that Chad has on himself and the team too, than anything from outside. We're focused on what we've got to do today."
Johnson says crew chief Chad Knaus and his team will experiment less with setups over the next two months in the run-up to The Chase.
"We'd be foolish to get too far away from what we're doing now," he observed. "Bonus points are going to be everything so I would say that the closer we get to the Chase the less we'll be experimenting. You need to go into the Chase knowing what you're going to take to the track. I think it's also important to run well and lead the Chase. There's something about that that's good for a team. It makes them jump off the wall that little bit faster."
Johnson believes he should have won last year's championship.
"I look at 2011 and think there was more growing that went on over that off-season leading into 2012 than what's gone on at the end of 2012 until now. We had the speed and the tools to win the championship last year but the year before we didn't. Last year we had a bad race in Phoenix but still went to Homestead and were in a position to take care of business and a series of mistakes by our own team took ourselves out of it. That's almost easier to swallow and deal with than being slow.
"We spent less time focusing on changes that we needed to make and what was going on with our speed and net result than we did in 2011 when we spent a lot of time thinking about things we needed to do. We needed to dig in deep and rethink our engineering process about how we take the cars to the racetrack.
"I think this past off-season was really a continuation of where we were at the end of last year. We didn't get the championship but we had a lot to be proud of over those final ten races. We had a lot of speed in our car and it's too bad that we made some mistakes at the end on top of the #2 car doing an awesome job that kept us from winning the championship."
Johnson and Knaus take pride in setting the standard for NASCAR.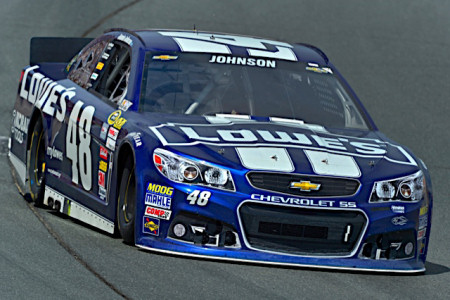 © Brian Czobat/Autostock
"It's a big compliment for sure and we're proud of that. There isn't a team that hasn't been studied more than us. Others follow quickly to take our system or formula and make it work for them. We do a nice job of keeping our blinders on and worried about our car and our situation. That's been really good for us and allows us to keep evolving but people in the garage area do pay very close attention to what we do.
"I think for myself I know that it's not going to last forever. When you're racing the best in the world you've always got to push your game and your abilities to stay there. It's just kind of a natural thing for myself and for all drivers who share that mission of trying to win a championship.
"From the team's side, Chad's desire and his passion for fast race cars really does it. There aren't really many areas to work on anymore. As Chad likes to say, it's stacking pennies. You just continue to find a little bit here and a little bit there and keep stacking them and eventually it'll turn into something.
"I think that's where Chad is different from others. There are times when he's putting in all the hours and people are working in the wrong area and we miss the target. That happens but the majority of the time they'll figure out the right area to find more speed from the car and dial it in."
At 37, Johnson believes he has many competitive years ahead of him.
"I feel like a far better driver today than I was in my rookie year or from my first championship to my fifth. Experience is so helpful, useful and important in our sport. I remember saying that I would trade my age for experience any day and it really does make a big difference.
"When you look at the generations before mine in racing and look at the stats of the average Cup driver's age many of them didn't start until they were in their thirties. Look at the age Earnhardt was at when he won his last championship and the bulk of his championships and the same is true with Petty. It was all about experience and I feel that I'm much smarter, focused and my talent is refined. Everything is much better today than in previous years."
Johnson sympathizes with defending champion Brad Keselowski's struggles this year.
"Every team goes through it," he remarked. "It's really difficult to repeat. The spotlight is on you through the Chase and when you get the championship that spotlight intensifies. I know it from my own experience. I went through what he's going through five times. I know all the little things that he's experiencing from having to be careful about what you say because many more people are paying attention so a passing comment is now a headline.
"That's just one example of how things really change when you become a champion and I think he's handled it well. We all know it's tough and I am by no means perfect. It's a tough task and he's done a good job."
Johnson also sympathizes with teammate and one-time mentor Jeff Gordon's terrible run of bad luck over the past few years. He believes Gordon is as good and as committed as ever.
"I honestly haven't seen a change in Jeff from when I first started and he was coming off his last championship to now. The feel he has for the car and his involvement with the team are excellent. In fact, I'd say he's more available to the team and around the race shop today than he was when I started. He used to tease me that I was the excited kid who would show up three or four days a week at the shop and it's kind of reversed now a little bit in a lot of ways.
"Jeff is all there and I know Alan (Gustafson) is working hard and that team is working hard. They've been awfully close quite a few times. Jeff jokes about all the good luck he had over the years is coming back on him in some ways now. He has very fast race cars and is very capable of challenging to win but he's had some really wild things happen to him."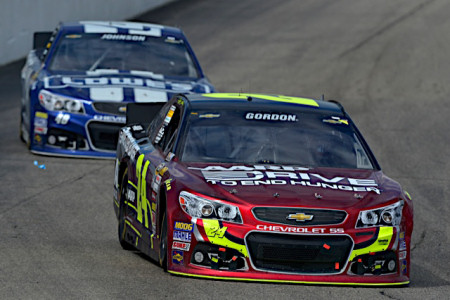 © Brian Czobat/Autostock
Johnson recently told USA Today that his favorite racing movies are the motorcycle racing classic 'On Any Sunday' and the recent Ayrton Senna documentary. Jimmie told me he was deeply touched by the Senna movie.
"The footage they had and the access that was given to whoever was carrying the camera was amazing. I mean, they were in the drivers meetings! There was a feeling watching the movie that resonated with my feeling when I'm driving the car. There was something there that I could feel that I can't really describe. You're attached to Senna and to his emotions and his experiences in the car, and all that was done in a very real fashion that I could associate with as a race car driver. The point of view was legitimate. It was awesome."
Johnson says he would be delighted to be given the chance to drive a Formula One car like Jeff Gordon did at Indianapolis ten years ago and Tony Stewart did more recently at Watkins Glen.
"I would love the opportunity," he grinned. "As far as racing in F1, I'm way too old and would never get the opportunity with how few seats there are and so many talented open-wheel kids coming along. But if there was a corporate tie-in, like Jeff and Tony had, I would jump at the opportunity. Both of them wished they had far more laps than they got, but they still really enjoyed it. I would love the opportunity to drive one of those cars."
Jimmie says he sees himself doing some sports car racing later in his career.
"I tried the Rolex 24 but it's hard these days because we've got so much going on with the team and the family that it's tough to find room to spend a week in Daytona at that time of year.
"Sports car racing is in the back of my mind and it's a natural curve I think for Indy car and Formula One drivers. It's a great second career for some. There are some very young, top-notch sports car racers, but there are also some older guys and I think there's an option for me to go endurance racing. I like the physical and mental aspects of it. The cars are different. They're cool and to go to Le Mans would be a fabulous thing to do."
Johnson is in great physical condition. He works out regularly and competes in triathalons although he expects the arrival of his and wife Chandra's second child later this year will curtail some of this activity.
"Last year, I did probably five or six competitions and a lot of training--five or six days a week guaranteed. I did a triathalon last December and won my age group and finished ninth overall. That was beyond expectations. I was on the same training schedule until May and I was going to do a triathalon but my daughter had a dance recital on the same day so I didn't do the event.
"My training has gone down in the middle of the season but once we get into the fall and winter I can look at doing an event. But with baby number two due in September we need to get organized at home. I think I can find a way to do it, but I think my wife would put her foot down for sure."
Johnson doesn't fit the image of the traditional NASCAR star, nor is he NASCAR's most popular driver. But he's clearly established himself as the man to beat and if he wins a sixth championship this year he will justifiably be hailed as one of the greatest drivers in NASCAR history.
Auto Racing ~ Gordon Kirby
Copyright 2013 ~ All Rights Reserved