Presented by Racemaker Press

"There's a lot of junk out there today. If you want it straight, read Kirby." -- Paul Newman


The Way It Is/ Discussing American sports car racing's future
by Gordon Kirby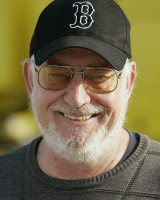 On July 4th weekend Lime Rock's rolling green hills were jammed with fans and their cars. There was a long line of traffic into the track on race day morning and the community corrals for Porsches, Corvettes, BMWs, et al. were brimful. Located in the northwestern corner of Connecticut, Lime Rock must surely draw one of the most well-heeled crowds in American motor sport for its annual ALMS race.
Everyone wonders what the new United SportsCar series will look like and the fans of Lime Rock Park hope the beautiful little road course will continue to be part of next year's united series. During Lime Rock's ALMS weekend I talked with series boss Scott Atherton about the Grand-Am/ALMS merger.
"I can't walk ten feet in the paddock without somebody asking me about either the schedule or the TV or the technical rules," Atherton remarked. "But we're not yet in a position to cast any light on those things."
Atherton said the combined organizations are closing in on the key details.
"There are three or four priority number ones," he enumerated. "In no particular order they are the 2014 schedule, the 2014 television partnership, and the details of the technical rules and regulations for all categories. But the one that everybody wants to hear about is how we will blend the Daytona Prototypes and LMP2 cars to race together in one class.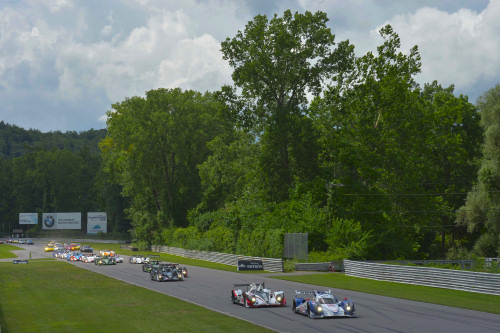 © Dan Boyd
"After that, there's a fourth, catch-all category that encompasses series sponsorship, a fuel partner, technical partners that we need to align ourselves with, and timing and scoring details and all the nuts and bolts that go into operating a motor racing series.
"I think we will announce the schedule first, the television plan second and the final details of technical rules third. We'll probably have the sponsorship and those other business partnerships sorted, but it's not a priority to get those announced sooner rather than later. Out of discretion for all those involved in each series we will finish the Grand-Am and ALMS seasons before we go forward with that kind of news.
"We've been careful to come out with as much news as we can but then go quiet so as to allow each of the existing series the ability to operate, deliver and fulfill the way it should be. No one wants to phone it in this year. As easy and attractive as it is to put all the focus on next year we're all conscious that we've got a job to do this year that has nothing to do with United SportsCar."
It was confirmed a few months ago that Jim France will be the chairman of the United SportsCar Series with Don Panoz as vice chairman, Ed Bennett serving as CEO, Atherton as president, Scot Elkins and Richard Buck as technical vice presidents and David Petit in charge of commercial and promotional activities and media.
"That represents the core management team that will define the strategy and tactics of United Sports Car Racing for 2014," Atherton said. "The management team is in place now to lead this organization forward."
Quite a few people will lose their jobs at the end of the racing season when the Grand-Am and ALMS organizations merge.
"There are two completely autonomous, fully-staffed entities running the Grand-Am and ALMS series this year and if there's the definition of a merger, it's taking all these very talented people and putting them together," Atherton observed. "On June 10th, as promised, we told the majority of the people on both sides, but not all, that they have an option to continue. For some, their job today will not go beyond the end of October, and the challenge after receiving that news was we told them we needed them to go back to work and finish the season. A testament to the level of professionalism here is that everybody who was affected by that are right back to work."
Atherton would not comment on whether Lime Rock or any tracks other than Daytona and Sebring are guaranteed slots on next year's United SportsCar schedule.
"One of the challenges is that between the two series we've got seventeen venues with twenty-two events," he said. "We've repeatedly said there will be no less than ten races and no more than twelve. I think it's going to be more likely twelve races. Looking at the combination of the criteria we're using which is the best, most high profile, most historically significant events, the 24 hours of Daytona and the 12 hours of Sebring are givens.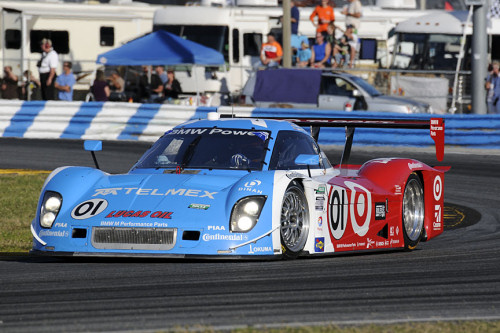 © Paul Webb
"The next criteria is the most important business markets for the stakeholders involved. At the top of that list are our OEM partners and the sponsors who are currently involved. So we're working through all those things before making our final determination on the schedule."
Atherton said the prospect of a unified series has drawn a lot of interest from manufacturers and sponsors.
"For the first time in my experience we've had the benefit since the announcement of the merger of having inbound inquiries both from manufacturers and from sponsors. Because of the merger and the fact that we're pulling this together under one platform, suddenly we've become attractive.
"There's been a lot of outbound effort over the years to bring in manufacturers, teams and sponsors, but I don't remember a time when the phone calls and inquiries have been in the incoming direction. So that's a good thing."
Atherton discussed the reasoning in removing LMP1 cars from the new series.
"We've made it very clear that the current LMP1 technical specification is not going to be part of our future," Atherton commented. "We made a tough decision based on the reality of our environment. There isn't any bigger fan of the P1 category than me. I love what it represents but the manufacturers have made their decision to align with the global FIA World Endurance Championship. You have to make decisions based on the practical application of what's there to work with and we simply don't have enough P1 cars.
"God bless Rob Dyson, Greg Pickett and Don Panoz. These are the guys that have carried the P1 category for many years always with the hope and expectation that just around the next corner more P1 content will be coming."
Atherton says he believes the ACO is charting the right course for Le Mans by proposing an energy-based formula and hopes the United SportsCar Series will be able to move in that direction at some time in the future.
"I admire what the ACO has done to define the next generation of P1 rules. I believe it becomes of global relevance for manufacturers competing at the leading edge of technology to have the formula be an energy allocation formula as opposed to power and efficiency restrictions through air intake and fuel capacity.
"If you look at our platform today the reason we've made the decisions we've made is largely driven by the requirements of a merger and the need to be inclusive, to not obsolete anyone's equipment that's competing with us today. We are in a unique position now to define what will be the next two years of technical rules and regulations and the platform on which we will race.
"At the same time the plans have already begun for defining what's next. I think the next generation of technical rules and regulations are going to take into consideration the role that sports car racing has always fulfilled which is to be an incubator of innovation with a level of relevance that ties back to road car technology that I believe isn't approached by any other form of racing.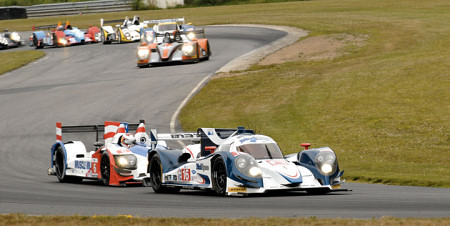 © Gary Gold
"If you're Chevrolet, Porsche, SRT Viper, BMW, or any other manufacturer, we need to be sure our platform is offering those manufacturers an opportunity to innovate and bring new technology into this environment that isn't intended only to make a more efficient, faster, better race car, but is intended to introduce innovation that can be rapidly developed and deployed back to be used in a production line application. There's a long list of examples that have come out of our sports car racing platform and I think there's a general agreement that we don't want to lose that going forward. We will not become a spec form of motor sport.
"We have examples of that which would take the form of an entry point class like the GTC category with spec Porsches, spec tires and everybody with the same thing, and also the LMPC class. But we also balance that with the wide-open technical environment of our GT model and the GT LM category which will remain intact completely in line with the ACO regulations in addition to an open, competitive environment for tires.
"I'm confident that we will be able to maintain and build upon the green racing attributes that we have already achieved, but perhaps at a slower pace over the next two years. I don't see any radical change coming within that time but with an open eye to making sure that with the 2016 rules we will be fully embracing the opportunity to encourage innovation and relevance to new technology."
I asked Atherton if he believes LMP1 cars may race again at least at Daytona and Sebring in the years ahead.
"I felt the high water mark in our organization was having Porsche, Audi, Acura and Panoz all involved at that premier level only to have the world stop spinning on its axis for a period of time," he observed. "One by one, each of those manufacturers dropped out.
"We had it. We were there with a longterm commitment from Acura. Audi had asked for a real competitor and with all respect to the Panoz and Dyson organizations Audi wanted to compete with somebody they competed with in showrooms around the world and Acura was the poster child for that. It was all in place and for reasons that were completely outside anyone's ability to control it all came apart.
"Do we see some opportunity in the future where this could all come together again? I would not bet against it. We're trying to plant a seed out there that gets people talking.
"If you said let's define the absolute ideal there would be a global formula that has strong regional championships. When I say regional I mean Europe, Asia and North America, where the technology is common across those regions so a manufacturer can build a platform that can race at Le Mans and also race in Asia and North America. We're going to be there in every category except P1."
Atherton believes the bond developed between the ACO and the ALMS will be even stronger under the United SportsCar Series.
"I'm of the opinion that the relationship that has been formed over the past fourteen years between ALMS and the ACO has never been stronger. We have a unique opportunity with a changing of the guard occuring at the ACO with Jean-Claude Plassart retiring and Pierre Fillon coming in as the new president. He's already made several changes to the management team. With Don Panoz passing the torch to Jim France and the embrace the ACO has extended to Jim and to Ed Bennett a very rapid friendship has developed to the point that Jim was honored this year as the official starter at Le Mans.
"That was a very significant gesture as it was to have Jim reciprocate and make the same offer to have Pierre Fillon wave the first green flag to begin the new era of United SportsCar racing at Daytona next January. These are very significant gestures.
"Some people will say they are just ceremonial appointments that have no real substance, but I would aggressively suggest otherwise. What it means is that away from the spotlight and television coverage of those ceremonial activities there's a level of rapport and trust that's developing very rapidly."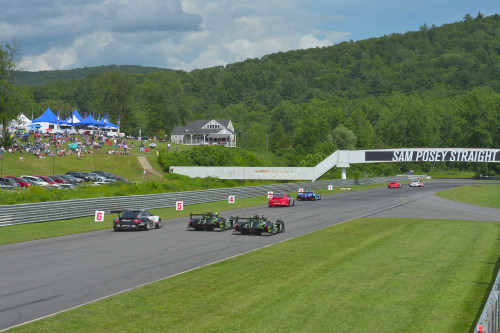 © Dan Boyd
Atherton says Don Panoz's contributions to American sports car racing must not be forgotten.
"All credit to Don Panoz for getting us through the heavy lifting years. It wasn't all rainbows and unicorns back then and it's not today but the level of trust and confidence that both camps have in each other has never been higher and that's the basis of achieving commonality in the rules and regulations.
"Everybody recognizes the benefit that can come from that. Manufacturers want the rules to be consistent so they can build one platform to compete around the world. Everybdy's listening and sees the benefit. I don't know anybody out there that's going their own way thinking they've got a better idea and the rest of you guys have got it wrong.
"I look at the threshold we're on here in North America. We're focused on what's best and what's right for our unique attributes, but we have an equal eye on how our plans fit in with the rest of the world and it gives me a lot of confidence for the future."
Atherton insists the new series will continue the ALMS's spirit of encouraging and embracing new things from the Delta Wing to natural gas which may make its debut in the World Challenge series later this year
"Philosophically, the embrace (of new technology) is firmly in place," he said. "The NASCAR and Grand-Am organizations have gone on the record with IMSA and ALMS that what we've accomplished with our self-proclaimed commitment to green racing and what's involved is more than a tag line. There's well established, direct relations with the Environmental Protection Agency, the Department of Energy and SAE International. There's real science involved in this.
"The protocols that define green racing are real and tangible and right now the American Le Mans Series is the only form of motor sport that fits that criteria. Our expectation and our vision is that United SportsCar Racing will continue to fit that profile.
"The Delta Wing is included in our definition of the primary United SportsCar prototype category which will include Daytona Prototypes, P2 and Delta Wing coming together in a single prototype class with each of them balanced to be competitive with each other.
"We have the E10 fuel option, we have cellulosic E85, Isobutanol, clean diesel and we've announced a welcome mat for natural gas as well. I see that continuing to be a priority of United SportsCar.
"If you look at the most recent examples of NASCAR's initiatives, Brian France has given multiple speeches about a rapid expansion of NASCAR's green initiative. I think they started with more of a facility-based approach and have established a benchmark in the largest solar-powered motorsports facility at Pocono. They have partnerships with Coca-Cola for recycling and with Safety-Kleen for all the fluids, and they just announced a new partnership with Eaton for charging stations to be installed at all the NASCAR facilities.
"I think the ALMS is probably more advanced on the track with the relationships we have with manufacturers and governmental agencies that are involved. I think that's part of the assets that have been acquired. I think there's some value that we represent that can now be deployed within the United SportsCar format."
Everyone hopes that Jim France, Don Panoz, Ed Bennett, Scott Atherton and their team will arrive at the right formula for American sports car racing's future. For his part, Atherton is acutely aware that it's necessary to get the equation right for 2014 and '15.
"I hope 36 months from now we can look back and say we made some really good decisions, especially in those early days and months, that came back to pay some dividends. There's a lot of pressure on all of us. Some would say we're not moving fast enough but it's moving as rapidly as it possibly can with the understanding that we want to get it right the first time. There are very few do-overs in this business."
Indeed, it may well be the last chance for big time sports car racing in America to get it right.
Auto Racing ~ Gordon Kirby
Copyright 2013 ~ All Rights Reserved