Presented by Racemaker Press

"There's a lot of junk out there today. If you want it straight, read Kirby." -- Paul Newman


The Way It Is/ Pursuing the art of sports car racing
by Gordon Kirby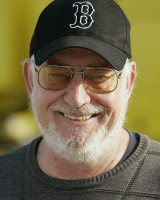 At Lime Rock last Friday evening a group of friends, family and fans gathered on the hill overlooking the esses to honor Rob Dyson for his thirty years in racing. Dyson is American sports car racing's most experienced and most successful team owner with a record of 70 wins, 68 poles, 209 podiums and nineteen championships in IMSA, World Sports Car, USRRC, Grand-Am and ALMS.
Dyson started racing in 1974, driving a Datsun 510 in SCCA races. He ran his first professional race at Lime Rock in 1983 at the wheel of a Pontiac Firebird and his team made its debut in IMSA's GTP category at Lime Rock in 1985 with Drake Olson scoring a memorable win aboard Dyson's Porsche 962. Lime Rock is less than an hour's drive from Dyson's shop in Poughkeepsie, New York, so the beautiful little road course in northwestern Connecticut was the right place to celebrate Dyson's thirty years in the sport.
Chris Dyson has led Dyson Racing since his father retired in 2007. Chris has raced prototype sports cars for a dozen years and is the team's sporting director these days. He won the ALMS's P1 driver's title in 2011 and finished second in last year's championship.
"I remember when I was four years old we came out here to Lime Rock for an IMSA race," Chris recalled. "Dad and I were playing up here on the hill watching the cars go around and I remember dad saying, 'Next year, we're going to do this.' That would have been 1982.
"It's been a great honor to grow up with this race team around me. The team is an extension of our family and from a personal standpoint it's been great to carry on the tradition and work with guys like James Weaver, Butch Leitzinger, Guy Smith and Marino Franchitti. Dad created the platform for us and it's nice to carry on what he started. I'm thrilled to be celebrating our thirtieth year and look forward to many more years."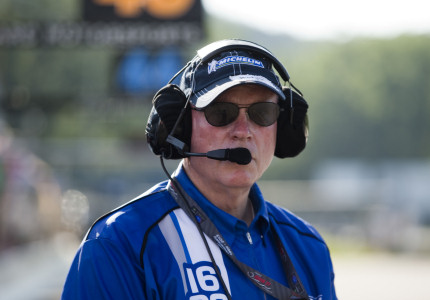 © Dyson Racing
The evening was billed as a roast, but as Bobby Rahal and others said, Dyson is too good of a guy and too much of a gentlemen to roast. Still, Bobby took a couple of good-natured digs at Dyson.
"They said they wanted to roast Rob Dyson and I said I really can't do that," Rahal remarked. "I personally like Rob a lot and I have a lot of respect for Rob. I can't say anything bad about Rob because Rob is a class act and how can you roast somebody who's had such a shitty year?"
Rahal drove for Dyson just one, winning with Drake Olson in Dyson's Porsche 962 at Elkhart Lake in 1985.
"I was driving Indy cars but doing sports car racing as well and I begged, cajoled and pleaded with Rob to let me drive for him. He finally let me drive with Drake Olson at Elkhart Lake in 1985 for the Road America 500.
"Jim Trueman, who I was driving for in Indy cars, was driving his own two-liter car in the race. We flew up from Columbus in Jim's plane and we made a bet that I would win. I said I bet you $500 Drake and I will win. Jim said he'd give me 5-1 odds that I wouldn't.
"I was confident we would win because it was Rob's team and we were driving a Porsche 962 and Drake was doing a great job for Rob. He had already won some races and, sure enough, we won and I really liked taking Jim's $2,500.
"I never could quite figure out why Rob would never have me drive for him again, but I think it had something to do with the fact that I asked for money," Rahal grinned. "I think Rob is notoriously cheap and I was disappointed that I didn't get to drive for Rob in other races because he had a good team and James (Weaver) and Price Cobb won a lot of races for him.
"The older you get the more you look back and say those were the glory days of IMSA racing. But they were very special days and Rob's team was one of the best. It was one of the top three for sure at a time when they were competing against the Porsche factory with Al Holbert, Rob gave it his best."
ALMS founder Don Panoz emphasized Dyson's serious but good-hearted demeanor.
"People are trying to tell funny stories about Rob and I just want to say that Rob Dyson is not funny," Panoz observed. "There's nothing about Rob Dyson that's funny because he's very dedicated.
"Back in 1997 I got into racing. Sebring in '97 was the fifth race I'd ever been to and it was the first race I wasn't sitting in the grandstands. I met Rob at Sebring and then I met him again at Road Atlanta and he could see that I was a newcomer who didn't know which end was up but had been badly bitten by the bug.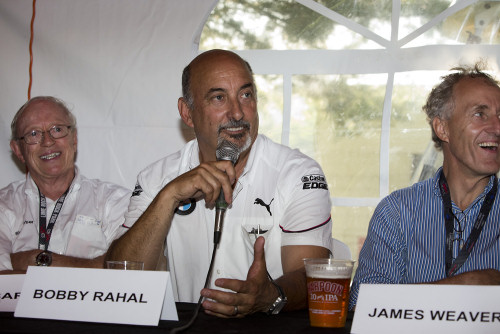 © Dyson Racing
"Rob came to me and said, 'Don, do you have hospitality?' I didn't know what he was talking about. He said you've got to have a place where your team can go for some food and hospitality. He began to educate me about the sport.
"Then we went to Le Mans and I had James Weaver and Andy Wallace driving for me and Rob again helped educate me about what Le Mans was all about. Rob was a guy who had made a big commitment to the sport over many years and he took the time to take a middle-aged guy who was new to the sport under his wing and offer me help and advice. He went on to support our series like no other and we really appreciate his commitment.
"Like I say, there's nothing funny about Rob but he is one of the most dedicated sports car racing people you can find. If you're fortunate to have him on your side he's the greatest friend you'll ever have."
ALMS boss Scott Atherton told an intriguing story about Dyson's influence in the series' early struggles with 'performance-balancing'.
"I have to agree with Don that there's not a lot of light-hearted conversation that's taken place over the years between Rob and us," Atherton said. "But there's a story that's seared in my brain that we can laugh about now.
"We were at Portland and it was the first year of the Audi diesels. It was a searing hot weekend, like it is here at Lime Rock this weekend, and Rob had some serious concerns about this new diesel fuel Audi was using.
"At the time, the whole idea of performance-balancing was in its infancy and the Dyson team came to us with Rob as the spokesman. He said a combination of witchcraft and whale sperm has created this fuel and there's no way we can compete with this stuff. He said they had watched Audi spill some of it on the ground and it evaporated and, as far as they were concerned, it was not diesel fuel.
"Rob said if he was going to continue to compete here he had to have a fair chance, and with that he laid down his demands. He said, 'Here's what needs to happen. They need to fill their fuel tank with balls so they have less capacity.' He said he hated to say it, but if this wasn't done Dyson Racing's long run of being involved in sports car racing was about to come to an end.
"Rob left the room and we assembled the ALMS management team. We looked at all the test results and analysis and we made a decision that the Dysons had been so important to this series and this industry that we had to do something. So we informed Audi that we were making a change, effective immediately, and you talk about fireworks going off.
"Within an hour, very late at night in Germany, there was a phone call from an Audi board member who said if we didn't rescind the rule change we had just made to benefit the Dyson team Audi would pack up, move out and would not be back.
"As you can imagine, we had a sleepless night. We went to the track the next morning and met with Rob straight away. We shared the story about Audi's call. We told him what they had said and Rob's immediate response was, 'Yes, I don't blame them. I would do exactly the same thing.' I said, 'Are you kidding me?' I said this was our purpose in responding to his request. And he said, 'I never actually thought you guys would do it!'
"From that moment in time I knew what I was dealing with. During Rob's thirty years in the sport there have been a lot of manufacturers that have come and gone and many more teams that have come and gone. There's a countless list of players that have come and gone but one thread runs through the fabric of professional sports car racing in America and it has the Dyson logo on it. It comes with a lot of respect and admiration on thirty, great years."
James Weaver won twenty American sports car races between 1987-2005 driving a variety of Dyson's cars. Weaver says Dyson made his career.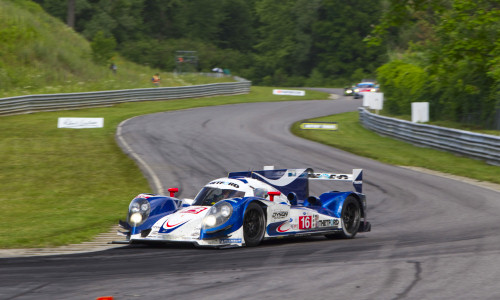 © Dyson Racing
"We've had so much fun together and I've been really fortunate to drive for Rob," Weaver commented. "You couldn't have a more gracious host than Rob. He's been incredibly generous to me and my family. When I arrived here I was thirty years old and pretty much on my knees in my racing career. I was really struggling and Rob picked me up and gave me a chance. It made an enormous difference to me. It was fantastic for my career.
"When you're a kid and you read about Jimmy Clark or Nuvolari you really want to believe in those people. You really want to believe they were something special and that's what sparks your imagination and makes you want to go racing. Well, Rob is exactly the same. He's someone you can believe in, somebody who sets the standard. I know we're meant to be roasting him but Rob was a marvellous person to drive for, a great team owner.
"Rob is a real racer," Weaver added. "He was a gentleman, but he was also totally committed and he was absolutely fantastic to drive for."
Guy Smith has driven Dyson's Lolas the past eight years, sharing the team's lead car with Chris Dyson. Le Mans winner with Bentley in 2003, Smith shared the ALMS's P1 driver's title with Chris in 2011.
"Rob is the quintessential racing guy," Smith said. "He gives you everything you need as a driver. He gives you the best equipment that he can give you, he gives you the best team he can give you and expects you to go out there and produce the results. Rob isn't the kind of guy who will read you the riot act if you make a mistake. He's always very supportive. He's an amazing guy."
Skip Barber is the founder of the eponymous famous racing school and the owner of Lime Rock.
"There are a lot of similarities between Rob and Bob Akin," Barber remarked. "They were both gentlemen racers in the best sense of the word who made big contributions to the sport and had sons who raced successfully. They were both longtime participants and Porsche guys and nobody other than you two guys asked for more free tickets!"
Duncan Dayton is a renowned historic racer whose Highcroft team ran Acura's successful LMP2 and P1 cars in 2007, '08 and '09.
"Rob and Chris were very instrumental in getting Highcroft Racing started as a professional team in the ALMS," Dayton said. "We bought two Lola-MGs from Rob. We thought we'd have a much better chance of developing a new team if we bought a proven car/engine package that was fully developed. Rob and his team very kindly gave us their 'cookbook' about how they set up the cars so as I say, Rob and Chris were very instrumental in me getting started.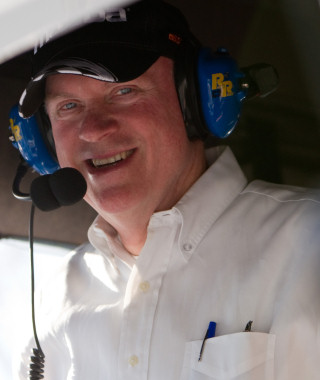 © Dyson Racing
"I have one funny story about Rob. We were at a drivers meeting one day on about 2006 or '07 and Marty Kauffmann was conducting the meeting. Marty was battling with Rob about some issue and Rob kept pushing Marty. Rob suddenly picked up his phone without any of us hearing it ring and said, 'I'm sorry. What did you say? Excuse me. I'll have to get back to you on that.' He totally interrupted the drivers meeting and gave the finger to Marty Kauffmann. As a team owner, I took note. I said to myself, 'This guy's good.'
"Rob is a big contributor to the sport, and a true hero and friend. I hope he and his family enjoy another thirty years of racing and racing at Lime Rock."
Dyson reflected on his love for sports car racing.
"I was interviewed earlier this weekend and was asked if I thought it would last thirty years, and I said, 'No.' Then she asked if I reflected on the significance of doing this for thirty years, and I said, 'No.' And she said, 'Why not?' I said, 'It's car racing. I'm a segment in a long line of the history of car racing.'
"And I mean that. It's been an exceptional honor to be part of what I consider an art form. I've been asked by a whole lot of people why I'm not running Indy cars or down south running a stock car. The reason why is sports car racing is the essential form of car racing. It started on public roads and many road courses mimic that, including this wonderful track at Lime Rock. Like I say, I view it as an art form."
Dyson referred to Skip Barber's comments about the late Bob Akin, emphasizing the influence Akin played in his life.
"Bob Akin was a great friend," Rob said. "His dad and my dad were good friends. Bob was the guy who said to me I had done enough club racing and it was time for me to get into professional racing. The key to Bob was that in addition to being an exceptional driver he was an exceptional gentleman. I viewed that as a reinforcement to the way I would do it. He was a class act and I hoped to mimic his behavior. He was a terrific guy.
"It's been a wonderful ride," Dyson added. "It's been a thrill to be part of this thing that we do and it's a great thing to live in this country, a free country where we can expand our business so we can do this sort of thing. It's also wonderful to celebrate this at Lime Rock."
Everyone wonders what American sports car racing will look like in the coming years under the new guise of the United Sports Car Series. Whatever shape it takes, you can be sure Rob and Chris Dyson and their team will be there establishing the standards for the sport.
Auto Racing ~ Gordon Kirby
Copyright 2013 ~ All Rights Reserved