Presented by Racemaker Press

"There's a lot of junk out there today. If you want it straight, read Kirby." -- Paul Newman


The Way It Is/ Alex Rossi's rapid climb to F1
by Gordon Kirby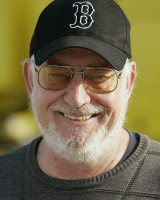 As all of us know only too well, more than a third of a century has passed since the summer of 1978 when Mario Andretti scored the last Formula One win for an American driver and you have to go back two years earlier to find the last time an American team (Penske Racing with Irishman John Watson driving) won an F1 race.
These days Formula One is attempting an American revival with Austin's successful launch last fall and Weehawken looking likely to stage a second F1 race in the United States next year. Rumors also continue to circulate that Long Beach could try to recover its F1 roots in 2015 or '16.
All this has revived talk about building a path to F1 for American drivers. If Austin and Weehawken are to become long term success stories it's surely necessary to have an American driver in the field who's capable of racing for wins rather than carrying a spear in the mid or backfield.
Our two most obvious American hopes for F1 stardom are Alex Rossi and Conor Daly. Rossi, 21, has been racing in Europe the past four years and is competing in this year's GP2 series. He's also serving as a test and occasional Friday driver for the Caterham F1 team. Daly is racing GP3 cars for the second year in a row and made his Indy 500 debut this year with A.J. Foyt's team. Daly hopes to move up to GP2 next year and has his eyes set firmly on F1 but Rossi has made more progress on the ladder to F1 than any American in recent years.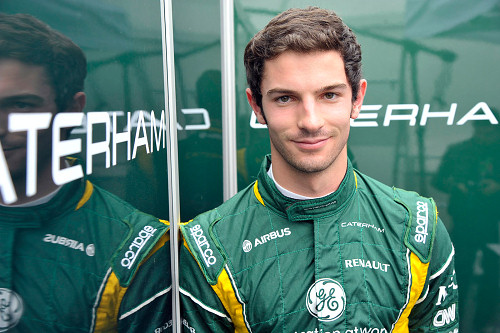 © Gary Gold
Rossi started racing Formula BMW cars in 2007 and won the American Formula BMW championship in '08 when he was only sixteen. That winter he won BMW's World Finals run-off which opened the door to a BMW F1 test drive. Helped by his BMW success Rossi and his father were able to put together the sponsorship for young Alex to move to Italy and race in the Formula Masters series in 2009 and the GP3 series in 2010. He won races in both categories and was selected to join the Caterham Racing Academy in 2011.
After living in Italy in 2009 and '10 Rossi moved to London when he joined the Caterham Academy and with sponsorship from Caterham he raced in the World Series by Renault in 2011. He won two races, finished third in the championship and was the series' rookie of the year. Rossi tested a Caterham F1 car at the end of 2011 and became a Caterham F1 test driver in 2012 while competing in the Formula Renault 3.5 series. This year Rossi is competing in the GP2 series and serving as a test and sometimes Friday driver for the Caterham F1 team.
"From the very beginning when I first started in karts my goal was to race in F1," Rossi says. "I knew that in order for that to happen I needed to race in Europe and go through the junior formula over there. That was always the goal.
"So Formula BMW was a way for me to transition from karts to cars. It was a great championship, a European-based championship and BMW motorsport was heavily involved. I did that for two years, won the championship in my second year and then was able to win the BMW World Finals which was a massive door-opener to Europe.
"There was a lot of interest after that and from that point forward in 2009 I started racing in Europe and I've stayed ever since then. Knowing that I could be competitive in Europe and beating drivers from all over the world in the BMW World Finals gave me the confidence that I could come over to Europe and do a decent job."
Rossi says the biggest mountain to climb has been finding the sponsorship to race successfully in Europe.
"I think the biggest challenge as everyone will tell you is it's going to come back to finding the budget and finding the balance between a team that you can afford but also what you know is the best team that might be a little bit outside your budget. It's always been a difficult thing for us because we've never had the full budget to go racing each year. It's been kind of piecing things together race by race.
"I think the biggest thing has been trying to find the best situation possible that we could afford and making the most of each opportunity. It's been quite a blessing to find the money each year. So I think to get to where we are has been quite exceptional."
His big break came two years ago when he was spotted by Tony Fernandes's Caterham operation. This year Caterham is supporting six drivers competing in junior formulae around the world. In addition to Rossi the other drivers are Spaniard Sergio Canamasas, Brit Matt Parry, Frenchman Aurelien Panis (son of former F1 driver Olivier), Malayasian Weiron Tan and Singaporean racer Daim Hishamuddin.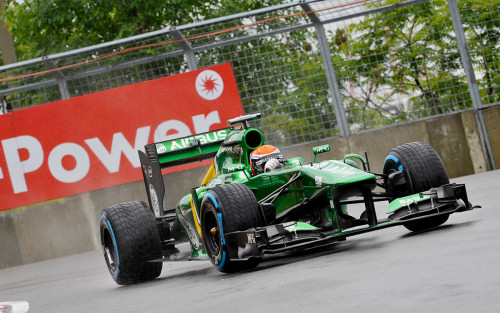 © Gary Gold
"Caterham has been a huge help," Rossi declares. "When I joined them in 2011 it was a massive step forward. Being part of an F1 team is one of the main things that can set you apart from other junior formula drivers. Being able to get into the F1 paddock and have a few opportunities throughout the year to drive a Formula One car is what you have to have to be on the radar of any of the F1 teams.
"Being fortunate enough to be part of the Caterham driver development program in 2011 and then to move that role forward in 2012 and move it forward even more in 2013 has been great."
Rossi believes his association with Caterham will help the team attract American sponsors.
"I think I'm very fortunate to be part of one of few teams in the paddock that's chasing American sponsors," he says. "GE is close to us and Dell and Intel as well. There's a lot of interest there. Dell is based in Austin, where we now have a Grand Prix, and GE is working closely with us through their global research center to help improve the car.
"I think there's a lot of positive interest from American sponsors. Austin last year went really well. It was a highlight of the year for Caterham and is helping push F1 in the right direction in the American market.
"Obviously, NASCAR and IndyCar are much bigger in the American market and it's going to take some time for F1 to make its mark in America. But Austin was a big step in the right direction and with New Jersey next year there's lots of positive forward movement. It's all headed in the right direction. It's great to be on NBC. That gives F1 a big boost in America."
Rossi will make his Le Mans 24 Hours debut next weekend driving a Caterham-backed Zytek-Nissan LMP2 with Tom Kimber-Smith.
"My role with Caterham expands on almost a weekly basis," Rossi said. "To be driving at Le Mans and to be representing the Caterham brand is nothing but a positive all round. It's quite exciting to do Le Mans because it's one of the world's three most prestigious races and to add it to your resume with quite a competitive car and team will be a very cool experience.
"It came up because Caterham was looking to be involved at Le Mans. They formed a partnership with the team and being a Caterham driver and with the weekend not conflicting with GP2 it was a no-brainer to do it."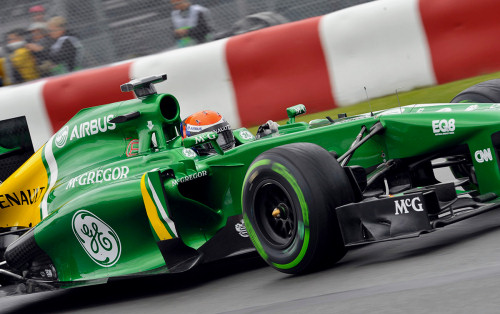 © Gary Gold
Rossi had his first run in Caterham's latest F1 car on Friday at Montreal's Canadian GP. This was his first time out this year in an F1 Friday session and it came in tough circumstances with persistent drizzle and a damp, changing track.
"It was the first time I've driven the 2013 car and the conditions were quite difficult so it was a busy ninety minutes," Rossi observed. "I'd never driven an F1 car in the wet and didn't understand the performance of the tires and it was a bit tricky at times as the conditions changed and the track was evolving. But any time you get to drive is a positive thing and what I learned will stay with me for the next time I get to drive the car."
Rossi says the biggest challenge in adapting to F1 is the size and depth of the teams, even a relatively small operation like Caterham.
"In the junior formula you have maybe eight or nine people you need to work with," he says. "In F1 there are many more people. At Caterham, there are about sixty people and that was a bit overwhelming at the beginning.
"Also, understanding the systems and procedures with running the car takes some time. There's a lot more of that than with any of the junior formula. It's not just about driving quickly. There's a lot more to learn and to manage.
"The other thing is having long periods of time not driving the F1 car makes it difficult when you get into the car. It takes a few laps to acclimatize yourself to its performance."
Rossi is not sure what his F1 responsibilities with Caterham will be for the rest of the year.
"As with anything in this sport, it's very difficult to confirm what will happen and what won't happen. But at the moment I'm going to be doing a few more Friday runs at races that don't conflict with GP2.
"My goal in GP2 is to win the championship obviously. The pace is there. We've had some unfortunate circumstances but I think generally our pace is good and we can be challenging at the front."
Alex Rossi is a serious and talented young man. He's shown lots of ability on his rapid rise up Europe's open-wheel ladder system and has done well to establish his first foothold in the rarified world of F1. With the arrival of new American Grand Prix races in Austin and possibly Weehawken too, it's a propitious time for Rossi to arrive on the scene.
We will be watching with considerable interest to see if Alex can make the final leap to becoming a full-time F1 driver. It will be a great thing for himself and the sport if he can make it happen.
Auto Racing ~ Gordon Kirby
Copyright 2013 ~ All Rights Reserved