Presented by Racemaker Press

"There's a lot of junk out there today. If you want it straight, read Kirby." -- Paul Newman


The Way It Is/ Being true to IndyCar's roots
by Gordon Kirby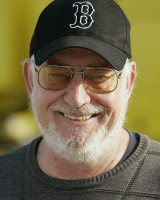 For my coverage of this year's Indy 500 please read my blog 'Tony Kanaan wins the Indy 500' posted today at Motor Sport's website www.motorsportmagazine.com. Meanwhile, this week's column will focus on expanding last week's discussion with Hulman & Co. CEO Mark Miles and IndyCar's new competition boss Derrick Walker about their hopes for IndyCar's future.
Miles and Walker held a press conference last Thursday at the Indianapolis Motor Speedway to further affirm their commitment to bringing record speeds and innovation back to the Speedway and Indy car racing as a whole. Their words have brought a wave of excitement about a better future for IndyCar and everyone hopes Miles and Walker will be able to transform their words into reality.
"We are going to open the door to managing increases in innovation and technology and being true to the roots of IndyCar racing," Miles said. "At the same time we think about that, we want to be equally focused on increases in safety for our drivers, our teams and our fans. So we're talking about the beginning of a process which will be managed by Derrick Walker on behalf of IndyCar to move forward with technical innovation which we think our fans like. We know our drivers like it. At the same time we want to innovate in developing more safety."
Miles and Walker's press conference took place in the Speedway's museum amid a row of record-setting Indy cars. Miles said he wanted to underline the importance of re-introducing record-breaking speeds and innovation to IndyCar.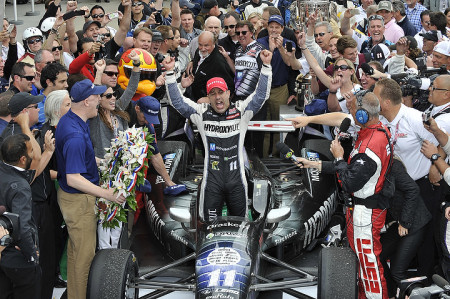 © LAT USA
"It's fitting that we're here today with some examples of our roots, our history, which is very much part of what IndyCar is all about," Miles remarked. "To my left is Parnelli Jones's 1962 roadster which was the first car to lap the Speedway at 150 mph. Next to that is Tom Sneva's 1984 car which first went 210 mph. Breaking through these big thresholds in speed captured the imagination of the fans and focused on how our sport innovates and made so much difference to the sport's history.
"We also have Arie Luyendyk's car, the current record holder from 1996 at 236 mph, a speed that has not been surpassed since, and finally Ryan Hunter-Reay's car, which won last year's championship, is the platform from which we will move forward."
Walker expanded on Miles's comments about the need to restore innovation and increase speeds.
"When you look around this museum and see all the innovative cars and aspirations of many different individuals and companies, and when you look at where the sport is going you can't help but look back and say, 'Have we missed a lot of what racing was about?" asked Walker.
"You have to start going down the road of understanding why we are where we are. Racing certainly has improved greatly over the years and safety along with it, but I think all of us at IndyCar and all our teams and drivers have realized that we've lost of a lot of what IndyCar was and more specifically what was the Indy 500.
"So today's announcement is really the announcement of an initiative," Walker continued. "We are going to make a conscious effort to try and find how do we evolve? That's a key word in this process. It's about evolving not only from where the past was to where we are now and to where we need to go.
"The marketplaces and the circuits we race on are quite different, but we have to find a way forward for the best way in today's world. That means managing the costs, the participants, the number of participants and the kind of show that will be put on. We have to manage all that and keep it in perspective.
"Certainly, one message I've got from Mark since I've been here is he wants to see us go back to the future. He wants to see us break that record that Arie put up there and certainly when we look at today's racing car, we can do it. But with every change comes new questions about how do we get through disrupting the status quo. Those are the challenges and today's announcement says we get it and are going to make a serious effort to try to evolve our sport in a positive way and hopefully improve the fan appeal so we can wow everybody as we have done in the past."
Miles said there will be a proactive effort to improve safety in company with any increases in speeds.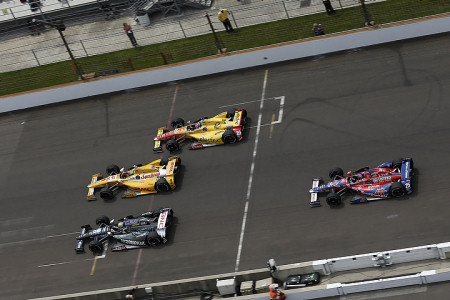 © LAT USA
"We want to emphasize the importance of innovation in our history and how it applies to safety," Miles commented. "We think it's worth remembering that the funding for the original Safer barrier came from the Indianapolis Motor Speedway and the barrier was first used and implemented here at IMS and it's made a big difference in safety in this sport."
Miles also pointed to historical improvements in helmets and firesuits.
"Look at the progress from leather helmets that must've kept stones from hitting drivers heads but couldn't have done much more than that up to today's helmets and the increases in safety with helmets and firesuits.
"We want to celebrate the history of our sport and the history of innovation in our sport, and we think we are in a place today where we can start moving forward again. We think that will please fans and drivers and lead to increases in speed and safety and we're looking forward to going down this path."
Walker underlined Miles's emphasis on improving safety with speed.
"A key thing we've benefitted from over the years, and it's been more reactive than proactive, is a lot of the cars show safety improvements over the years that were brought about probably through trial and error or through tragedy," Walker remarked. "I think another key part of our initiative is to look at the safety aspects and try to think a little bit further down the road with safety. There's a big emphasis on that. We have an advisory committee which is already in place and we are already beginning to look at the rules and look at how we open up the formula."
IndyCar's new advisory committee for competition comprises Walker; Roger Griffiths, HPD's tech division director; Chris Berube, Chevrolet's IndyCar program manager; Andrea Toso, Dallara's US racing boss; Dale Harrigle, Firestone's senior race tire engineer; champion drivers Dario Franchitti and Ryan Hunter-Reay; Tim Cindric, president of Penske Racing; Brian Herta, team owner and former driver; and Brian Barnhart and Will Phillips from IndyCar's technical and operations departments.
"On the other side we're going to have a safety committee of experts to come together to give us advice in how to improve the safety to match any increases in speed," Walker said. "Safety can be many different forms. It can be with the race car itself and the driver safety cells. It can be the fencing, the pit area or how the teams operate in that area. It's a big, wide range of subjects.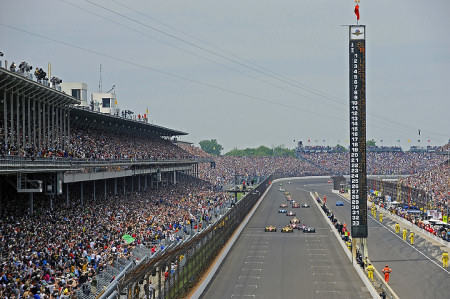 © LAT USA
"You can't have just the race cars being safe. It's also the racetracks and the pits. I think it's across the board and there's different expertise out there that we can tap into. If you look at the example of the Safer barrier, that was developed here and it's now the standard for barriers. So I think we can do a lot towards track safety, pitlane procedures and cars too. It's not just focused on the cars."
Walker said the first changes we'll likely see will be the development of the much-discussed 'aero kits'. A formal announcement is expected soon about the specifications for next year's first aero kits which probably will be used initially only on ovals.
"The first area will be the aero kit which is a subject which has been floating around for over a year now," Walker said. "So aerodynamics and a kit that will allow the cars to develop aerodynamically on certain racetracks will be the first thing that will come up."
Miles added that IndyCar's contract with Dallara prevents any rival car builders from competing in IndyCar until 2017.
"Our arrangements with Dallara go through 2016," Miles said. "So right now it's a question of how do we make incremental improvements with the suppliers we have? There may be an opportunity for an additional engine manufacturer and Derrick will also start thinking about what happens after 2016. Will it be an evolution of the platform that we have, or a departure?"
Walker said it will take time to attract a wider range of competitors to IndyCar.
"I think we can find plenty of speed in the car right now if you want to let it go," Walker said. "We will look at how we do that in a manageable way. Certainly, if there were more participants or manufacturers out there, more companies that wanted to play here we would certainly be glad to talk to them and look at how we can make room for them in our format.
"To get from where we are to where we want to go is going to take time. We didn't get here overnight and to get where we want to go is going to take a very careful structuring and nurturing of the whole field and the sport. It's not an easy task and it's going to take a lot of time.
"I think what we're signalling here is we get it. We want to put IndyCar back where it belongs which you can say arguably are the fastest cars in the world. If we have to break Arie's record to prove it, it's probably not long in coming. But it's got to be managed."
Defending IndyCar champion Ryan Hunter-Reay said he was delighted to hear about Miles and Walker's plans.
"As an IndyCar driver this is absolutely music to my ears," Hunter-Reay declared. "I grew up as a fan of the sport and Indianapolis every year was about seeing the speeds increase and seeing the new cars pull out with their different designs and watching how each team and manufacturer went about breaking the track record and bringing safety to another level.
"Indianapolis is also about more than just performance, it's about improving safety. The Safer barrier was a breakthrough in racing and I think we can continue to move in that direction. As we bring the speeds up the safety side needs to come up as well.
"We have a great on track product at the moment, which is probably one of the hardest things to achieve in racing. We've been putting on some amazing shows lately but it's time to grow and move forward. I think this is an opportunity for us to break that track record again.
"The current Dallara DW12 has the best you could ask for in safety innovations and we're going to continue pushing that. As Derrick mentioned, it's going back to our roots to what Indianapolis is about which is showing that the manufacturers are bringing together the fastest closed circuit combination in the world. As a driver, I'm honored to be here and be a part of the future where IndyCar racing is going."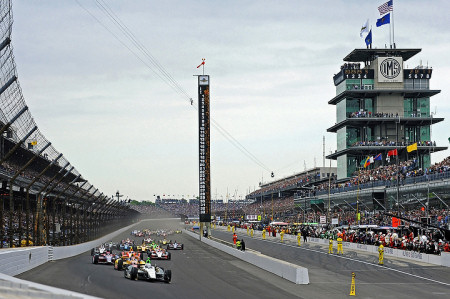 © LAT USA
Three-time Indy 500 winner Bobby Unser says he believes it's essential to make the break from racing spec cars as soon as possible.
"They need to get away from the spec car," Unser said. "That's the most important thing. The fans hate spec cars. That message is very clear. The fans have spoken and they've got to listen to them."
Unser believes it's equally essential to increase power and reduce downforce so that more skill is required from the drivers.
"They need to make it so the drivers have to lift for the corners," Bobby emphasized. "The drivers have got to get out of the throttle and drive it through the corner, feeding on the power. Everyone knows that's the test of the driver. That's what the fans want to see.
"So they need to give them more power and they need to take away the downforce. I think they should go to flat bottoms and get rid of the tunnels. I'm one of the guys who invented downforce and underwings and it hurts me to say we should get rid of that stuff, but I think that's what needs to happen. They need to make it more of a test for the driver and they need to make it so the fans can see and appreciate it."
After years of arguments about the right way forward found themselves trapped amid the torpor of the status quo Mark Miles and Derrick Walker plan to shake up IndyCar's formula and strike out on a much-needed new path. If Miles and Walker can achieve their goals IndyCar will be on the road to recovery which will be great news for the sport.
Auto Racing ~ Gordon Kirby
Copyright 2013 ~ All Rights Reserved