Presented by Racemaker Press

"There's a lot of junk out there today. If you want it straight, read Kirby." -- Paul Newman


The Way It Is/ A.J. Foyt Racing's rebirth
by Gordon Kirby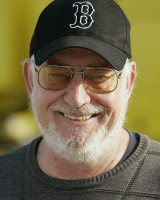 It's been coming along for a couple of years under the leadership of A.J. Foyt's oldest son Larry and came to fruition at Long Beach where Takuma Sato scored a superb victory for A.J. Foyt Racing. It was the team's first win in eleven years and first ever victory on a street circuit as Sato confirmed that Foyt's team is seriously back in the game this year with Larry having taken over the day to day running of the team from his legendary father.
It was fantastic, a tremendous day for the team," grinned the irrepressible Sato. "The first two races we showed great performance. We showed good speed and in Long Beach there were no mistakes, no errors. The qualifying performance was solid and in the race the car was just perfect. It was so fun to drive and I could manage both sets of the tires, blacks and reds. It just kept working toward us. The team's strategy was perfect and I'm just so proud of everyone at A.J. Foyt Racing and the job they are doing."
Sato was successful in Formula Three in Europe before racing in Formula One for seven years between 2002-'08. He moved to Indy cars in 2010 with KV Racing and switched last year to Bobby Rahal's team where he famously challenged for the lead going into the Indy 500's final lap only to crash into the wall. This year Sato has found a new home with Foyt's team and is delighted to be racing in a formula where he can compete to win.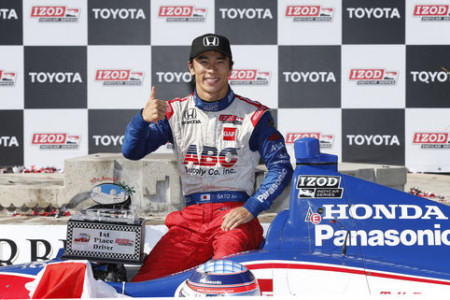 © LAT USA
"In Formula One, if you're not with one of the top teams, you can't even dream of being on the podium," Sato said. "The difference in car performance [in Formula One] is much bigger than the driver can make up, but the best drivers always get to the top.
"In IndyCar, it's a lot tighter. We're talking about ten-thousandths of a second. The gap in the field is so tight. It's so close. As drivers, we have to take advantage of everything we can. I really like this formula. What is nice in IndyCar is there are so many actions you can do on the track. I love it.
"From the cockpit point of view, yes, Formula One is hard because the budget is so much bigger, but when you see the actual head to head, side by side racing in IndyCar, you can't really compare any other single seater series to what IndyCar produces. There's much more overtaking on the track than in Formula One.
"So I'm really glad, really pleased to come here. A big thanks to Jimmy Vasser to have given me such a great opportunity to come to the IndyCar series and now of course for A.J. to give me such a fantastic opportunity to work with. Hopefully this is just the start. We have a strong package and we hope to continue to be competitive and race for wins."
Larry Foyt is A.J.'s oldest son. He raced karts and Formula 2000 cars before graduating from Texas Christian University, then raced stock cars in the ASA and NASCAR, competing in NASCAR's Nationwide Series in 2001 and '02 and the Sprint Cup series in 2003 and '04. He also ran three Indy 500s in 2004-'06 before deciding to join his father's team in the fall of '06 as its new director of operations.
A.J. celebrated his 78th birthday in January and Larry will take over at some point as president of A.J. Foyt Enterprises. He's carefully massaged the team, bringing in veteran engineer Don Halliday last year, and agreeing with his father last winter that Sato had the hunger and desire needed to get the team back into the winner's circle.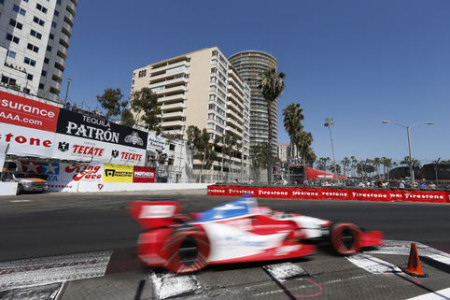 © LAT USA
"We knew Takuma was fast but until you really know somebody, you don't know how you're going to work together and how it's going to be," Larry said. "Our first working relationship was a Caribbean Cruise when we hired Takuma and we've been good friends ever since.
"I really think between our chief engineer Don Halliday and Takuma there's a lot of trust there and it's just been great. Like Takuma said, the speed's been there, but little issues can always bite you. One of our young engineers, Paul Prados, kept telling me, 'Larry we don't have to be the biggest team to win. There can be positives in a small team and a tight-knit group.' He really got me to believe that and I focused on tightening up the group we have.
"There was so much excitement when we got the checkered flag at Long Beach. There's been so much hard work over the winter. It's a super group of guys."
Larry was very impressed with Sato's faultless performance at Long Beach.
"It was unbelievable. Every restart, he timed it perfectly and did a great job. In the pits, he hit his marks. It's so hard to have a perfect day in racing. I don't think I've ever seen one, but if there was one, I think Takuma did it in Long Beach. I didn't see him make a mistake all day. It was just a fantastic drive.
"He did everything we asked. Towards the end we wanted to be okay on fuel. We thought we were okay, but there was no sense in taking the risk so I asked him to save just a little fuel and he was still pulling away from Graham (Rahal). I couldn't believe it.
"He did a great job and like Takuma said, the team did a great job in the pits. It was one of those days where we kept saying we had the speed. We just had to put it all together and we did that in Long Beach."
Larry discussed the quiet work he's done to get the team back to the front of the field.
"I always had hopes and plans of coming back and running our team or keeping our team going for as long as I can. When my driving career wasn't going too well dad called me and said, 'I'm getting older and if you really want to keep this thing going maybe you oughta think about coming home and starting to really learn the business.' And that's what I did.
"I didn't want to come in and just make a ton of changes right off. I just kind of observed and slowly started to make some changes. Really, my dad and I work together a lot. I hardly make any decisions that I don't run by or discuss with A.J.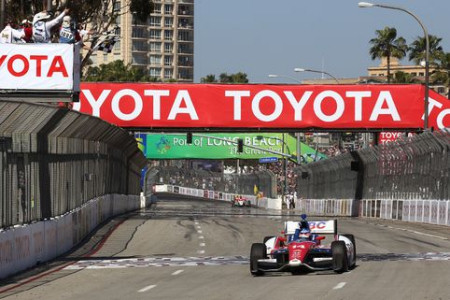 © LAT USA
"What's amazing is that as stern as he can be on some things, he's not one of those people who doesn't understand change. So we work closely together and he's very supportive of everything we do and with making changes.
"I'm glad we have another multi-year contract with ABC Supply who are a great sponsor. I think that puts us in a good position for the future and with what Takuma did at Long Beach, we'll keep headed in that direction."
Foyt is convinced the team is back on a sound footing and is delighted with the close relationship his father enjoys with veteran engineer Halliday who raced cars in his youth and has designed and built his own cars as well as earning a reputation as one of IndyCar's most accomplished engineers. Halliday is a cool cat with a keen, quiet sense of humor who's seen and done it all.
"This is the second year we've had the same group together, so we're building some synergy there," Larry observed. "A.J. is the kind of person you have to earn his trust. Once you have it, you've got it, and I think Don, our chief engineer, got it very quickly.
"A.J. knows more about these race cars than anybody and for so long he depended all on himself and I think we got to the stage where we said. 'Hey, you can't do that anymore. You've really got to rely on other people.' Don and A.J. get along great. They work well together. He knows how smart Don is, and once A.J. trusts you like that, you're golden."
It was equally inspiring to see Graham Rahal drive a fine race at Long Beach to finish a strong second for his father's Rahal Letterman Lanigan team and for Justin Wilson to come all the way from 24th on the grid to finish third with Dale Coyne's team. It was the first time in five years since IndyCar's top-ranked Ganassi, Penske and Andrettti teams were absent from the podium.
"I think it's great that Takuma has got A.J.'s first win in such a long time," Wilson remarked. "Takuma's been very competitive since he showed up here. He's a very quick driver and a good guy and it's great to see him win with A.J. It shows that each team can compete and win. This isn't a closed shop. With the right people, anyone can go out there and be competitive.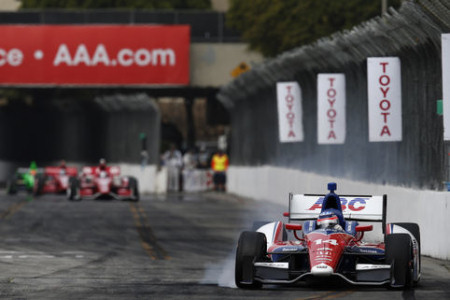 © LAT USA
"This field is so tough," Justin continued. "It's so intense. There are so many drivers in this championship who are capable of winning races. When you do a lap you don't know when you come in if you're first or 25th. It's really tough and it's just the way it is. You can't afford to miss anything, but the way this championship is happening so far with different winners and different drivers and teams up front I think it's just going to get more intense and more interesting as the season goes on."
Wilson is sure that he and Coyne's team will enjoy more moments in the sun this year.
"We can be competing up there every weekend. It's possible we can achieve it more and more, and that's what we're working towards. We've got some great people on this team and getting on the podium in Long Beach was a great thing to get that moving."
Graham Rahal concurs with Wilson.
"I agree with what Justin says and I know A.J. Allmendinger also said it at Long Beach. There are no bad guys here anymore. That's the way it is. It's so competitive. Look at me. At Barber I qualified 21st and in Long Beach I finished 2nd. It's so competitive that if you barely miss it, that can be twenty spots."
Rahal also expects to carry his level of performance at Long Beach into the rest of the season. He said this year's California street race proved he made the right move in switching from Ganassi to his father's team.
"I like and admire Ganassi Racing," Graham remarked. "But I felt this team can be just as competitive and we showed it at Long Beach. Rahal Letterman Lanigan put together three cars for Long Beach and all of them were very competitive all weekend, so I think it was nothing but an upside for us. It feels good. But I expect a lot from our team going forward and I think that's what we'll see.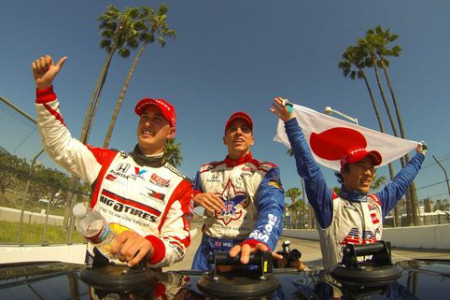 © LAT USA
"It's so competitive right now that if those three teams (Ganassi, Penske and Andretti) made a little slip like they did in Long Beach we were all there ready to jump in."
Wilson reiterated Rahal's view.
"I think we could see more of this," Justin said. "It's coming back to how competitive IndyCar racing is. The formula is so tight that any little slip will cost you. Just because you're driving for one of the perceived top tier teams doesn't guarantee you to be top six. You've got to work hard at it. Any small mistake is going to cost you and I think it's going to get harder."
At this stage the IZOD IndyCar series is wide open with no clear favorites. After three races Helio Castroneves leads the championship with 99 points, six ahead of Sato. Scott Dixon runs third with 89 points followed by Marco Andretti (87), Wilson (81), defending champion Ryan Hunter-Reay (73), Rahal (66), Will Power (62), Simona de Silvestro (62) and tenth-placed James Hinchcliffe (61). It's shaping up to be a fierce championship battle which may produce more refreshing surprises like we saw in Long Beach, a healthy turn for IndyCar.
Auto Racing ~ Gordon Kirby
Copyright 2013 ~ All Rights Reserved