Presented by Racemaker Press

"There's a lot of junk out there today. If you want it straight, read Kirby." -- Paul Newman


The Way It Is/ Bouncing back from the brink
by Gordon Kirby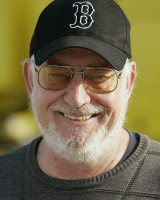 Last week Brian Redman reminisced about winning his first two American Formula 5000 championships with Haas/Hall Racing. This week, Redman recalls winning his third straight F5000 title and the awful accident he was fortunate to survive in a 'new era' Can-Am car at St. Jovite in the spring of 1977.
"I was supposed to start 1976 "down under" in New Zealand racing in the Peter Stuyvesant International Series, teamed with young Australian Alan Jones in a pair of March 751s, powered by 3.4-liter Cosworth V6s. The deal fell through, but I had a firm contract, so instead of driving a March I ended up in a Chevron B29 powered by a 2-liter BMW engine for American Fred Opert. Mine was the only F2 car in the 4-race series, all the others were 5-liter Formula 5000 cars.
"I finished 4th on January 4 at Pukekohe, 2nd on January 11 at Manfield and failed to finish the last two events at Wigram and Teretonga. This was the one and only time that I raced in New Zealand. Sadly, I never made it to Australia.
"From New Zealand I flew to Florida for the 24 Hours of Daytona where I drove a BMW CSL with Peter Gregg. During the race Peter wasn't feeling well and only did a brief stint at the wheel. I think I ended up driving 14 hours with John Fitzpatrick doing the balance. John started the race in another BMW with Tom Walkinshaw that went out early.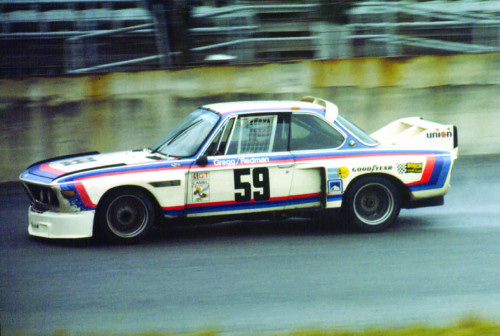 © Redman Collection
"Around 8 A.M. on Sunday morning I was driving the car when it started to miss as if it were running out of gas, but my fuel gauge told me otherwise. I pitted and after things were checked out I departed only to stall just before entering the track. I got the car started again, but in the horseshoe it stalled again. I ran back to the pits and got some tools, fiddled with the fuel line and got started again. On the banking it stopped again. This time I couldn't restart it and other cars were running into the same problem. It wasn't long before it was discovered that somehow water had gotten into the Union 76 gas supply.
"The race was stopped and the teams were allowed to siphon the tainted fuel from their tanks and clean their fuel lines. New truckloads of gas were brought in by Union 76 and the race was restarted after 4 hours. We went on to win, and when I appeared in the winners circle, there was Peter Gregg in his clean drivers suit, looking fit as a fiddle. I was totally exhausted and after returning to the hotel fell asleep in the tub.
"The next morning I ran into team manager, Jochen Neerpasch in the lobby who asked where I had been for the victory dinner. I told him I'd fallen dead asleep. "Don't worry," he said. "Peter Gregg gave a great speech and thanked each of the mechanics individually in perfect German." Good old Peter.
"Lola introduced yet another all-new F-5000 model for 1976, the T430. The car was very good, smaller than the T332C and almost as fast. I used it in practice at Watkins Glen, where I set a new lap record. I have little doubt that with development the T430 would have been a great race car, but at the end of the day the T332C was still marginally better.
"The first race of the Formula 5000 series was at Pocono and Danny Ongais driving Ted Field's Interscope Racing Lola was extremely quick. I found myself battling him in all three races, two 9 lap heat races and the final which was 35 laps. Although it was not an easy chore I won both heat races. In the final Danny probably would have won had he not spun on lap 23. In the end I led him across the line by just six seconds.
"On June 12 I drove with Peter Gregg again in a BMW CSL, this time at Le Mans and with a 3.5-liter turbocharged engine. This was one of a series of "art" cars BMW produced over the years, the livery designed by artists, including Alexander Calder, Andy Warhol, Roy Lichtenstein, and ours by Frank Stella. The car was white with sheets of graph paper covering it. It was somewhat intimidating knowing we were racing a work of art.
"The 3.5-liter turbocharged BMW had tremendous power. Too much, perhaps. Before the race Jochen Neerpasch told me to drive as fast as I could as they knew the car wouldn't last. I don't know what he thought the weak link was, but we developed an incurable oil leak and were forced to retire during the 4th hour.
"Some years later I was talking to one of the mechanics who'd worked on the car. He asked if I knew how many horsepower the car had. "Six hundred, seven hundred," I said. "No, much more," he told me. "Eight hundred and fifty, but we never told you drivers."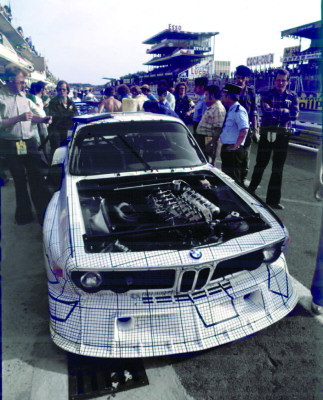 © Redman Collection
"At the next Formula 5000 race at Mosport we ran one heat race of 20 laps and then a final of 40. I scrambled to a 2nd place in the heat race, but in the final my engine began to misfire on lap 23 and I fell down the field to finish 8th.
"At Watkins Glen I pulled a double, driving with John Fitzpatrick and Tom Walkinshaw in the 6 Hours in a BMW 3.5 CSL, this time non-turbocharged, We failed to finish and in the Formula 5000 race the next day I had a puncture and spent four minutes in the pits having it changed as the crew did not normally have to do such a thing. Once back on the track I struggled to 6th, finishing two laps behind winner Alan Jones.
"Going into the next race at Road America I was in second place in the Championship with 44 points to Alan Jones' 76. So I needed to finish well to close the gap, but instead of gaining ground, I lost it. Al Unser was very strong, setting the fastest qualifying time and winning his heat. In the final Ongais, Unser and Schuppan swapped the lead in the first four laps before I was able to pick off all of them and pull away. Then suddenly on lap 9 my magneto began to act up and I pulled into the pits and was forced to retire. I suddenly found myself in 4th place in the Championship, behind Jones, Oliver and Unser.
"My Lola T332 was perfectly suited to the twisty Mid-Ohio circuit and I was 1.2 seconds faster than anyone else. I won my heat and in the final I simply walked away, coming home in 1st, 28 seconds ahead of second placed Jackie Oliver. Jones and Oliver were now tied for 1st place in the championship with 84 points and I was four points behind in 2nd.
"I'm not sure exactly why, but there were two races at Road America that year. A twenty lap race was held in which points were awarded followed by a non-championship handicap race over 25 laps. I won both, but in the second race a tire began to chunk toward the end and the gap between myself and Danny Ongais was down to 4 seconds at the checkered flag.
"Thanks to winning at Road America I went into the last race at Riverside 32 points ahead of Jones and Oliver who were tied in 2nd. It was still mine to lose, but I didn't have to win as long as I finished toward the top. Multiple scenarios could play out, all of which Jim Hall had calculated so he could keep me apprised of where I stood in comparison to Jones and Oliver.
"In the end, Al Unser won at Riverside and I was third behind Jackie Oliver. When the math was done, I had my third straight championship beating Unser, Oliver, Jones, Ongais and Vern Schuppan.
"Credit for success in my four years of the F5000 series go to Jim Hall and his Chaparral crew, particularly Franz Weis who built the engines and tested the cars. We had tremendous reliability—one engine failure and one suspension failure in four years—three Championships and a second. My collaboration with Haas/Hall had stretched over four years, from 1973 through 1976, with spectacular results and I credit my excellent working relationship with Jim Hall for most of this success. Aside from being a brilliant technical thinker, he was an unemotional straight shooter who could gracefully accept it when occasionally an idea of his didn't work. Backing him up were mechanic, engine builder and test driver Franz Weis along with mechanics Troy Rogers, Tony Connor and Davy Evans.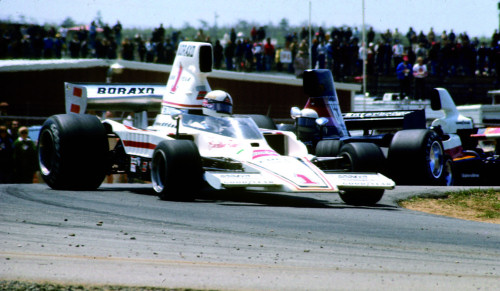 © Redman Collection
"At the end of 1976 the F5000 event organizers were going through troubled financial times. They remembered the great crowds the Can-Am series drew a few years earlier and as a result, the SCCA changed the rules and introduced a new Can-Am for 1977. Few racing teams could afford to buy or build a proper big-block Can-Am car, so the owners of the F5000 cars were required to fit bodywork on their open-wheel single-seaters. Given our dominant position in four years of F5000, this suited Jim Hall and me just fine and First National City Travelers Checks signed on as the principal sponsor.
"The first "new era" Can-Am race was run at the extremely challenging St. Jovite circuit in Quebec on June 12, 1977. Many people spoke French in the area so I felt like I was back at Le Mans. The ambience was very pleasant.
"In practice our Lola was running well but I thought it could be a bit better. I asked Jim Hall to take a quarter inch off the front wing to trim the car out and give me more top speed. I went back out, and after a warm up lap—on St. Jovite's long straight, on which there was a significant hump halfway down—the nose of the car took off. I did a backward half-gainer before the car landed upside down, crushing the air box and bending the roll bar. Still traveling upside down at considerable speed, I slid and slid and slid. The whole time I could hear the pavement grinding away my helmet.
"When the medics got to me, my heart had stopped, or so they told me. Thankfully, they got it going again. I was put in an ambulance which raced to a nearby hospital, but on the way the ambulance blew a tire. After this drama, they finally got me to the hospital. By then the presses were rolling and the headlines in the Montreal papers the next day read, "Redman Est Mort! Redman Is dead." Almost, but I still had some life in me.
"Marion arrived the day after the accident, but it was four days before I'd wake up in what turned out to be the Montreal Neurological Institute. The first person I saw when I opened my eyes was Jim Hall. "How are you?" he asked. Trying to inject some humor into my obviously dire situation I quipped, "I think I might have to miss the next race."
"I had sustained a broken neck, a shattered shoulder, a split sternum and several broken ribs. There were only about seven other patients at the Institute, all with similar injuries to mine—mainly broken necks. One guy had hit a tree while skiing, another had been in a motorcycle accident, another in a car crash, and on and on. Thankfully we were all heavily sedated most of the time. Marion and I decided there was no point in her staying in Montreal, so after several days she returned to the U.K. to take care of the children.
"Several weeks after the accident they removed the "halo," a medieval looking device that was screwed to four sides of my head and afixed to my shoulders to keep my neck from moving. Most uncomfortable, I assure you. Finally I could move my head, if only slightly. I now had a collar around my neck, and was mobile.
"One morning I woke up around 1 A.M. and the nurses were in their room inside the ward. I worked my way down the bed, pushed the table out of the way and hoisted myself up. I dropped my legs onto the floor and stumbled into the nurses room. I don't know why I did it. Probably the drugs. They went totally berserk and for some time I was strapped to the bed by my legs and waist.
"There was a guy in our ward who also had a broken neck, and each morning they would push him to the foot of my bed so both he and I would have some company. He had a catheter with a bottle hanging under his wheel chair. He'd look at me sort of lop-sided with a grin, and I'd look back at him the same way. Little conversation. One morning he reached under his wheel chair, grabbed his full urine bag and, I suppose out of frustration with his situation, threw it across the room. That got the nurses attention.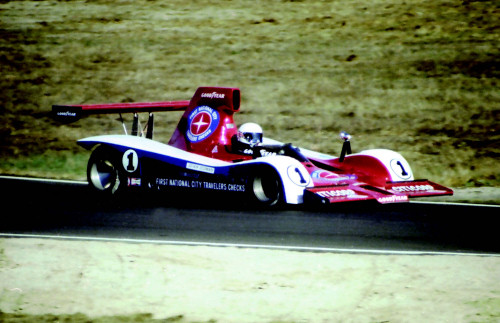 © Redman Collection
"Because of all the drugs they were giving me, I wasn't thinking very consciously, but recall being quite happy. The drugs working again, thinking how nice it would be to just stay like that with everything taken care of. In many ways it was quite pleasant. After more than a month in a narcotic-induced reverie I was released from the hospital and flew home to England by myself, thankfully in first class.
"I had almost eight months of rehabilitation ahead of me, and no visible means of income. When I got home, about all I could do was lay around our house doing nothing, being waited on hand and foot by Marion. I couldn't think very clearly, had a hard time paying attention and really had not much interest in anything.
"In the accident my spine had been slightly scratched, for which I was very lucky compared to what could have happened had it been damaged more. I could have been a quadriplegic. I had lost most of the feeling from my elbows to my toes, but over a six-month period, the feeling gradually returned.
"During my accident, I'd been dragged upside down on the road, almost wearing a hole through my crash helmet, which caused bruising to my brain, from which Marion claims I've never recovered! By November I was able to take walks in the village of Gargrave, sort of shambling along. Finally, I was able to jog.
"For some time I didn't feel capable of driving. As a result, in addition to all her other chores, Marion took on the job of being my chauffeur. We were driving on one of the country lanes near our home one day, when we saw some property that was due to be auctioned in a few weeks. The 200-acre farm, Eshton Grange, was to be offered in four parcels. One consisted of 20 acres of land, sloping down a hill to a stream, and included a farmhouse and several outbuildings.
"Comparatively isolated, the nearest neighbors were some half a mile away and we couldn't see them due to the lay of the land. Gargrave village was only two miles down the road. I took an interest in the impending auction of the farmhouse and seeing this, Marion offered every encouragement.
"As the auction was coming up soon, I dashed off down to Skipton to see the manager of Barclays Bank, a Mr. Bainbridge. He told me our house was worth about the same as the expected auction price of the house and parcel of land at Eshton Grange. I asked for a temporary bridge loan. While not dismissing me out of hand, Mr. Bainbridge asked what cash I could raise. Being somewhat short in that department, I said I owned a Porsche 917K which I could probably sell.
"In 1975 I'd gotten wind from Jerry Entin, who was an entrant in the Formula 5000 series, that a 917 was going to be sold under a mechanic's lein. I had saved a good bit of money from my racing and bought the 917 for £12,000, storing it in the garage. Vasek Polak had just returned from looking at the 917 and said he would probably buy it, but if I acted quickly and put a bid in I could probably steal it at a good price. The car had just been overhauled by the German mechanic, Bernd Booch, so I knew it was in decent shape. It didn't hurt that it was the car Steve McQueen had driven during the filming of Le Mans.
"What's a 917?" asked Mr. Bainbridge when I said I owned quite an exotic car. A race car, I told him, which didn't impress him at all. "Bring me £20,000 pounds and I'll lend you the rest," he said. I called my friend Richard Attwood and asked if he'd like to buy the 917. "How much?" was his response. "£30,000" pounds," I told him, and the deal was done. Much later, acting on Richard's behalf, I sold the 917 at the R.M. Auction in Monterey for $1.2 million!
"Before Richard came to pick up the 917 I thought I'd better make sure it ran. I used to start the car from time to time to warm it up and let it idle for a bit. As luck would have it, the battery was dead, so I enlisted the help of my good friend Ian Green.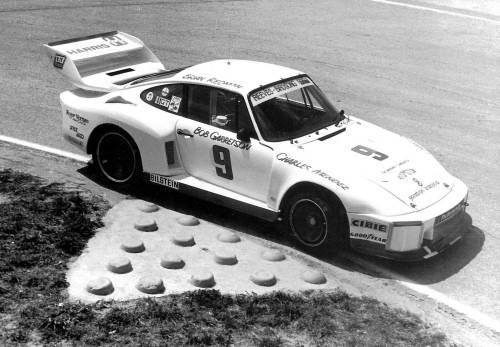 © Redman Collection
"It was a lovely afternoon in the sleepy village of Gargrave, and people were no doubt slumbering after a hearty roast beef lunch or out for the count after their usual Sunday lunchtime visit to the pub. With Ian's help I hooked a rope to the Porsche and with me steering he towed me to the top of a nearby hill. After unhooking the rope I drifted towards the town and popped the clutch in 2nd. After the third try I managed to get it started, revving it loudly all the way back to the house.
"Ian was following behind and after I climbed out he was doubled over in laughter. Apparently I'd caused quite a stir as I'd motored through the town, people looking up from their gardening and out there windows. "There's that daft race driver," they probably said. "What in the hell?"
"By January of 1978 I was finally feeling I'd be able to race again from a physical standpoint. I was anxious to return to work and one of the people I called was Jo Hoppen at Porsche North America. I asked if he might be able to find me a ride in the IMSA series. I didn't want to go back into the second generation Can-Am series and with Porsche North America paying me, privateer Dick Barbour agreed to put me in his second Porsche 935 at Sebring in March. I would be driving with Bob Garretson, who prepared Barbour's cars in Mountainview, California, and a Tampa busnessman named Charles Mendez. In fact Charles had taken over from John Greenwood as the promoter of the event and had brought Coca Cola in as the title sponsor. The Mendez group, Sebring Motorsports, Inc., had spent considerable money to tidy up the circuit and make it safer.
"Our principal opposition would come from seven other 935s and a lone BMW 320i. We qualified 5th and on the 11th lap of the race the most competitive of the 935s driven by Peter Gregg flipped in the esses and was out. Most un-Peter like. Our run was relatively trouble free and we went into the lead on lap 154, holding it to the end, although we only took the flag 92 seconds ahead of the second place car, another 935 driven by Hurley Haywood and Bob Hagestad.
"During that twelve hours I realized I wanted to and could race. I didn't feel I was up to full speed, 100%, but I felt, with time, I could get back into the swing of things. This was my first time in a 935, a car that was very nice to drive and would dominate sports car racing well into the 80s.
"After Sebring I had a long vacation as my next race would not be until June at the 24 Hours of Le Mans. This time I would co-drive with Dick Barbour and John Paul. One of the sponsors of the car was Hawaiian Tropic who sent over two attractive young ladies in very skimpy crocheted bikinis that left little to the imagination. This was the sun tan oil company's first involvement at Le Mans, and they've returned every year since, their scantily clad ladies always a hit.
"Prior to the race the two girls were parading down pit lane, stopping to pose in front of each of the cars while a phalanx of photographers eagerly snapped away. Standing in front of a Renault, a mechanic from the team snuck up behind one of the girls with a pair of tin snips, intent on cutting the thin cord that kept the tiny front triangle of the bikini attached to the back. At the last second, the girl sensed something was happening behind her and turned around. Seeing what was about to happen, she let out a yelp and sprinted away, barely averting disaster, much to the phographers' disapointment.
"During the race I was driving the car in the early morning hours. It was a beautiful night and the 935 was running like a train, probably doing close to 190 mph on the Mulsanne. I was about to pass a 2-liter Chevron on the inside but saw something ahead that wasn't quite right. I lifted and tapped the brakes. The Chevron suddenly veered off the track, throwing up a cloud of dust. I couldn't see anything. Then the Chevron shot back across the track directly in front of me. I couldn't have missed him by more than several feet. Everything cleared up and I could see a car ahead off the road, more like a ball of red metal, just coming to rest. As I passed by slowly I could see it was our sister 935.
"I stopped at the signaling pits after Mulsanne corner, which you weren't supposed to do, and told them the car had crashed. The next time around the ambulance was there and when I stopped at the pits at the end of my stint I found Bob Garretson, who'd been driving the other 935, sitting in a lawn chair with a sprained ankle. Based on where he'd crashed and the condition of the car he was a very lucky guy. As for us, we finished a good 5th and 1st in the IMSA class. The race was won by Didier Pironi and Jean Pierre Jassaud in a Renault Alpine A442. It was the first French victory in three years, so the locals were ecstaticly drunk, at least a number were, having consumed considerable beer and wine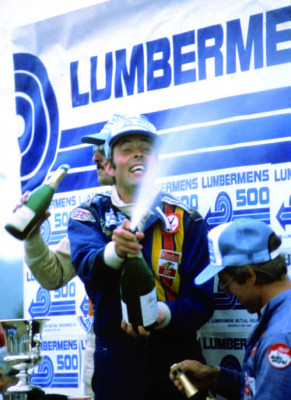 © Redman Collection
"On July 8 I drove a Porsche 934 for Vasek Polak with Janet Guthrie to 8th place, and the end of the month found me co-driving with Jacky Ickx in the Spa 24 Hours in a Sirocco GTi sponsored by the Belgian VW Club. Any port in a storm. From my Mini 1275S days, I wrongly assumed that you could get such a car back from any angle in a slide. I lost it in wet practice and took a fairly heavy hit. The car was repaired for the race, but I crashed again in the night when something broke or a tire went down, putting an end to our race. My next race was in a Mercedes 450 SL with the German driver Hans Heyer in the Tourist Trophy at Silverstone on September 17 where the engine blew.
"in the Fall of 1978, sixteen months after my accident at St. Jovite, I felt fit enough to fill in for Alan Jones in the Haas/Hall Can-Am car. After my accident, the team had hired Frenchman Patrick Tambay to replace me. Patrick went on to win the championship in 1977 which couldn't help but remind me it might have been me. During 1978 Tambay went to McLaren in Formula 1 and the Haas/Hall seat was taken over by Alan Jones. The weekend of the race at Laguna Seca, Jones had a commitment at the Canadian Grand Prix driving for Frank Williams, so Carl Haas called me and asked if I thought I was up to it. I told him I was.
"Early in practice on Friday I was feeling good and becoming more confident. I was running directly behind George Follmer, who was driving a car called a Prophet, when his throttle stuck going down through the very fast off-camber left-hander after the Corkscrew.
"The Prophet launched itself at full speed several hundred feet through the air, slamming into a hillside. The car was destroyed and George was very badly hurt. Having seen the accident unfold right in front of me, almost in slow motion, I suddenly had a flashback to my own crash at St. Jovite and immediately slowed by a good second a lap.
"In the race I was running OK, but without any real fire. A plug wire came off, so I came into the pits to have that fixed. When I came back out I was running behind Al Holbert, who went on to win. I managed to pass him and in the process set fast lap of the race, which was gratifying. In the end I came home 12th.
"That was it for 1978. Just six races. With bills to pay, a family to support and a slim schedule of races on the horizon, it would be yet another lean year for the Redman family in 1979.
"At the Daytona 24 Hours in 1979 I drove with Dick Barbour and Paul Newman in a 935, but unfortunately the engine dropped a valve midway through the race, putting us out. Although principally an actor, Paul had been driving competitively for five years and had shown he was no slouch. Such was the case at Daytona where he turned laps almost equal to mine. The attention the team garnered because of his fame was apparent but I knew the crowds of adoring fans weren't looking at me. Paul went about his business like he was just another driver, which he was, but also a great actor.
"Driving with Charles Mendez and Paul Miller at Sebring in another 935, we had brake problems early on which dropped us all the way back to 54th, but we fought back through the race and ended up 2nd one lap behind the winning 935 of Akin/McFarlin/Woods. It was almost a foregone conclusion that a 935 would win as 11 had been entered. At the Riverside 6 hours on April 22 I was again in a 935, this time with Dick Barbour and Rolf Stommelen where we finished 6th.
"At Silverstone I drove with Jochen Mass in the beautiful Essex-sponsored Porsche 936 that was prepared by the factory. During the race I had partial brake failure at high speed and glanced off the catch fencing which prevented a more serious accident. In the race Jochen had a tremendous crash coming under the Woodcote bridge when a tire blew, abruptly ending our run.
"At the Nürburgring 1000 Kms on June 3 I found myself driving a Gelo Racing Porsche 935 with Henri Pescarolo to 3rd place. At Le Mans, I was teamed with Jacky Ickx in an Essex 936. On my first lap after taking over the car didn't feel right. I thought it was me, that I just wasn't warmed up, so I continued at top speed. At the start of my second lap, as I turned in to the very fast Dunlop sweeper after the pits, the car spun around like a top. It turned out the left rear tire had gone flat. I saw the guardrails flashing past several times, but miraculously I didn't hit one and eventually came to a stop, headed in the right direction. After taking a deep breath, I continued on around the circuit very slowly.
"The tire was now flat and I could hear it flailing around at the rear, so I stopped on the Mulsanne Straight, got the tool kit out and managed to cut what was left of the tire off the wheel. That done, I kept on around the circuit with two wheels on the track and two on the grass, a risky proposition with cars flying by at top speed. We lost a lot of time, but eventually got going again.
"Later Jacky had a fuel pump drive belt break, which he was able to repair himself on the circuit as there was a spare in the tool kit, but it broke again at the end of the Mulsanne. We didn't carry more than one spare, so a mechanic was sent out to where he'd stopped and threw another to him across the track wrapped in a sandwich. I was in a box over the pits with my friend Ian Green listening to the PA. "Ickx has stopped. Now he's going again," the voice said. "He's stopped again, now he's going again." It was excrutiating. The officials weren't fooled one bit by the sandwich. Receiving outside assistance was against the rules and we were subsequently disqualified in the 17th hour. The ACO took a very long time to advise us of this fact.
"In the interim I spent several hours driving in some of the worst rainy conditions I'd ever experienced. 200 mph down the Mulsanne Straight in a downpour is no fun. Although I prefer an open cockpit in the rain as opposed to a closed one—you don't have the windshield fogging problems—it rained like no tomorrow that year. Miserable.
"I had three more drives in 935s in IMSA races that year. At Watkins Glen I finished 8th with Don Whittington and Johnny Rutherford, DNFd at Road America with Dick Barbour and Skeeter McKitterick, and was 3rd at the Daytona Finale with Charles Mendez.
"On August 26 IMSA held the Lumbermens 500, a handicap race at Mid-Ohio, and I suggested to Tony Cicale that he and I drive together in his 2-liter Ralt RT1. The field was a mix of GT and sports cars, and all cars 2 liters or less were given a 10 lap credit at the start of the race. So we were effectively 10 laps in front before we even got underway.
"When I pitted the first time it was raining. Tony took over but didn't want to drive in the wet and came in after one lap. I quickly recruited Bobby Rahal who was at the race but not driving. Our 2-liter Ralt was perfectly suited to the twisty Mid-Ohio circuit and we won the race that ran a little over 6 hours. It was the longest I'd ever driven—4 1/2 hours with a stop for gas in the middle. In the end we finished three laps in the lead
"In all I did 10 races that year, four more than in 1978, which was better, but not great. By the end of 1979 my financial state was critical, the one promising chance of employment being far away in Chicago. Carl Haas was America's Lola and Hewland importer and I had driven for him in Formula 5000 from 1973 through 1976. Carl offered me a job and I flew to the U.S. and met with Carl where I learned my job would be to sell race cars, answer the phone and generally help out around the office. With nothing else on the horizon I accepted his offer.
"Shaking hands on the deal he gave me three words of advice. "Get the money." I found a condo in Highland Park and returned to the U.K. to prepare for our trans-Atlantic move. Luckily we were able to quickly sell Eshton Grange to the Liverpool town council which turned it into a recreational, educational and residential facility for the young people in the area. It still operates as such to this day.
"I was still racing from time to time for Dick Barbour who had a team of very fast Porsche 935s, modified by the Kremer brothers in Cologne, and for another team called Racing Associates who also had a Kremer car. I also drove for John Paul who had his own radical 935 built—the JLP2. I finished 3rd with John Paul at Silverstone and we DNFd at the Nürburgring.
"Once again I found myself streaking through the night at Le Mans in a 935 at horrendous speeds, driving with Barbour and John Fitzpatrick. As day was breaking I came in to turn the car over to Dick. It had been raining for some time at that point. Dick got in the car but was back in the pits at the end of his lap. "Get back in," he told me. "You guys are paid to drive in this kind of weather." We finished 5th overall and 1st in the IMSA class, although we were running on five cylinders for most of the second day.
"I scored a good win in a 935 at Mosport with John Fitzpatrick on August 17, then later that month there was another IMSA race at Mid-Ohio that was open to both GT and Sports Cars. This year, however, there was no handicap involved.
"Roy Woods entered a Lola T333CS Can-Am car for David Hobbs and I to drive. This year we had our hands full as the Frisbee of John Morton and Hurley Haywood was a full 3 seconds quicker than us in qualifying. In the race John built up a lead of 20 seconds before tangling with a backmarker that put him out of the race. David and I won, finishing a lap ahead of Vern Schuppan and Howdy Holmes in an Elfin Can-Am car, and two laps in front of Gianpiero Moretti and Jim Busby in a Porsche 935.
"My last race of the year was at Road America on August 31 driving a 935 with Bob Akin and Paul Miller to a 5th place finish. As in 1978 I'd done 10 races and 1981 was shaping up to be somewhat more interesting.
"While working with Carl Haas in 1980 I read the new FIA GTP rules and the IMSA rules and saw an opportunity to build what I thought would be a winning car. John Bishop, the boss of IMSA, was looking to break Porsche's stranglehold on the series and wrote a set of rules to encourage a Chevrolet or Ford V8-powered sports prototype. I talked it over with Carl and the result was my going to England to see Eric Broadley at Lola. Broadley saw that, with the advent of ground effects and new materials such as carbon fiber, he could build a car with a top speed of over 200 miles an hour, while possessing ground-hugging capability.
"Returning to Chicago I had good news and bad news. The good news was that Eric felt he could build a winning car, the principal competition coming from an armada of Porsche 935s. The bad news was he needed an order for two cars at a price of $75,000 each, less engines and transmissions.
"I was quite dismayed when Carl told me he wasn't going to pay for the cars. I would have to find someone to buy them. I contacted two racing aficionados, Ralph Kent Cooke and Roy Woods, who agreed to put up the money and run the team. Ralph was the son of Jack Kent Cooke, a wealthy Canadian/American who owned multiple TV stations and sports teams over the years, including the Washington Redskins. Roy Woods had been an adequate Trans-Am and Can-Am driver himself whose family money came from the oil business in Oklahoma.
"I was to be both team manager and driver, and the talented English engineer John Bright chief mechanic. Preparation of the cars, known as Lola T600s, would be overseen by Garretson Engineering in Mountain View, California."
Aboard Cooke-Woods Racing's Lola T600 Redman went on to win IMSA's first GTP championship in 1981. He also won that year's Daytona 24 Hours, co-driving a Porsche 935 with Bobby Rahal and Bob Garretson. Brian continuted to race professionally through 1989, retiring when he was 52 years old from one of motor racing's most remarkably diverse careers, but carrying on as a renowned vintage racing competitor and promoter. He's a fine man with a superb sense of humor and has carved out a richly deserved niche as one of the sport's most admired and loved heroes.
Auto Racing ~ Gordon Kirby
Copyright 2013 ~ All Rights Reserved