Presented by Racemaker Press

"There's a lot of junk out there today. If you want it straight, read Kirby." -- Paul Newman


The Way It Is/ Brian Redman multiple US F5000 champion
by Gordon Kirby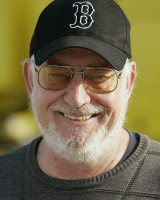 In recent years the Road Racing Drivers Club has held an excellent Thursday evening dinner in downtown Long Beach hosted by RRDC president Bobby Rahal. This year's guest of honor is Brian Redman, winner of the inaugural Long Beach Grand Prix for Formula 5000 cars back in 1975. Redman won America's F5000 championship three years in a row from 1974-'76 driving a series of Lolas for Carl Haas and Jim Hall's team and I thought this week and next week would be the perfect time to provide Brian's memories of those years.
Redman had shown his ability by winning no fewer than fifteen world championship long-distance sports car races between 1968-'73 for John Wyer, Porsche and Ferrari. In 1973 he joined Haas/Hall Racing in the US F5000 series and would have beaten Jody Scheckter to the championship had he not been compelled to miss two F5000 races because of a previous commitment to race a factory Ferrari sports car in Europe.
In the winter of 1973-'74 the world was struck by an OPEC-inspired 'Energy Crisis' and for much of the winter it looked like America's F5000 series wouldn't happen. Redman takes up the story.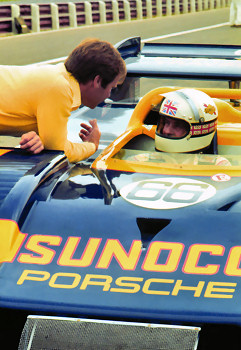 © Redman Collection
"UOP Shadow owner Don Nichols offered me a drive in Formula 1 for 1974," Brian recalls. "But I was excited about doing another season with Jim Hall and Carl Haas, so I declined. In my place Nichols hired Peter Revson. I started the season driving for Sid Taylor in his new Lola T332, finishing 3rd at the first race at Brands Hatch on March 17. I did not finish at Mallory Park, then had a real punch up at Silverstone with Peter Gethin and David Hobbs. At the end I managed to hold on to win with 2.7 seconds covering the three of us.
"The same weekend at Silverstone I took a one-off drive in Mo Nunn's Ensign N173 in a non-championship F1 race. Ensign was backed by the wealthy heir to the Opel fortune Rickky von Opel who'd driven the car himself in 1973 with mediocre results. For me it was a chance to pick up a little extra money that weekend. I finished 8th, so it was very little.
"In October of 1973 the previous year we suddenly found ourselves in the midst of an oil crisis when the members of the Organization of Arab Petroleum Exporting Countries (OPEC) proclaimed an oil embargo in response to the U.S. decision to re-supply the Israeli military during the Yom Kippur war. What this would mean for racing, we didn't know, but suspected it wouldn't be good. Sure enough, with the loss of their sponsor, L&M cigarettes, the SCCA suddenly canceled the Formula 5000 season. Now what was I going to do? Shadow had offered me a F1 drive, but that seat had been taken by Peter Revson.
"Then on March 24, the same weekend as the Mallory Park Formula 5000 race, Revson was killed while testing for the third race of the season at Kyalami. Knowing that Formula 5000 was off, Shadow called me asking if I'd take Peter's place. I had no other drives on the horizon, so I accepted on a race to race basis.
"At the 4th round of the European Formula 5000 series at Oulton Park on April 12 I had a nail-biting race. I was chased for most of the race by Peter Gethin and Teddy Pilette in their Chevron B28s, followed by David Hobbs in a Lola T330. Pilette ran wide at Knickerbrook and knocked his teammate off course, but then managed to catch and pass me, but four laps later his suspension broke and he was out. I seemed to have things well in hand over Hobbs, but toward the very end of the race I nearly crashed when something broke at the rear. I looked in my mirrors and saw that the rear wing was cocked at an angle. At the start of the final circuit David was right on my gearbox. I kept my fingers crossed that the wing would stay attached, which it did, and I crossed the line 0.2 seconds ahead.
"In the F1 Shadow at the Spanish Grand Prix at Jarama on April 28 I flattened my rear wing in order to get extra speed down the straight, because if you didn't pass someone on the straight you were stuck behind them for an entire lap. I finished 7th in the race, and afterward at the airport Denny Hulme, known as the Bear, came up to me ranting and raving that I'd held him up on the straight and wouldn't let him pass. He finished 6th. I far preferred the atmosphere in F-5000 where drivers were more civil than in Formula 1.
"At the Belgian Grand Prix at Zolder I failed to finish in the Shadow, then on the Saturday morning of the race in Monaco I received a message at my hotel to call Carl Haas in the States. When I did he told me the Formula 5000 season was back on. The SCCA had come to an agreement to co-sanction the series with USAC (United States Auto Club) which would bolster it with additional teams, star drivers and new sponsors.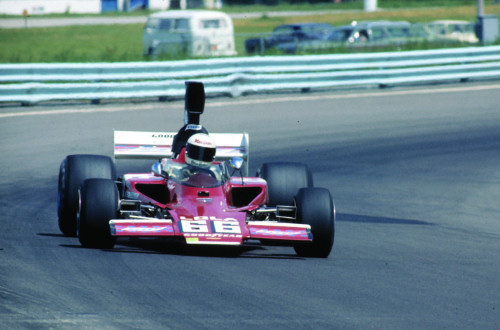 © Redman Collection
"After failing to finish at Monaco I told Don Nichols I was leaving, which he graciously accepted. I was happy to abandon the Grand Prix circus and return to the Haas/Hall team. Welshman Tom Pryce was hired as my replacement and would be tragically killed in a fluke accident at Kyalami in 1977 when a marshal ran in front of his car.
"The U.S. Formula 5000 Championship kicked off on June 3rd at Mid Ohio and this year we'd be running a new Lola 332. With the SCCA joining forces with USAC to sanction the series there were many new teams in F5000. The most competitive of these was one run by Southern California car dealer Vel Miletich and former Indy 5000 hero Parnelli Jones who fielded a Lola 332 for Mario Andretti. Not only would Mario be driving the same type car as me, he'd have the sole use of Firestone tires which were judged superior. On top of this, the team had hired away my much valued chief mechanic, Jim Chapman.
"At Mid Ohio I won my first heat from Evan Noyes, David Hobbs and Sam Posey. Mario easily took his heat 40 seconds ahead of Brett Lunger. At the start of the final heat Mario took the lead followed by myself and Eppie Wietzes whose engine broke on lap 18. I reeled Mario in and passed him and shortly afterwards his exhaust cracked which put him out and allowed me to take a relatively easy win over Lunger.
"The second round was at Mosport, the Canadian track, and I made a poor choice of tires which relegated me to a third place in my heat. In the final Mario got away at the start and I found myself chasing David Hobbs for longer than I'd have liked, but finally managed to get around him. By this time Mario had walked off into the distance. In hot pursuit, I had a coming together with a backmarker which put me out of the race.
"Mario's Firestone tires gave him a two second advantage in qualifying at Watkins Glen and he easily won his heat, as did I. In the final Mario drove away from me and Eppie Wietzes to win by 13 seconds.
"There was a Can-Am race at Watkins Glen the same weekend as the Formula 5000 event. On the morning of the race I was approached by Luigi Chinetti Jr. who asked if I would drive his Ferrari 712 in the race. He said that Sam Posey, who'd been scheduled to drive, wasn't feeling well. We agreed on a $1,000 fee plus a percentage of the prize money.
"A short time after this I was chatting with a journalist and told him I was going to drive the 712 because Sam wasn't feeling well. The real story I was told was the brake pedal in the car had gone to the floor during practice and Sam had sprained his ankle. When I confronted Luigi about this he admitted Sam had hurt his ankle, but said it was due to some experimental brake fluid they'd been using. Everything was now in order he insisted.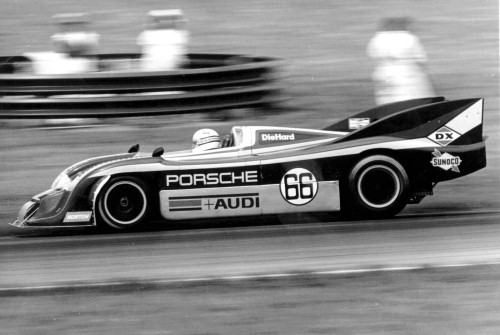 © Redman Collection
"Since I hadn't qualified the car I started at the rear of the field but due to attrition I managed to work my way up to second before experiencing a suspension failure at speed, giving me a wild ride, but with no harm. The 712 was first introduced in 1971 so by the time I drove the car it was an antique and never raced again.
"For the next Can-Am race at Mid-Ohio, I was hired by Roger Penske to drive the fire-breathing Porsche 917/30, the fastest road-racing car at the time, possibly of all time. Mark Donohue had temporarily retired and was at the race looking decidedly uncomfortable in the role of Roger's team manager. Donohue had won the 1973 Can-Am championship aboard the 917/30 but new fuel restrictions were introduced for 1974 to constrain the turbo Porsches. That resulted in Penske and Porsche cancelling their Can-Am program but Penske decided to race the car one more time at Mid-Ohio.
"Because of new fuel restrictions the race was run in two heats. My only competition came from George Follmer and Jackie Oliver in Shadow DN3s. I won the first heat in the rain. For the second heat it was drying, so I asked Mark what would happen in these conditions if they grooved a set of dry weather slicks. Donohue said, "Let's try it." Unfortunately the experiment resulted in severe understeer and I finished a disappointing second to Jackie Oliver, Follmer having collided with his teammate, eliminating himself.
"Back on the Formula 5000 trail we were at Road America and once again I was battling with Mario, the scenario playing out much as it had in previous races. Mario won his heat and I won mine, and in the final he pulled ahead. At one point he was eight seconds in front, which I managed to reduce to five with two laps to go. He was having fuel pressure issues and I was right on his tail through the last lap, almost pulling off a pass on the last turn but came up short. After the race we were tied in the championship with 50 points each.
"On September 1, Ontario Motor Speedway was the venue for the next event which was promoted by Mario's team owner Parnelli Jones. The circuit, which incorporated a portion of the oval, was flat and contrived. Regardless, we raced where we were told to. I won my heat, but Mario failed to finish his which meant he had to start from 17th place in the final. By lap four he was in 4th, then inherited 2nd, but I had a good lead and won by 25 seconds.
"My next race would be the 1000 Kms at Brands Hatch on September 29 where I drove the new 2-liter Chevron B26 for the first time with Peter Gethin. Powered by a Hart engine, which produced 15hp over the regular Cosworth DBG, the car had been introduced in May and was the first Chevron to feature a monococque aluminum tub.
"Its first race was the Silverstone Interserie where Gethin diced in the midst of the Porsche 917s and more powerful McLarens to an excellent 5th place finish. Because of its unusual brown color the car was nicknamed the Chocolate Drop.
"In my race co-driving with Peter, the car was fantastic and in spite of an agonizing 8-minute pit stop to change a shock absorber, we finished an excellent 4th overall and 1st in class. Although we were 11 laps behind the winning Matra MS670 of Beltoise and the sister car of Pescarolo and Larrousse, we were on the same lap as the 3rd place Mirage GR7 of Bell and Hobbs.
"The final two races of the Formula 5000 season were held on October 13 at Laguna Seca and Riverside on October 26. Going into Laguna Seca I was leading the series with 70 points to Mario Andretti's 65 and David Hobbs' 52.
"Mario won his heat race, as did I, but in the final Mario was off like he was shot from a cannon, building up a 10-second lead over me and James Hunt in Dan Gurney's Eagle. Fate was in my corner as Mario suffered a puncture on lap 37 forcing him to pit. I built up a lead over Hunt and came home 1st, 29 seconds in the lead. Mario salvaged 3rd, but I now had 90 points to his 77.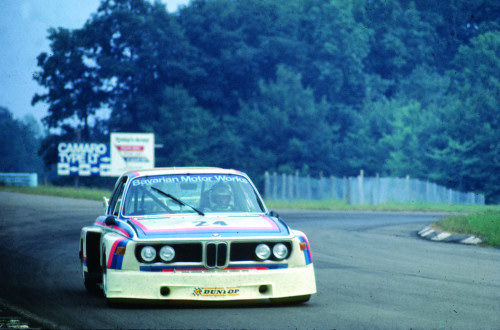 © Redman Collection
"The championship came down to the final race at Riverside where it was still mathematically possible for me to lose. I didn't have to win the race, but I had to finish with enough points to keep Mario at bay, so the pressure was on. It was a hard fought race, with Mario taking the checkered flag 5 seconds ahead of me. Thankfully, I ended up with 105 points to his 97, which gave me the championship. It was a very satisfying season.
"A few months later I was at home in the U.K. when a truck pulled into our driveway and unloaded a huge box. I had no earthly idea what it was, but when I finally managed to get it unpacked I found a shiny new ride-on lawn mower, a present from Carl Haas for winning the Formula 5000 Championship. It was much appreciated and used for many years.
"My first race of 1975 would be the Daytona 24 Hours, now an IMSA event, in a BMW 3.0 CSL, partnered with Ronnie Peterson. I had been hired by BMW to compete in several races during the year when I had no other commitments, Our race at Daytona lasted all of 29 laps before the engine blew. The team car driven by Sam Posey and Hans Stuck went 274 of 684 laps before retiring. Peter Gregg and Hurley Hailwood won in a Porsche RSR leading home a long line of similar cars. If you're going to go out it's obviously far preferable to get it over early and at 29 laps that we certainly did.
"For the 12 Hours of Sebring on March 21 I was originally scheduled to drive with Ronnie Peterson again, however for some reason he was not allowed to compete by the FIA. Brought in to replace him was the Australian Allan Moffet. Hans Stuck and Sam Posey were in a second BMW.
"There had not been a race at Sebring in 1974 because of the energy crisis, and it was nip and tuck if there'd be one this year. At the last minute, Corvette racer turned promoter John Greenwood stepped in to insure there'd be a show. The track which had always been extremely rough was more so due to lack of any maintenance. The pit area was dilapidated, the venerable MG bridge was in tatters and the abandoned airplanes parked along the runways were now rusting metal skeletons.
"At a meeting before the race team manager Jochen Neerspasch sent the Stuck/Posey car out as a rabbit in an attempt to break the competition from the armada of Porsche RSRs. Around halfway through the race, on lap 102 of 238 the Stuck/Posey car retired and Hans and Sam each took stints in our car. In the end we won by three laps but it wasn't easy.
"I was in the car for the last stint and the battery was going dead. We didn't have that big a lead, so we couldn't take the time to change it. I turned the lights off while out on the circuit and back on again when I passed the pits so as not to be black flagged. With 15 minutes to go the rear axle temperature gauge was pegged. I slowed down as much as possible and limped to the checkered flag. It turned out the pinion gear had all but disintegrated. Luck was on our side.
"I drove for BMW several more times that season, finishing 2nd at the 6-hour race at Riverside with Sam Posey behind the team car of Hans Stuck and Dieter Quester, 6th at the Watkins Glen 6 Hours with Sam Posey, and 2nd at the Daytona Finale in November on my own. The BMW was a very nice car to drive, very comfortable.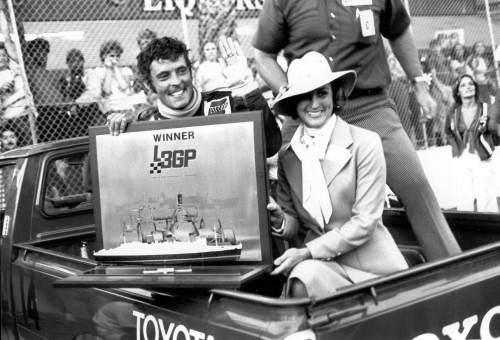 © Redman Collection
"For 1975 the SCCA and USAC continued to co-sanction the Formula 5000 series and I continued my association with Jim Hall and Carl Haas. The season started with a bit of drama. Lola introduced a new mode—the T400--which had rising rate suspension. In practice for the first race at Pocono we were slow and qualified a lowly 11th. When questioned by Jim Hall as to what the problem was, I had no answer. The car felt fine, it was just plain slow. As luck would have it a downpour on race day forced cancellation of the event. It was rescheduled for June 1, four weeks later.
"Here, Carl Haas showed the judgment he was famous for. At the end of 1974 he had sold his pair of T332s and now felt in his bones, along with input from the rest of the team, myself included, that the older 332 was a better car than the new 400. Haas located a wrecked 332 and sent it to Jim Hall's shops in Midland for repair and tweaking. Carl was the U.S. importer for Lola, and had sold at least six of the T400 models to privateers so you can imagine that there were some curious looks on the faces of these owners when both ourselves and the Vel's Parnelli team cars for Andretti and Al Unser rolled 332s out of our respective transporters.
"At Pocono in the first heat I was making my way up through the field from starting 11th, where I'd qualified a month before in the T400. I came up on oval racer Bobby Unser in Dan Gurney's Eagle and managed to slip down inside him going into the tight left-hander in the infield, going on to win my heat.
"Afterwards in the paddock, Bobby came up to me and said, "Hey Redman, what the hell were you doing passing me like that on the inside?" I replied "Well, er, you left a gap." He gave me a snide sort of grin. "So that's how you road racers do things?" I answered, "If you leave enough room, that's how we do it." "O.K." he replied. "Now that I know." It was all a little bizarre.
"Round 2 was at Mosport where I had a really tremendous race with Mario. Just before the start I noticed he'd lowered the angle of his rear wing. I mentioned this to Jim and he asked if I'd like to do the same. I decided not to. After the start, on the long uphill straight Mario pulled away like I was tied to a post. Making every effort possible, I could just close back up by the pits, but there was no way to pass. In a thrilling race, we lapped the entire field and I finished 0.62 behind in 2nd place.
"In the 6 Hour race at Watkins Glen, the same weekend as Round 3 of the Formula 5000 series, I drove with Sam Posey to a 6th place finish in a CSL. In the Formula 5000 race both Mario and me lapped under the F1 and Can-Am track records. In the race, Mario's motor was slow to start and he finished 4th while I won. Al Unser was second, 33 seconds back. At Road America two weeks later Mario won and I was 8th after stopping to replace a punctured tire.
"I won the race at Mid-Ohio where sadly the affable and talented young American driver B.J. Swanson was killed. In the next race at Road Atlanta round my tires went away in the latter stages of the race while I was in the lead. Al Unser got around me and beat me to the checkered flag by one tenth of a second.
"The Long Beach street race came next and was an example of my good fortune. On Saturday afternoon, during the final qualifying session, the Lola snapped sideways after landing from the jump at the right-hand turn 1 where the pavement fell away sharply. I told Jim that I thought there was something wrong with the Weisman limited-slip differential. He said he hated to pull the transmission apart just before the race, but he'd take a look. Sure enough, the limited-slip had broken and a new unit was fitted for the race.
"That was the first race in Long Beach and the field was very strong. It included Mario and Al Unser in VPJ Lolas, David Hobbs in a Carl Hogan Lola, Graham Hill protege Tony Brise, driving for my old boss Sid Taylor in a Lola, Vern Schuppan in a Gurney Eagle, F1 driver Chris Amon and Australian stand-out Warwick Brown in Talons, Tyrrell F1 driver Jody Scheckter in a Carl Hogan Lola, teamed with David Hobbs, F1 driver and Can-Am Champion Jackie Oliver in a Shadow, former F5000 champ Graham McRae in a McRae, Canadian Eppie Wietzes in a Lola 400, and others totalling more than 40 entries. It was a formidable field to say the least.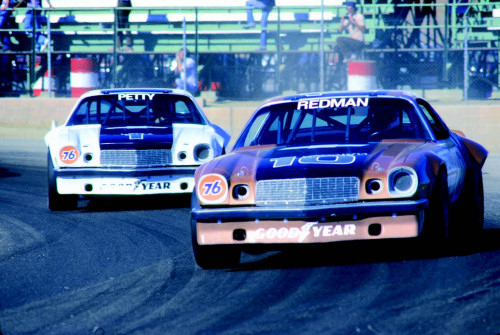 © Redman Collection
"For the first two laps, Al led. On the third lap, Andretti and Brise passed him while I sat in 4th watching the action. On the 10th lap, disaster struck. Again the Lola snapped sideways on landing after the Turn 1 jump. Another broken limited-slip. The only thing to do was take it easy going over the very rough uphill surface before the final turn onto the pit-straight, and do the same in Turn 1. I rapidly began to drop back from the flying trio in front. The next thing I saw was Unser stuck in the wall, then Mario limping to the pits with transmission failure. Then Brise went out with a broken half-shaft and I was suddenly leading with Scheckter gradually closing. Then Jody suffered a broken half-shaft on the 29th lap of the 50 lap race.
"I took it fairly easy to the end and won. It was not a great win in terms of driver effort, but certainly memorable. After the race, they couldn't find the Race Queen for the awards ceremony. She was discovered later quite drunk at a local bar. Standing in for her was Patti Queen, wife of Jack Queen, president of our sponsor Boraxo. Due to the success at Long Beach, Boraxo signed on as our primary sponsor for the rest of 1975 and again in 1976.
"At Laguna Seca two weeks later I crashed in Saturday practice but the car was good to go for the race. I finished 2nd in my heat race and 3rd in the final. The last race of the year at Riverside was perhaps one of my worst experiences in motor racing, apart from time spent waiting in various body repair shops. In addition to being the final race of the F5000 series, it was also the venue for the second and third IROC races with Camaros, one of which I'd been chosen to drive.
"In the first F5000 practice session on Friday morning in the Lola, everything was fine, until exiting the very fast Turn 9. Just as I was in the apex, my left front tire burst. Completely out of control the Lola shot across the track and hit the outside cement wall at over 100 mph. My head bounced back and forth so hard it broke the plexiglass screen on the sides of the cockpit. I'd only driven the spare car, a T400, in practice at the first race of the season at Pocono, but never raced it. As always, it had been properly set-up by Franz Weis at Rattlesnake Raceway in Midland.
"In the first IROC race, as usual, we were all in a bunch and a friendly NASCAR tap from Richard Petty sent me into a spin coming out of Turn 7. Richard was kind enough to pick a safe spot and I spun harmlessly through the dirt and gravel before rejoining the race. But on the next lap, flying into Turn 9, going at least 150 mph, the throttle stuck wide open. I went straight into the outside retaining wall, putting further strain on my neck muscles.
"I finished the first race in 8th place and the second, in a replacement car, in 7th. At the first IROC race earlier in the year at Michigan I'd finished 7th and at the last race at Daytona I'd come home 9th. For the championship I was 9th out of 12 drivers but still managed to collect $10,000 for my efforts.
"I dragged myself out of the Camaro, my blue driver's suit now black with sweat. I was exhausted from trying to keep my head up, but duty called and I went straight to the grid and climbed into the T400. In the race it was all I could do to just drive around. We finished 3rd, enough to take the championship and on the last lap, taking the usual look at the engine gauges, there was no oil pressure. Switching off, I was towed in. Examination showed a broken gudgeon pin had locked the oil pump. I was lucky again.
"I took the Formula 5000 Championship for the second year in a row, this time with 227 points to Mario's 165. With my salary and prize money from my drives for BMW and the IROC series it had been a fairly successful year from a financial standpoint and a good one on the track."
Next week Brian will reminisce about his third straight F5000 championship and talk about the terrible accident that almost took his life at St. Jovite, Quebec in 1977 and his subsequent comeback. Be sure not to miss it.
Auto Racing ~ Gordon Kirby
Copyright 2013 ~ All Rights Reserved