Presented by Racemaker Press

"There's a lot of junk out there today. If you want it straight, read Kirby." -- Paul Newman


The Way It Is/ Appreciating Ralph Sanchez
by Gordon Kirby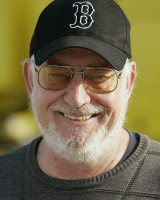 Ralph Sanchez passed away last week after a long battle with cancer. Sanchez was a much-admired man who brought professional motor racing to South Florida, starting with the Miami GP IMSA race which ran through the streets of downtown Miami from 1983-'93. He also promoted a successful CART Indy car race at Tamiami Park from 1985-'88 and conceived and built the Homestead-Miami Speedway which is now owned and operated by ISC.
CART raced at Homestead from 1996-2000 with the IRL taking over from 2001-'10. NASCAR's Sprint Cup series first raced at Homestead in 1999 and the track has been the site of NASCAR's season-closer since 2002. Penske Motorsports and ISC became partners with Sanchez at Homestead in 1997 and two years later ISC became the track's sole owner.
Rafael Sanchez was born in Cuba and moved to the United States after opposing Fidel Castro's regime. He lived in Miami with his uncle and aunt, then spent a few years in a Catholic orphanage before his mother and father arrived in Miami from Havanna. Sanchez graduated from Florida Atlantic University and became a real estate salesman and property developer before setting out on his adventure as South Florida's most important motor racing figure.
Roger Bailey first met Sanchez in the late nineteen-seventies when Ralph was an amateur racer competing in IMSA. Bailey has spent more than fifty years working in motor racing. After a successful career as a race mechanic and engine builder he joined IMSA in 1980 as the organization's technical director. Bailey then went on to run the Indy Lights series for more than a quarter of a century and at the end of last year was appointed to be the commissioner of the Grand-Am series.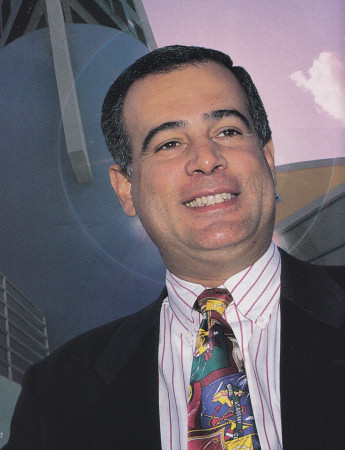 © LAT USA
"I used to speak to Ralph once a month or so for many years," Bailey said. "He and I were pretty close. Ralph was a good guy. The first time I met Ralph he was driving a red Mazda RX7 in IMSA GTU in the seventies. I became the technical director of IMSA in 1980 and Ralph promoted the first Camel GT race in downtown Miami in 1983 running down Biscayne Boulevard.
"The Miami GP downtown quickly became one of IMSA's biggest and best events. It poured with rain at the first street race in Miami. The water level got so high that the fire pumps pumping the water out were below the level of the sea wall. We only ran sixteen laps and had to red flag the race. Al Holbert was declared the winner and unlike a lot of promoters Ralph paid the whole purse. I'll never forget that.
"For the second year Ralph brought Emerson (Fittipaldi) over to drive a March 85G GTP car called the 'Spirit of Miami' with Albert Naon. That was the start of Emerson's comeback to racing here in the States after he had retired from Formula One a few years earlier. That really helped establish the race and it did a lot for Miami.
"In 1986," Bailey continued, "Ralph, Pat Patrick and Robin Herd were the guys who started the Indy Lights, or American Racing Series, as it was then called. But before it took off Ralph had a disagreement with Pat and got out of it. He was still involved when we made the announcement in Laguna Seca in 1985 but by the time we launched the series at Phoenix in '86 he was out of it.
"Ralph then wanted to build a racetrack in Aruba and he called and asked me to help. He had to have a sanctioning body that would say yes to running an event before the Aruba government would give it the green light and CART wouldn't approve it because it was all just a pipe dream. So the ARS was the next best thing and Ralph gave me a gold Rolex for my support.
"If they hadn't changed the government in Aruba when they did, that would have been a great event. It was located on a deep water harbor and it was a great circuit. I've still got the plans.
"I went down to Aruba with Ralph a couple of times and he hired a 727 and flew two hundred journalists down there for a day to show them the place on the island where we were going to build the racetrack. I went back a little later and had dinner with Ralph and the prime minister of Aruba. It was the first and only time I've had dinner with the prime minister of any country and he was gung-ho.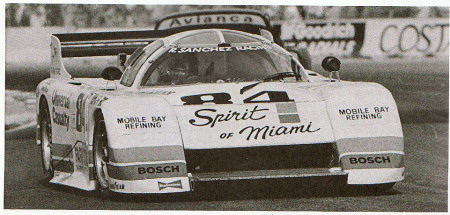 © Hal Crocker
"The prime minister really wanted it to happen but there was a disruption because a rare, prickly cactus and a three-toed toad only existed in that part of Aruba. We were fighting that issue and then the government got voted out. The prime minister was ousted and the opposition party took power.
"For whatever reason they chose to hear the case over the rare cactus and toad at a federal court in Miami. I was in Miami with Ralph for a week and we got really close during that time. We liked each other and stayed in touch.
"A few months ago he said to me, 'You know Roger, of all the friends I had in racing you're the only guy who still calls me.' You know how it is, out of sight, out of mind. But Ralph was just a good guy. I really liked him. Some people thought he was a tough guy but you've got to take people how you find them and Ralph couldn't have been better to me.
"Between the street race in downtown Miami, the CART race at Tamiami Park, and building the speedway in Homestead with Wayne Huizenga, Ralph was the guy who brought big-time motor racing to South Florida."
Pete Twiddy was director of operations for Marlboro Motorsport from 1986-2009 until the cigarette company had to pull out of the sport by government fiat. Today, Twiddy is a consultant to the Altria Corporation (formerly known as Philip Morris) for musical event promotions.
"Ralph was my first negotiation for Marlboro," Twiddy recalled. "At the end of 1986 we had just spent our first year in racing in the United States sponsoring Pat Patrick's team and Emerson (Fittipaldi) and Ralph brought me over to Miami to see him during one of the Camel GT races in downtown Miami.
"We were renewing our contracts at the time which were just for hospitality. Marlboro did a lot of hospitality in 1985, just trying to understand the sport before they got into it as a team and event sponsor. We did our first year as a team sponsor in 1986 and we did hospitality at Tamiami, Long Beach and the Meadowlands. We got into the temporary circuits and I met Ralph when we did the first renegotiation of our contracts.
"Marlboro wanted to sponsor an Indy car race in the streets of Miami and Ralph introduced me to the mayor and all the heavy hitters in Miami. The Camel GT races in the streets were just amazing. The crowds were huge. It was a happening. It didn't necessarily have anything to do with racing. People were walking around and enjoying themselves and the weather while the cars were running.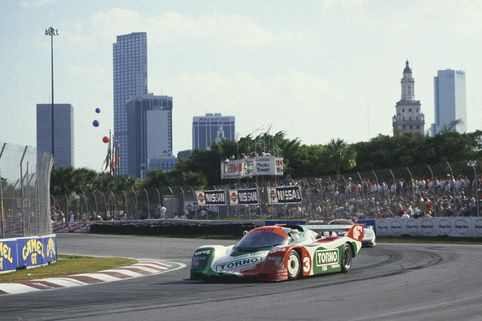 © LAT USA
"I always had a great relationship with Ralph. My favorite story about him was when we put up some extra Marlboro signage at Tamiami Park. We did it at night and Ralph called me the next morning to say the color on the signage was wrong. He came to see me and threw me into his car and we drove around the track. He was always the coolest and smoothest guy, but I ruffled his feathers big-time that night.
"Somebody had produced the signs in a different color red and we didn't notice the difference because we put the signs up at night. We put up thirty or forty extra signs and when Ralph saw them he was beside himself. The color on the additional Malrboro signage we put up was different than the color on the signs that were already in place. Later, we had a drink and laughed about it.
"Back in those days we promoted the Marlboro Challenge for the race winners in the series and the first year we did it was at Tamiami Park. That was the year he caught me with the off-color Marlboro signs.
"Ralph was very much a gentlemen," Twiddy continued. "He was very smart and he knew the way to get things done in Miami and South Florida. He was all about relationships and that was what really impressed me the most about him.
"I was around Ralph the whole time he was pulling together the project to build Homestead from when it was just a bunch of dirt on the ground. We built a pretty good relationship with him during the years of the Marlboro Grand Prix at Homestead. We started with the race downtown in 1995 and we only got to do it for one year before moving down to Homestead. It was a great experience for me and for Marlboro as a company.
"Ralph always understood the sponsorship side better than a lot of promoters. He knew he needed a major sponsor to put on a big event. He was a great partner and I always enjoyed working with him. He taught me a lot.
"Ralph knew how to put on a great show. I would say he was one of the last real promoters. He knew how to promote the event and work with the sponsors and everything to do with the city and all the politics that went with it. He was one of the tops in his class for sure.
"Chris Pook and Ralph were the only ones who really understood what a street race was all about. The two of them were in a class by themselves. Pook and Ralph were very close. They communicated all the time.
"Then to get everything done to build the track at Homestead was something else again. It was just too bad that he used the configuration of the Indianapolis Motor Speedway, which didn't work as a mile and a half track. But Ralph was just trying to fit what everyone thought was the greatest racetrack in the world into a smaller area and he had to spend a lot of money reconfiguring and rebuilding the track.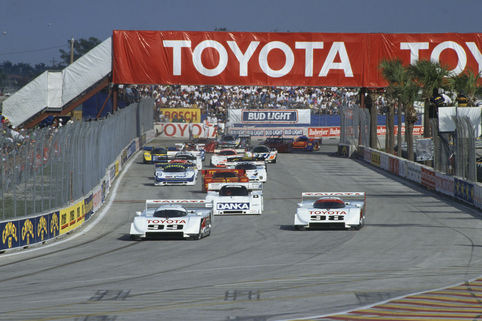 © LAT USA
"My favorite line about Ralph from anybody came from Mario Andretti. At the time they were trying to build a bridge into the track at Phoenix and the politics were huge. For a while it looked like it wasn't going to happen and I'll never forget Mario said, 'If Ralph Sanchez was here in Phoenix, he'd get it done.' And that said it all because Ralph would have got it done right away.
"Ralph was a great guy. I know he was controversial to a lot of people but he was always such a gentlemen in everything he did. He was a super guy and in all my years of doing racing he was one of my favorite promoters to work with. He was a smart guy and always a pleasure to be around.
"I'll never forget we walked into a restaurant in New York with Pook and Chris said, 'Look I'm not going to tell you how to do your job, but this is my number and you tell me what you want for that number.' But Ralph was totally the opposite. He said, 'I'm going to deliver the following things for you.' He wanted to cater to our every whim and he always delivered. I have very fond memories of Ralph.
"In the end, with the street race in downtown Miami, the CART race in Tamiami Park and then building and opening Homestead, he was the guy who brought racing to South Florida. I'd say Ralph's only downfall was he was a little too nice at times and got himself in a little deep at times. But his heart was always in the right place."
Chris Pook founded the Long Beach Grand Prix in 1975 and promoted the Southern California street race for twenty-five years. Today, Pook is a property developer in Southern California and is working hard to bring Formula One back to the region in the next few years.
"It's very sad to lose Ralph," Pook said. "He fought his illness for a good fourteen years and it finally got him, which is very sad. Ralph made a very big step when he launched the downtown Miami Grand Prix in 1983. There was a huge downpour and the racetrack got under at least twelve inches of water. It was their first year using concrete blocks for barriers and they didn't realize you had to shim the blocks a quarter to three-eighths of an inch from the ground so there was room for water to slide underneath the concrete blocks to get to the storm drains.
"So the race was rained out and that first race was financially devastating. But Ralph dug into his savings account and made everybody whole. They ran the race again in 1984 and it was a huge success. Ralph brought in Emerson in '84 and that helped make the race successful as well as re-launching Emerson's career. Emerson went on to race Indy cars that year and by the end of the year he was driving for Patrick Racing. A few years later Marlboro began sponsoring Emerson's car and in 1989 he won the Indy 500 and the CART championship with Patrick and Marlboro. Emerson owes Ralph a lot.
"Ralph was instrumental in bringing Emerson back to motor racing and he certainly established the Miami Grand Prix as a terrific street circuit facility. I would also say the Miami race played a huge role in IMSA becoming the powerhouse of sports car racing that it was in the eighties and early nineties. Ralph was the catalyst in helping make that happen.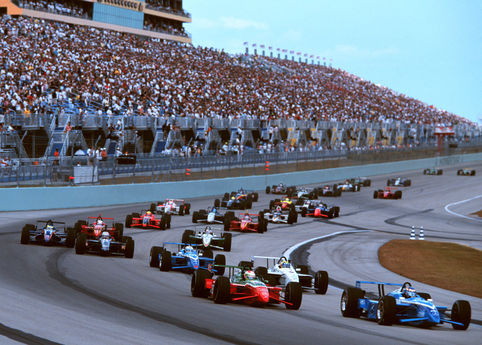 © LAT USA
"Up 'til then IMSA was a great series, but with all due respect to John Bishop it wasn't on the national media map until Miami came along. In fact, I thought it was a huge leap of faith by John Bishop to agree to Ralph's plans to run that race in 1983. But John's wisdom proved out and the race became very successful.
"Unfortunately, the renovation of Biscayne Park and the huge growth of Miami's cruise ship terminal basically spelled the death knell for the street race. Of course, Ralph went on and pioneered the CART race out at Tamiami Park. For whatever reasons, the Tamiami race struggled, probably because the street race downtown had such character and atmosphere. It had everything going for it and in comparison Tamiami Park was too sterile. It didn't have the atmosphere that the street circuit had, but Ralph continued to operate and promote the race.
"Then of course he went on to make the Homestead Speedway happen and that was a major happening for motor racing in South Florida. The downtown street race was big, but Homestead had an even bigger impact. Ralph worked unbelievably hard to get the speedway built.
"I think his knowledge of the sport and being able to work with the public sector in Miami gave him the ability and the credibility needed to convince the public sector that he could build a motor racing facility at Homestead and make it successful. The politicians believed in him. They liked him and supported him and that spoke to Ralph's ability.
"When you saw Ralph he was always immaculately dressed. He was always the GQ man and always wore a smile. He also always had his beautiful wife Lourdes on his arm. She's a beautiful woman and the two of them made an incredibly appealing couple.
"What he achieved at Homestead was another milestone and South Florida owes him a lot. When Indy car racing went back to Miami with CART in 1995 Ralph opened the door. This was with an entirely different set of politicians. The mayor and politicians he had dealt with in the eighties were gone, but he was held in such high esteem in Miami that he was able to convince them to try again with Indy cars. He was the man for motor racing in South Florida.
"If you think about it, Ralph was followed in South Florida by a bunch more street races that tried to copy him. There was West Palm Beach, Tampa and St. Pete, first as an IMSA race, then it went away and came back as an Indy car race.
"Ralph was an excellent promoter, no doubt about it. He was a terrific promoter and apart from that he was an awfully nice guy, a great guy. I enjoyed him a lot. He was very knowledgeable and very thoughtful and a good all-round guy. He left a big legacy."
Sanchez is survived by his wife Lourdes and two children, a daughter Patricia, and son Ralph Jr.
Auto Racing ~ Gordon Kirby
Copyright 2013 ~ All Rights Reserved