Presented by Racemaker Press

"There's a lot of junk out there today. If you want it straight, read Kirby." -- Paul Newman


The Way It Is/ Rating IndyCar's title contenders
by Gordon Kirby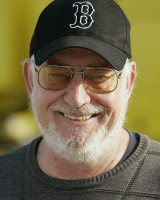 James Hinchcliffe put himself front and center with his excellent win in IndyCar's season-opener and it will be interesting to see if he can establish himself this year as a championship contender. Rookie of the year with Newman/Haas in 2011, 'Hinch' looked good in quite a few races last year with Andretti Autosport and was in great form on the St. Petersburg street cum airport circuit, beating Team Penske on the way to his first IndyCar victory.
Hinchcliffe's arrival as a race winner and potential championship contender is a good thing for IndyCar. He's a first-rate racer and an intelligent, amiable fellow with a keen sense of humor. 'The Mayor of Hinchtown' is a social media maven, a man of today, who drives smoothly and precisely.
He showed his best in St. Pete as he took advantage of Helio Castroneves's mistake on a restart to seize the lead and proceeded to hold off Castroneves despite running on the harder 'black' Firestones while Castroneves was on 'red' tires. In the end, Hinchcliffe not only held off Castroneves but edged away to win comfortably by a little over a second.
Hinchcliffe is teamed at Andretti Autosport with Craig Hampson who engineered Sebastien Bourdais's cars during the Frenchman's successful Champ Car years with Newman/Haas. With Andretti's resources, Hinchcliffe and Hampson should prove a potent combination this year.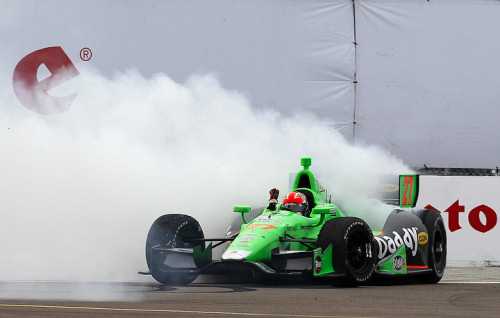 © LAT USA
Of course, Hinchcliffe also is IndyCar's Go Daddy guy, taking over the role from the departed Danica Patrick. It surely will be a good thing for GoDaddy to have their brand competing to win IndyCar races rather than droning around near the back in NASCAR with Danica.
Without doubt, Danica is the most overrated and overexposed driver racing today. Never in the history of sports has so much attention and coverage been lavished on such a mediocre athlete and it would be just and right if some of that misplaced attention shifted to the genuinely talented Simona de Silvestro. Indeed, de Silvestro's fine performance in St. Pete demonstrated that she's a real racer, faster and more aggressive than anything we've ever seen from Danica.
Let's not forget that de Silvestro won a handful of Atlantic races and showed a lot of character last year when she was saddled with uncompetitive Lotus/Judd engines. This year, the Swiss lady has Chevrolet engines and the backing of KV Racing and looks like being a top ten contender in many races. KV made a good start in St. Pete with Tony Kanaan running well in the race, passing de Silvestro for fourth place on the last lap.
On the face of what we saw in St. Pete it looks like the Chevrolet teams and Andretti and Penske in particular are the teams to beat this year. Andretti is running four cars for Hinchcliffe, defending champion Ryan Hunter-Reay, Marco Andretti and EJ Viso. Hunter-Reay had a bad weekend in St. Pete but he's sure to bounce back to provide a proper defence of his title. If nothing else, Hunter-Reay proved last year that he's a man who never gives up.
Marco had a good race in St. Pete, qualifying seventh and running a strong, clean race to finish third. Marco's been working hard to improve himself and we hope his showing in St. Pete is the harbinger of a good season to follow.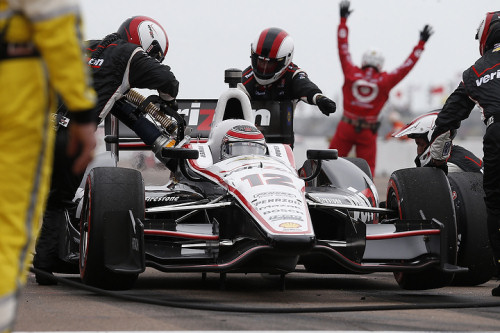 © LAT USA
Team Penske is focusing on two cars this year for Will Power and Castroneves with A.J. Allmendinger driving a third car at Barber Motorsports Park and Indianapolis at least. Power was dominant through practice, qualifying and the opening laps in St. Pete but got beaten by his teammate on the first restart then had his race ruined when JR Hildebrand ran over him under a yellow.
Will has plenty of speed on street and road circuits in particular, but all too often he can't put it together over the course of a race weekend or season. He enjoys the best possible mentor and coach in Rick Mears who took three CART championships in his first five years with Penske as well as going on to win four Indy 500s. Mears and Power share a lack of pretension and equally good natures and it would be nice to see Power absorb some of Mears' genius for the nuances of racing. It would serve him well.
Castroneves showed in St. Pete that he can still contend to win races and it will interesting to see if he can carry the momentum into Barber and Long Beach. Helio loves Indianapolis of course and a good performance at the Speedway will be essential to any championship challenge he might muster. At this point, the championship battle looks like it will be fought by Hinchcliffe and Hunter-Reay for Andretti versus Power and Castroneves for Penske.
Kevin Kalkhoven and Jimmy Vasser's team made a good start to the season with Tony Kanaan and Simona de Silvestro finishing fourth and fifth. It would be good for IndyCar if KV could win a race with either Kanaan or de Silvestro and everyone will be watching with interest to see if the team's chemistry continues to percolate positively over the course of the season.
And what of nine-time champions Target Chip Ganassi Racing? Scott Dixon qualified a disappointing twentieth in St. Pete but drove a stolid race, working his way through the field to steal fifth at the line from de Silvestro. Dario Franchitti also struggled in practice and qualifying and wasn't much better in the race, crashing on cold tires as he tried too hard too soon on his way out of the pits. Clearly, Honda has some work to do to compete with Chevrolet but there's more to come from the team and drivers as well. You can never count out Franchitti, Dixon and Ganassi's team, but they're facing an uphill battle this year.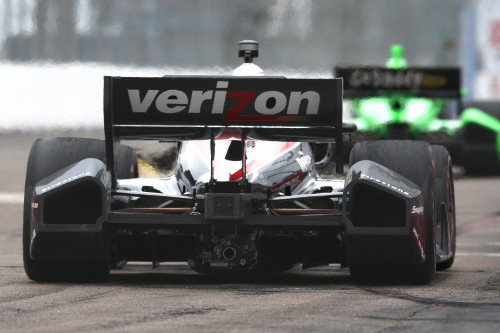 © LAT USA
Quickest Honda in qualifying at St. Pete was Takuma Sato in his first race with A.J. Foyt's team. Sato qualified second and ran well in the race, eventually finishing eighth. Veteran Don Halliday has engineered Foyt's car the past few years and may well be able to provide Sato with a competitive car in some races. Again, Honda will have to step up to get Sato to the front.
Other Honda teams include Bobby Rahal's RLL operation with Graham Rahal and James Jakes as well as Sam Schmidt's team with Simon Pagenaud and Tristan Vautier. Rahal and Jakes qualified and raced in the midfield in St. Pete and it will be interesting to see if they can get to the front this year. Vautier is the only rookie in this year's IndyCar field and looked good in St. Pete where he qualified sixth and ran in the top five in the race until an exhaust header failed. Teammate Pagenaud did not have a good weekend in St. Pete, qualifying nineteenth and also dropping out with a broken exhaust header.
It was sad to see Sebastien Bourdais nearer the back than the front of the field in St. Pete. Bourdais is an excellent driver who deserves better and I hope Jay Penske will be able to provide Sebastien with a more competitive car as the year wears on. I also hope the talented Josef Newgarden produces some good results this year, his second with Sarah Fisher's team.
IndyCar likes to trumpet its competitiveness and there's no doubt that it is very competitive with one second covering the fastest twenty in St. Pete. But one of the reasons for the tight field is the lack of power and performance, less than a GP2 car in fact. With more power, like a proper Indy car should enjoy, the field would open up putting more emphasis on the spectacle of the cars and less on the charm of closely packed fields. You only have to stand trackside at a Formula One race to appreciate the spectacle produced by F1 cars and take on board how much more impressive they are to watch and hear than a current Indy car.
Absent the spectacle, IndyCar will continue to rely on its mantra of competitiveness to draw crowds and the media. It will be interesting to see if any progress can be made in the coming years with improved TV ratings and broader media coverage. A guy like Hinchcliffe will help, but it will take more than one man to drive the revival needed to transform today's IndyCar drivers into the household names and national or international sporting superstars they used to be in days of yore.
Auto Racing ~ Gordon Kirby
Copyright 2013 ~ All Rights Reserved