Presented by Racemaker Press

"There's a lot of junk out there today. If you want it straight, read Kirby." -- Paul Newman


The Way It Is/ More discussion of a new IndyCar formula
by Gordon Kirby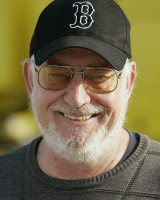 Chip Ganassi's suggestion in this space two weeks ago that IndyCar go to an open source formula drew many favorable comments. Most people think it's an intriguing idea worth trying, or at least thinking about. Among those who talked positively about Ganassi's open-source concept was Jim McGee who put forward his own ideas for a new IndyCar formula a few weeks earlier.
"I think Chip's open source idea is good and it could be done with the engines too," McGee said. "At least Chip is trying to make something happen and I commend him for that."
As much as McGee likes the open source concept, he's not sure that it would open up IndyCar to a more competitive, wider market for car builders.
"The open source formula is interesting," McGee remarked. "But really it's nothing more than the design and build of the car and parts being controlled by a handful of companies, which is not much different than what they're doing today."
McGee was more critical of Ganassi's comments about the costs of NASCAR-style stock-block engines.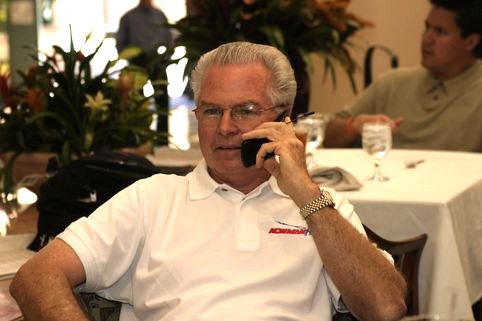 © LAT USA
"First of all, the engine deal in NASCAR is a manufacturer-subsidized program," McGee said. "The big teams, and even the smaller teams, aren't paying for engines. In 2008 we ran a NASCAR program with Travis Carter for Kyle Krisiloff and we were paid a million dollars by Ford.
"The engine costs in NASCAR are all regulated by the manufacturers. The manufacturers give money to most teams and they give big money to the big teams to spend where ever they want. Most of it goes to the engine program but some of it goes to other things.
"The companies that are making the money in NASCAR are the four engine building companies," McGee added. "Hendrick, RCR and Roush are making piles of money and it's not at the expense of the owners. It's the car manufacturers that are putting the money in."
McGee points out that most Indy car teams enjoyed similar support from manufacturers during CART's heydays.
"When we had support from Toyota or Ford or Chevrolet in the CART days we were buying new cars every year. Sometimes the new cars weren't any better but we had the money and the manufacturers wanted us to have new stuff. I had a stack of a dozen cars in the back of the shop that were perfectly good race cars but the manufacturers expected us to have new cars every year.
"That's part of the business. Everyone wants to be impressed and the manufacturers wanted to see us spending their money in a way that would impress them. But that's gone now in IndyCar and that's the dilemma.
"It's still there in NASCAR. They've got their problems but they pull much bigger crowds and TV ratings than IndyCar and the media follows NASCAR much more than IndyCar. The manufacturers are still there in NASCAR big-time, spending a lot of money."
McGee insists the stock-block engines raced in the Grand-Am and ALMS are much less expensive than NASCAR engines.
"In NASCAR there's a lot of development of course, but there's a lot of restrictions on what they can do too. But not to the tune of $100,000 per race for a V8 normally-aspirated engine. There's only so much you can do. I've talked to a bunch of people about the engines in the Grand-Am and these other series and they don't cost anything like $3 million for the year like Chip says.
"There are a lot of independent engine builders out there. There are ten engines out there you could use. Steve Dinan in California builds Chip's BMW engines for the Grand-Am. Katech does a lot of the Chevies and Roush does a lot of the Fords. The guys at Katech in Detroit tell me they can give you a 327 Chevy V8 that will run 5,000 miles and put out 650-700 horsepower.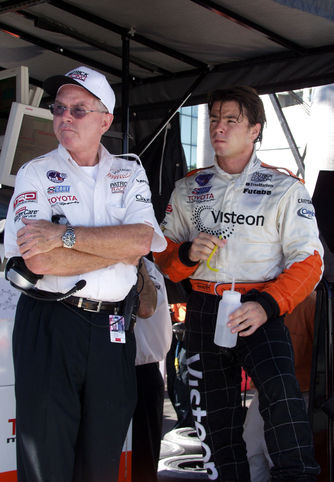 © LAT USA
"You've got Ford, Chevy, BMW, Porsche, Toyota and Nissan. These companies are all capable of producing this type of engine and the engines cost between $35,000-$40,000. The rebuilds are between $18,000-$20,000 and they'll run 2,500 miles.
"Some of these guys did a survey about the costs and the cost for an Indy car engine is $140 per mile. An Indy Lights engine costs about $19 per mile and the Grand-Am engines that they run in the 24 hours of Daytona costs $28 per mile."
McGee laments proposing a move that he would be entirely opposed to if Indy car racing was healthy.
"I hate suggesting a move to stock blocks because I'm a purist. I love the pure racing engines--the Cosworths, the Ilmors, the Offies and so on. I'd love to see us running Ferraris and Mercedes and other high-tech engines
"In my era you were always trying to bring the cost of racing up. Mario was probably the first driver that really demanded the big money. He was the first guy to make a million dollars in salary. In one respect it used to make me mad that he was doing that but on the other hand he was right. He was trying to raise the level of Indy car racing to where it got to be, and he was right. His name and his way of doing business brought Indy car racing up to a new level.
"But it's a different time. IndyCar has gone in the opposite direction. You don't want to go backwards but you have to look at the position IndyCar is in and the financial realities right now.
"Somebody's got to pay the bills and right now the entry level into the IndyCar series is too expensive. It's very difficult to find the money to pay for it and somehow they have to find an entry level into the sport again that people can afford.
"A lot of times I say to myself you're acting like an old fogey and trying to turn the clock back, but I'm not. I'm just looking at using some common sense to get it back on the right track again."
MacGee also laments the loss of any future thinking.
"There are other things out there like natural gas that need to be looked at," he said. "It's just a shame that nobody seems to be looking at the future and what they need to do to change the whole direction of the sport. Maybe it's too late and it's never going to happen because it's gone down too far.
"It seems like they're just putting band aids on the problems rather than dealing with the real problems and the formula is the issue. That's the primary problem."
McGee believes a move to stock-blocks would create a whole new wave of interest in Indy car racing.
"Several people I've talked to about this say that if they were to do something like this it would create some interest and get everybody talking. There would be renewed interest. A guy like John Menard, for example, has said he would jump in if they went in this direction. He's said he's got no interest until they do something that would spark his interest.
"John is a pretty sharp businessman and he's been around racing a long time. We need guys like him to get involved again. It might even get a guy like Jerry Forsythe interested again."
McGee thinks it would make economic sense to make a new IndyCar engine formula that would be similar to the engines used in the Unified SportsCar Racing series.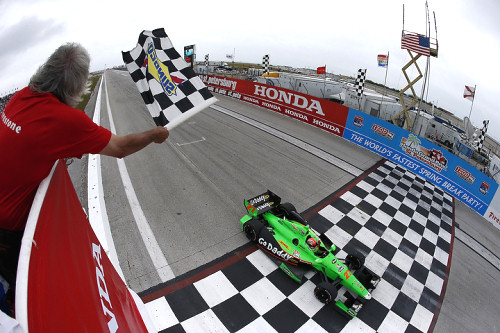 © LAT USA
"If you could overlap the engines with the engines they're running in the unified sports car series that would be a good thing. There needs to be a common formula to help spark interest and help make it cost effective."
McGee believes the Unified SportsCar Racing series may result in the likes of Ganassi, Penske and Andretti Autosports departing IndyCar in the next few years for sports car racing.
"I can't see Chip, Roger or Michael sticking around IndyCar much longer because they're running a business. You can't blame them if they left because racing is not a sport anymore. It's a business and you go where ever the business is. They've got to do what's best for business.
"I think Chip and Roger will go to sports cars. Chip's already there in the Grand-Am and I'm sure he'll continue in the unified sports car series next year. Roger's been there before in both the ALMS and the Grand-Am, and I wouldn't be at all surprised to see him go sports car racing. That's where he started after all. He loves sports cars and a strong, unified sports car series is bound to have a lot of attraction for him. Roger will always be at Indianapolis but I don't think the rest of the series interests him too much anymore."
As far as the car of the future is concerned McGee has no doubts IndyCar must break away from having a single chassis supplier.
"There are manufacturers out there that would take a shot at it if you came up with a sensible formula. There's Swift and the new Multimatic/Lola partnership and Panoz as well. There have to be sensible cost controls on it and you have to let people do some development. The only way teams can justify employing a lot of people is to let them be able to do some development instead of tying their hands so all they do is pick up the phone and order some new parts from a specified supplier."
McGee thinks Champ Car's Panoz DP01, which raced only in 2007 and at Long Beach in '08, was a lost opportunity.
"The best spec car that's come out in recent years was the Panoz DP01 that Champ Car ran for one year. That was a nice-looking car and it had good performance and was reasonable cost-wise. But the timing was wrong for it."
McGee reflected on how Indy car racing got to the sad state it's in today.
"It all boils down to the fact that racing is no longer a sport," he observed. "It's a business and the team owners are looking after their business, which I don't blame them. But a lot of them haven't been looking after the sport and if you don't look after the sport it's going to disappear. It's happened before with the original Trans-Am series, the Can-Am and IMSA's GTP cars, and it can happen again.
"You know, what's going on isn't much different than alcohol or drug addiction. You've got a problem and you've finally got to come to the end of the road. Things either change or they die and I think that's about where Indy car racing is at. The end of the road isn't far away. It looks like they're going to have to face a real life or death crisis before anything new can happen."
It breaks McGee's heart to say these things, but they're true. Every last word.
Auto Racing ~ Gordon Kirby
Copyright 2013 ~ All Rights Reserved