Presented by Racemaker Press

"There's a lot of junk out there today. If you want it straight, read Kirby." -- Paul Newman


The Way It Is/ Developing NASCAR's 'Generation 6' car
by Gordon Kirby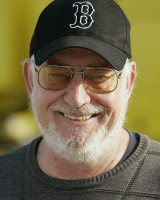 NASCAR's new 'Generation 6' car is the result of a big collaboration between NASCAR, its manufacturers and teams. The new car received mixed reviews at Daytona where the drivers liked the feel of the car, often comparing it to the pre-CoT car. Thankfully, the two-car tandem draft has been consigned to the trash heap, but there was very little passing in the new car's debut and the front of the pack proved the place to be at Daytona.
Of course, restrictor plate racing is a different animal than all the other races on NASCAR's schedule and as a result there are two specifications of 'Gen 6' cars, a low downforce setup for the plate races at Daytona and Talladega and a high downforce configuration for all the other races from Phoenix to Las Vegas, Bristol, California and Martinsville, et al. Given the wide range of ovals NASCAR races on it'll take three or four months before the 'Gen 6' car can be properly assessed.
"It's hard to make judgements on what we've seen in the limited running we've had so far," said Robin Pemberton, NASCAR's vice president of competition. "It'll take a number of races through April or May by the time we get through the first round of many different race tracks and we'll judge from there.
"There's one spec for the restrictor plate races at Daytona and Talladega and a different spec that's the same for all the other races. It's based on what works well at the high speed, mile and a half and two-mile tracks. That package is easily carried over to the short tracks. The concentration through our testing was on the high-speed tracks.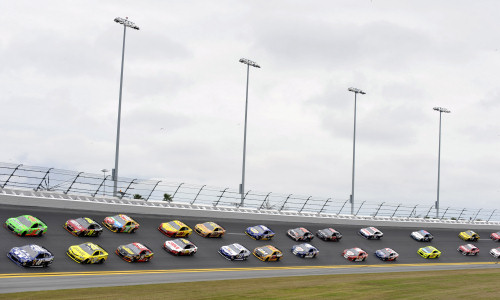 © Autostock
"The speedway package and the downforce packages are significantly different in drag and downforce. With the limited use we've had with that package at Daytona it appears that we should be in good shape with that package."
After an intensive test program Pemberton was confident before going to Daytona that the new car would race well.
"The feedback we've had from the drivers who've been testing over the off-season in the tests we had, other than the weather being cold so the track had a lot of grip, they felt like the cars are pretty solid and up under them. The good news was they felt like they could really hustle the car with the way the downforce is configured."
NASCAR has allowed the teams some options on the way they duct air through and under the 'Gen 6' car, introducing a small element of ground effects.
"We have several hundred pounds more downforce this year than last year and we've worked on the car underneath," Pemberton said. "We've given the teams options for air evacuation out from underneath the car to run through coolers and evacuation ducts. It should give the teams more options of what they may or may not need to tune the car."
Pemberton says the spoiler on the 'Gen 6' car makes plenty of downforce.
"The spoiler is fairly substantial," he noted. "It's big, but it's there for a reason. It creates good downforce. When you have 860 horsepower the drag numbers really don't matter. If you can add a few hundred pounds of downforce it doesn't matter if you have some more drag because the cars will still run faster."
NASCAR's initial theory for the 'Gen 6' car was to substantially reduce the overall downforce but early testing confirmed the reconfigured light downforce cars didn't work at all well in traffic.
"Initially, we went to a low downforce package," commented Ford's NASCAR program manager Pat di Marco. "There were theories from the drivers that it would be better but in the end it wasn't better. We ended up with a higher downforce level. With more downforce, the cars were more comfortable and easier to drive."
Pat Suhy, Chevrolet Racing's NASCAR group general manager, believes experimenting with lower downforce was worthwhile.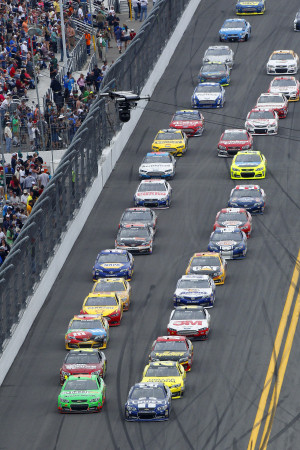 © Autostock
"NASCAR obviously observed what was going on out on the racetrack," Suhy said. "They got feedback from the drivers and collectively NASCAR and the manufacturers said, 'Okay, we went off this way. Let's get back to where we started fundamentally.'
"The aero package we'll race in Phoenix and Las Vegas is much like we tested in Homestead last year. We kind of came full circle but for the right reasons. I think NASCAR had some good ideas and wanted to try them but when it was clear they weren't going to work they ended up back where we thought we should have been at the beginning."
TRD's lead development engineer Andy Graves said NASCAR's change of thinking made for some long but worthwhile days.
"We're really happy," Graves said. "There was a lot of testing at a bunch of high speed tracks and we worked through a lot of changes. At the start, NASCAR wanted us to have the cars in low downforce trim and take some weight out of the car. When NASCAR decided to change direction there was a lot of heartache and heartburn for us but at the same time we felt it was better to move the process forward.
"There were a lot of ups and downs to the whole process but I'm very happy where we ended up. The drivers are giving us great reviews that the cars are driving good and as Goodyear develops softer tires for these cars I think what we'll probably see will make the racing even better."
Robin Pemberton admitted NASCAR was a little too ambitious in trying to change too many elements at one time.
"The curves were self-inflicted because we had so many things we were doing in the development stages," Pemberton said. "One of the things we wanted to answer the questions on was why we chose the downforce levels we picked for Daytona and for the other twenty-some race tracks we run at. We tried high downforce and low downforce levels and we felt like as we worked on the lower parts of the cars to achieve downforce that was a good investment in making good racing.
"We were able to work with Goodyear and piggy-back on their tests throughout the summer and that was good for us because we had all the tires we needed when we went testing. A few drivers were at multiple tests and there were a few teams that went to almost every test we went to until the very end of the testing program. The process went well. We had a lot of good feedback from a lot of different drivers over the summer."
Pemberton agrees with Andy Graves that the 'Gen 6' car will run faster and provide better racing as Goodyear develops tires more tailored to the new car.
"Goodyear's tires did not need to be changed," Pemberton said. "The car actually matches their existing tire better. Maybe it was a touch on the conservative side, but it's a moving target because tracks age. The worlds kind of came together at some tracks but there are other race tracks where the development work is ongoing and Goodyear will develop more tires for those tracks."
Goodyear has been NASCAR's exclusive tire supplier since 1996 with a new five-year agreement starting in 2012. This is Goodyear's 60th continuous year as a tire supplier to NASCAR competing over the years against Firestone and Hoosier. Stu Grant is Goodyear's General Manager Worldwide Racing and has been with the company for forty years.
"There's been a lot of discussion about what was needed for the 'Generation 6' car and where we ended up is not where we started," Grant commented. "We had a number of tests at Martinsville, Phoenix, Texas and twice at Charlotte to try to get the right combination and right rule package. We started with the premise that NASCAR wanted to lighten the car and take some downforce away and asked us to provide some additional grip. Everyone agreed that to take away some of the aero influence and depend more on mechanical grip might be a good way to race.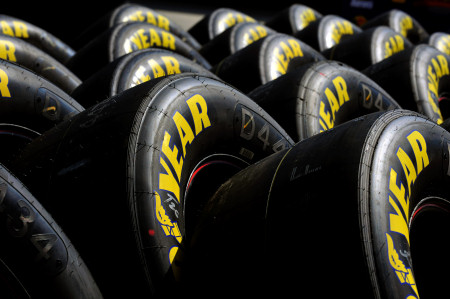 © Autostock
"It was good for a single car running on its own but when you got more than one car on the racetrack at a time it didn't work. We had three of the five test cars go out at one time and they couldn't get within ten car lengths of each other. The cars were very difficult to drive in traffic. The drivers all said, 'We can't race like this.' So NASCAR started adjusting the rule package."
Grant described some of the effort that went into the 'Gen 6' testing program.
"As the season began to get closer, all of us--NASCAR, us and the manufacturers--were trying to make some decisions," Grant said. "We said we needed to start making tires for Daytona. It got to a point where we couldn't wait any longer and about that time NASCAR agreed on the rule package.
"We tested at Daytona in mid-January with the 2012 tire. This rule package of course is not the same as the intermediate speedway package. This is the lighter car with lower downforce and our 2012 tire works great at Daytona. Since the repaving Daytona hasn't been much of a handling track in recent years. It's taken the wear out of the tires.
"Then we had the open test at Charlotte and we did the same thing. We took the 2012 race tire as a baseline to see how it went. They were faster with the lighter car and additional downforce but the 2012 tire worked fine for everybody. We didn't see any issues and we had some discussion and decided we were going to stay with that combination for the May race at Charlotte.
"Now that isn't to say that we might not do some tweaking as the season goes along but if we have an open test with thirty cars and everyones says we think we've got the right combination and we make a change for the May race and there's not another open test, that's going to create a problem because the teams don't like it. We've been down that road before and it just doesn't work very well. So we're using the 2012 tires as a baseline and we're going to change that as needed as we go down the road.
"The Phoenix tire is a little bit different. We had a test at Phoenix last fall. It has a little more grip and should be a nice racing setup. But for some of the intermediate tracks we're going to have to watch how the car evolves and pay attention to what the teams have to say. We'll be looking at the tire data and talking to NASCAR and the teams."
Of course, NASCAR limits tires to ten inches in tread width. Goodyear's NASCAR tires are fifteen inches in bead diameter and 27.5 inches overall diameter. Front and rear tires are the same size.
"A NASCAR stock car has probably got half the footprint area of an Indy car and weighs three times as much," Grant observed. "They're under-tired for sure compared to a Formula One or Indy car. We've talked about running a harder right front compound than the right rear but NASCAR want them to be the same. This combination has worked out pretty well. We've been able to stay ahead of the curve from a safety and durability standpoint with these tires.
"We've done things in terms of mold shape and construction that have helped our durability for sure. But the other thing is we work with NASCAR and now they have minimum air pressures and also maximum negative camber for the right front.
"A lot of the problems we got into a few years ago was due to the teams saying they could lower the right front air pressure a little bit and the car would turn a lot better, or put another degree and a half of negative camber that would also make the car turn better. But the problem is it turns a lot better for about five laps and then you abuse the tire and you're going to destroy it. NASCAR didn't like that anymore than we did and they worked with us to put rules in place to reduce that so you don't see so much of that anymore."
Grant says there's plenty of room for Goodyear to improve the performance of its NASCAR tires.
"We're looking at everything," he declared. "We are looking at compounds, construction and mold changes because the additional downforce and additional speed means some additional load perhaps on the right front. So we're watching our air pressure recommendations and testing different constructions to see what we need to do. We're always mindful of our safety margin and durability.
"The other thing we're going to do, of course, as we gather more data and the teams gather more data we'll be talking to the teams' engineers and asking them what they're seeing for load data. We want to know what the actual data shows. You have to pay attention and be in continual communication."
Grant says Goodyear expects to experiment with stagger sizes.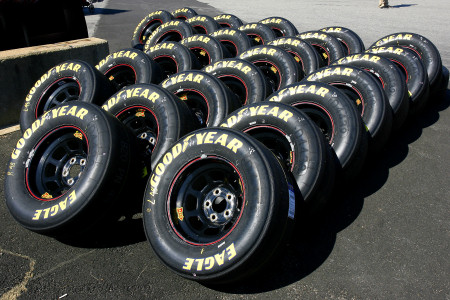 © Autostock
"We're looking at everything, including stagger. We think a little bit different stagger might be useful at some tracks. We've got some experimental leftside molds coming in to see if there's anything we can do with stagger.
"This is not like Indy car racing where you have several options at a single event. In NASCAR you get one leftside and one rightside tire. We run more stagger at the short tracks like Phoenix and Richmond than at Charlotte or Texas but we've zeroed in on an acceptable stagger and haven't moved off that for quite some time. Those mold combinations have been in place for several years.
"So we're looking at that again for some of the short tracks like Phoenix, Richmond and Loudon. Do we need some additional stagger? We're going to bring that mold in and try some additional leftside stagger and see what happens."
Goodyear is also prepared to build and test larger diameter tires.
"One thing we haven't pulled off the shelf is the seventeen inch package," Grant noted. "A number of years ago we built a new mold for a seventeen inch diameter wheel. The tire is about an inch taller and about an inch bigger in section width. It's a good-looking tire and it looks good on the car but there's a lot of cost associated with going to a seventeen inch tire. It would obsolete the brakes and many other parts of the running gear.
"It might be something down the road. We've made the investment in our building systems to be able to build seventeen inch tires. If NASCAR decides we need to at some point, we're ready for that move."
Goodyear builds its tires in Akron, Ohio, of course. About thirty people work in the company's racing tire division and a further 350 people are employed in manufacturing its racing tires. Goodyear manufactures about 130,000 tires for NASCAR's three series in the course of a year.
"It's a lot of tires and a lot of what we do as a tire supplier is logistics," Grant points out. "You've got to have the right combination and quantity of tires at the right race. We've got that part tuned pretty well.
"I think Goodyear is the longest running supplier NASCAR has had," Grant added. "It's been a good partnership. Both our organizations, Goodyear Racing and NASCAR, from a personnel standpoint have been so stable for such a long time that we know each other pretty well and we have a lot of good systems in place to make sure we work well together."
Pat di Marco said Ford and its teams learned a lot from the 'Gen 6' car build program.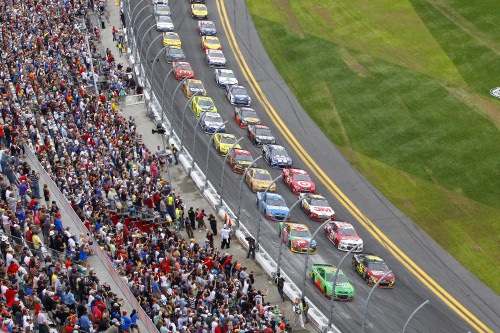 © Autostock
"I think the biggest challenge from the OEM's perspective was the underestimation of what we were doing just in trying to get cars to the racetrack," di Marco observed. "We're used to producing only a nose and a hood rather than all the body panels so trying to do it right required a whole new approach. The teams had to cut all their body panels off their cars and we wanted to make the changeover to put the new cars together work as easily for them as we possibly could.
"We took a whole new approach and we feel at Ford that we have accomplished the goal of helping make the teams more efficient at building cars. But to get there was an enormous project compared to years past when we only had to do a nose and hood. Building all the body panels made it a really big project.
"We used to operate with just Roush as our biggest team but since Penske came onboard we got them involved early as part of the development process. Working with two teams had its challenges but it also had benefits to the overall program for all sides and helped us make progress at cutting the time in building the cars.
"Every team in the garage is different on how they approach building the cars. Roush builds multiple cars for multiple teams and have satellite teams like Hendrick does with Stewart-Haas. Penske has their own operation so philosophically they approach things differently and I think overall that has made the whole Ford camp better in how to build the sheet metal panels and carbon hoods and the timing on delivering the pieces to the teams and understanding what they need. We're now working with a bigger envelope and I think overall that makes all of our teams better."
Chevy's Pat Suhy agrees with di Marco about lessons learned from building the new car.
"Our teams were really nervous about us stamping every part because they are used to being able to hand form the body panels and other pieces the way they want them because with NASCAR's templates as tight as they are there's still some wiggle room," Suhy said. "The biggest fear the teams had was we were taking away all their creativity and all their room to work on their own."
Suhy told a story about how quickly Stewart-Haas Racing were able to repair Ryan Newman's Chevrolet after Newman hit the wall at Daytona.
"The #39 car had a problem in practice and they put a leftside on the car between practices," Suhy said. "Greg (Zipadelli) said to us he knows he complains all the time about the stamped parts and what a pain in the butt they were going to be to work with. But they were able to put a side on the car in the garage in an hour and a half and it fit the templates the first time they took the car back through the tech bay.
"I think that supports the direction NASCAR and the manufacturers took in stamping all the parts. I think it makes it easier on the teams in the long run and lets them focus on other things instead of having guys forming every panel. They can fine-tune things as they build the car."
The hood and deck lid of the 'Gen 6' car are made from carbon fiber, a first for NASCAR. The manufacturers build the carbon hoods while the deck lid between the spoiler and rear windshield is the only common area on the new car. The decklid is 48 inches wide and eighteen inches deep and is manufactured for NASCAR by Composite Resources in South Carolina.
"I think NASCAR did a good job taking weight out of the cars," said Pat di Marco. "The goal from NASCAR's perspective is to take more weight out of the cars so we'll continually work towards that. I think the carbon fiber hood and deck lid are helping work toward that overall goal.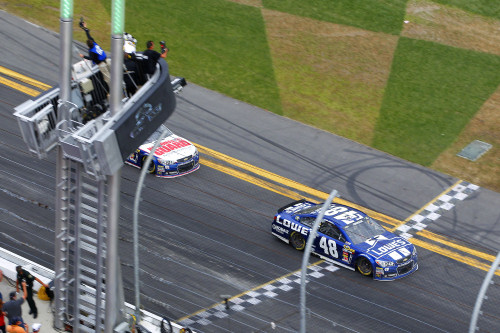 © Autostock
"As far as the brand identity I think we overachieved on that aspect. When we introduced our car the grill bar was a sticker on it and we were unsure how far we could take that, but the product on the racetrack today has injection molded plastic grill bars that you would find on a production car. So we really overachieved on the design aspect of the car.
"I think the 2013 car project has energized the company and the employees," di Marco added. "There's a lot of pride among the employees that they can see the cars they're building right now on the racetrack. I think the overall value to the company of what we do on the racetrack is significant. We believe the fans are going to love the new cars."
Pat Suhy says the people at GM are equally excited about the 'Gen 6' car.
"Mark Reuss and the leadership team are very engaged with the NASCAR centric focus we've given to the Chevy SS," Suhy remarked. "They used Daytona as a launching pad to unveil the SS production car for its global introduction. I think that says a lot, not just about how enthusiastic we are about the Chevy SS but the relationship with NASCAR and how well the race car turned out.
"The teams will keep developing and finding improvements. Our job is to give our teams parts to make fast cars. We do ninety percent and they go and do the last ten percent and it's that last ten percent that you see them gaining on throughout the season."
Like I said at the beginning, all of those involved have put a big effort into NASCAR's 'Gen 6' car. It will be interesting to see if the new car has the positive effect everyone hopes for as the marathon Sprint Cup season wears on through the year.
Auto Racing ~ Gordon Kirby
Copyright 2013 ~ All Rights Reserved