Presented by Racemaker Press

"There's a lot of junk out there today. If you want it straight, read Kirby." -- Paul Newman


The Way It Is/ The challenges of racing in NASCAR
by Gordon Kirby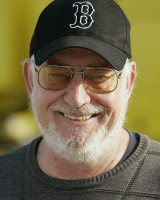 This is a big year for NASCAR. A lot of time and effort has gone into creating, developing and building the new 'Generation 6' Sprint Cup car and everyone involved--NASCAR, the manufacturers, drivers, teams and sponsors--hope the new car will help turn around NASCAR's flagging crowds and TV ratings.
NASCAR also is taking hope from the full-time arrival of Danica Patrick in the Cup series. The belief is that 'Danicamania' will attract a broader audience and join the 'Gen 6' car in sparking new interest in the sport. But the crowd counts at this year's 55th Daytona 500 were disappointing with Thursday's qualifying races and Saturday's 300-mile Nationwide drawing record small crowds and plenty of empty seats for Sunday's 500.
For my coverage of last weekend's racing at Daytona please go to Motor Sport's website, www.motorsportmagazine.com. Meanwhile, I have to say that if the comparatively thin crowds at Daytona this year are a harbinger of things to come and the new 'Gen 6' car or Patrick don't have the positive effect everyone is hoping for NASCAR's marketing mavens will be scratching their heads searching for other solutions to the recent decline in popularity.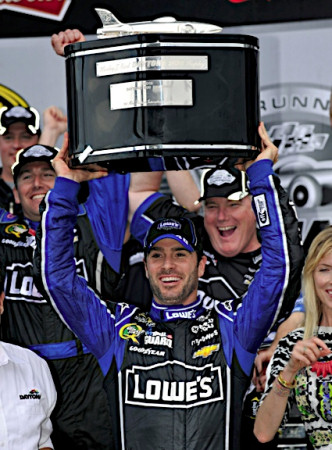 © Autostock
Frankly, I believe NASCAR's decline in relevance runs much deeper. I'm among a fairly large group of observers who believe NASCAR has not only lost technical relevance in recent years but has also become too commercial, too much of a marketing exercise reducing the drivers to pitchmen rather than racing heroes. In today's world where marketing is king, it's impossible to have drivers like Curtis Turner, Fireball Roberts, Richard Petty or Dale Earnhardt with powerfully independent personalities.
In my opinion, NASCAR's showmanship and obsession with marketing has reduced the value of the skills and abilities of the teams and drivers. I believe that somehow, some way, NASCAR needs to focus on revealing and exploring what the drivers and teams actually do.
As everyone knows, restrictor plates cut power to less than 500 for the four races run each year on the Daytona and Talladega superspeedways, but all the other races are run with full power--more than 850 bhp--which makes its way to the pavement through relatively tiny ten-inch wide Goodyear tires. There's no doubt that without any wings or underbodies NASCAR 'stock' cars are very difficult to drive. Four-time champion Jeff Gordon tested a Williams-BMW F1 car some years ago and Gordon says an unrestricted NASCAR Sprint Cup car and a non-winged sprint car are more difficult cars to drive than an F1 car.
"Because of the very restrictive rules that NASCAR puts on us it makes it very challenging," Gordon said. "If we had wide-open rules it would be fun and fairly easy to fix some of our problems. But that's not the way NASCAR wants it. I've driven a lot of different race cars and I think that a stock car at a place like Bristol is one of the most difficult cars to drive. I've had the opportunity to drive a Formula One car and I'd say a stock car and a non-winged sprint car are two of the most difficult race cars that I've ever driven.
"I believe every race car when you push it to its limit is always going to have areas of uncertainty or instability," Gordon added. "But I think with our cars there's a lot more of that. It's just something you have to adapt to and get used to. But that doesn't stop me from asking my crew chief and our engineers to try to make it better and certainly, each year, we do improve the car even though NASCAR tries to keep us in a box."
Five-time champion Jimmie Johnson says the jammed schedule and wide variety of tracks make NASCAR one of the most demanding of all sports.
"Every track is different and every weekend's different," Johnson said. "Even though some of them may look similar, the tracks are all very different. We run from a flat, half-mile track like Martinsville to a high-banked 2.66-mile track like Talladega and it's so tough to be good at all the tracks. There are different challenges, different tires and so many different things to contend with every weekend.
"The other thing is we run 38 weeks every year. It's the longest season of any sport, so it's highly challenging and needless to say, it's a lifestyle. With a short off-season of six weeks we don't have any vacation time. It's full time all the time. There is no off-season."
Johnson emphasized that tiny details make the difference in NASCAR, just as much if not more so than in Formula One, IndyCar and international sports car racing.
"From a technical standpoint we have aero balance issues that we deal with frequently," Johnson said. "Our aero balance and efficiency aero-wise is dictated by NASCAR and the very tight set of rules they allow us to work within. Any small gain is huge so we spend a lot of time on the fine details because we're so heavily regulated.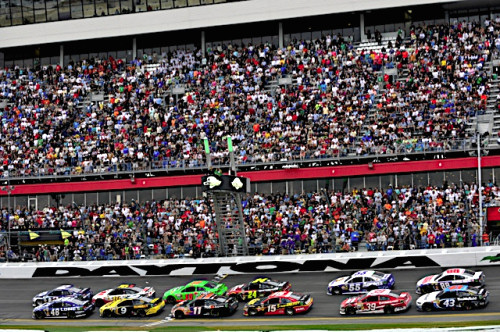 © Autostock
"Mechanical grip is something that goes hand in hand with the aero balance. We run bump stops on the front suspension of the cars and there's a variety of ways to use the bump stop materials. We get into the geometry on the front of the car which is something very commonly adjusted and used from camber curves and caster settings to jacking forces to help hold the car at the proper attitude for turning left all the time. You can make a change that's good and be a hero or make a bad change and be a zero."
Johnson explained some of the differences between the seemingly similar high-banked 1.5 mile ovals at Atlanta and Charlotte.
"Atlanta is a great track to really see how hard the drivers' work," Johnson says. "The grip level on that big, fast racetrack is pretty low, so when the tire breaks traction it's not as abrupt as it is on a really grippy track. At Atlanta the asphalt is so old that the tires aren't loaded as heavily and you can actually slide the car around and put on a great show.
"A lot of things aren't seen at some tracks. Charlotte is a perfect example. The cars don't move much at Charlotte because there's plenty of grip. But once the car loses traction, it's gone. You usually have a wreck or you have to get out of the gas so bad you can't drive it."
Gordon echoed Johnson's observations about Atlanta.
"When the grip goes away at Atlanta you're on ice," Gordon remarked. "It really is slick. Typically, you wouldn't have to push it and slide it quite that much but when you're in a battle for the win you're going to get everything you can out of it and go over the limit several times throughout a lap."
In September of 2009 Gordon scored the 85th win of his career after a tremendous door-to-door battle with Johnson on the super-fast Atlanta Motor Speedway. They raced together, tails sliding right up to the wall in a spectacular display of NASCAR at its best.
"To be able to do that was a lot of fun!" Gordon grinned. "It was very nerve-racking from where I was because it was so easy to make a mistake because there was so little grip. Every lap I was trying to go as fast as I could, knowing that one little mistake could cost me the race."
Three-time NASCAR champion Tony Stewart says oval racing requires much more precision than road racing.
"The thing that's different about our sport is it's a much shorter lap," Stewart commented. "There are two ends of the track that you've got to be precise on and that's the hard part that makes us have to be so precise. In Formula One or IndyCar racing on a road or street course you can mess a corner up a little bit and lose a tenth but you've got ten more corners to make that time up. Here, if you miss it, you've just missed it. You're really not going to gain that back because you've only got one other end of the racetrack.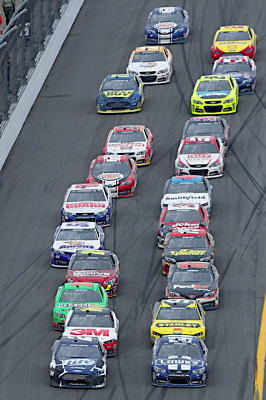 © Autostock
"In NASCAR you have to be so precise every lap and deal with a car that has twice the weight of a Formula One car and half the downforce, half the tire and half the engineering. With a big car like ours when you get around other cars it really disturbs our cars. Two cars running side by side in Formula One really doesn't screw up their downforce, but it does with our cars because they're so big and because of the side force they make. When you're dealing with a heavy race car like ours with not much downforce and little tires it's a very, very fine line of balance.
"In Formula One there are four or five teams every weekend that have a realistic shot of winning the race. You come to a Cup race and there are fifteen to eighteen cars that have a realistic shot of winning the race each week. And with it being so close, if you're off a little bit, you're off a lot because the times are so close. It's the same, but different. If you took a Formula One track and put two ends on it, their times would be just as close as we are. It's a shorter course so you have to be more precise."
Stewart emphasized the immense depth to NASCAR's fields.
"When you've got 45 or 46 cars qualifying within six-tenths of a second of each other at a half-mile track like Bristol, that's seriously competitive motor racing," Stewart said. "They don't have more than three or four cars that qualify within six-tenths of a second of each other at a Formula One race. Another thing that's different is you can qualify on the pole for a NASCAR race and run fortieth in the race, and vice-versa because the field is so competitive."
Stewart also pointed out how physically demanding it is to drive a big, heavy stock car through weekly 500 mile races.
"We don't pull the gs with our cars that a Formula One car does," he said. "But in the middle of the summer when it's hot we're sitting inside a 130-135 degree car for three or four hours at a time. So physically it's draining. It's tough on you."
Australian Marcos Ambrose has raced regularly in NASCAR for the past six years. Ambrose has won NASCAR races on road courses at Watkins Glen and Sears Point but has yet to win on oval.
"It's unbelievable how difficult it is to get around an oval," Ambrose remarked. "You are absolutely on the edge for the whole race and as soon as you think that you can't dig any deeper then you've got to dig deeper. It's just amazing how bad the cars handle and how you've got to dig so deep in yourself to get the most out of your car. You've got to stay on top of the wheel all day. It's rewarding when it goes right, but when you're having a tough day, man, there's no worse feeling than driving a bad-handling Cup car. It's a lot of work."
Unlike most other forms of racing in NASCAR the drivers are always changing their line and searching for grip as the tires go off.
"It's like a dance out there," Ambrose said. "The car is always sliding around on you. The handling is never stable like with a formula car or sports car. It's just incredible how you've got to change your driving style to suit how the car's handling. Sometimes you're tight going into the turn and you've got to load the car up to try and make it turn and sometimes you're so loose you can't stand to turn the steering wheel just a little bit.
"At the same time you've got to be looking at the different grooves. You've got to look at where other people are running. You've got to look at where the air is going to help you because if you follow a car you're not going to get the air on the nose that you need. It's just like a dance. You're really driving to the cars in front and to the weather conditions and the way the rubber's going down.
"You just get a feel for it," Ambrose continued. "It's not something you're going to learn overnight. You've got to be astute at what you're doing and you've got to really study previous races and study what other people are doing while you're in the middle of the race. It's a real challenge for me to get used to that. I wasn't used to it when I came to NASCAR and I've really had to work hard at learning it and knowing what the car needs.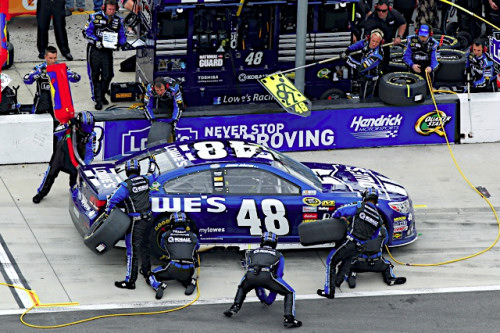 © Autostock
"If you have one bad lap it takes five laps to recover and guys pounce. You can't make a mistake out there because if you have two or three bad laps you're going to lose five or six spots. You get back in dirty air and then you go even worse. So you've got to be on top of your game every single lap.
"You've got to chase the groove and chase where the grip is and it's a moving target. One lap the grip will be on the top. Next lap it'll be on the bottom. You've got to go where the other cars are or your car will start to wear out the right rear or the front right too fast, or whatever it is that's getting you 'round the track. You've got to maneuver the car to make the best of it.
"There's not enough tire grip because the tires are so narrow and we've got way too much power. And of course the drivers are being aggressive against each other and we take the wind off each other all the time. So it's a challenge, no doubt about it."
Ambrose is unrestrained in his belief that NASCAR is the world's most competitive form of racing.
"Right now, NASCAR, in my opinion, is the premier series in the world," he declared. "It's got the biggest crowds, the biggest number of races and the biggest prize money. It just doesn't get any bigger and I'm thrilled to be part of it. It is the toughest form of racing in the world, absolutely no doubt at all. You can be driving your very best and finish thirtieth and when you're thirtieth you're fighting somebody who may have already won a Cup championship. It's incredible how deep the field is and how you've got to have everything going for you."
Juan-Pablo Montoya showed his ability in both Indy cars and Formula One before deciding to jump to NASCAR. Even though he's had little success in NASCAR, Montoya is enjoying himself much more than in his F1 days.
"Like everything, some years are better than others and some weeks are better than others, especially in NASCAR," Montoya said. "I think in open-wheel when you have a good car, you have a good car. But in NASCAR you have a good car one week and the next week you don't even know what hit you. It's incredible because when you're off, it's painful. For a driver, it's really, really hard, but that's what makes it interesting.
"It's very, very different than Formula One. In F1 you go into a race with a plan and you execute your plan and hope your plan is better than the next guy. There's no magic, no secret, no choice of two tires versus four tires on pitstops. In F1, you have a strategy and that's it. That's why racing in NASCAR is so much more exciting than Formula One. Here, there's never a fixed strategy and with the cautions and so many pitstops these races are very hard to predict. I think that's why in NASCAR experience sometimes plays such a big role in the result."
Montoya has no doubts that the driver plays a greater role in NASCAR than in F1.
"A lot more," he emphasized. "In Formula One at the end of the day you didn't even have to talk to your engineers for them to tell you that you're loose here or you've got understeer there. In F1 they'll tell you we've got to move the 'diff' or do this or do that, but in NASCAR it's based on whatever the driver says and that makes a big difference. It's all based on the driver's feel and that makes it a lot harder."
Racing in NASCAR is far more difficult than many people give it credit for and if NASCAR is to turn around its fading fortunes it must make people understand and appreciate it for the sport that it is, not a giant marketing machine.
Auto Racing ~ Gordon Kirby
Copyright 2013 ~ All Rights Reserved