Presented by Racemaker Press

"There's a lot of junk out there today. If you want it straight, read Kirby." -- Paul Newman


The Way It Is/ A new formula for IndyCar
by Gordon Kirby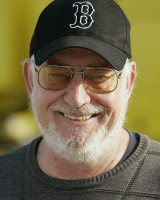 Many old-timers are deeply frustrated with the sad state of IndyCar today. There's a pervasive belief that Indy car racing is too broken to be fixed after decades of political squabbling and commercial and technical mismanagement have combined to reduce a once-great form of racing to subsisting as one of the most impoverished and irrelevant of today's sports.
Domestic TV ratings have dwindled to a tenth of what they were twenty years ago and IndyCar's broadcast rights fees are laughable. Ratings and rights fees are the driving force behind every modern sport and IndyCar is nowhere in these departments with no leverage to push the sport forward.
I examined the historic depths of Indy car racing's many failures in "Searching for relevance" in this space on November 26th (http://www.gordonkirby.com/categories/columns/theway/2012/the_way_it_is_no363.html). This week I offer some opinions from Jim McGee, Indy car racing's most successful crew chief, about how IndyCar might begin to extricate itself from its dilemma.
McGee has 90 wins to his credit over forty years between 1965-2005. During his career McGee won four Indy 500s with Mario Andretti (1969), Rick Mears (1979), Gordon Johncock (1982) and Emerson Fittipaldi (1989). He also won nine USAC or CART championships with Andretti (1965, '66 and '69), Tom Sneva (1977 and '78), Mears (1979), Fittipaldi (1989), Bobby Rahal (1992) and Nigel Mansell (1993).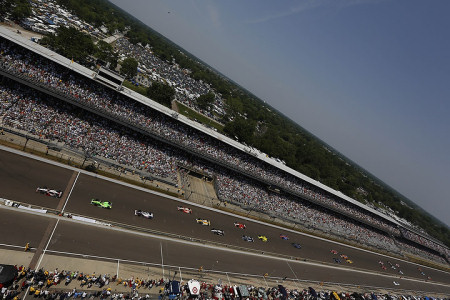 © LAT USA
"It's sad to see what's happened over the past ten or more years," McGee remarked. "The way it's going, sooner or later it's going to crater, and it may be sooner rather than later.
"It's a shame. It just makes you sick when you think about it. There are so many people I've known for so long who are very worried about the sport's future. We've all spent most of our lives in it and it's sad to see the trouble it's gotten itself into. Indy isn't Indy anymore. A lot of people have tried hard to bring about some change, but I'm afraid it's not going to change."
McGee has no doubts about the roots of IndyCar's failure.
"Indy car racing has gotten away from what made it successful, which was innovation and diversity," he observed. "For most of the forty-five years I worked in Indy car racing you couldn't wait to see what your competition was going to come up with for new cars and new ideas. That was the way the sport was from the beginning back in the early 1900s. Now, there's no excitement because you know what's coming and nothing is coming.
"I think the new car was a big mistake. They need diversity rather than just another uninteresting spec car. By going down the spec car road they've killed the thing that always made the sport what it was. Another thing that's a big mistake is the engine leasing program. That was a big mistake from the start."
McGee believes CART and then IRL/IndyCar made tremendous blunders by going to engine leases and sealed engines.
"That's one thing you have to say about NASCAR, they've kept it so that independent engine builders continue to be involved in the sport," McGee commented. "In the CART days we used to have guys like Franz Weis who would rebuild your engines, or you could do it yourself, and that was the way it was for many years through the AAA and USAC days when the Offy was king.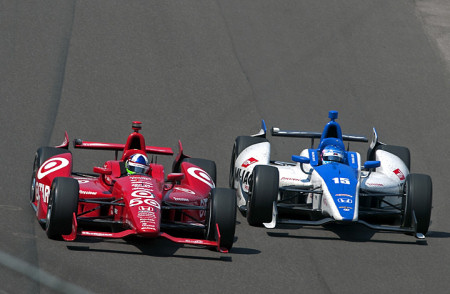 © LAT USA
"NASCAR has been able to keep that criteria and that was a big mistake in Indy car racing when they went to engine leasing and drove out the independent engine builders. The powers-that-be in CART decided they didn't want anybody looking at the technology from Ilmor and Cosworth. That was one of the reasons for going to engine leasing.
"Well, NASCAR has taken the engines apart in front of everybody for years and laid them out on the table so everybody could see. NASCAR's attitude always was, if you wanted to bitch about it, that's tough. Then go somewhere else to race. And that's been one of NASCAR's strengths. You can't cater to the owners and the engine manufacturers. You've got to stake out your own ground and do what's best for the business."
McGee believes IndyCar should switch to stock-block engines given its weak position in the contemporary sports market and the difficulties in selling sponsorship.
"I think it's just plain stupid for them to say they don't want to run stock-block engines," McGee remarked. "You've got to do what the times require. There are a lot of different engines out there from different manufacturers that you could run that would fit the bill. There are plenty of engines out there today that put out 700, 800 or even 900 horsepower that you could buy from a car company. You can buy a Corvette engine that puts out 800 horsepower and there are many other manufacturers with similar engines.
"Why are they spending all this money on these so-called racing engines when there are other engines out there that would produce the same or even better performance at a cheaper price? You could get a bunch of the car manufacturers involved and the cost to the competitors would be a third or less than it is right now."
McGee agrees with me and many other longtime observers that IndyCar desperately needs a new formula with spectacular performance that would attract multiple car builders. The current Dallara DW12 has less performance than a GP2 car and is an Indy Lights car, not an Indy car. Many people in IndyCar are in denial about the current spec car formula's lack of appeal. They insist IndyCar's restrictively competitive formula is a great product, but many people believe it's an unattractive formula that's at the heart of IndyCar's failure in the marketplace.
Even NASCAR has figured out it must escape from the plague of spec car racing and return to enjoying the fruits of competing brands and identities and it's about time IndyCar realized that if it really wants to turn around the sport it's essential to rediscover what was at the heart of Indy car racing for ninety or more years.
"As you know, in Formula One each team has to build its own car," McGee said. "That's a very important part of Formula One and we need to get back to something like that in Indy car racing. But they need to design a very simple formula with some cost limitations because of the problems in generating sponsorship in IndyCar.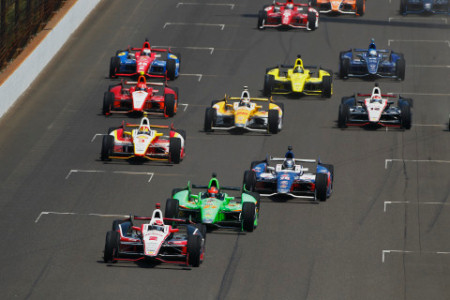 © LAT USA
"There's a way you could redo it. Run stock-block motors and encourage some of these guys from sprint car and sports car racing to use their imaginations and start building and developing new cars and engines.
"They need to get the American racing industry back involved in it and it needs to get back to the fans asking what's Penske or Ganassi or Sam Schmidt building for this year? Once that happens you'll get the media interested in it again and talking about it because there would be variety. That's what people want to see."
While Formula One attracts huge mid-winter coverage from the unveiling of the latest F1 cars, IndyCar languishes through most of the long off-season in a media-free zone. With serious restrictions on testing and no new cars to build or develop most teams lay-off much of their workforce for the winter months.
"What do you do with a two-car team of fifty guys in the wintertime?" McGee asked. "The only thing you can do is build pit equipment. You're not allowed to build a wishbone, or anything else, and testing is severely limited. So there's no reason to keep all those guys employed over the winter and at the same time there's no news or excitement about testing and the new stuff coming out. It's a vicious circle.
"The only way to change is to get rid of everything they've got--which they probably can't because of all the commitments and contracts--and just start a new formula. That's the only way, but I don't think they have the leadership or the courage to make a move like that."
To most race fans it's obvious that a dramatic change is required to reverse IndyCar's downward spiral. But it's equally clear, as McGee says, that the leadership and courage to tackle the big picture issues is seriously lacking.
Auto Racing ~ Gordon Kirby
Copyright 2013 ~ All Rights Reserved