Presented by Racemaker Press

"There's a lot of junk out there today. If you want it straight, read Kirby." -- Paul Newman


The Way It Is/ Reinventing American sports car racing
by Gordon Kirby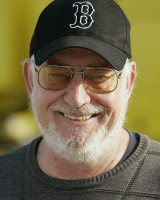 As it has for many years the Rolex 24 Hours at Daytona breaks the ice of winter with an early kick-off to America's racing season. Also for many years, I've written about the need to open-up the Grand-Am's rules and bring the Grand-Am and ALMS together so that Daytona, Sebring and North America's other major sports car races feature the same drivers, cars and teams. It's essential if American sports car racing is to properly thrive, so I'm delighted that the Grand-Am and ALMS are committed to setting off together next year on a new adventure.
I'm sure everyone at Daytona in a few weeks will be talking about the Grand-Am/ALMS merger. Most will have their own ideas about the specifics of the broad brush concept released by the Grand-Am and ALMS on January 4th. Back in September I wrote about the need to get the 2014 formula right and there's no doubt that message is clear to all.
It's encouraging that the two series have a pair of very experienced and practical technical leaders in Richard Buck and Scot Elkins. Both these guys have plenty of hands-on experience working on race teams and have progressed in the past ten years into administrative jobs, Buck with NASCAR and Elkins with Champ Car and ALMS.
The Grand-Am has also made a wise choice in picking Roger Bailey to be its new chief appellate officer. Bailey replaces highly respected IMSA co-founder John Bishop who previously held the Grand-Am's appeals boss job. Bailey will be the final judge of appeals of any Grand-Am rules dispute and his vast experience will also provide Buck and Elkins with an excellent additional sounding board. Bailey is excited about helping steer the combined Gand-Am/ALMS in the right direction in 2014 and beyond.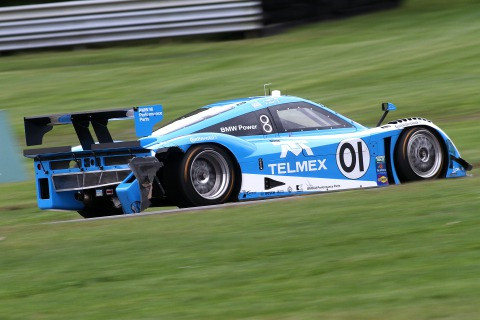 © LAT USA
"I think there's tremendous potential there," Bailey says. "With the Daytona 24 Hours, Sebring and Petit Le Mans and a strong schedule of the best road courses and street circuits the potential is there to be the pre-eminent road racing series in North America. It's not going to be easy to find the right formula but I think they're taking a very realistic attitude and they're being very open to encouraging people from out of the box to be involved.
"We've got to find a way to upgrade the Daytona prototypes to make them equal in performance to an LMP2 car. As always in racing, it's going to be difficult to strike the right balance between having affordable racing and encouraging new technology. But there are some very good people at the Grand-Am and the ALMS and I'm sure it can be made to happen."
Bailey was technical director of IMSA during the early eighties amid the arrival of the great GTP era so he knows whereof he speaks. As Roger says, it will be difficult to find an equitable way to substantially reduce the downforce and aerodynamic efficiency of an LMP2 car while raising a Daytona Prototype's performance level.
Fortunately, teams and manufacturers who've raced in the Grand-Am and ALMS are used to working with equivalency formulae and 'performance balancing'. Over the years these things have become part of sports car racing's furniture, both internationally and in America. Everyone knows that equivalencies can be a boon if they are well-managed. Conversely, mismanaging a finely-balanced equation can result in disaster, driving manufacturers and teams out of the sport. It's happened many times in the past and can easily happen again.
Key components in the success or failure of the combined series are the car or chassis builders. Riley dominates the Daytona Prototype field with the odd Dallara and Lola. In the ALMS, P2 cars come from Lola and HPD with Oreca building the LMP Challenge cars. There's also the Delta Wing which I'm glad to see being figured into the equation. Encouraging new and different concepts like the Delta Wing will be essential to the longterm success of American sports car racing.
Without doubt, Riley and Lola will figure as important players in the merged series. Riley is well-established and has been the bedrock of Daytona Prototype racing. Meanwhile, it's great that Lola has been reborn as a partnership between Multimatic and Carl Haas Auto who now own Lola's intellectual property rights.
Under the new arrangement Multimatic will manufacture Lola-branded components and parts at its headquarters in suburban Toronto while Carl Haas Auto in Chicago will serve as the sales and distribution house. Multimatic and Haas Auto will support Lola's existing LMP1 and P2 cars and a new car will be designed and built for the combined 2014 Grand-Am/ALMS. It's also said that Lola and Multimatic may be selected to replace Dallara as manufacturer of the new Indy Lights car for 2014.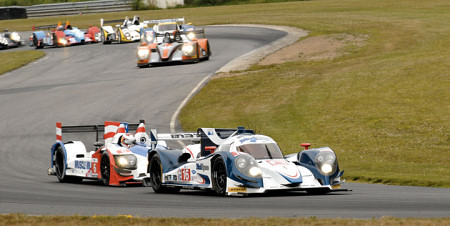 © Gary Gold
Multimatic was founded in 1984 and is based in Markham, Ontario, northeast of downtown Toronto. The company has established itself as a leading supplier of components, systems and services to the worldwide automotive industry. A racing division called Multimatic Motorsports was formed in 1992 and has built and helped field a variety of successful Le Mans and Daytona prototypes and GT cars. Multimatic Motorsports is run by Larry Holt who also serves as vice-president of Multimatic Engineering. Peter Czapka is the president and CEO of the parent company.
Carl Haas Auto was founded in Chicago by Carl Haas in 1961 and is located in Lincolnshire, Illinois, half an hour north of downtown Chicago, since 1985. Haas became Lola's American agent and distributor in 1967 and was renowned for many years as the USA's top sales house for sports/racing and formula cars. Thanks to Multimatic and Carl Haas Auto, the Lola brand will continue in business which is a very good thing for motor sport in America and around the world.
If it is to truly thrive, sports car racing also needs not just cars and teams but star drivers too. Fortunately, the Grand-Am enjoys one such star in Scott Pruett, a five-time Grand-Am champion with 38 DP wins to his credit. At 52, Pruett is America's quintessential sports car racer. He's as motivated and fit as ever and is smart, well-spoken and media savvy, a great representative for the sport.
The Grand-Am also has Alex Gurney, an equally skilled and appealing two-time champion with teammate Jon Fogarty, and Paul Tracy is doing Daytona and at least two more Grand-Am races this year with Kevin Doran's team. At 44, Tracy has reluctantly turned his back on Indy car racing but the competitive fire still burns in the Canadian veteran's heart and he could and should be a useful draw for the combined Grand-Am/ALMS in the coming years.
For his part, Pruett worries that without the right moves American sports car racing could join Indy car racing as a mere backwater of international motor sport. Pruett believes the only way forward for the new combined series will be to apply NASCAR's formula for manufacturing a level playing field rather than trying to encourage factory teams and high-tech machinery.
"Will there be some heartburn in 2014?" he said in this space in September. "Without a doubt there will be. As we all know, everybody is not going to be happy. But I am very optimistic that Grand-Am will do the right thing and stay with the mantra or mission statement of NASCAR--hard, close competitive racing at a reasonably affordable price. That's what they need to do.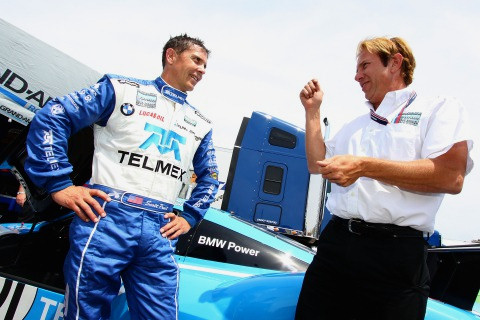 © LAT USA
"You can't have factory teams locking out the rest of the field with their own cars that nobody else can buy and big budgets for testing and development. That frustrates a lot of wealthy individuals who want to go racing. I'm confident they'll get it right and they need to get it right. The sport needs it."
And of course Scot Elkins has also underlined the desire of the combined series to continue to foster rules that will encourage some of its teams and drivers to qualify and compete each year at Le Mans. This means maintaining the commitments that both the ACO and ALMS have made to new technology which appears to be at odds with the Grand-Am's and Pruett's goals.
But there's no doubt that new thinking, new stuff, multiple manufacturers and competing tire companies are essential to the appeal of sports car racing. All these dissimilar targets mean the merged Grand-Am/ALMS will be a tough ball of wax to manage properly and the GT classes will surely prove as difficult to integrate and manage as the prototype categories.
The challenge is clear and I look forward to hearing many voices and ideas at Daytona. I hope Richard Buck, Scot Elkins, Roger Bailey and their colleagues make the right choices for 2014. First, they have to find the correct starting point. Then they will have to continue to make the right technical and philosophical decisions in the years ahead. We wish them the best of luck. As Pruett says: "The sport needs it."
Auto Racing ~ Gordon Kirby
Copyright 2013 ~ All Rights Reserved